---
For the Week of July 21, 2008
---
One Life to Live
---
Viki ascends to heaven and sees some familiar faces.
K: Ready, set, record! I am looking forward to the anniversary episodes.
Bo and Rex wake up in 1968.
K: Will they be wearing polyester leisure suits? I am trying to picture Rex in a powder blue leisure suit but I keep laughing.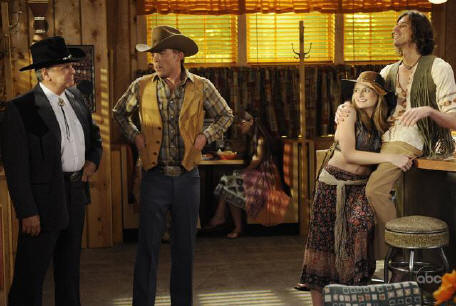 Cowboy hats are much better than leisure suits!
Viki and Ben have a passionate reunion.
K: Viki and Ben were in love when I began watching OLTL. I just love a good romance!
Cristian and Sarah prepare to take the plunge.
K: Rushing water, rocks, water falls - kinda gives a whole new meaning to "take the plunge", doesn't it?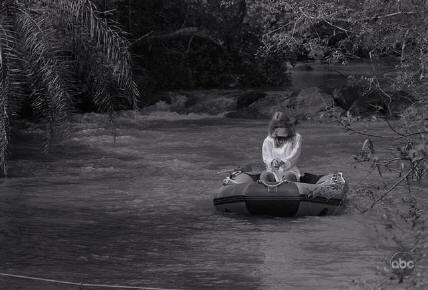 David receives Viki's prognosis.
K: Viki's busy with Ben. David will have to wait.
Clint devices a plan to get Buchanan Enterprises back.
K: Clint's probably feeling a lot of pressure. What with Asa visiting with Viki and probably looking down in horror at his office in Llanview with Dorian at his desk.
Dorian is haunted by what she did to Charlie.
K: She should be. Drugging a man, putting him in her bed and then dumping alcohol down his throat takes her villainy to a new level.
Brody professes his desire to become a better man.
K: I am such a sucker for a tough guy showing vulnerability! Now I am going to have to root for him.
Todd tells Marty about the Spring Fling, but covers his tracks.
K: My hope for Todd and Marty is that she'll like him so when her memory returns, which it eventually will, she'll have made friends with Todd. Won't that just put an ugly blotch in Blair's view of the universe?
John and Blair share a kiss.
K: Is there any guy on the show that Blair hasn't made out with?
---
General Hospital
---
Lulu and Johnny make a daring escape from the police station.
K: As in I dare ya to take it seriously that Lulu gets in the interrogation room with a gun in her purse and she and Johnny escape. Don't police stations have metal detectors now? Perhaps I am just not up on PD protocols. Any police people out there who can fill me in?
Carly promises to always support Jax.
K: Until the next time she comes up with a plan to stick it to Kate. (Obviously, they didn't finish the spoiler sentence so I helped them out.)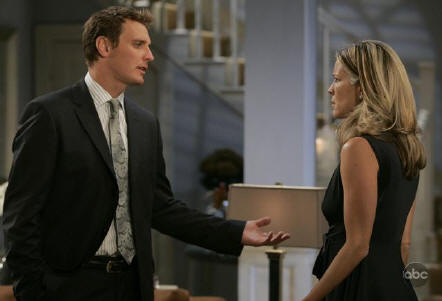 Spinelli's love for Maxie is tested.
K: Tested for STD's? Oh, that was not nice! But it was the first comment I came up with.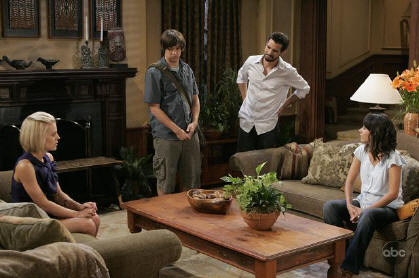 Jax turns his back on Carly.
K: Definitely an unwise move on Jax's part. Hasn't he noticed that Sonny and Jason have never turned their backs on Carly? They know better. Carly is the only character that has been able to make me see Jax as a likable character instead of a supercilious ass.
Johnny and Lulu feel the heat from a neighbor.
K: Genie Francis appears as Laura in August so Johnny and Lulu won't be on the run for long. But I guess long enough to bother the neighbors.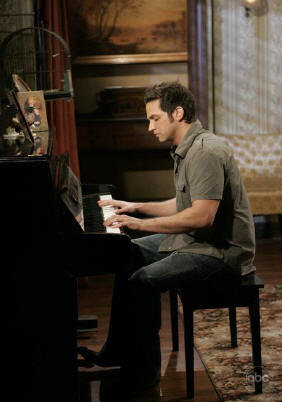 Anthony and Claudia get into a public spat.
K: My first thought here is that they have a "plan". Now if Trevors and Claudia got into a public spat I'd be cheering her on hoping she'll kick his ass…ets.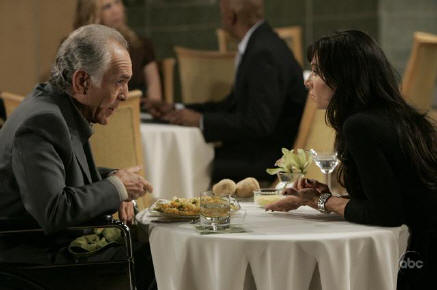 Scott returns to town and hears about Logan's death.
K: Oh geez, bring on the ranting and raving and blame. It won't matter to him who killed Logan only that he gets to blame someone. Where'd I put those earplugs…
Carly asks Spinelli to aid her in framing someone for murder.
K: Goody, code names. We all know "someone"'s real name is Kate.
---