GENERAL HOSPITAL
---
June 13, 2006
I think on Sunday I watc
hed 9 consecutive episodes of General
Hospital
…and nothing happened.
Carly and Jax agreed that they like themselves with one another and I concur.
The last episode I watched had Robin poised to blurt out the truth about John's paternity, but hey we knew that was only a matter of time.
Helena is running around town suddenly desperate for an heir…how's that for perfect timing? She even bought Nikolas home a little baby bearer. Nik, always the Prince, politely declined.
Elizabeth and Jason are spending a lot of time together, but who cares? She only wants to keep harping on Jason about how he should take Sam back. Why all the women of Port Charles are so desperate for Jason to take Sam back is beyond me. Can just one person give this poor guy a break? I want to take a gun to someone's head myself.
Meanwhile, Sam is carrying on something fierce. It is so bad I think Alexis may soon go ask Jason to take her back.
Speaking of Sam, what was up with the outfits? Can you blame Ric for leering?
<![if !vml]>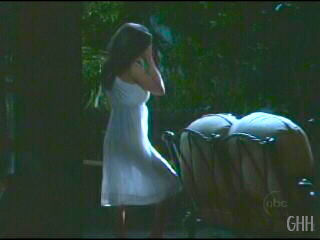 <![endif]>

I thought it was a nightgown
<![if !vml]>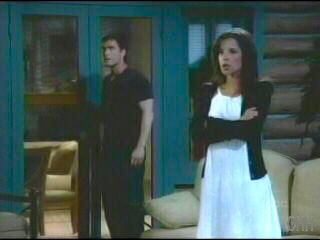 <![endif]>
Add a sweater and heels and now it is a party dress
<![if !vml]>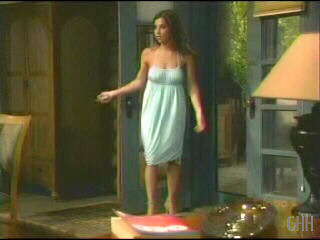 <![endif]>

No worries…I have another, Ric
LuLu is a Spencer. We get it now. She steals cars, chases bad boys and robs her own father. Check it off the list…we caught on. Maybe for an encore they can have her rape Diego.
The girls' night redo was a bomb. I don't like Dr. Kelly Lee or whatever her name is. They were all just catty and they gave female bonding a bad name.
What do I like about GH, you may wonder?
I like Sonny's break down. Love him or hate him the man can act and I believe him. I believe he can't remember why he is saying or doing the things he has been doing lately. I believed him when he practically charmed the pants off Lainey Winters (I DON'T like her by the way). I feel his confusion over his inexplicable anger and rage. What I'm not buying? I don't buy him calling Emily Lily. I feel this is uncalled for and a disgrace to past storyline. Lily is dead and buried and she should stay that way. (I am biased – I hated Lily). I further don't by that the man has spent some 40 odd years suffering from such a sever case of bi-polar disorder that it is just now manifesting itself in such a way that it is undeniably a problem. We know Sonny has had past "episodes", but they don't and cannot compare to what we are seeing now. I hope they take this story just a little bit slower because when tackling such an issue it is only fair to base it on some form of reality.
I LIKE Dillon. I just always like Dillon no matter what he is doing.
I like Tracy and Robert and Luke and Quartermaines. I just like seeing them no matter what they are doing or saying or arguing about. Tracy keeps proving again and again that she is one step ahead of both the con man and the super spy.
I love seeing Coleman. He is just so hot and I like his new darker locks. One request? Stop putting him in mediocre scenes with less than mediocre people like Diego. What a waste.
That's it for me this week. Have a great one!

Screen captures courtesy of:
www.Generalhospitalhappenings.com
...and thanks to those fine boys:
Nash Brennan, Jason Morgan,
David Vickers, Patrick Drake,
Jagger Cates & Rex Balsom
for decorating my new page!