---
Nov 6, 2006
---
Love me or hate me, its still an obsession.
Love me or hate me, that is the question.
If you love me, then Thank You!
But if you hate me, then f*ck you!
~ Lady Sovereign

Ric Lansing is spiraling out of control and while some fans question whether this is TPTB's way of freeing up the budget to pay for additional cast (anyone ever hear of Genie Francis?) others of us are not so concerned.
First of all, Rick Hearst is a good villain. Actually he's a great villain. Soap Opera Digest's Outstanding Villain in 2001 thankyouverymuch. He's made his living over the past several years being a really good bad guy. Rick's characters are always multi-dimensional. I think that is one of the reasons people get so upset when he "starts going dark". It's like they can't handle it when a character switches gears. Note to you guys: not everything in this world is black and white, sometimes they are many shades of dirty gray.
How boring is it to have everyone know every little thing about you? How predictable would it be if everyone knew exactly what your innermost goals, aspirations and demons were about? Every reaction in every situation? I'm telling you folks, it would be dead-ass boring. You might as well write your ticket to the back burner because there would be frickin' absolutely nothing to look forward to.

Tracey E. Bregman who has played Lauren Fenmore on both The Young and the Restless and The Bold and the Beautiful remarked that early on in her career when she was a teen newbie, she was in a scene with other (unforgettable) younger actors. When the camera panned the room, Head Writer and Creator Bill Bell saw her look in an absolutely hateful way at another of the actresses. It was then he pegged her as a bad girl and she's been front and center ever since.

While it's hard to be a bad guy in a town, and let's face it, since Port Charles is full of so-called 'bad guys' it's hard to stand out, Ric Lansing has managed to insinuate himself firmly into PC society. His blood connection to Sonny virtually guarantees his place on the canvas. Unlike other disconnected GH baddies (Faison, Manny, etc) Ric has the wherewithal to take a licking (or kicking in some instances) and keep on popping back up just like a bad penny.

Right now Rick's character is on everyone's mind. He's front and center, at least for now. He's bedeviling the two male leads and the three female leads. It doesn't get much better than that. And if you think all the talk about his eminent demise bothers him, don't worry. After having spent time on 5 different soaps and at varying degrees of sliminess, it really doesn't get him down. "I'm eating it up. There's a difference between nefarious and psychotic. With nefarious, there's always a bit of a twinkle." (Soap Opera Digest, November 7, 2006)
Twinkle away Babycakes.
Random Randomness
Nacho, We Hardly Knew Ye
Looks like Ignacio Serrachio (Diego) will soon be saying so long to zip 16543. Too bad. After a somewhat forced and lackluster storyline, Diego has suddenly been cast as the resident Jiminy Cricket. From ratting out his father's location for the sake of Skye and his unborn half sister, to blasting Lucky for his crappy treatment of Maxie, he's making every scene he's in count. I would rather see him less frequently but in better scenes than have him forced on me for no reason at all. (*snicker) I didn't think much of his character when he was first introduced to the canvas (Duh Duh Diego) but after having met him at GHFCW and seen him in action, the guy is truly a delight. I can't help but root for him to succeed, whether it's on GH or elsewhere. I think the guy is destined for great things.

Ex-Stripper/Dead Philanthropist cast as Heiress
WTF? Oh sorry, I was just reading ABC Soaps in Depth and the headline of "Great News: Alicia's [Leigh Willis] Returning!" gave me pause. Apparently the blonde beauty has been cast as the lead in a telenovela style primetime series on the new MyNetwork. She will be playing a pampered heiress whose brother sabotages the family's private plane causing it to crash in the jungles of Guatemala. Of course she falls in love with the surviving pilot (Am I spoiling this for you?) sounding like a cross between LOST and Madonna's stinkeroo Swept Away. Willis' character was famously married to or slept with just about every male on GH during her four years on the show. She even survived Helena before succumbing to that dreaded monkey flu epidemic that swept through Port Charles earlier this year. Here's hoping she won't contract jungle rot in her new career.
Right on Target
I always knew I was attracted to this guy but now I can say that we have something very special in common. Not only does he dig 80's music and lists Fall as his favorite season, but in the November 7th issue of SOD, Steve Burton talks about the biggest change in his life since becoming a parent and laments the lack of time with his wife. His mother-in-law came over to watch the kids so he and wife Sheree could go out. "We had date night at Target. We had dinner, walked around Target for an hour and a half and bought stuff. Out date night is now Target."
You're right Hardeman, he may just be the perfect man.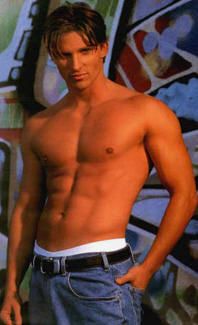 I crack myself up.
Smooches Babycakes!