---
July 17, 2006

I was one of the ones that really enjoyed girl's night out – at least the first one. I think the GH writers got some positive feedback on it and decided that if some is good, then more is better. I'm here to tell you it ain't necessarily so.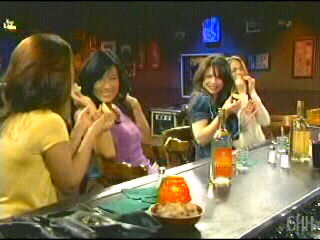 The first time the gals headed to Jake's to slam shots and use the word "bang" eighty-four thousand times, I giggled and thought about how cute it was that they all fantasized about Dr. Dawg, I mean Drake. The fact that each one of them focused on him as their secret (or not) so secret boytoy was fun. Even Elizabeth who's married and Emily who is in wuvvv with Sonny gave in to the temptation to half close their eyes and imagine a little somethin'-somethin' with Patrick. But then they did it again – and yet again. OK, so the fantasy part didn't repeat, but what came after was, in my opinion, a cheesy rip off of the original.
When I saw that the boys were due to get their groove on during a night out at Jake's, I was really hopeful that we would see some unexpected stuff. Unfortunately, the most unexpected thing was the mix of testosterone.

A showcase for Max and his puppy love was to be expected, but Ric and Lucky? Would you really sit around shooting the shit at a bar with your wife's psychologically abusive ex- hubby? Not to mention the Doc that's been chasing her around the nurse's station and just slammed you for tonsil massaging your boss' daughter. Oh, AND put you on notice that he thinks you're stealing drugs?? OK, so your half brother waltzes in, but still I couldn't help but be weirded out by the conglomeration of guys sitting around talking about… Carly.

This was especially nauseating because I kept thinking about what the hell kind of fantasy the writers were going to come up with for Lucky. Thank goodness one of the first things out of his mouth during his sequence was "You're my cousin!". Nik and Ric made sense since they're related through marriage, though I certainly don't recall them ever speaking more than 3 words to each other. Ric let Carly believe they slept together, but even though he'd knock boots with a cold, calculating mob murderess (Oh Faith, where are you??) I'd like to think even he would draw the line somewhere. Though if you think about it, if it meant getting closer to Sonny… I'm sure that Ric would be willing to take one for the team.
So really, what was the point of it all? They don't work together; these guys are not moving in with each other. They don't have much in common as a group. You've got a cop, a prince, a lawyer, a doctor and a mob bodyguard. Not exactly the roll call of a local Lion's Club. Still, if it means a break from the Sonny and Jason hour, I'll take it.
Random Randomness
Thank God for Lulu. I know that Georgie and Dillon were last summer's teen young love story. But boy hidee! Lulu and Dillon (or as I affectionately refer to him – Scotty Too Hottie) are providing choice television viewing. Both of these young actors are a power unto themselves, but together they are ripping the roof off! Not many actors can hang with the likes of Jane Elliott, Anthony Geary or Tristan Rogers. These two make it look so easy. Georgie was sweet, where Lulu is sassy. Georgie is an old soul, while Lulu has enough pent up anger and resentment to make her more than a little reckless. Then again, that may be the Spencer genes talking. So what if they're trying to tie her a little to closely (for my taste) to her cousin Carly. Why should Skye have a monopoly on helping the misguided youth of Port Charles? What would really be sublime would be if the writers allow Lulu to appreciate Carly's guts, but temper them with Laura's gentleness. I think they're doing a pretty good job so far.
I was a little off in my estimation of where Ric's inappropriate attraction to his step-daughter was going. How fab is it that Sam is not only aware of the pull, but is encouraging it in a very subtle way as part of HER plan to get back at Ric and Alexis? I thought it was a path to the dark side that tied into his manipulation of his brother. But why not make him into a multi-dimensional bad guy? The one you love to hate and never goes away. A guy that gets away with things every once in awhile, while exhibiting just enough warmth and charm so that you wonder what his game actually is. We need a good all-around, 40-hour-a-week baddie. Manny is gone, but he was a little too hardcore to last more than a short time anyway. Helena comes and goes and quite frankly, is in a class by herself. But Helena tends to stay pretty close to the Cassadine/Spencer side of things in PC. Ric is cool because he's got a little wider circle of peeps to play with. This could be big fun. More Please.
Well, it's time again for the General Hospital Fan Club Weekend in Studio City. That means wonderful times with my fantastic writing sisters. Lots of laughter, sharing and fun. Not to mention getting to be just ourselves instead of wives, mothers, chauffeurs, cooks, maids and all those other hats we tend to wear 24/7. Unfortunately we probably won't be seeing Robin Christopher again. Last year she was giving birth or recovering from giving birth…I'm guessing that will be the case this year as well. I am hopeful of having several surprises show up this time. Debbie Morris is a regular little miracle worker and I would love to see Katrina get a huge Tristan Rogers or Rick Springfield hug this weekend!
I'll be back the beginning of next week with some good scoop and lots of pics – stay tuned!!
Smooches!


Screen captures courtesy of:
www.Generalhospitalhappenings.com