---
May 1, 2006
Traipsing down the red rug with Kelly B
Boy I really wanted to be in LA last night… lots of parties going on, Debbie Morris was having one, Debby O too. And you know, there was also that Emmy thing. Since I had to send my regrets, (I know my invite must have gotten lost in the mail) I was at home eating pizza and sitting at my computer with SoapNet and then ABC on. For 5 hours. I decided to just type the first thing that came to mind – bitchiness not withstanding, I managed to crack myself up.
Matt Ashford – terrible window pane suit, just cuz you're not nominated doesn't mean you can't trot out the tux!
<![if !vml]>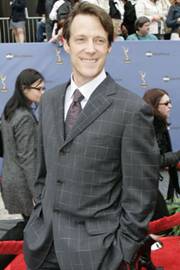 <![endif]>
Alexa Havins was channeling Jessica Simpson in a big way, expected her to bust out with "I know it says chicken of the sea, but is it fish or chicken?"
<![if !vml]>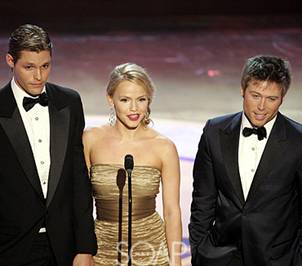 <![endif]>
I usually think Linda Dano does a great job of putting herself together. She's got panache, but the coif this year – Jaysus! Hey Lin, Edward Scissorhands called – he wants his hair back.
<![if !vml]>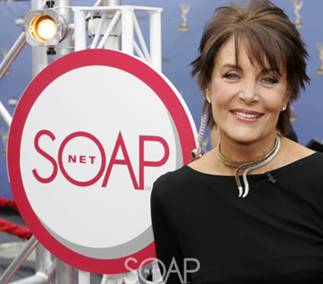 <![endif]>
Ricky Paul Goldin - not sure about the ganster-ish chalkstripe suit with the lilac tie.
Bobbie Eakes – Holy Shit! Are we sure it isn't Boobie Eakes? What? Was she smuggling tic tacs? And wearing something from the Anna Nicole Smith collection. Oy.
<![if !vml]>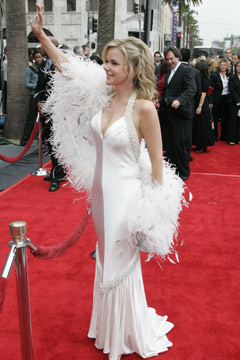 <![endif]><![if !vml]>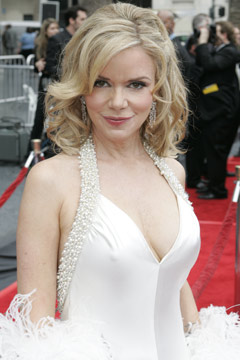 <![endif]>
Jeanne Cooper – doing the I Love NY schtick. Sweetie – you're in LA – drop the agenda.
Forbes March – didn't like the black on black ensemble with the white silk Steven Tyler scarf thingie though he does look faintly Jonathan Jackson.
<![if !vml]>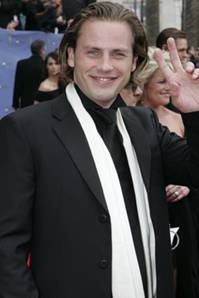 <![endif]>
Finola Hughes and Kim McCullough – Kim's wearing a Rebecca Herbst original, God they look alike. Finola's Marc Jacobs reminded me of a baggy set of drapes turned into a baggy dress with a pattern suitable for baggy drapes in my grandmother's dining room.
<![if !vml]>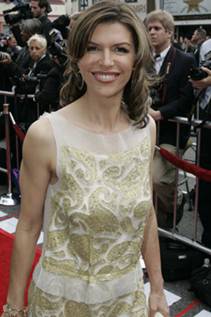 <![endif]> <![if !vml]>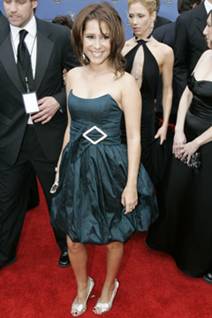 <![endif]>
Damn Jackie Zeman looks good – really good. A mystic tan would've helped a little, but overall damn good
<![if !vml]>
<![endif]>
OK – enough of the shoe cam – most people's feet aren't particularly attractive. Soap stars aren't much of an exception either.
Ty Treadaway and wife Monica – va va va voom! Turquoise lace and chocolate silk – no wonder why Ty is so happy all the time.
<![if !vml]>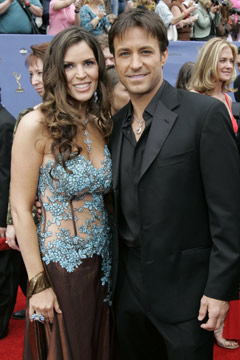 <![endif]>
Cassie DePaiva and BS Frons
What a dork, poor Cassie –did she lose a bet or something? Great Donna Karen coral colored dress though. Too bad about the date.
<![if !vml]>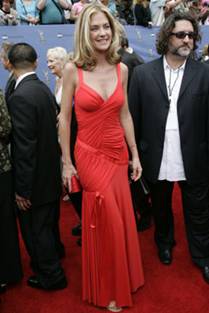 <![endif]> <![if !vml]>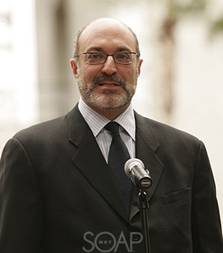 <![endif]>
Kristian Alfonso – D&G and some fab S&M black satin lace up stilletos – hate the hair though. Too little bo peep.
<![if !vml]>
<![endif]>
Lisa Rinna and Harry Hamlin
Beautiful dress, ugly ass feet – and she's the new spokesperson for Dr. Scholls? WTF? And man, does he look old!
<![if !vml]>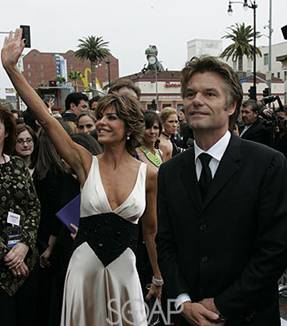 <![endif]>
Collen Zenk Pinter from ATWT – looks like Kelly Monaco will at age 48. Nice shoes, good funky jewelry.
<![if !vml]>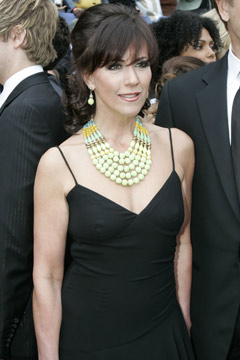 <![endif]>
Suzanne Rogers – good lord woman! Do you not have any friends? Get thee to a stylist. A black bowtie over your spaghetti strapped gown?
<![if !vml]>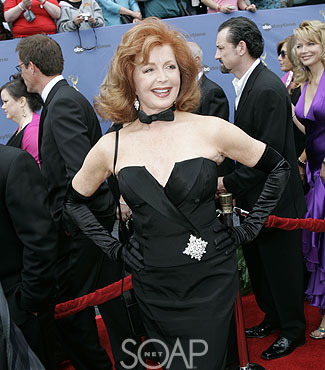 <![endif]>
Michelle Stafford – wow, glamour gal. Glamour with a U. What a little flirt too, luvs it!
<![if !vml]>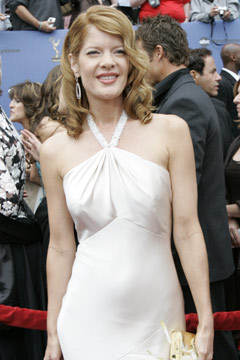 <![endif]>
Melody Thomas Scott – Roberto Cavalli – excellent choice, and no, we didn't think the shoes were Payless.
I'm sorry – but Ricky Paul Goldin may not be gay, but he does a good impression. What's the deal with telling Greg Rikaart "dude, you've got the greenest eyes" not cool.
Martha Stewart and her daughter Alexis. I don't care that the dress is Missoni Alexis, it's still butt ugly.
Speaking of butt ugly… Michael Bruno *shudder
B.U. Part III – What the hell was Cady McClain thinking with this? Is she using Suzanne Roger's stylist??
<![if !vml]>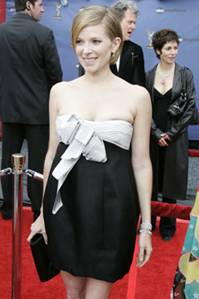 <![endif]>
Farah Fath, Kirsten Storms and Lindze Letherman. Congrats to the first two for looking like I expect young Hollywood to look. Lindze is a beautiful young woman, but someone get the girl some bling to liven up the matronly dress.
<![if !vml]>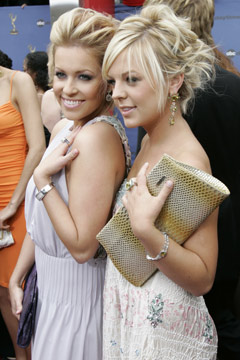 <![endif]>
Leven Ramblin – don't know her, but the girl can dress.
<![if !vml]>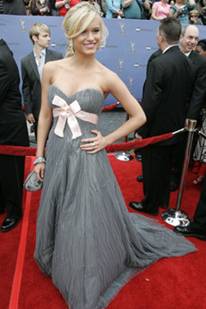 <![endif]>
Jason Thompson, Greg Vaughan and Ted King – one word comes to mind: buffet.
Rick Springfield – some people just age well. He does the aging rocker thing damn good. Sounds good too. Here's hoping he jumps up onstage at GH Weekend! Like how they started out the show, outside then in. Touch of the Grammys ~ And the crowd went wild!!!
<![if !vml]>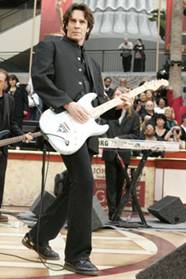 <![endif]>
OK Kelly Monaco looks gorgeous, but went a little heavy on the bronzer. And can someone blot her please?
<![if !vml]>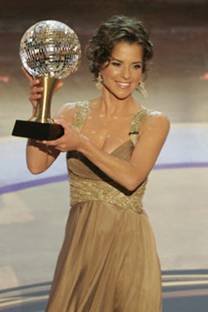 <![endif]>
Mo and Tony – lookin' good gentlemen. Love Mo's vest. Best Supporting Actress presenters. Best Lead Actor Nominee… and winner!
<![if !vml]>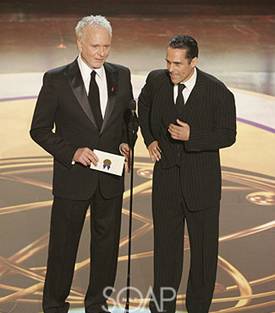 <![endif]>
Tracey Bregman wearing what looks like a metallic hefty bag – still love her.
<![if !vml]>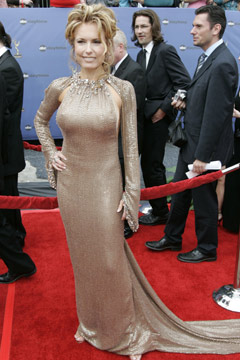 <![endif]>
Gina Tognoni wins – gorgeous dress, genuinely shocked and excited. Very sweet.
<![if !vml]>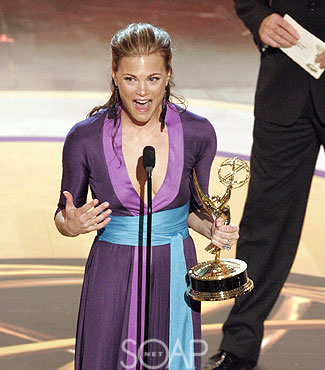 <![endif]>
Christian Le Blanc looks pretty amazing for a guy that almost fell on his ass in front of 3 million peeps.
<![if !vml]>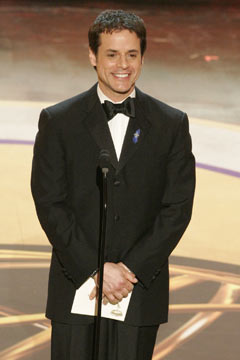 <![endif]>
Savin' the best for last….
<![if !vml]>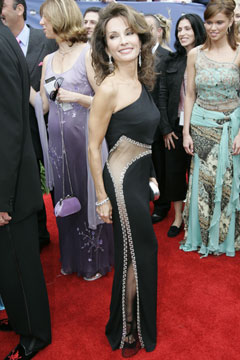 <![endif]>
Does this woman ever look bad?

Screen captures courtesy of: