Through the Eyes of a "Virgin" (GH Kick-Off Party/Luncheon, that is!)
Although this was my third cross-country trek for GHFCW, it was my first time attending both the Kick-Off party and Saturday's main event, The GH Luncheon. In the past I conscientiously skipped the lunch due to the advice of friends who had attended in year's past.
"It's so crowded!"
"It's too hot!"
"The food sucks!"
The lines are so long you'll only get to meet a few of your favs."
"It's too expensive!"
Those collective opinions were swirling in my head when Queen Diva Katrina e-mailed me asking, "Are you going to the Kick-Off Party and Luncheon this year?"
My first impulse was to decline. Then I thought, "What the hell?!?" and sent my money to Debbie Morris. After all, the worst I could end up with was coughing up a couple hundred bucks for an over priced watered down drink, a glimpse of the stars and a rubber chicken lunch, right?
The Kick-Off Party was my idea of a good time. Lots of rowdy fans, live music a cocktail or two later in the evening all lit up by a galaxy of GH stars. I'd heard that last year only a limited number of actors showed up. This year, partly due to the launch of GH Night Shift, the room was bursting with 'em! The cool thing was that they showed up intermittently, so you never knew who was going to walk into the room, only that each time someone did there was a frenzy at the entranceway as fans clamored to greet the next celeb on arrival. Unlike other events, the actors don't park behind tables or be led from table to table to greet fans. Instead, these brave souls just walk into the crowd (and I imagine pray for some sort of order and respect, so they're not literally mobbed!)
For the most part, fans seemed considerate although that declined as the evening went on and the drinks flowed more heavily for some than others. All I can say is that the Kick-Off Event is definitely a measure for the survival of the fittest, the squeaky wheel getting the grease or whatever adage you'd care to quote.
I saw Ignacio Serricchio perform at Nancy Lee Grahn's event last year. Although it was impromptu, I enjoyed his voice so I was pleased to see him take the stage with his band. (Carolyn says he was "sick as a dog" but he must be a trooper because he hung out even after he was done playing.) They got the room rocking with a solid set of cover tunes and he's a natural with an audience, so he raised the crowd to a respectable roar. I managed to grab him (no, not literally, although it was tempting…) between sets to tell him how much I loved him on Ghost Whisperer last season and asked him if his character, Gabriel would be back next year?
He flashed his pearly whites and said, "Yes!"
ABC's loss is CBS's gain. If you've never watched it, it's a great show that seems to actually be maturing with each season. It can be creepy and then make you think one minute and then cry the next. "Nacho's: character was introduced at the end of the season so there's plenty of story to tell with him this fall. Check it out!
Back to the party. Nearly the entire cast of Night Shift was there as well as Jason Gerhardt (Coop), who was overwhelmed at his reception. (Thank God our Carolyn was there to watch his back – this time I do mean literally! ;-) Tyler Christopher (Nikolas Cassadine) was there with cousins Derk and Drew Cheetwood (Mob musclemen Max and Milo) along with the Dever twins Faith and Hope, who danced the night away with Mommy and friends on the dance floor.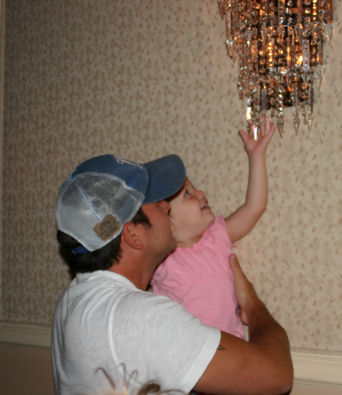 Tyler Christopher holding Faith Dever (ex- Molly)
who found the light fascinating
Soon a grinning Sebastian Roche (Jerry Jacks) strolled into the drawing a huge crowd, while Lindze Letherman (Georgie) flitted around the room posing for pictures with fans wearing a sexy sundress that said, "I'm not a little girl anymore!"
Later Kent Masters King (Dr. Winters) Minae Noji, (Dr. Kelly Lee) showed up and there was buzz that even His Royal Mobness, Maurice Benard was going to make an appearance. Soon a bunch of funky lookin' dudes walked in with Scott Clifton (ex-Dillon Q). Band #2 had arrived.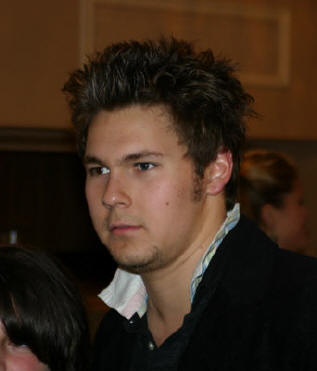 Scott Clifton arrives ready to jam - So does Kent Masters King !
Adrian Alvarado (Detective Rodreguez) is quite the ham! He mugged for quite a few shots throughout the evening and I told him he had quite a wicked look goin' on, which only turned him up another notch.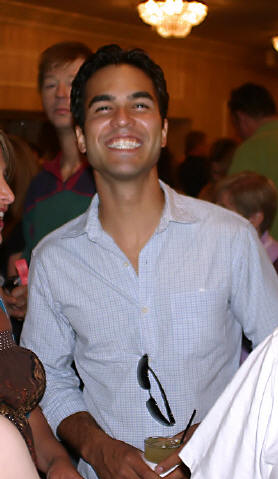 Smile, Adrian!
I was about to jam out to them when I was grabbed to head outside on an "EOS Diva Secret Service" mission. (We were called upon to escort actors in to make sure they could actually make it to the room before being mobbed.) What? It's 9 p.m. and the party's in full swing. WHY would I be needed outside?
"You'll see." Was all I was told.
So I followed Tom, (a Soaps in Depth shooter), Debby O'Connor, her photographer/assistant and a security dude. Once we got to the parking lot, Debby pulled out her cell phone, mumbled a few words into it and hung up announcing, "Steve and Bradford are en route from the studio."
Wow. I was going to finally meet "Spinelli"!
We waited and talked and waited in the dark, quiet night as the party went on inside until a car pulled up and, from the distance, all I could see was a snug short sleeved T shirt revealing some cut, muscular arms gripping the steering wheel. (With all due respect to Bradford, I knew it wasn't The Jackal!) The door opened and my jaw dropped. Out jumped Rick Hearst! (Ric Lansing)
I was dumfounded. If I thought Rick was coming I would have been door watching all night for sure. It's no secret that I'm a shameless fan of his. I knew he was at the event last year but I also knew that he was not planning on hitting as many events this year. Having just gone thought throat surgery a few months prior, I imagined that he was preserving his voice and energy for his big event on Sunday. But there he was, looking fit with a sexy little shine on his forehead as if he were a little rushed and come straight from the studio. Maybe he decided at the last minute to drop in. Either way, his arrival elevated my night from good to perfect.
Then I heard the sound of heels clicking in the parking lot to see a woman briskly walking our direction and, low and behold, it was Nancy Lee Grahn (Alexis Davis)! There was no one but the few of us outside and I have to admit I was thrilled to be a rare witness to the momentary "Rexis" reunion.
They greeted one another and Nancy asked, "Are you going to Becky's?
"No," Rick shook his head. "The Kick-Off."
I had to chuckle as Nancy said that. What was Becky's event going to be like this year? The Ex-Wives Club? Rick may have been wise to steer clear.
The photog asked for a shot and they linked arms and smiled. (I sneaked a shot as well for the EOS cause!) Then Debby whisked Rick into the building and I escorted Nancy in behind them. She veered off to go to Becky's event and I returned to the ballroom just in time to hear the crowd erupt as Rick entered the room.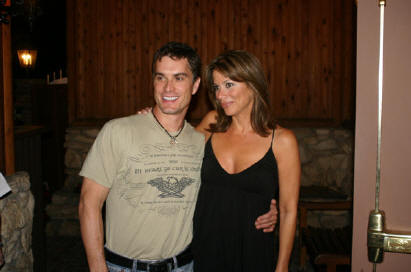 "Ric and Alexis's" secret rendezvous outside
As you can see in The Diva galleries, http://www.eyeonsoaps.net/divas2007.htm, I did get my Diva moment with Rick. Like many of the other actors, he was tired from a long day's work and this was a detour from heading home but he was a sport and flashed that huge Hearst grin just for the Divas. (Thank you, sir!)
Moment's later, Steve Burton (Jason Morgan) and Bradford Anderson (Spinelli) jogged through the crowd and onto the stage grabbing mics and bringing the crowd to its feet. The screen behind him let us know that we were in for more than music and a few cracks from Spinelli. He announced that GH Night Shift, which had just premiered on the East Coast, was a huge success and now it was our turn to see for ourselves. The lights dimmed and the opening played to a cheering reception and then the room fell quiet as both fans and stars watched together, which was cool!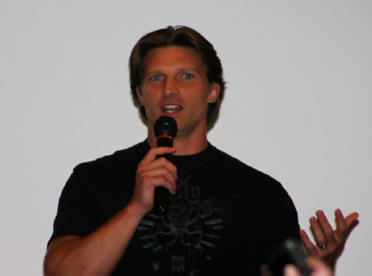 Steve Burton welcomes fans to the Night Shift
There's no denying that it was different from GH. As we looked on and howled at the sight of Maxie in hand cuffs as Cooper scooted across the floor of a supply closet, pants around his ankles, the audience went from stunned to stitches. By then, the party had hit its high note and everyone was just relaxing and having a good time until, one by one, the stars said goodnight.
If you haven't considered attending the Kick-Off event, you should. I found it to be quite the party!
Coming … The Luncheon!
---
A Little Dinner with Scott Clifton and Friends
Some of my most cherished moments at GH Fan Club Weekend for me have been unexpected and due to the grace of others. In 2005, I was stunned to be invited on a studio tour, giving me a peek behind the scenes at GH. It was a trip that I will fondly remember all my life. Then, this year I was asked to tag along on a dinner with Scott Clifton (ex-Dillon Quartermaine). Now, I've always loved his character. He was such a refreshing contrast to most younger soap actors we've seen and we got to watch as he matured into a young man on screen, unafraid to take on his lofty relatives and defend his lot in life as the next "young Spielberg". Dillion had dreams outside of ELQ or medicine that I admired. Maybe because, at his age, I had them too.
We met at Jerry's (for those who've never been to Studio City, it's a few blocks from "GH Main Campus" for the weekend, The Sportsman's Lodge. It's a famous hangout for celebs. You never know whom you'll see. The day we were there, Larry Birkhead (The REAL father of the late Anna Nicole Smith's baby, Danielynn) was seated next to where the hostess planted us. I nudged Scott and whispered, "Do you know who that is?"
"Oh my God!" he whispered back and grinned. "Where's the baby?"
(If you didn't follow the media firestorm surrounding the whole paternity issue of this case, I'm sorry for leading you momentarily off topic. If you did, you know exactly who Larry Birkhead is.)
After sliding into a red leather horseshoe shaped booth, I listened along with my friends Lynn and Chris as Scott explained his reasons for leaving the show. As an artist, he's all about integrity and Clifton felt that his performance as Dillon had become somewhat lackluster.
"I'd watch myself and it looked like I was phoning it in." he admitted. "I have a lot of respect for these guys who can play a character year after year and not have it get old."
Perhaps much of Scott's restlessness comes from youth. At 22, I had the impression that there is a lot he wants to accomplish including continuing to take acting classes to hone his craft. He self deprecatingly mentioned a workshop he'd heard about taught by Sir Anthony Hopkins.
"Yeah, I'm sure he'd take me in," Scott joked sarcastically and then launched into a dead on impression of the Academy Award Winning actor, " Clifton? Who is that kid?"
His mother, who is obviously her son's biggest cheerleader and a paragon of optimism, quickly disagreed, "Let me look into it."
You got the feeling that one phone call from her and Scott would be enrolled in a heartbeat. She just seems to be the kind of lady who knows how to gets things done.
Of course besides acting, Clifton's other love is music. Those who attended the Kick-Off Party on Thursday evening were privy to hear his band play after Ignacio Serricchio's group. However, fans were in for a different set on the flip side of the bill. Nacho's boys do wonderful cover material and the audience was on its feet dancing and singing along with standards they've known and loved for years. Clifton, on the other hand, performs original material – something that is obviously important to him.
"So many people are out there today claiming to be true artists but are singing other people's songs. I mean look at Avril Lavigne? What has she got to say?"
I pointed out that that was the primary difference between a singer, whose skill lies more in interpretation and an artist who creates the message and the music. He was quick to concede some truth in that but elaborated on how important it was for him to be perceived as a good songwriter. He told us that a producer stopped in to check out his sets Thursday night at the Sportsman's and afterwards, they talked. Scott's songs got a decent reception but what the man really carried on about was his voice.
Scott seemed somewhat perplexed by that, but after picking up a copy of his latest CD, "So Much For The Night Life" and giving it a listen (actually multiple listens); I understand the root of the praise. Scott is not only a prolific composure, but also a gifted vocalist. Just like he brought a delightfully eclectic performance to our screens in his portrayal of Dillon Quartermaine, the same sense of style permeates throughout his music.
It's the kind of CD that stayed in my car for days, made its way into friends' homes and even played at my older brother's birthday gig. John's been independently recording and producing bands for years and, after he heard the album, he was pleasantly surprised. (After all, he had no idea who this young talent was. He does now.)
Admittedly, what drew me in at first was the extraordinary sound and versatility of Scott's voice. Sporting a faster vibrato than classic ballad crooners, he sprinkles his songs with soulful turns, hints of well-used falsetto and gritty growls here and there that are reminiscent of blues/rock artists like John Hiatt, James Taylor live on "Steamroller Blues" or even The Who's Roger Daltrey. But it's not heavy metal. It's not pop. It's definitely not country. It's not jazz or swing. It's, well … a sound all his own and it stuck with me.
If I had to pick songs that stood out to me personally, they are as follows:
The opening tune, Stranger, definitely sets the pace for the whole listening experience. Upbeat, "funkadelic" and fun, you can't help but to rock out to this one with it's lightening fast lyric delivery, great guitar bridge and undeniable energy. It makes an opening statement. A perfect first track.
Chorus Line, the song that the phrase "so much for the nightlife" was plucked from to title the collection, is a bluesy ballad that accurately captures the late night feel of walking the streets of New York City. It's on of my favorites on the album and really showcases the soulful quality of Scott's voice.
Linger just has a mischievous mood to it that I makes me grin. Stylistically, it's one of my favorite tracks. It was the song that reminded me that Scott Clifton is definitely not Dillion Quartermaine. Dillon's more or less a nice guy. This song shows that Scott is all grown up and has a bit of a cad in him. Love it!
Linger
Silhouette in the window
Outline of the good you've done by me
I couldn't tell you what I know
It's bad enough you're in everything
I can feel you
And if only I were felt like that
You've taken my heart, and now
I want it back
(CHORUS)
So you want to leave
Until you get what you want
Well honey, two can play at that game
All night long
And did you really believe
That I would just let you linger
Forever, and ever, and ever
Rose on a pillow
Trademark of the only girl who believed in me
I couldn't see it, but I know
It got harder to give to me
And now I'm all alone
Did I ever make you nervous
Did I call your bluff
Have you forgotten your reasons
Is that not enough?
(CHORUS)
Tell me how you linger enough
To say all that you're thinking
All that you're dreaming
And all that you are
Did you know, I don't know
If I'm waiting holding on to nothing
Waiting around for something
And it's you
Silhouette in the window
Outline of the good you've done by me…
(CHORUS)
Tell me how you linger.
<![if !vml]>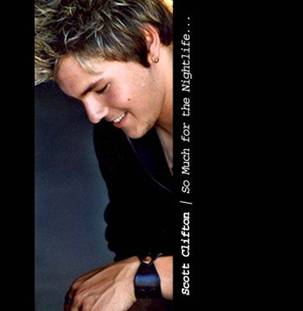 <![endif]>
For more info on "So Much For the Nightlife", click here: http://www.scottclifton.com/Music.html
As we continued our lunch, we went on to talk about some of the good times he had on the show. He loved working with Tony Geary and Jane Elliot. His dressing room was next to Rick Springfield's and her frequently heard him playing guitar. I asked if he'd ever played with him and Scott once again remained humble. "Nah. To him, I'm just another kid with a guitar. "
(Um. Mr. Springfield? If that's true, you might wanna pick up a copy of "So Much For The Nightlife", okay? ;-) Somehow, I think he'd entertain a jam session then.
Scott revealed that there was talk of making him Alcazar's mob protégé a la Jason to Sonny but that was quickly nipped in the bud because his character's perspective was such a valuable window into the other characters on the show. (Sound familiar? Can anyone say Spinelli?)
Although we all pled our cases about the lackluster writing for his character as of late, Scott mentioned that he always tried to be on his best behavior while at the studio. He doesn't seem like the kind of guy who was interested in making waves, or at least, was mature enough to know when not to. Maybe Dillon will drop in for a visit someday … He shared a few amusing stories about cast members, which will remain table talk to respect their privacy. All I'll divulge is that it sounds like those Vegas trips we've heard about can get interesting. (No trouble, just fun!)
One humorous conversation that comes to mind was about pet peeves or things we, as viewers, catch while watching the show. Mine was all about take-out coffee cups from Kelly's as well as Sonny's new joint. It never fails to bug me when I can tell that the cups are empty, yet actors are sipping away as if it's the best cup o' joe in the world. Then, they got to set the cup down and do so way too hard. Its hollow echo resonates throughout the set, verifying what I knew all along. The cup is empty. It instantly breaks that sense suspended belief and catapults me back into reality. Picky, picky, picky, I know.
Scott got a chuckle out of that. It's obviously something he's observed as well. He said that you can always tell who is a more conscientious actor; those who choose to go to the water fountain and fill their cup before a scene or those who don't and wave it all around so it's even more obvious to the viewer that it's empty. (He illustrated this to big laughs!)
Ever with the attention to detail, he added, "But then there are those who have an empty cup but are so good with the prop that you'd never know that the cup wasn't full. Now, that is the sign of a good actor."
If you take the analogy of looking at life's glass – or cup – as half full or half empty, take heart. Although he won't be gracing our screens on General Hospital these days, Scott's looking at a pretty full cup. Drink up, man, and enjoy every sip!
Until next time, pop in a good CD (this one is highly recommended), kick back and enjoy the music!
Trish
<![if !vml]>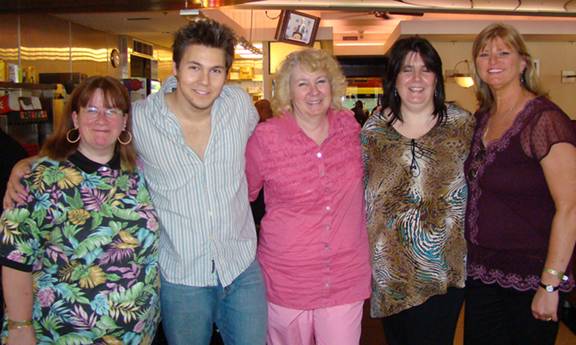 <![endif]>
Photo courtesy of Lynn Vogwill