80th Annual Academy Awards
Time to settle in for another eight hours of Oscar. The last few years have found me right here, the morning after, staring at notes I made while watching…and wishing the column would just write itself. My notes are always a mess, half words and scribbles and arrows pointing to other stuff – and it all made sense when I was doing it. So hang in there with me, this could get interesting!
The red carpet coverage was really, really boring and not very well done this year. None of the stations I was watching had any kind of real space for interviews, it was all very chaotic and apparently it was raining (could Ryan Seacrest whine about that *any* more?) . There just wasn't anything interesting going on, which made the moment Gary Busey appeared all the more significant. In case you live under a rock, Gary Busey is a loose cannon of the highest proportions – I mean, we're talking completely nuts. You could tell that the moment he appeared Ryan was feeling apprehensive, and it only went downhill from there:
So yeah, that was kinda fun. Later one of the other E! hosts asked Ryan what the history was there, why Gary wanted to "talk to him"…Ryan said that he's never met the man before in his life. No idea how Mr. Busey even got in the place when rumors are Brad Pitt and Angelina Jolie were NOT invited…?? Bizarre stuff.
Jon Stewart is opening the show with the usual monologue thing, but this one is pretty good. He gets a few good laughs and there really aren't any dead silence reactions so I'd say he's doing alright.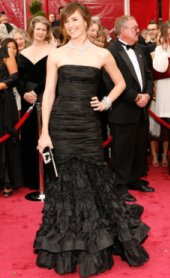 Jennifer Garner comes out to introduce something and my husband stops the whole show to inform me that while he's not really into fashion, he likes her dress and hair. He's totally serious. Ha. Then when I just kind of smirk at him and maybe say "yeah, I knew you'd wake up to critiquing designers sooner or later" he backpedals and says starts with the "No, seriously…I just thought I'd mention that for once I noticed that a 'look' works or whatever…I didn't mean anything by it!" Mmm Hmm. This is off to a marvelous start!
I think J. Garner presented something…I missed it in the fashion exchange. Then Barbra Streisand appeared on film to tell us how great her acceptance speech was many years ago. In case we had forgotten.
George! Mr. Clooney looks dashing, as usual. He introduces 80 years of Oscar – a montage. It's kind of entertaining.
Anne Hathaway and Steve Carell do a cute little shtick and then introduce…uh, I think it might have been Best Animated, because Ratatouille won. I liked that movie, for a cartoon.
Katharine Heigl looks gorgeous (though less makeup wouldn't kill her), she's here to introduce something unimportant, but she's incredibly crazy nervous. I feel really bad for her.
Amy Adams sings a song from Enchanted. It's really boring. And long.
Michael Douglas and Catherine Zeta-Jones are on film talking about their Oscar wins…they're sweet together. There's one I thought would never make it at first, but now that they're at the twelve year mark or something, I guess maybe they knew what they were doing. Go figure.
Jon introduces Dwayne Johnson and 90% of the world says "err huh?" but then The Rock walks out and we roll our eyes at the cute little celeb thinking he can change his "name". He looks good though, and it's appropriate that he's introducing the visual effects category. I don't know what won, but I do know it is beyond past time to introduce a category of actual interest.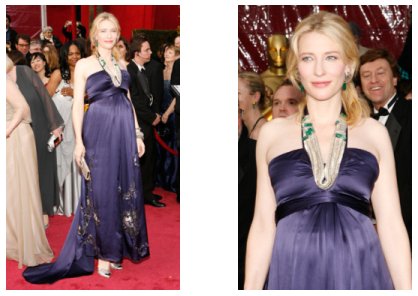 Cate Blanchett arrives to talk about Art Direczzzzzzz. She looks alright though, for her. I could live without the superhighway snaking around her neck, but otherwise, it's pretty and she's pregnant so if she's craving serpentine fashion accents, who am I to object? Her makeup is beautiful, understated – Katherine Heigl should take note.
Anyway, Cate awarded the art direction award to some guy and some lady, and the lady seriously – SERIOUSLY – looks as if her face has been art directed upon repeatedly. Scary stuff.
A pair of boobs brought Jennifer Hudson along and they're going to announce the supporting actor winner.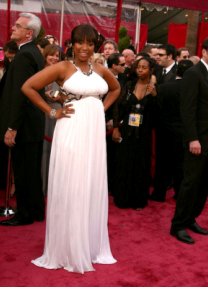 Supporting actor winner is Javier Bardem. No big surprise there. Haven't seen No Country for Old Men, so I can't comment. His Spanish is sexy though.
Another song, from August Rush this time. Equally as uninteresting as the last.
Jon Stewart says that Hal Holbrook was doing the "cabin patch" in the aisle…what's a cabin patch? I rewound twice. It was poor Cabbage's chance to make a name for itself at the Oscars, and Jon ruined it.
Owen Wilson shows up and everyone makes sure to be ultra supportive and loving with their expressions to help him get through this. He introduces Best Live Action Short. Something French and about pickpockets wins.
Dear God. I thought we were done having to suffer ads for Bee Movie! It's baaack. To introduce a Bee montage. Seriously. Then it (the bee) introduces Best Animated Short. The winner hauls ass to the stage from the way cheap seats, bringing a doll with him. SO not a good sign.
Supporting Actress! Winner is Tilda Swinton! That's a surprise. I thought she was very good in Michael Clayton, but probably Amy Ryan was better in Gone Baby Gone. And probably I didn't see anyone else nominated. Anyway, after I get past not recognizing Ms. Swinton, and then get past the fact that she is actually at the Oscars with no makeup on…I feel a little awe at her bravery. She's maybe a little odd, but I bet I'd like her if I knew her. Plus she talks about how the statue resembles her agent, right down to the ass. Gotta love that.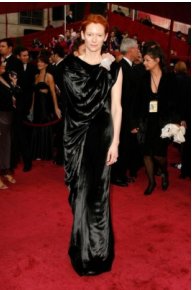 Jessica Alba came out and said some stuff. I wasn't paying attention.
James McAvoy and Josh Brolin arrive and do famous movie quotes together. It's somewhat amusing. They manage to bring Jack Nicholson into it, which is always a bonus.
Adapted Screenplay – tough category! No Country for Old Men wins.
Some guy, I'm guessing an Academy suit, is talking about the nomination process – they play a little clip montage of voters. Again, sort of cute. Oscar is definitely obsessed with itself on this its eightieth birthday though, I must say.
Miley Cyrus is here for some reason. (ABC = Disney! Surprised Donald Duck isn't a presenter.) She looks good though, and is very poised…again, I guess it wouldn't hurt Katharine Heigl to take notes. Oh, she's introducing another song from Enchanted. I guess that's supposed to be the segue. This song has construction workers in hard hats, tubas, and floral hula hoops.
Jon Stewart names off the pregnant attendees (Cate Blanchett, Nicole Kidman and Jessica Alba) and then says "and the baby goes to…Angelina Jolie!" Ha. That was pretty good really. I'm enjoying him a lot.
I take a break to eat icecream. Judging by the entries I've missed something in the visual category. No wait – it's for sound editing, oops. Bourne Ultimatum wins (yay!) and the couple accepting it sound like I imagine my husband and I would if we tried to get up there and thank people. "I want to thank…what was his name?" "You know, the guy that did the…thing?" etc. Hilarious. Unintentionally.
Sound Mixing – Bourne wins again! The winning sound guy's speech is drowned out by sound. How apropos.
Best Actress! Wow, Marion Cotillard wins. Who's she? She was in something with a French title. She's cute though, truly excited and shocked.
Colin Farrell stumbles in (literally) and tries to blame it on "something" that someone should take care of…suuuure Colin. We'll fix that flat floor right up. Then he talks about how the characters in the movie learned to "point their sinking ship toward home". I don't know though, it seems like sinking ships should point toward the nearest shore, but who am I to second guess Colin? He's way more philosophical than I could ever dream to be.
Another song, this one from Once. It sounds like an actual song this time, rather than something played at a Disney princess tea party. It's pretty decent.
Jack Nicholson is onstage! He's seriously ageless anymore. He said some stuff I guess. I was busy contemplating his wrinkles or lack thereof.
Squinty McSquintock arrives (AKA Renee Zellweger). I can't stand her. I hate her hair too, in case she's wondering.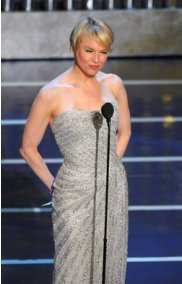 Film Editing – Bourne Ultimatum again. The guy thanks like eight people in his family and their names all start with the "ah" sound. The poor people in that house have to wait for the second syllable to react, every time.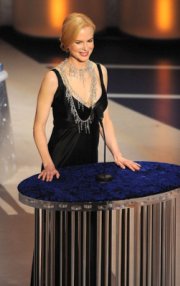 Nicole Kidman – She so should've cut out the surgery and botox a while ago. She was so much prettier about 15 pounds ago too. Quote from my husband (the fashionista): "That's a hideous necklace man, she looks like a Christmas tree". She photographs better than she looks though, when she was presenting, her face didn't look nearly as dreamy.
A 98 year old man (who looks really good for his age, probably without botox – take note Nicole!) rambles on, and on, and on. No idea who he is or why he's there, but I'm sure it's important and touching.
Penelope Cruz looks pretty, though the dress has hair growing out of the ass. She introduces Foreign Language Film.
I have my third "oh damn" moment when I try to fast-forward and realize I can't because I'm all caught up and watching *gasp*, live.
Patrick Dempsey comes out to announce ANOTHER song from Enchanted. Judging by this show, there is altogether too much (bad) music in Enchanted for me to enjoy it.
Travolta almost falls down while approaching the podium. Apparently maybe there really *is* a problem with the floor and, like me, the peeps in charge of the stage just thought Colin was drunk again or something. Hmm. Someone should fix that! Like Colin said! John Travolta is most definitely sporting the "newly sprouting chia pet" head. Very weird – it's like it's drawn on or something. Someone should've checked Preston's bag for a Sharpie.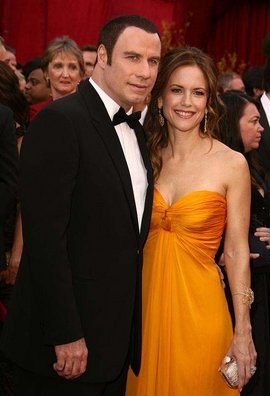 Cameron Diaz looks a little less "I rolled out of bed in yesterday's dress and ran all the way here!" than usual. The dress is wrinkled, and I saw her yanking it up at the boobs several times on the red carpet, but we wouldn't recognize her without those things…she might've tried a little this time though, so I'll give her credit. You can't see the wrinkles here, but trust me – they're there: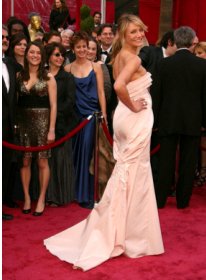 There Will Be Blood just won for something. I missed what.
Hillary Swank sees dead people. I listen hard to the clapping as the guests tell us who they are happiest to have dead.
Amy Adams looks nice! She's talking about sounds in movies (and I swear, how MANY sound awards are there?) Oh, it's for Best Score. Atonement wins. I haven't seen or heard it, so I can't comment.
Tom Hanks introduces soldiers in Baghdad who award the Best Documentary Short. Obviously security must not be very tight around that category, since the envelope is far from the brief-cased bodyguards that guard the rest of the winning information. Can't believe such sensitive material was just floating around Baghdad!
Before each of the big categories they're replaying old clips of past winners, which is kind of nice for a change.
Best Doc Feature – Taxi to the Dark Side.
Harrison Ford (Oh my God I can see the end of my notes! Seriously! We're gonna make it!) announcing Best Original Screenplay. Diablo Cody wins for Juno - I like that. Her dress is something Pebbles (or maybe Bam Bam?) would wear to the Oscars, but still, good for her. Plus now she can heft the Oscar statue around all night as her club, and really be in character.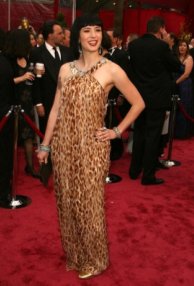 Um…some scribbles, and apparently I lost focus for a few minutes there. I'm sure nothing important happened.
Helen Mirren looks gorgeous, for goodness sakes! Give the other girls a chance already Helen!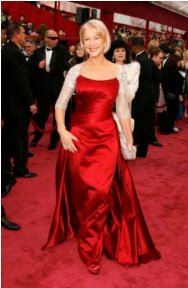 She's there to announce Best Actor. You can't really go wrong here. Daniel Day Lewis, Viggo Mortensen, Tommy Lee Jones, George Clooney, and Johnny Depp. DDL wins, and he bows down to Helen Mirren onstage, as well we *all* should! He doesn't cry this time, and mostly hides his all-kinds of craziness, but I love him!
Anyone noticed that Viggo Mortensen is morphing into Ed Harris?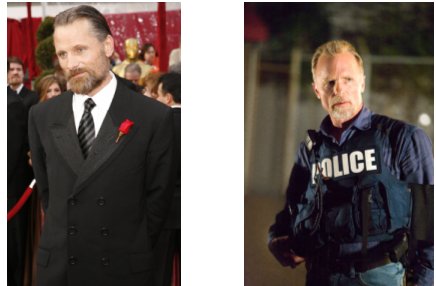 I'm not complaining, mind you, but it seems like someone make sure we need two Ed Harris' before this goes much further.
Martin Scorsese appears to announce Best Director – The Coen brothers win. They're very non-excitable. We do learn that both of them tug on their ear when nervous.
Denzel Washington, beefy AND bald, presents Best Picture. No Country wins that as well.
Beginning time 8:30, ending time 11:50. Shew. All in all, a decent show given that most of the movies weren't all that popular. Jon Stewart was really good. I thought the fashion was booo-ring, and the speeches weren't much better. Really wish we could've seen the Golden Globes this year – that's where the actors get to show a little personality, and I really *love* the actors nominated this year – not a stuffy personality among them. It would've been great fun. I guess I'll just have to hope that they're all busy making great movies for this year, so we can get a redux!