April 23, 2007
A couple times I started a column only to feel insensitive after the tragic shooting at Virginia Tech. How could I make silly about a soap when so many people were in pain? Finally, I realized that by not writing, I was allowing a single mentally ill person to dictate my life from his grave. Not acceptable. My prayers and sympathy are with the victims and their families. Maybe I can offer a small distraction from what they are going through if anyone hurting from the tragedy happens to read Eye On Soaps.
Now on to the second item of business. It was pointed out to me a couple minutes after my column posted last week that I made a mistake. Robin Christopher's baby, who plays Lila Rae, is not a boy. She's a little girl named Gianna. I don't know why I had it in my head that Robin Christopher's second child was a boy, but I did. My mistake; I apologize for misleading anyone reading. It sure took the fun out of the picture in my head though.
<![if !vml]>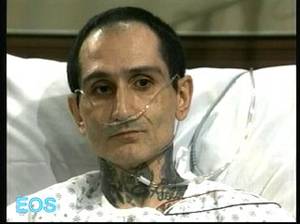 <![endif]>
Has anyone seen this man? Just askin'.
There is no going back for Carly. She has evolved into a major character on GH. This week I visited Maurice Benard's website and pictures of Sonny with his four Carly's caught my eye. Each actress brought their own spin to the role and now Laura Wright gets a turn. She is giving her all to the role and it shows. My favorite part of Carly at the moment is her underlying body language that says she's glad to be there. Watching an actor who gives the impression that they love going to work makes the character that much richer.
<![if !vml]>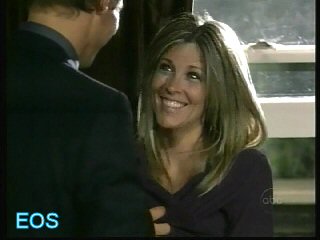 <![endif]>
If you're happy and you know it smile big.
Sometimes I watch a scene and trivial things capture my attention and won't let go. On Monday, Tracy sat on the sofa to speak with Luke. As they engaged in a serious conversation about Scotty Baldwin's bid for Laura's guardianship all I could see was the similarity in the patterns and colors of the pillows and Tracy's blouse/jacket. They shoulda changed the pillows so I could hear the dialogue.
<![if !vml]>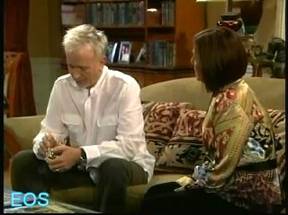 <![endif]>
Which came first? The pillows or the blouse?
Don't tell Luke but he and Tracy argue like mature adults. They each get a say and they don't interrupt each other while they are saying it. Neither latches on to a statement, lurches sideways and tries to change the focus of the argument. Honest communication. Who would have thought Luke and Tracy could set an example?
Alcazar's good bye echoed in the sound of the gun firing. By cold bloodedly shooting his henchman in the back he stamped death upon himself. Right in his own living room. I wonder who hauled out the body and cleaned up the blood? Skye, Lila Rae, and the nanny must have been dining out or at the park when he off'd the guy. Yep, Alkie's walking in the garden of evil and he won't be long in Port We-Like-Our-Villians-Goodlooking Chuckie.
<![if !vml]>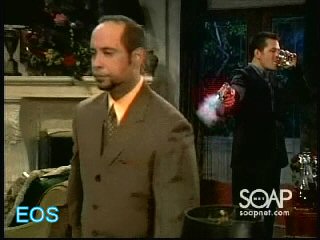 <![endif]>
No ice melting in his drink!
Another piece of subtext stood out with the positioning of Ric and Scott. "Don't rattle my skeletons and I won't rattle yours." I don't know why they are where they are but like chess pieces they are strategically moving around the board. During May Sweeps I am sure all will become clear.
<![if !vml]>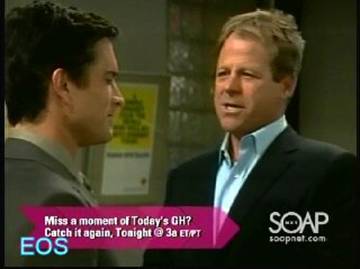 <![endif]>
You're badder.
No, you're badder.
No, you are.
Maybe being a child of divorce caused my strong reaction, but when Jax spoke with Sonny about signing the divorce papers for the benefit of "our children" I about came out of my chair to rip out his throat. Suddenly, his almost stepfatherhood gives him part ownership of Michael and Morgan? Oh no, I don't think so! Show me some serious parenting time before claiming a decision making role in their lives. Someone without stepparent experience or issues must have written that line.
Hoops are in! The bigger the better. Let's all rush out and buy some hoopty earrings to keep up with the in crowd.
<![if !vml]>

<![endif]> <![if !vml]>

<![endif]> <![if !vml]>

<![endif]> <![if !vml]>

<![endif]> <![if !vml]>

<![endif]>
Since Patrick knows about Mr. Craig and his evil poison, can we done with Mr. Craig now? Faith was evil but I liked her. Manny was evil but he had quirks. Helena, Faison, Ric to name a couple others were/are great villains. Mr. Craig is evil but he's boring and the storyline is ridiculous. Truly, I try to find pieces to enjoy in each storyline but it's not happening for me. Next week I hope Colleen the evil nanny sneaks back into town, falls madly in sick twisted lust with Mr. Craig, and kidnaps him. Nikolas can glance around at shot time and realize that Mr. Craig was nowhere to be found. Then he'd realize, duh, he's fine and didn't need the injection anyway. That wraps up that storyline. Next please.
<![if !vml]>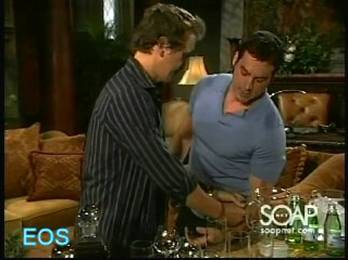 <![endif]>
Sweeps are inching ever closer. I haven't heard of any big events coming up in May, just extra drama. May sweeps feel like dessert after the main course of February sweeps. So far, we can figure on big doings surrounding the birth of Liz and Jason's baby with Jason in the middle. Lorenzo's demise is right around the corner. Sam will leave for a short while to pursue her career filming Ordinary Heroes so that Kelly Monaco can pursue her career with a role in a primetime pilot called Football Wives. Jax and Carly's wedding kicks off sweeps in the upcoming week and who knows what will happen with Tracy, Alan and Luke. There have been so many huge events over the last couple years – hotel fire, train crash, and epidemic to name a few – that a month of intense drama sounds good. Let's set the stage and prepare our minds. Take a deep, cleansing breath; make sure the box of tissue is at hand; and prepare to let your emotions be swept into the vortex. Here come da sweeps.
I'd wish you all a soapy week but a week filled with peace sounds better. May the only soapy drama you live through occur on your television screen.