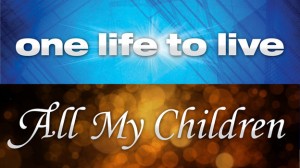 By Sandi Kelly Showalter
It is with a very heavy heart that I report that ABC has officially announced the cancellation of All My Children and One Life to Live. AMC's last air date will be sometime in September, 2011 and OLTL will go off the air in January, 2012. In their infinite wisdom and unending compassion for the viewers, ABC is replacing these iconic shows with The Chew, a food program and The Revolution, a health and lifestyle show. With every fiber of my being and in all sincerity I hope these two shows fail miserably.
I didn't want to believe the rumors. I resisted it and I let myself hope with the hiring of LB and RH, but I knew these could be ploys to bring about the end of the shows, and sadly, that is exactly what they were. So, my fellow AMC and OLTL viewers, please join me in mourning the loss of our shows. Let your feelings out and write about your memories. Let us know what you would like to see for the end. I will let this be your forum, because I will undoubtedly write a very long Sandbox column.