For a few years now, I have suggested that the Daytime Emmys follow the Golden Globes lead by having round tables and liquor. Man, when I am wrong, I am really, truly, totally, completely, without a doubt wrong.
At the Golden Globes, tables provide a sense of intimacy and camaraderie. As for liquor, while I am not saying that everyone at the Golden Globes is smashed, it does increase the possibility of something spontaneous happening. In addition, the lush centerpieces, the candles, and the flattering lighting add a warm elegance to the occasion.
How silly of me to think that ABCD would even know what elegance means, let alone know how to produce it.
People in daytime television work hard to produce good shows. They work with tighter schedules and lower budgets than primetime shows do. Soaps do not have a season that lasts 13 or 22 weeks, their season is 52 weeks. Their hard work results in revenue for the networks.
At the very least, they deserve an awards show that honors their commitment, professionalism, and achievement. It is bad enough when outsiders treat daytime like a lesser genre but it is infuriating when its own networks produce an awards show that feels like a cheap afterthought.
From the background "light show" to the empty wine bottles left on the tables, it all looked cheap. Brian Frons should be ashamed. Assuming he even knows what shame is.
Last year, the Emmys had bleachers, this year the Emmys had empty wine bottles. Which was tackier? I'd call it a draw.
Enough with the ambience bitching. After all, who do I think I am, Colin Cowie?
The best thing about any awards show is seeing who is there, what they are wearing, whom they talk to, and whom they ignore. It is especially fun with soap actors since we invite them into our homes every day.
Cameron Mathison comes into my house almost every day. Unlike his alter ego, Ryan, he seems like a swell guy. The person you would like to have as a neighbor. A person you would trust to dog sit and take your kids to the circus (I promise this is a close to a clown nose joke as I intend to get). Cameron throws himself into every TV assignment with enthusiasm. It was clear he loved hosting the Emmys; I just wish listening to him did not hurt my ears. Cam, sweetie, lower the decibel level, throw in some modulation and I'll be hoping you're the host the next time it is ABCD's chore privilege to produce this show.
Since the only time I watch The View is when the Daytime Emmy nominations are announced, I do not know much about Sherri Sheperd. Just like Cameron, she seemed genuinely enthusiastic to be hosting.
The writers are responsible for bad comic moments, such as tonguing your co-host. Cameron and Sherri did the best they could with that.
I was happy ABCD chose co-hosts who are actually on daytime. If I want to see primetime stars, I can catch them on their award shows.
As longtime readers know, I do not pay much attention to who actually wins an award, unless it really irks me (see below: "Outstanding Daytime Drama.) The voting procedures are byzantine at best. No, that is not right word. Nonsensical, that's it! The voting procedures are nonsensical at best.
Does one show really have almost all the best actors in daytime? How can a show win both "Outstanding Writing" and "Outstanding Directing" and not win "Outstanding Drama"? Why does the "Outstanding Younger Actor/Actress" eligibility category include actors up to age 25?
For years these questions kept me up at night. Now? Not so much.
I checked out the Red Carpet pre-show because of my decades old girl crush on Finola Hughes. She is funny, she knows fashion, and she is British, how could I resist? She shared her screen time with Lawrence Zarian. Not sure the Fashion Czar's presence was necessary since he did not seem to know much more about fashion than my dear Finola did.
Ricky Paul Goldin, ABC's latest golden boy, was there, too, although I cannot remember any of his interviews. In all fairness, I watch for the fashion and tend to ignore everything else.
Rebecca Budig was fun to watch. Was she the best Red Carpet interviewer in recent memory? No, but her excitement more than made up for her lack of experience. She had done her homework. In fact, the only flub I recall is treating Marie Wilson, Roger Howarth and his daughter Langston like they are a family. Her confusion was understandable though, since Marie's dress matched Roger's tie.
The best Red Carpet moment came during Rebecca's chat with co-stars Melissa Claire Egan and Alicia Minshew. Melissa talking about "boob sweat" was as real as a Red Carpet moment can get.
The actual show got off to a good start with a shot of Tuc Watkins. He makes everything better.
Unfortunately, Tuc was followed by Sherri's girdle joke. A spontaneous boob sweat remark is funny, a scripted girdle joke is crass. Not to mention outdated -does anyone even use the word "girdle" anymore?
Cameron visited the AMC table to let us know that all the stars were making videos of the evening's festivities. We could see them later on Soapnet's web page. Anyone know how we can get our hands on the videos Soapnet didn't post? Maybe we will just have to wait until ABC starts selling "Daytime Emmys Gone Wild" on its website. Sure, you laugh now.
Did you know that Beth Ehlers is coming to AMC? Did you also know that she and Ricky Paul Goldin were co-stars on GL? Boy, ABCD can sure keep a secret.
First up were Sarah Brown, Tony Geary, and Laura Wright presenting the "Outstanding Supporting Actress" category. Yep, Tony was up there with the actress who plays his niece and the actress who used to play his niece but now plays GH's latest mobstress. I like Laura's Carly more than Sarah's Carly and I like Sarah as Claudia more than I liked her as Carly. It's all worked out well for me, even if it does make my head hurt.
The OSA clips prove that daytime is not lacking in talent. I love that Kelley Menighan Hensley's clip shows a scene with her mother, played by the wonderful Marie Masters. I have never watched GL, but each year Gina Tognoni's clip pulls me right into the scene. During her acceptance speech she says what soap fans feel (almost) every day: "I am proud of daytime and pray it goes on for a million years." If network executives felt the same way, daytime would have a shot at going on for, if not a million years, at least another decade.
"Outstanding Informative Talk Show" is up next. I'm trying to remember what I have learned from any of the nominees and then I remember that I don't watch talk shows. I have nothing against them, I just don't watch them. What kind of information do they provide? "Informative Talk Show" sounds like something a PBS show would win. I am so confused.
Marcy Rylan and Daniel Cosgrove are the presenters. My goodness, Daniel has matured quite nicely since playing AMC's Scott Chandler. The Tyra Banks Show wins. Tyra's acceptance speech is more than enthusiastic. Her comments about her mother and her Grandma Fanny are heartfelt. It's almost a quicktears moment. I like her more during her speech than during the last three cycles of America's Next Top Model. Daniel's echoing her "ass" comments was one of the night's funniest moments. Hey, maybe the liquor did its job after all.
OLTL's montage was my favorite. Last year, the show took a big risk with High School Musical and it worked. Kassie DePaiva proved she is the best slapper in daytime. Calling Adriana a "bitch" and then slapping her was a classic Blair moment. Adrianna is lucky Blair did not defenestrate her. Asa's death was a quicktears moment that went on for days. Including Nathan Fillion in the montage was like melting ice cream on a warm piece of pie from the Bonjour Café.
Speaking of Kassie DePavia, she was up next along with her co-stars Michael Easton and Susan Haskell. Kassie's excitement is infectious. Is she ever not in a good mood? It's good having Susan back in the OLTL fold. I think Michael made a joke about younger actresses but I was too distracted by his outfit to hear it. In fact, I was so distracted that I am not sure which award they presented. Was it "Outstanding Younger Actress" ? I do know that Jennifer Landon won that award for the third year in row. Each year her sense of fashion improves but this year she looked nothing like her character, Jennifer Munson. I cannot put my nose. finger on it, but something was different. Ms. Landon did a good job this past year, especially since she was stuck in the college student desperate to have a baby storyline. And there was the Branson story, but no use dragging up bad, very bad, memories.
Next Tom Pelphrey won "Outstanding Younger Actor." I'm having a déjà vu moment while typing this sentence. I like Van Hansis but he was hampered by turning 25 last fall. I could ask why he was in this category instead of Supporting Actor, but the answer would undoubtedly make my head explode.
Ellen DeGeneres won "Outstanding Talk Show Host." I'm having a déjà vu moment while typing this sentence. She was gracious and funny. If I were going to watch a talk show, it would be hers.
Three fourths of AMC's Hubbard family presented "Outstanding Direction in a Daytime Drama." It was well-deserved win for OLTL. My favorite director, Jill Mitwell, accepted the award.
Kristoff St. John was voted "Outstanding Supporting Actor." I don't know if he deserved it or not, but I do know his daughters are adorable.
Another deserved OLTL win, this time for "Outstanding Writing for a Daytime Drama." After over a decade of Head Writers who seemed hell bent on killing the show, Ron Carlivati has resurrected OLTL by bringing it back to its roots. It's no wonder that longtime viewers adore him.
The Rachel Ray Show wins "Outstanding Entertainment Talk Show." I am very confused. Doesn't her show include informative things like recipes?
Take cover, here comes the General Hospital montage. A hostage situation. The cruel hostage taker shooting innocent people just because he can. (The same character is now successfully wooing the D.A. Who says Love in the Afternoon no longer exists?) During the hostage crisis, a beloved character suffers a soon to be fatal heart attack. A hotel explodes. A romantic dress ball turns deadly when a serial killer begins offing the young women of Port Charles. As the final coupe de grace, a child is in a lifelong coma due to a gunshot wound to the head. What's not to love?
Jeanne Cooper takes home her first "Outstanding Actress" award. After 9 nominations and decades of good performances on Y&R, it's about damn time. I love her opening line, "High definition. What can I tell you, it's a bitch, isn't it?"
According to Susan Lucci, who was a judge in this category, the race for "Outstanding Lead Actor" was close. Tony Geary wins it. Tony's speech is always gracious and he never fails to thank his current female acting partner.
When General Hospital wins "Outstanding Daytime Drama" I get the strong urge to shoot someone. Giving the award to the violence-laden GH is akin to giving a treat to a puppy each time he pees on the rug—it only encourages continued bad behavior.
All My Emmy Schmattes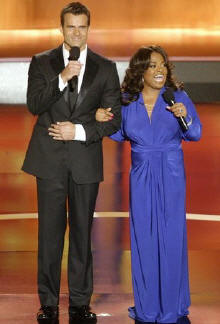 Sherri must have really been flustered; she forgot to change out of her bathrobe. The rest of her outfits were pretty and flattering. I wonder why she chose this for her entrance.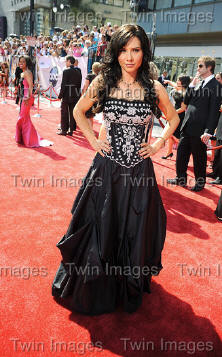 The top was beautifully beaded and the skirt moved like a dream. Sarah's dress was one of the best. And doesn't she look great as a brunette?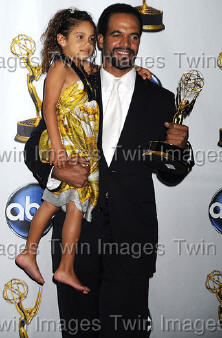 What can make a handsome Kristoff St. John even more attractive? An Emmy in one hand and a barefoot daughter in the other.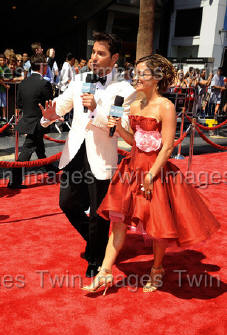 Rebecca's dress resembled the dress my brother's prom date wore back in 1959, in a good way. Ricky looked snappy enough to be her date.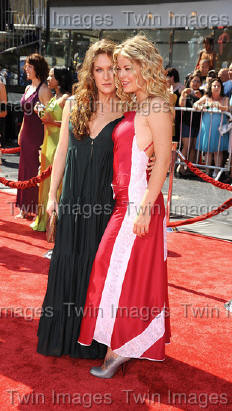 I have no words for Bree Williamson's dress, no words at all. Beth Ann Bonner's dress is better but at least Bree looks happy to be there.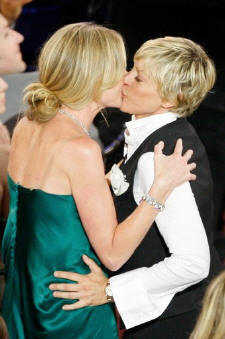 I am still waiting for my invitation to the wedding, how about you?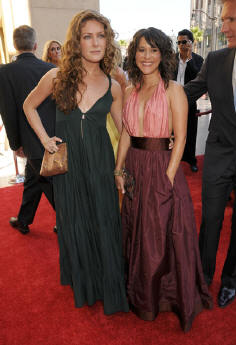 Kimberley's suits her perfectly, sophisticated without being stuffy. Once again, Beth Ann looks less than thrilled.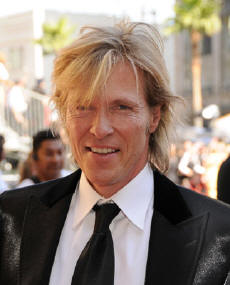 Jack,Jack,Jack. I don't know an actor more in need of a Shear Genius makeover, do you?
This photo makes Rebecca Herbst look oddly proportioned but she still looks beautiful. As always, she made her dress and it looks good.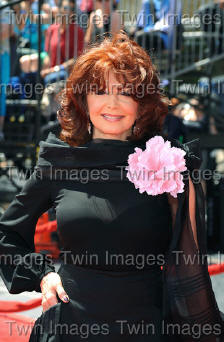 Suzanne Rogers' outfit made me feel hot. And not in a good way.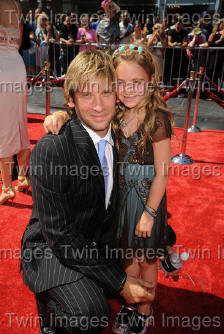 Another cute father/daughter duo—Roger and Langston Howarth. I don't love his stripped suit but compared to the blue velvet suit he once wore to the Emmys, this outfit is sartorial splendor.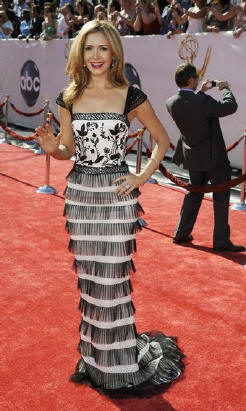 Ashley Jones'dress was an interesting homage to fringed lampshades.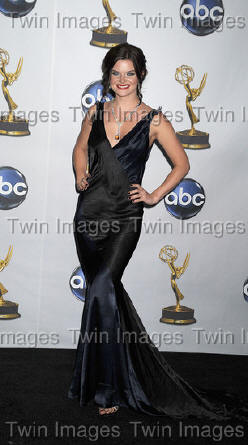 Heather Tom looked much better in this Nina Ricci than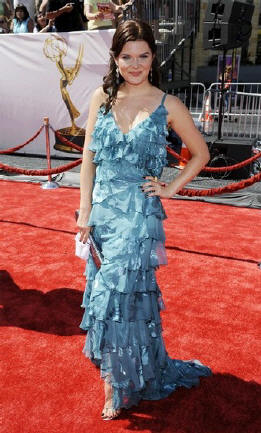 in this Jack Mackenroth. She gets lost in all the ruffles. And on the Red Carpet the ruffles look like they were made of plastic trash bags. Fashion should enhance, not overwhelm.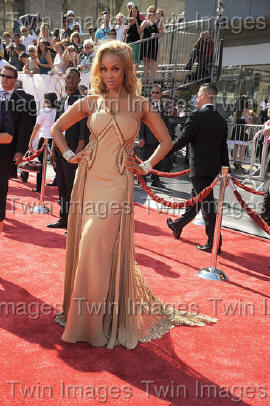 This gown won Tyra the Dove Red Carpet Fashion Award. Tyra looks beautiful, as always, but the dress looks like it was made from upholstery fabric and accented with upholstery braid. However, Dove does win as the Best Product Placement Disguised as a Fashion Award".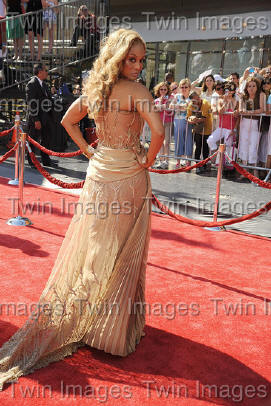 If only the front of Tyra's dress had been as beautiful and flattering as the back.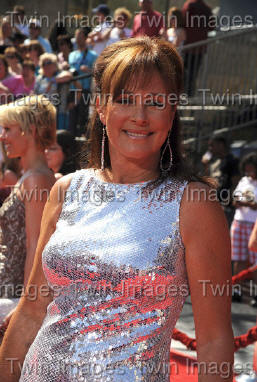 The glare off Hillary B.Smith's dress was blinding.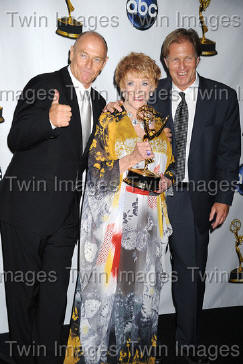 Jeanne Cooper with her sons Corbin and Colin. I love her because she has the confidence to wear what suits her, current fashion trends be damned.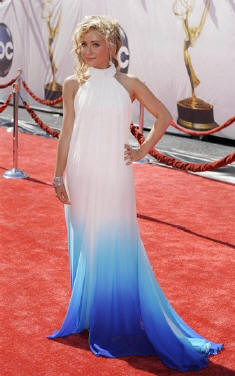 I agree with my friend Lea Ann who thinks this dress resembles a melting popsicle. The use of color draws the eye towards the floor instead of to the face.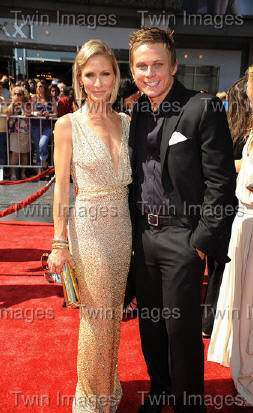 This dress is one of my favorites. What can I say, I'm a sucker for beading. (Is it wrong that I think Kelly Menighan Hensley's Emily and Billy Magnussons's Casey are the hottest couple in daytime?)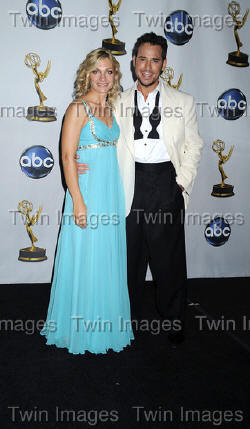 Did you know that Beth Ehlers joined AMC ? Did you know that Beth and Ricky Paul Golden once co-starred on GL?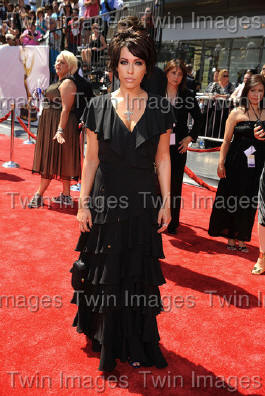 Farrah Fath is wearing a vintage Michael Kors. In this case, "vintage" means "depressingly dumpy." I am sure Farrah's beauty and personality are in there somewhere, but I cannot find them. (Looking at this dress, it's hard to believe that Mr. Kors is a Project Runway judge, isn't it?)
Is the usually smiling Van Hansis looking grumpy because someone made him wear that orange shirt?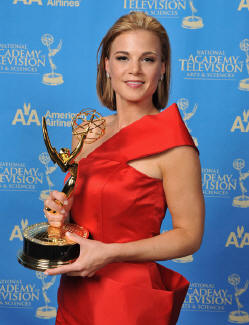 Gina Tognoni always looks great with or without an Emmy. However, the stiffened piece of fabric sticking out from her hip puzzles me. Is it so she can have somewhere to hang her purse during the after party?
Oh, Megan Ward, what were you thinking? The dress is pretty but the heavy yellow beads? The white shoes? The over teased hair? Your alter ego, Kate Howard, would not be pleased.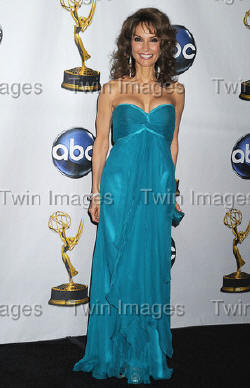 Great color. Great dress. Great fit. And the dress makes Susan Lucci look taller .
Will next year's Emmys have bleachers and empty wine bottles and tonguing co-hosts? I cannot wait to find out, can you?
See you then!