July 24, 2006
---
Three Hours with Laura Wright
---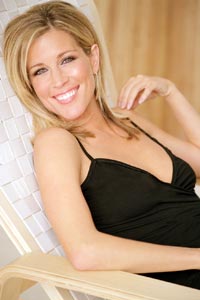 Laura Wright's portrayal as Carly #4 doesn't seem to require a lot of effort. Laura Wright is Carly. Minus the bed-hopping-mob-loving-step-father-stealing-baby-stealing-identity-stealing-kidnapping-victim-baseball-bat-wielding-death-faking-institutionalized characteristics, that is. Laura Wright has all of the characteristics of Carly we like; she's spunky, funny, tough, smart, sassy, loyal and just a bit crazy. Oh, and she seems to have the same love of food.
I had the pleasure of spending three hours (one hour longer than every other actor) with Laura as she met her fans at the GH Fan Club Luncheon. I was entertained. If you need one word to describe Laura Wright, it would be 'fun'. She is light-hearted and spunky. Typically the fans are excited to see their favorite actors and though this was the case, Laura was equally, if not more excited to see her fans. She greeted them with a hug, genuine smile and conversation. She spent more than the typical 30 seconds with each and every fan, taking pictures, laughing and asking them questions. The girl had it down. Little did she know, she'd already won these people over long before they stepped into her line.
Carly #4 was worried about this event. Knowing the history of Carly and knowing the loyalty to Sarah Brown and Tamara Braun, she was concerned they wouldn't like her. Previously she'd been called "Snaggle tooth" on an Internet site (NOT EOS!) and she came prepared for the worst, but hoping for the best. She needn't have worried. The fans love her.
"I was worried when you first started because I'm a Tamara fan, but I love you! You are Carly," was the most popular comment the actor received. "You're doing a great job! I love your version of Carly," followed closely. Not only do the fans like her, they like her a lot. Her line was by far the longest and she stayed an hour later than every actor to greet her fans. She was adamant she would not leave until she greeted everyone in her line. And she stayed true to her word.
Rules state each actor gives one autograph and takes one picture. One. Not Laura Wright. If a picture was taken and she didn't think it was good, she took another. If someone wanted three things signed, she signed them all and then gave them one of her standard photos, personally autographed. She took her time. She showed her fans they matter to her; showed her appreciation for the support.
Laura Wright did have some thoughts to share with her fans. Of course, she thinks all of the men she works with are wonderful. She loves the banter and the support she receives from all of her men. Her pick for Carly? Jax. She likes them chemistry and loves working with Ingo. She didn't give away too many details but she did say she goes to find Jax and bring him back to PC, just in time for the Sonny-Carly-Jax triangle. This time around, Laura says it's going to be different, more fun. Her flair for comedy obvious, it should prove to be just as entertaining as the Tracy-Luke-Coleman-Skye-Alcazar-Robert quintup-angle. Maybe even better if you take into consideration Sonny will soon be on meds.
Laura's personality sparkled for each fan. She showed real excitement in greeting them, laughed at herself and flirted innocently with "Max", teasing him about his fantasies. She spoke of herself as Carly, proving her commitment to the character. She picked on Maurice. She craved pizza. Craved it so much she ordered it delivered and munched on it while she greeted the fans. I imagine there are a few pictures of the actor with pizza in her teeth! Or at least of her chewing!
Laura would surprise you if you met her. TV does not do the actor any justice. She is stunning. Her skin, just slightly tanned, is fresh and beautiful. Her hair as thick as a lions mane, show no signs of heat damage or over processing. (Lucky girl!) And her shape? Absolutely perfect. How she gave birth to a child four and seven years ago escapes me. There is no trace of pregnancy and no trace of pepperoni pizza to be found on any part of her body.
I'd like to say I didn't like Laura Wright. I'd like to tell you she's skinny, beautiful, charming and sassy. And I can, because she is. But I'd really like to add to those adjectives something like, 'conceited', 'stuck-up' and maybe even the 'b' word, but I can't. Laura Wright isn't any of those things. She's nice. Hard as I try, I can't think of anything negative from my three hours with her. Except the fact that she made me stand there, sweating in the heat of CA for an hour longer than the other actors made their escorts.