---

You can't be a virgin twice.
Well, I guess you can, but technically you just can't duplicate that first cherry poppin' experience. At last years GHFCW Dianna, Karen and I were the virgins. We knew that in past years the EOS staff was blessed with the chance to act as escorts, runners and general helper-outers. They worked insanely hard at helping things run smoothly and they were rewarded with incredible opportunities to not only get the obligatory hug, autograph and picture that every other fan would get, but to really speak to the people we watch so intently every day of the week. Not just as one of a multitude of glassy-eyed fans, but as an individual person.
Since we didn't have the past experience the other gals had, we kept our eyes down, our mouths (reasonably) shut and our eyes on our own papers. We didn't expect any special treatment and every single opportunity that came to us were welcomed with awe, joy and a sense of wonderment. I walked around the whole weekend feeling incredibly grateful. It was hard work, don't get me wrong – but Katrina and Debbie made us feel so important and part of the team that the whole weekend seemed bathed in golden light.
My second GH Fan Club Luncheon was so different that my first time. There was the excitement, the eagerness, the excitement, even the lust, but this time around I knew better where to position myself. No one rolled over on my hair either. This time around I wasn't as apprehensive about getting to see the actors as I was last year. I knew that I couldn't manipulate or maneuver myself into situations. And I was good with that. I knew that if I worked really hard that things would work themselves out. There was less fantasy and more reality. But the reality was pretty damn good.

I characterize my second General Hospital Fan Weekend as my revirgination. Don't believe me? Take a good look at the picture above. This was not a photo op set up by ABC to present one of their storylines in a believable setting. This was real. Scott Clifton was peering out the window and noticed the koi in the pond outside the Green Room. Next thing you know he's out the door and yelling for Julie and Lindze to come check it out. Out wanders Jason Thompson and being the big snooper that I am, I followed. As they leaned over the railing just as people, not characters, not actors, not soapstars, I was struck by how lucky I was to be a part of this whole weekend.
I'm lucky, I have great friends. I have a hobby that I love and people that appreciate what I do. When I can contribute, I do. And no one ever makes me feel like the weak link when I can't .
My time in the Green Room this year was golden – just like last year, but different. I can't really come up with any more synonyms for how exciting and special it was. But maybe you can share some of the Green Room magic with me.
John J. York gives EP
Jill Farren Phelps a squeeze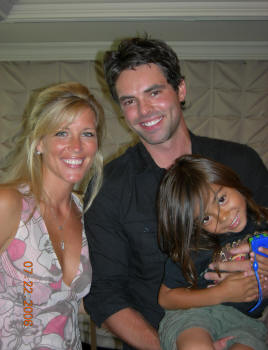 Laura Wright and Jason Thompson
with Kim McCullough's godson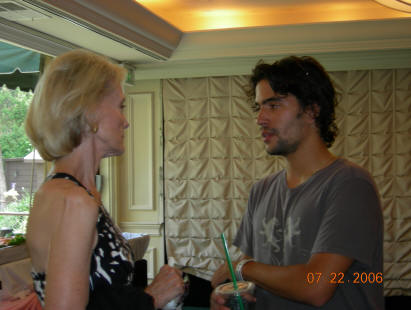 "Helena and Nacho just shootin' the shit"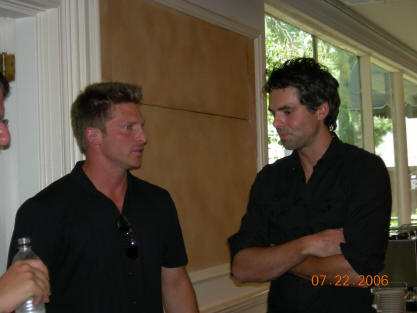 "Ack! Do I have to pick just one?"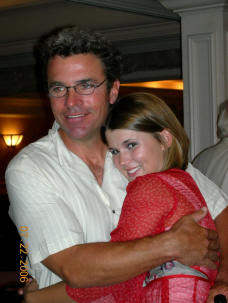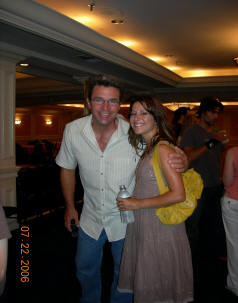 It's only relative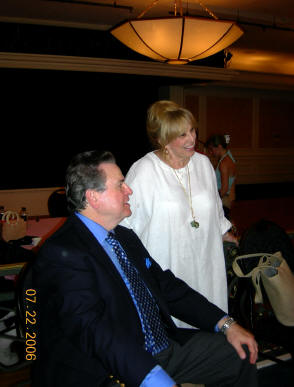 Veteran's Day
Nope, not the same as the first time, but maybe better. Maybe I could be the poster child for revirgination. And I hear that the third time's the charm. Hell yeah! I am so there!!
Smooches Babycakes!