Eye on Soaps welcomes the submission of guest columns from non-staff members for consideration of publication. The best will be printed for public viewing. If you would like to submit a guest column, you may do so by sending it, print-ready, to krasbold@earthlink.net. Your column may or may not be used, but you will receive a response.
Here is our most recently accepted guest column:
---
MY TOUR OF THE GH SET WITH RICK HEARST
By Linda
---
I was at an event for Rick Hearst in 2006 and bid with another person at the silent auction for a tour of the GH set. We were naively ambushed in the last minute of the auction and lost, so I inquired as to whether Rick would do another one. All of the money goes to his favorite charity, which is HARK (Healing Arts Reaching Kids of Children's Hospital, LA), and that was a great incentive for me. I got word shortly thereafter that he agreed to this additional tour, which took a while to enact due to everyone's schedules. Last Monday, in LA for the first time, I drove to the studio in Hollywood and met also, for the first time, my co-bidder and new friend Lynn. We walked over to a building that coincidentally enough had a sign in front that said General Hospital and Emergency Room on the side. We were guided once inside past doors with familiar names on them (dressing rooms) to the Green Room. Rick was in hair and makeup and would be with us shortly. Two day players were in the room, and the actor who plays Randy (Marianna's buddy) was walking around. On the closed circuit TV in the room, we were able to watch "Lulu, Scott and Logan" taping in the hospital, and "Michael" with his new lady friend. I looked around and saw Kin Shriner majestically stroll down the corridor, as well as Josh Duhon, who plays Logan. Our host Rick then appeared, in all his exuberance, and greeted us with a hug. Just then Stephen Macht walked in and they hugged each other, which seemed bizarre since Ric and Trevor Lansing are sworn enemies. But this was real life, and it was nice to see the great relationship they have. Steven chatted with us and let us take a few photos. He was quite charming and amiable.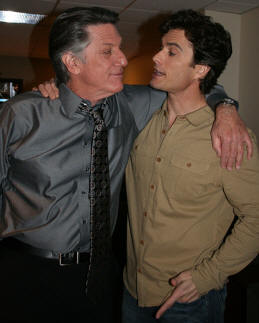 Stephen Macht & Rick Hearst
We then went to Rick's dressing room, which has a Yankees banner on the front door. As we approached the door, a beautiful, curly haired Laura Wright stuck her head out to say hello – very friendly. The dressing rooms are really small. Rick had family photos on the walls, as well as some fantastic photos Lynn had taken and given to him. He was really excited about the storyline his character was in. This was the first day they were taping stuff written by the real writers.
It was time to go to the set, so we headed to the stairway, passing Megan Ward (in a beautiful silver dress) and met up with the fabulous Nancy Lee Grahn, in bare feet and one of her "Alexis" pantsuits. She and Rick chatted and headed to the Kelly's set. We sat on the sofa, which I realized from watching the show this week, is outside the nursing station and the location of many a diagnosis, conversation, fight, etc., onscreen. The sets are all so tiny! Kelly's has four tables, and when someone goes upstairs, well, there is no upstairs. The nurses' station is also very small. There are a ton of lights on the ceiling. A stage manager gives all the commands to the actors, and the director is behind a camera, of which there are several. Rick and Nancy sat at a table and started running lines. Nancy had her script on the floor. Ron Hale and Yennifer Behrens were also at Kelly's. Kirsten Storms, looking absolutely adorable in one of her "Maxie" outfits, was waiting for a two minute shot outside Kelly's, and gleefully took off for the day after she was through. Stephen Macht was also part of the scene, as was the actor who plays Randy. Yennifer is quite different than her character Marianna too, and is very playful and lively. Nancy was provided with shoes and a necklace, and she and Rick started rehearsing. He always appears to be impeccably prepared and professional. After several rounds they finally were finished with that scene. Nancy came over to say hello to us and Rick introduced us to Yennifer, who is a delight. It was lunch time so she joined us and Rick which was nice since she was actually finished for the day. Her name is pronounced "Jennifer", but a misspelling on her birth certificate resulted in the "Yennifer". We had a nice lunch outside the commissary. She hugged us all when she left.
We made our way back to the dressing room and saw Dylan Cash for a moment. Rick kidded him about his deepening voice and I mentioned that if he grew a few more inches Michael could start dating Lulu just like all the other guys in Port Charles. As we were sitting in the dressing room chatting, who should stop by the doorway but the goddess herself, Sarah Brown, looking fabulous in her red heels, very slim black pants, white tank top over a "large" sized black bra, and a black jacket. Then it was time to go to the set again. This set was Rick's new pad and he was preparing for a quiet dinner with Marianna until Claudia arrived. This was to be the first meeting of Claudia and Ric (as well as the first scene these actors have had together). Sarah had some great instinctive ideas about how her character should approach Rick and she is brilliant in her craft. She is so good at the "in your face" approach. After they finished their scenes, Lynn and I were astounded at how dynamic these two were together. We silently applauded. Stephen Macht was also in the scene in his usual threatening manner as Trevor to anyone on site. We sat briefly on Ric Lansing's sofa and loveseat watching the next scene preparing across from us in the Zaccara den (also small) between Sarah and Stephen. Rick was finished for the day, so we left and he took us to the control room, which consisted of about five people watching several different monitors of the tapings, as well as what was currently on their channel at the time.
Then we walked to the dressing room again to get our jackets and Rick said he would introduce us to Megan Ward. We went to her dressing room, where she had just received a bunch of DVDs of scenes for possible Emmy pre-nom entry. She was in jeans, with the great "Kate" hairstyle and was so friendly and pleasant.
After six hours it was time to leave. Rick walked out with us, took a few photos and hugged us goodbye. Not only do we admire and respect him for his talent and wonderful personality, but everyone else apparently feels the same way, too. It was an absolute pleasure to spend a day with him. Debby O'Connor, the lady who puts together most of the events was also wonderful in getting this set up – well worth waiting for. We left there by way of Cloud Nine after a spectacular day.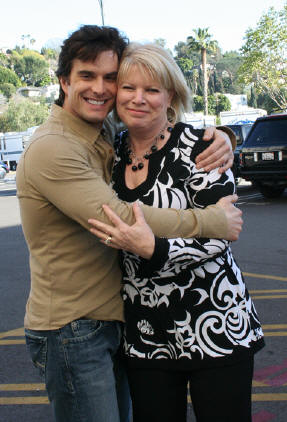 Rick and Linda