---
Note: The title is figurative. Sadly, Kate was only able to view the Daytime Emmy Awards via the TV this year. *moment of reverent silence for how much Kate deserved to go to the Emmys*
While watching the Daytime Emmys I realized TV could actually solve real life problems. Thereís been a lot in the news lately about the harmful side effects of Ambien and other sleep inducing medications. Insomniacs, worry no longer. Just get your hands on a tape of this yearís Emmys. I guarantee that before Best Actress is announced you will be drifting off. Problem solved.
Why was this yearís show so enervating? People kept talking about how amazing it was that the Daytime Emmys were taking place in same venue where the Oscars are awarded. As is if somehow the allure of the Oscars would rub off on the Emmys. Yes, it is a great thing to win an Oscar; nothing wrong with aspiring to that. However the Daytime Emmys should be aspiring to be the best Daytime Emmy award show, not a clone of something else.
Certainly they should not be trying to duplicate the Oscars. The Oscars have less and less energy each year. The presenters read banal copy making them all look as if they share the same personality and a not very interesting one at that. The winners have time constraints on acceptance speeches limiting how many embarrassing things they can say. (Címon, you know thatís part of the reason you watch.) Why the time limits? So we can watch montages telling us how wonderful movies are. Hey, buy a clue; if I did not think movies were wonderful, I wouldnít be watching the Oscars.
Where was I? Oh yes, the Daytime Emmys. The Daytime Emmys should take some risks, do something fun. Heck, if you are going to copy an Awards show, copy the Golden Globes. Having everyone sit at tables drinking during the show would certainly liven things up.
That said, the show wasnít completely terrible. ABC did a few things right.
Almost all the presenters were from daytime. Thatís a definite plus in my book. The presenters were spread pretty evenly among the networks, too.
The videos about the Best Actress and Best Actor nominees were fun. I was surprised and delighted by Tony Gearyís little spin around Amsterdam. Given how private he is, it was unexpected. I donít think I will ever be able to look at a pissoir again without thinking of him. And I mean that in a good way.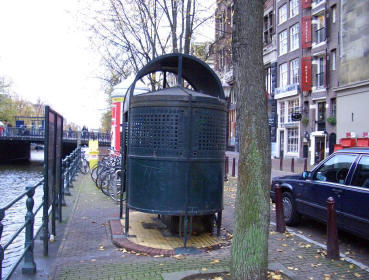 I am sure the Fan Zone sounded like a great idea in a meeting. (ďHey, I just noticed that daytime has fans. Shouldnít we mention them or something? Great idea.Ē)
So what did we get to see? Lots of fans screaming while Cameron Mathison attempted to scream over them. Stars running out for a moment. More screaming. Stars leaving. More screaming. Rick Springfield playing over the screaming, although Iím sure he is more than used to that.
It was a great public display of ďattention paid to fans.Ē
However I would feel more valued as a fan if ABC spent more time/money developing well-written character driven stories. Stories involving all the characters on a show, regardless of their ages. Stories that did not sacrifice a showís history but wove it into todayís stories. As a fan, those things would certainly have me screaming.
Enough ranting pontification. Here are more, much shorter, thoughts:
Rick Springfield may sort of look older but he certainly doesnít sound older. His set was a fun way to start the evening. He brought great energy to the show; too bad it didnít last.
The last time ABC hosted the Emmys, there were more camera close ups of Brian Frons than of the actors. My thanks to whomever decided this year one shot was plenty.
On the red carpet, Kassie De Paiva let us know she had shaved her legs. That was really more information than I wanted to know.
Hosting is a thankless job, no matter who is doing it. Kelly Monaco often seems very shy, teaming her with an experienced co-host like Tom Bergeron worked out really well.
While I love Nancy Hughes, I love Helen Wagner even more. I love how she refused, in a very ladylike way, to be manipulated, in a charming way, by Ricky Paul Goldin during the pre-show. She wasnít going to reveal part of her speech and that was that. I also love ATWT/CBS for recently signing her to a 3 year contract.
David Fumero, I donít care how cute you are; chewing gum on the red carpet is rude. And tuck your shirt in. OK, now you can kiss me.
When Finola Hughes and Rachel Ray walked out together I thought, ďwhoa, talk about the sublime and the ridiculous.Ē I am willing to allow that my major girl crush on Finola may sometimes affect my thinking.
Where was Vincent Irizarry?
Thorsten Kaye and Alicia Minshew had even more chemistry together than Zach and Kendall. I didnít think that was possible.
When Ricky Paul Goldin told him how great he looked, Christian LeBlanc replied, ďYeah, well I have to return the jacket and the teeth tomorrow.Ē Christian almost makes me wish that I watched Y&R.
I do not usually care who wins, because the voting system is so convoluted but I was thrilled when Gina Tognoni won. She was great years ago on OLTL. I donít watch GL but her clip pulled me right into that scene.
Who knew Linda Dano was such a closetalker?
Was someone mad at the Best Supporting Actor nominees? Is that why we didnít see their performance clips?
I am not a Suze Orman fan but I was glad she beat Rachel Ray. What was up with Tyra Banks pronouncing it ďOrrmahhhnnĒ ? Donít they practice these things at rehearsal?
I loved Tony Gearyís speech. Itís really not that often when you can say someone is a gentleman but he definitely is. I am glad he acknowledged the amazing Robin Christopher since the Emmys didnít.
My favorite speech was Jordan Clarkeís. His enthusiasm was contagious. I was so happy for him and I donít even watch GL. Is it true he isnít on contract? Are they nuts?
Ahh, so Rosie OíDonnell is joining The View. Sometimes I catch a few minutes before AMC starts. Those few minutes have always been more than enough for me. Rumor has it that Rosie has been brought in to help Star find her way out. That might make those few minutes a bit more enjoyable.
Interacting with fans seems to be right milieu for Cameron Mathison. He is a nice guy and goodness he knows he has the ability to shout over them.
Hey, AMC fans, wasnít it great to see Cindy Chandler (Ellen Wheeler) every time GL won an award? That makes two AMC actresses who have gone from acting to directing to executive producer. Francesca James is the other.
GH won Best Show. Sometimes the Emmy awards, themselves, are just a train wreck.
All My Emmy Schmattes
One the one hand I think the emergence of the personal stylist has taken some personality away from the way actors dress. On the other hand, if I were an actor I would probably would hire a stylist. Why? So people like me couldnít say unkind, although likely true, things about how I dress.
Letís start with the grande dame of the evening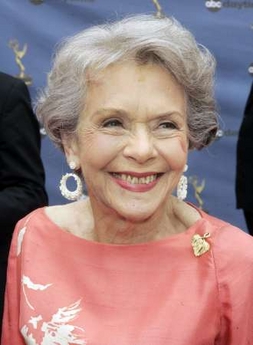 Ms. Wagner made her dress 30 years ago. This proves that classic fashion and classic women never go out of style.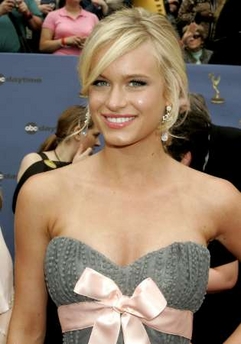 Younger actresses often dress in something way too mature, making them look like they are playing dress-up. Levin Rambin got it exactly right. The dress design and color are very sophisticated. The pink ribbon gives it a young feminine twist. Her hair is stylish but not over styled. Perfect. Perfect. Perfect.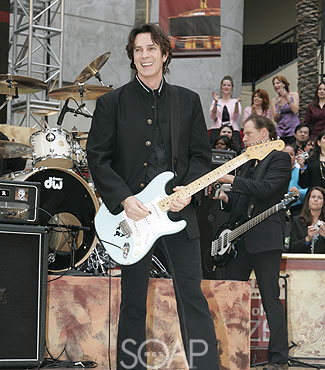 OK, so he has had a little work done, at least he still looks like himself when he walks on stage. Other performers could take a lesson from Rick. (Yes, Kenny Rogers Iím talking to you.)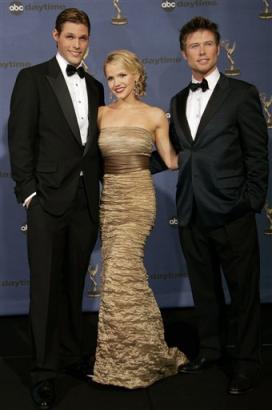 Alexa looked beautiful. Justin Bruening and Jacob Young looked like they wanted to be anywhere but there.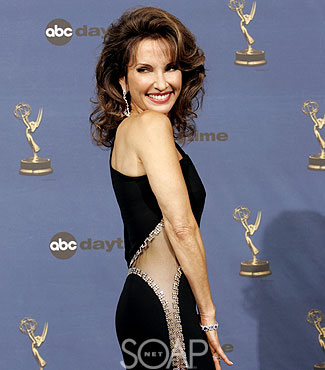 I love the illusion fabric. It adds an air of mystery to the dress. Ms. Lucciís mother picked this out. If AMC was smart they would hire her to run their wardrobe department.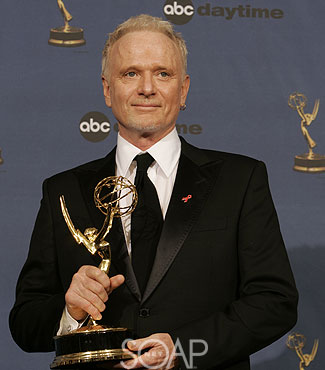 Damn, Tony Geary gets better with age, doesnít he?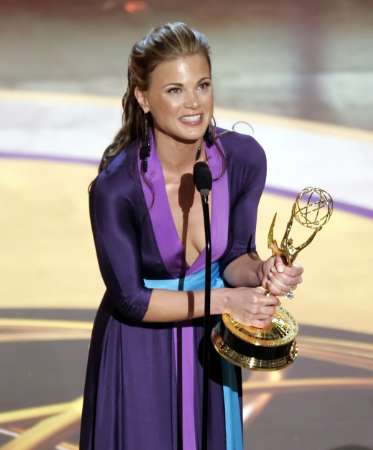 Gina Tognoniís dress was different in a really good way. The colors were perfect for her. I liked the way her hair showed off her face. I would kill to have her cheekbones and jaw. Ok, not really, but I am envious.
McKenzie Westmore did not let being 9 months pregnant stand in the way of wearing red and rhinestones. And why should she?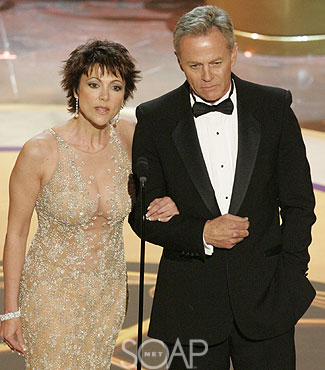 Thatís not quite how I remember Emma Samms looking when she left GH. (I meant shorter than Tristan Rogers, what did you think I meant?)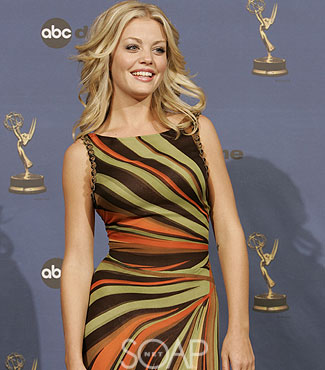 In the past Bree Williamson has chosen dresses that are way too fussy in both design and color. This dress is simply elegant and shows off her natural beauty.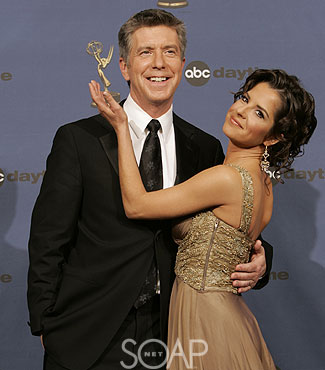 Here are the hosts looking very host-like. The fact that Kelly Monaco did not change her outfit made her more appealing to me. And I already liked her.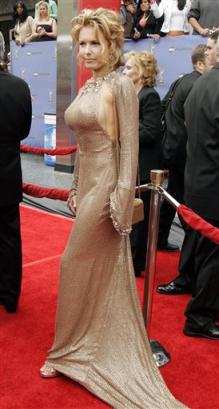 Tracy E. Bregmanís outfit was every kind of fashion wrong imaginable. Still, it did not win her my Worst Dressed Award; that goes to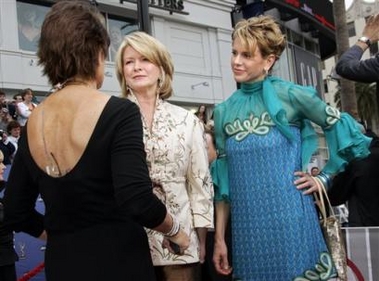 It takes a lot to make Martha Stewart look stylish. Who knew standing next to her daughter would do the trick? Yes, Alexis we know itís a Missoni. We also know that just because something is couture doesnít mean itís something that should be worn in public.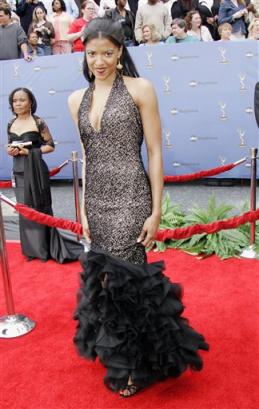 The top of the dress looked great, but why did Renee Goldsberry wrap her boa around her feet?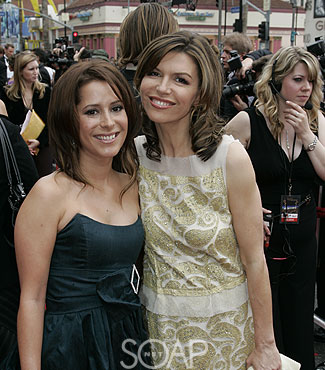 Letís hear some applause for Rebecca Herbst. She designed and made Kimberley McCoulloughís lovely dress. It pains me to say I did not love Finola Hughesí outfit. The material was a great color and exquisitely beaded. The style just seemed too casual for the Emmys.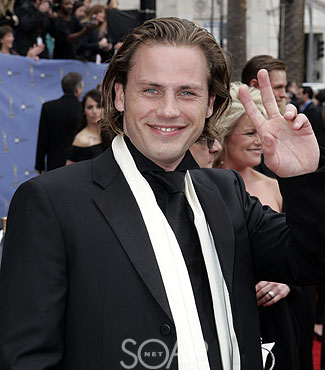 Now I know why Ron Moss wasnít wearing his usual scarf, he lent it to Forbes March.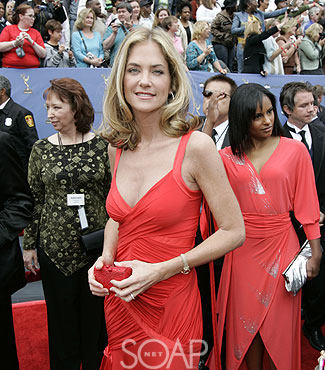 Kassie looked great in her Donna Karan. I just wish I didnít know about the shaving thing.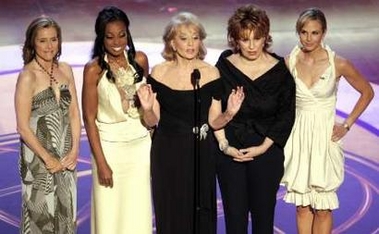 Meredith- nice dress but the pattern had me reaching for Dramamine.
Star- why did she stuff flowers down the front of her dress? Has she done so much Pilates that her breasts have disappeared?
Barbara- lovely as always.
Joy- another pants outfit, but this time itís an elegant one.
Elisabeth- just because Mischa Barton can wear that style, doesnít mean you can.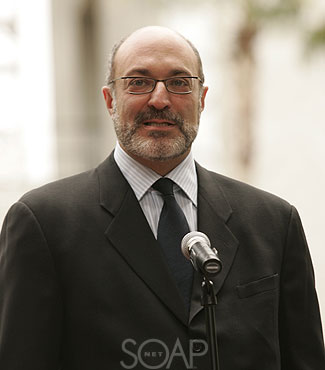 In case anyone needs a picture of Brian Frons for their dartboard.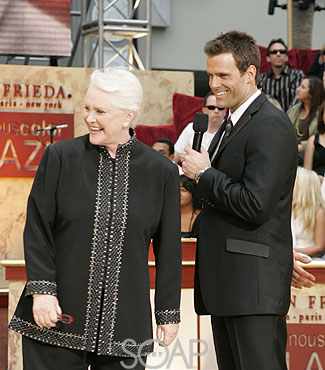 Susan always looks wonderful. She is a perfect example of a woman who is comfortable in her own skin. That makes her truly beautiful.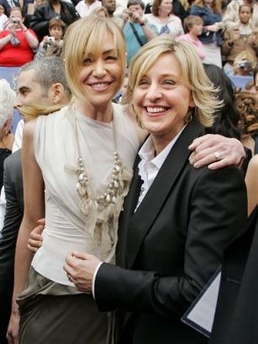 How does Portia de Rossi manage to look more beautiful each time we see her? Sharing her life with Ellen DeGeneres just might have something to do with it.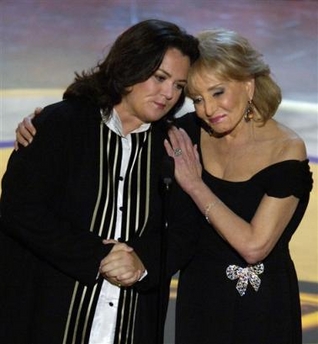 ďDonít worry, Boss, Iíll take care
of Star for you.Ē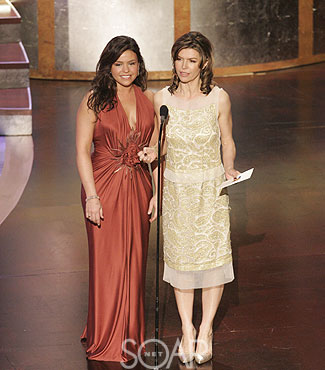 Rachelís thinking: ďI canít believe Iím standing next FH (thatís Finola Hughes to you).
Finolaís thinking: ďDamn that Emma, how did she wind up presenting with Tristan? Why am I stuck with this annoyance who keeps telling me how to eat in London for $40.00 a day.Ē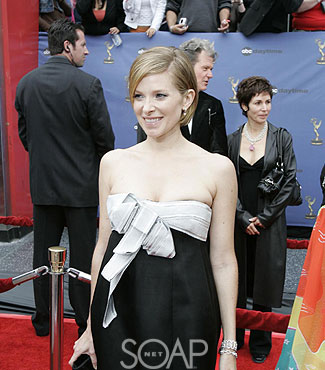 Hereís Cady McClain posiní in her Posen. Here she looks comfortable in this dress; on stage, not so much.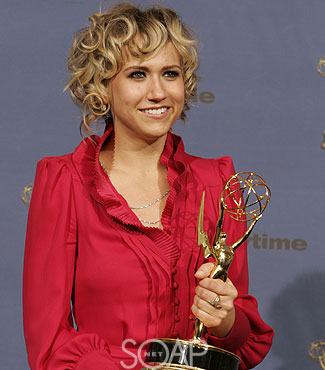 Jennifer Landon can act. Jennifer Landon can sing. What she obviously canít do is dress herself. There is a reason women stopped wearing this style dress in the 70ís-itís ugly.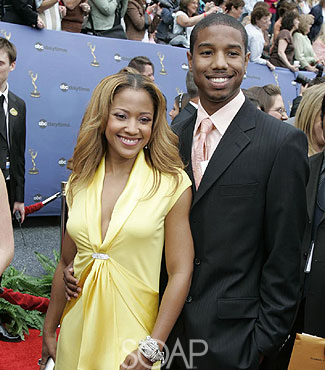 Donít Michael B. Jordan and Tanisha Lynn look terrific? Didnít they used to be on AMC? (Well, doesnít AMC act like they have left PV?)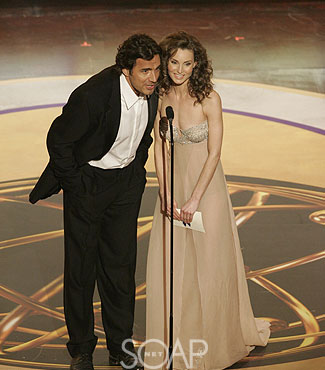 Thorsten saw London. Thorsten saw France. Thorsten and the rest of us saw Aliciaís underpants. She was stunning. He was so charming that I donít even care that he wasnít wearing a tie. Absolutely the Best Couple of the evening.
Well, thatís it for this yearís Emmys. What about next year? I think the hosting network should solicit viewersí opinions about the show. What do viewers want to see more of? What can viewers do without? What are their strongest memories, good and bad, about past Emmy shows? It wouldnít hurt to ask.
What will I be doing while waiting for the networks to ask my opinion? Dreaming about moving to Amsterdam and wishing I could be just like Susan Flannery and Helen Wagner when I grow up.