August 1, 2006

Friday, July 21, 2006
Way early in the morning before people on vacation should be up, Katrina, her daughter, Dianna and Karen left for a day at Disneyland. That left Carolyn, Kelly and I with a day of luxurious relaxation in front of us. I soaked in every moment knowing that the down time was a limited treat. There was eating, girl talk, reading, and napping until early afternoon when it was time to find Debbie Morris to help with Nancy Lee Grahn's event if we were needed.
We strolled over to Debbie's room and hung out for a while chatting. While there, Krista, Leslie Charleson's friend and event coordinator came in to drop off items from Leslie for the GH luncheon gift bags. We began exchanging stories about nightmare travel experiences and she related a couple entertaining stories about Leslie Charleson and their trip to Africa. (I pass these tales on to you with permission from Krista and Leslie Charleson.)
Apparently, Leslie has a tendency to overpack and they had been informed by the travel agent that there was a weight restriction on luggage. Krista saw how much Leslie was packing and offered to help her scale it down to which Leslie replied, "Sure, go ahead." Leslie continued preparing for their trip and Krista ran out to do some last minute errands. In Krista's absence, Leslie proceeded to put back everything Krista had removed and even added some additional necessities. Upon their arrival in Africa they were informed that they had way too much luggage for the small planes to cart around, about 50 lbs too much! The hotel kindly offered to store their excess baggage while Krista and Leslie pared down to one case each. Being Leslie's good friend, Krista said what any good friend would, "I told you so." Who could resist a golden opportunity like that?
The first night was spent in a posh hotel which made visiting Africa seem like a comfortable trip to the zoo. The next night they spent in a facility with no electricity. After that, it was tents. The tents were situated on cement squares and equipped with small bathrooms and showers. However, she said that they were having such a fabulous time, that the conditions didn't faze them. Shorts, t-shirt, shoes and a hat were all the clothes necessary, even though they found themselves washing undergarments by hand.
Towards the end of the trip, Leslie was scheduled to ride in a hot air balloon. One of the soap magazines planned to photograph the event which meant they had to rise particularly early that morning. They requested a 4 a.m. wake up call and were asked if they were sure they wanted to get up that early. Knowing that it was a day for hair and make up, Krista replied that yes, they were sure. No one mentioned that the hot water wasn't turned on until 5 a.m. Leslie dragged herself up at 4 a.m., tiptoed around the tent with a tiny little flashlight and then jumped into the shower only to be sprayed with freezing water. Words came out of Leslie's mouth but I won't repeat them here. Krista, being ever the helpful friend, asked if Leslie needed any help, but Leslie bravely showered in the freezing water while Krista cuddled in her warm bed for a while longer. Finally, she rose to help Leslie with hair and make up to be on time for their 5:15 a.m. departure time. They were late.
Krista laughingly related how she and Leslie were seated in the back of the bus (as punishment for being late) and while the driver drove like a bat out of hell, they bounced around like kids in a carnival ride without seatbelts. Neither Leslie Charleson nor Krista are what you would call heavy so they found the bus ride to be one of the longest, bumpiest rides of their lives. Krista was positive that the bus driver hit the bumps on purpose. Needless to say, hair and makeup had to be redone by the time they arrived at their destination.
It ended well; they arrived at the rendezvous spot for the hot air balloon, took pictures, and enjoyed a fabulous experience. It was printed in the April 2, 2002 issue of ABC Soaps In Depth.
Krista mentioned her horse and the conversation veered to Leslie's horse that died last year. She was 25 years old and developed unexpected complications after surgery. She didn't survive. Leslie now has another Andalusian who is still a youngster at 15 years old and 16 hands high. Leslie Charleson, a woman of small proportions, must be a sight to behold as she trains and rides her new friend.
Suddenly the time had arrived to make our way to the area where the Nancy Lee Grahn event was held. There were many simmering layers to this event so I think I'll play it safe and stick to the facts and only the facts. This year's theme was picnicking. Tables were set up in an outdoor courtyard with NLG goodies at each setting - bags of popcorn, licorice, and bowls of peanuts. Surely you've read the other recaps and know how high the temperatures soared over the weekend. Oh my, it was hot in that courtyard and even though it was late afternoon, the sun wasn't setting nearly fast enough. Shade was gradually creeping over the tables on the right but the tables on the left were still baking under the sun. In addition, there was a mix up in signage so people began lining up for check in at 4 while the event was scheduled to begin at 6.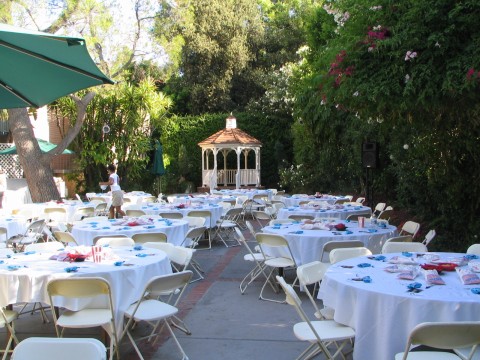 I am relating the circumstances not to write a whiny recap but to set up the atmosphere. Waiting in the heat brought out the true colors of many people. I was at the front of the line letting in about 10 people at a time so that the check-in ladies weren't overwhelmed at the table. After waiting so long in the sun, people were either ready to be happy or waiting to complain and it wouldn't have mattered if NLG had shown up and escorted them in personally, the whiners weren't going to miss their chance to complain! Truly, in the years I have attended these events this was the first time I was directly bitched at. It's a good thing that I am not easily riled because there were some hot ladies (literally and figuratively) in that line. The most entertaining ladies though were the ones who had attended the Greg Vaughan Event during the afternoon. I felt it was my obligation, in the interest of sharing, to pry from them as much dish as I could while we were all standing around.
Kristy from Houston informed me that only about 50% of Greg's scenes are actually making it on screen. He TiVo's the show so that he can see what is being aired. That way, he can keep continuity with Lucky's storyline. He loves his storyline. Yes, Thursday night's stocking cap was still on his head. He is ecstatically happy in his newly married bliss.
A couple minutes later, chatting with another woman who had come from Greg's event and I learned that he hates his storyline with Maxie but what can he do, it's his job.
Hmm, this was going to take some detecting. Later that evening I ran into Songbirdie, Greg Vaughan's most dedicated, nicest fan and asked her to clarify. She and her group adore Greg not as in psycho fans but in a way that says "We love this actor and want to support him." GregVaughan.net She gave me a little more scoopage. Greg does love his storyline. Lucky will be sinking all the way down the slippery slope of an addict and since he's a Spencer he has a long way to fall. He is his father's son. Greg is playing the scenes one day at a time like an addict lives one day at a time. Even though Greg loves his storyline, he was a little uncomfortable with Lucky kissing Maxie.
Oh wait, this was supposed to be about the NLG event. Hey, I had to grab my info while it was available and the hot line before NLG's event was the place to be. Nancy arrived and after a round of complaining about the heat, asking if we could move indoors, and wondering why the tables were set up so far apart she got down to business. Permission wasn't granted for her to give out storyline information; however, no one said that she couldn't play charades so that is what she did. The gist of her info we mostly knew from spoilers but it was fun anyway.
Alexis and Jason see Sam and Ric having sex. Sam may be pregnant. Alexis falls down ill and Jason carries her.
The rest of the info comes to you in random order as I try to decipher my notes.
That weird hair that we are seeing on screen right now is the result of a dye job gone wrong. Nancy said that one of her friends called her after watching the show and asked why she had a skunk on her head. Her hair wasn't as startling at the event so it must be the lighting that makes it look so, so… Dang what's a tactful way to say striped?
NLG wants to set up a charitable foundation based on Networking, Learning and Giving (Get it? Network, Learn, Give. NLG?) That was a bit too egocentric for me.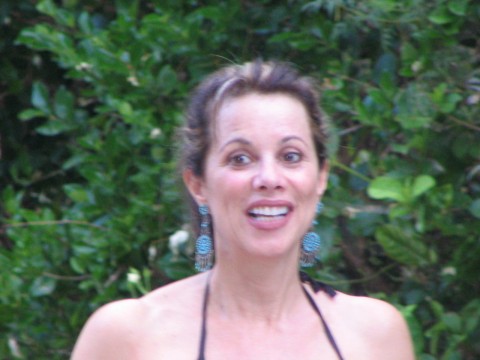 Constance Towers strolled in looking chic in a red suit and I wondered if she was going to be OK or fall over from heat stroke. Every inch of that woman is class and she sat in front answering questions as though she was sitting in air conditioned comfort.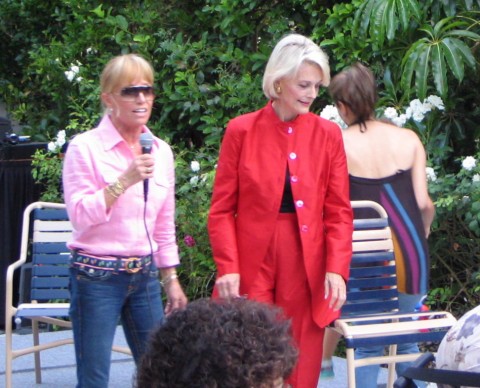 Leslie Charleson strolled in next in jeans and a blouse also setting a high standard for looking good over 50. Other than at the Q Brunch which I attended once, this was the first time I'd seen Leslie Charleson in a speaking situation. I liked her. She came across as open and real while she joked about herself and the Q storylines.
NLG doesn't know who Sam's father may eventually turn out to be.
Her daughter Kate sat on the sidelines and appeared to be friends with Kali Rodriguez, the little girl currently playing Kristina.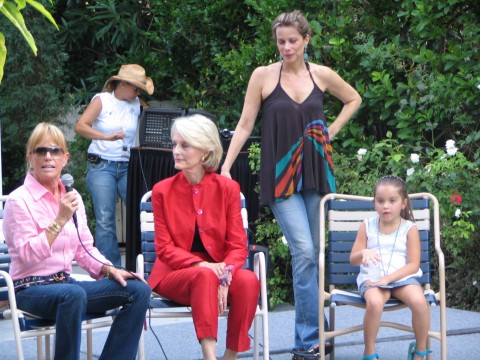 Rick Hearst came bounding in wearing cargo shorts and a tight, black sleeveless t-shirt. Yeah, he looked good and provided lots of comedy. He was everywhere during the weekend and I admire his dedication. NLG and RH spent some time discussing why Ric and Alexis work so well together as a couple and deduced that their character faults blend well.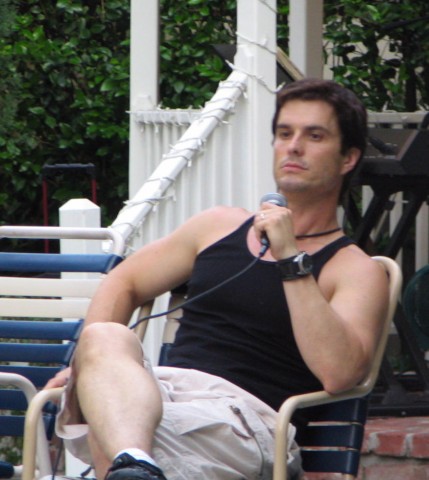 Ignacio Serricchio stopped by the event and I walked him to the front. Poor guy, he probably thought I was stalking him or mothering him because we kept bumping into each other and I kept walking with him places.
Next it was on to the Rebecca Herbst Soiree. I'd never been to one of her events so I was excited.
We walked in to be greeted by Rebecca's mother. When I say "we" I mean Debbie Morris and I as I became her sidekick for a short while. It's kinda fun to be treated like visiting royalty even though it was aimed at Debbie Morris and I just happened to be the one standing beside her. Rebecca Herbst, Natalia Livingston and Michael Saucedo were sitting center stage answering questions from the audience. I tuned into their conversation just in time to hear Rebecca laughing that no one mentioned to her that Lucky was going to cheat on her. She happened to glance at a monitor in the studio was shocked to see Lucky kissing Maxie.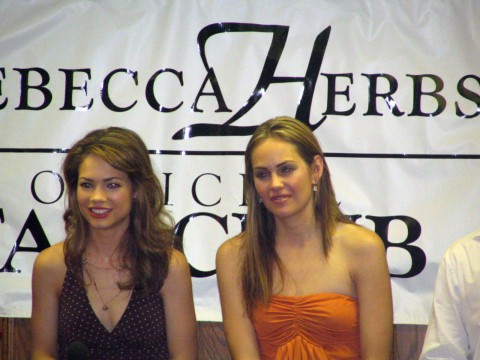 A moment later the wonderful Ms. Sonya Eddy (Epiphany) strolled in and the room went wild. She'd tried to slip in, fearing she was late, to be greeted by a hailstorm of fan appreciation. Right that moment I turned to Debbie Morris and asked to be her escort if she needed one.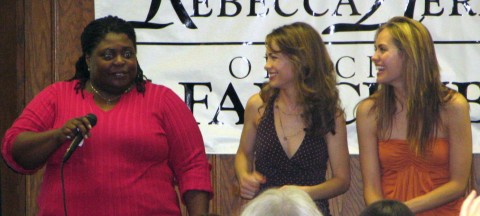 Rebecca and Natalia jumped up to give her hugs and their enjoyment at her presence was clear. Sonya talked about Epiphany's ability to know everything going on at or near the nurse's station. She also enjoys playing Epiphany as a character who takes no guff from anyone. Like other actors new to the soap world she was amazed at how fast the taping went. Not many practices or walk throughs, just know your lines and give it your best. She loves her role.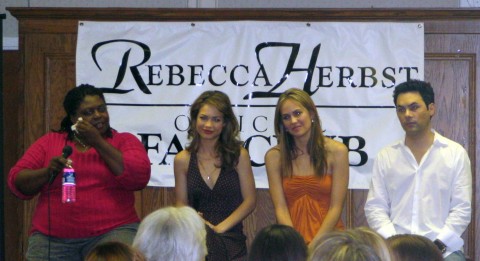 A lady in the audience was having a birthday and I didn't hear how it transpired but Sonya sang happy birthday to her. Her voice was so good, even singing the happy birthday song, that I had goose bumps. Sonya is gracious, funny and definitely multi-talented.
Jason Thompson made an appearance and Sonya had to leave because she'd promised to stop by NLG's event which was still going on. Happy was my middle name when Debbie Morris asked me to escort her to Nancy's event. As we walked through the hotel grounds I asked her if she had any idea how popular she was? She replied that she'd been amazed when on the first day that she'd aired on GH people had stopped her in the street to tell her how much they enjoyed her character. I said, "Wait until tomorrow at the luncheon. People will line up to meet you." A startled look crossed her face and I hastily assured her that we'd make sure she wasn't trampled.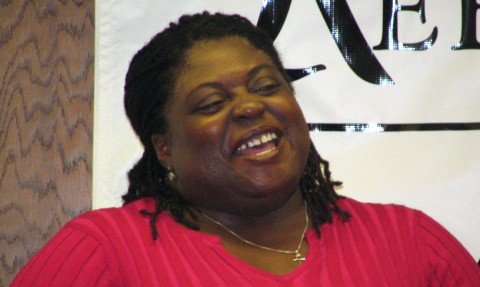 Currently, Sonya is a day player but of course she'd like a more permanent gig. Laughing I remarked that she already had family on the show and interaction with several main characters all she needed was a love interest or a wedding dress scene and she'd have a major foot in the door. She asked if she looked OK and I assured her that she looked fine and then we were making our way to the front of NLG's event. Nancy was signing autographs so I reluctantly left Sonya in the capable hands of the lady running Nancy's event. I watched for a couple minutes as she charmed and entertained a new set of fans. I made my way back to Rebecca's event knowing I'd hit a highlight for this trip.
A fan asked why Liz couldn't see Lucky's addiction and Rebecca responded that Liz loves Lucky so much that she doesn't want to see the signs of Lucky's addiction.
Rebecca sells brownies at her events and yes, she actually bakes them herself.
Rebecca, Michael Saucedo and Jason Thompson were answering questions when Rick Hearst strolled in. I'd like to clarify something that I've read several times. Michael Saucedo gets called Mr. Rebecca Herbst often but he doesn't push his way into Rebecca's limelight. It's clear when you watch them that he supports her and is there for her, not to garner attention for himself. When he added to the conversation, which wasn't often, it was to tease his wife or make a general comment.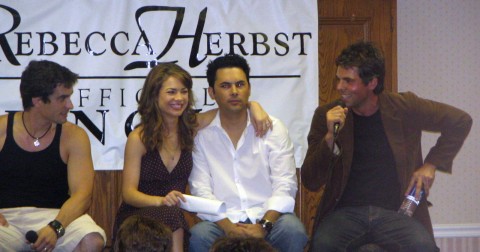 Rebecca Herbst supports The Smile Train, an international organization that provides funding to help children born with clefts. And I don't mean with pennies. As the auction proceeded they raised thousands of dollars in a short time – 2 studio tours auctioned for $3,500 each for example. We left before the auctioning was completed but I was amazed at the amounts donated. Plus, they did have some cool stuff and if I had money to throw around, I would have bid too. For example, Rebecca had mounted and framed 3 shots of Liz and Jason from a recent photo shoot that hasn't come out in the magazines yet. It auctioned for a hefty amount. I don't know where I'd hang a Jason/Liz montage, but I would love to have it anyway. Ric Hearst acted as auctioneer and enthusiastically coaxed bidders to bid higher amounts.
I realized as I strolled back to the hotel that the evening had sped by so quickly that I never checked in at home. Good thing my husband, son and daughter had things under control. Carolyn was sound asleep (I thought) as I quietly crept in so I hid in the bathroom and wrote up my notes sitting on the toilet. Imagine the laughs the next morning when she asked what I was doing in there so long last night because she was awake the entire time and I explained that I was writing on the toilet so she could sleep.