August 1, 2006

Saturday, July 22, 2006
The morning began inauspiciously at Twains our traditional early Saturday morning breakfast spot. This morning we were greeted by our waitress (the same waitress weíve had every year who I want to say is older than dirt but that wouldnít be nice so Iíll describe her as a comical institution at Twains) with the information that the grill needed a new part which hadnít come in yet so instead of hash browns they were offering tomatoes or cottage cheese. Not toast, mind you, but tomatoes instead of hash browns because everyone knows that hash browns and tomatoes or cottage cheese balance out on the carb scale somewhere in the universe. Donít look for the logic, there isnít any. I ordered a spinach Florentine omelet which wasnít a problem but Dianna (oh, big adventurer) ordered a grilled ham and cheese sandwich. But the grill didnít work so Dianna asked if they could cook the ham on whatever the eggs were being cooked on. The waitress went to check with the cook. A couple minutes later she returned to check Diannaís order and ask how she wanted that ham and cheese omelet? Dianna clarified that she wanted a grilled ham and cheese sandwich. But the grill didnít work. Dianna asked again if the ham could be cooked on the same surface as the eggs and the bread toasted in the toaster. Our waitress went off to confer with the cook. Putting ham on a hot surface next to eggs was apparently a big decision. A couple minutes later she returned to ask about another order and confirm with Dianna how she wanted that ham and cheese omelet?
You know how you do that thing when you need to convey a message to your friend but it would be rude to say it in front of the person you want to talk about? Dianna and I looked at each other and my face began to hurt from trying not to laugh out loud. Valiantly, Dianna asked one more time if they could cook the ham next to the eggs and toast the dam bread in the toaster because she already knew the grill wasnít working. Please? Having finally absorbed that Dianna wanted a sandwich and not an omelet, our intrepid waitress returned to our table a couple minutes later to confirm Diannaís order one last time. ďAnd you want a grilled ham and cheese sandwich,Ē she stated. Diannaís revenge was small but funny when she kindly informed the waitress that the grill was broken. She didnít get it.
Amazingly, her sandwich eventually arrived and I donít even remember how it looked because by then I was embroiled in a battle with my taste buds that were telling me that I was eating the worst omelet of my life and possibly the mushrooms were bad. My head insisted that weíd always had good food here before so surely the omelet was OK. My taste buds won and sadly, I donít think I will ever look at Twains in the same way. Lucky for me, someone else didnít want their eggs so I scarfed them down and survived the meal.
Working the event has its benefits and one of them is walking past the line of people waiting to attend the luncheon into the area where it will take place to either help or stand around looking for a way to help.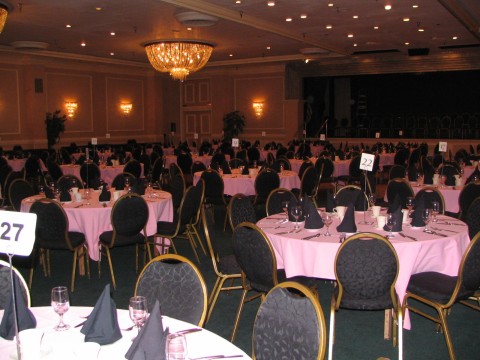 The calm before the chaos
This morning the way to help was clear.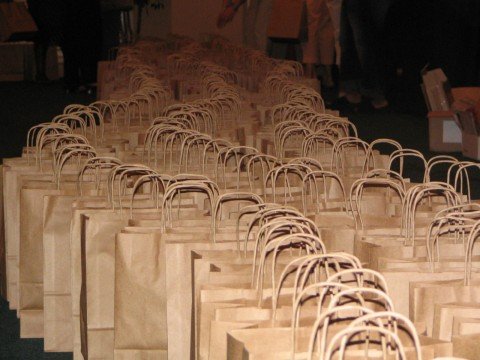 A parade of empty gift bags waiting to be filled.
I thought the idea was inspired. Fan clubs and fan bases gave items to be put into the gift bags and a wide assortment of tokens awaited our attention. We got down to work along with many other volunteers and filled 400-500 bags within the hour. Other helping hands distributed the bags at each place setting while we (the EOS ladies) began check in. I enjoy doing check in because the luncheon attendees radiate excitement at the day ahead. I ask who their favorite actors are and have they ever been to the luncheon before while snapping the magic plastic bracelet to their wrists which allows them entry in and out of the luncheon area. This year, thankfully, check in was handled indoors and since the heat was intense even early in the morning, it worked out well.
After check in we went into escort mode. Dianna and I worked at the valet parking entrance which meant the majority of actors pulled up to our area. We greeted them, ushered them into a small area where pictures were being snapped by the press and then walked them to the Green Room. Dianna and I stayed busy while lunch was being served until it was time for the actors to line up and go onto the stage. We completely missed Green Room time which was a bummer picture-wise but escorting was a feast for having a private moment with the actors. In no particular order, here are the actors I either escorted or chatted with and the tidbits of miscellaneous information gleaned.
John Ingle was the first to arrive. He strikes me as Edward Q only much nicer and more dignified. When asked where his lovely wife was he responded that she was visiting friends for the weekend.
Guess who else I escorted in? Ignacio, of course. He showed up munching on lunch because he forgot that the Green Room hosted a buffet for the actors.
Ted King arrived in a black pinstripe suit escorting his parents. He is a restrained kinda guy. While being photographed he was friendly and cooperative but serious. Since Iíve attended a couple of his events I know that when humor strikes him, he flashes a high wattage smile that leaves a person gasping for more but it doesnít come out often.
Constance Towers arrived in a black and white sun dress that I am sure felt better than her red suit of the evening before.
Tyler Christopher was his usual nonresponsive self. He stood for photos, turned and looked where asked but cracked no smiles or comments. Iíve been told that he loosens up for his fan events so I am holding onto hope that someday I will catch a glimpse inside the contained persona Iíve seen the past couple years.
Laura Wright looked fabulous in her top and jeans. As I walked her into the Green Room I asked if she was ready for the day ahead. She mentioned that sheíd been to Guiding Light events so she thought so. I asked if GL fans were as enthusiastic as GH fans and she just smiled.
Dylan Cash strolled up with an entourage. He asked security if it was all right to bring in the 5 people with him and they answered yes. I canít get over how much of the little boy he lost in one year. Itís not just that he has grown taller, itís more how he handles himself.
Maurice Benard valeted his car and immediately asked for Jim Warren as he came towards us. Dianna ushered him into the press area and I went looking in the Green Room for Jim Warren, photographer extraordinaire and friend to Maurice Benard, Steve Burton and a couple others. No Jim Warren in sight. Jim Warren is always in the Green Room snapping pictures but for a couple minutes he stepped outside. I went back and found Maurice Benard walking in and told him that Iíd keep looking for Jim Warren. A couple seconds later, Jim Warren rushed up to the valet area looking a bit panicky asking for Maurice. Can we say SNAFU? It wasnít a big deal, just a dash of frantic to spice up their day.
After walking Maurice to the Green Room I noticed Steve Burton slipping in a side entrance, avoiding the press. I asked if I could walk him to the Green Room and he said, ďOf course,Ē because he is gracious with his fans. And that was all I saw of him until way later in this busy day.
Jason Thompson arrived with Greg Vaughan close on his heels. They stood for photographs, laughing and joking together. Greg had lost the hat and sunglasses from Thursday and Friday and he looked very nice indeed.
Derk and Drew Cheetwood attended the event together. I think Derk is amazed what a little air time and a couple Carly fantasies have done for his popularity. Drew looks a lot like Derk only younger.
Sonya Eddy dashed up at the last minute as the actors were filing out to be introduced and walk onto the stage. She gave me the photos she planned to hand out and we quickly found her spot in the line. Actors line up in strict alphabetical order. This year it was John Ingleís job to marshal them together and line them up.
Julie Berman parked her car and then stood in the parking lot talking on her cell phone. She was waiting for Lindze Letherman to show up in her cool car. Donít ask me what kind, a sporty Porsche or something; Iím not good with cars. They stood this way and that for the press and generally looked like the gorgeous young women they are. It was easy to see that they have a strong friendship going. I asked Julie Berman how she was adjusting to sudden fame and she said that she hasnít moved past the stage where sheís grateful every day for her job.
Rick Hearst arrived wearing slacks and shirt, for the past couple days weíd seen him in cargo shorts and t-shirts. I noticed the change in style and he remarked that he wanted to keep us jumping. It was so doggone hot that we were all wishing for shorts, t-shirts, and extra deodorant by the end of the day.
Stuart Damon pulled in right after John Ingle. As he stood for the press one of the photographers asked him if he still felt like a prince (referencing his role as Prince Charming). Stuart responded that as he is older, he now feels like the King. It was a good response. As we walked into the Green Room I asked him how his back was feeling because I remembered that heíd had surgery recently. He said, ďAh surgery. Which one do you want to know about?Ē Poor guy, back pain sucks.
Scott Cliffton arrived early and was his usual affable self, clowning, turning this way and that for the photographers. In an odd way he reminds me of a how a young Steve Burton mustíve been. He is a man coming into himself. A couple years ago, he was a teenager amazed at his popularity and success and now I see a man appreciating his success and making decision on the person he wants to be and how to live his life. As we walked to the Green Room he hoped to find food because he was hungry.
A special treat for me, I walked Jill Farren Phelps into the Green Room. I commented that hardly any of the actors had arrived yet and she was concerned about where they were. I wanted to tell her my story about sitting in the Queenís chair last year which I think she would have appreciated but there wasnít time. Last year, I accidentally sat in her seat during a moment of the luncheon trying to get out of the way of the photographers in front. One of the interns physically tried to push me out of the chair whispering through gritted teeth, ďYou can not sit here!Ē While I didnít appreciate the prodding, I realized later that it was probably her job to protect JFPís seat. I moved in time so it wasnít a problem but I still laugh over the internís panic and the fact that I sat in the Queenís seat. For three years now Iíve watched the actors flock to her side when she slips quietly into the Green Room. They all seem to hold her in high regard, particularly Maurice Benard and Steve Burton. Itís interesting and nice to watch.
John J. York was his usual charming self. He makes me smile when I see him because he always seems so glad to be where he is at that moment.
Kimberly McCullough arrived with her mother and Godson. He is between 2 and 3 years old and cuter than a kid should be. She doted on him and kept him by her side throughout the afternoon and evening. As she was being photographed, Jason Thompson came out to walk her in. As soon as the little boy saw him he ran to him to be scooped up by Jason who called him Nacho. Obviously their friendship had been sealed previously. Also obvious is the friendship between Kimberly and Jason. They walked in chatting comfortably.
Jacklyn Zeman wore a sundress and confided to me that the heat didnít bother her all that much. She was raised in a hot place and the current heat wave was just another round of hot, nothing to be unduly upset about.
Rebecca Herbst and Michael Saucedo pulled up and Rebecca immediately worried that they were late. I assured her that people were still gathering in the Green Room and she heaved a sigh of relief. I asked Michael if they were tired after their late night at the event and he remarked that they were.
Several actors were no shows and I was disappointed not to see Robert LaSardo, Kelly Monaco or Blake Gibbons to name a few. Also in the no show category were Tristan Rogers and Finola Hughes. Tristanís and Finolaís MIA status concerned Katrina and I as our next job was to monitor their lines. No actor, no job, what to do with ourselves? It didnít last long for Katrina as Tristan Rogers came walking down the hall looking like ďsomeoneĒ. I wish I had a picture to show you because I was standing by Katrina who was sitting at the table near the entry hallway and I glanced down the hall. A man was walking towards us with the sun at his back reflecting off his white shirt that caused a softening around his edges. I knew it was Tristan Rogers and I couldnít even see his face. No wonder women fall at his feet. The man is 60 years old and Iíd fall at his feet. Are you getting a sense here for how good he looks? There was shrieking and excitement as Katrina got him seated at the table and began the hard work of policing his line which immediately formed stretching across the ballroom. One at a time, autograph, picture, go. From what sheís indicated it was a tough job because no one wanted to have their picture snapped and leave and Tristan Rogers didnít mind chatting with each person in his line.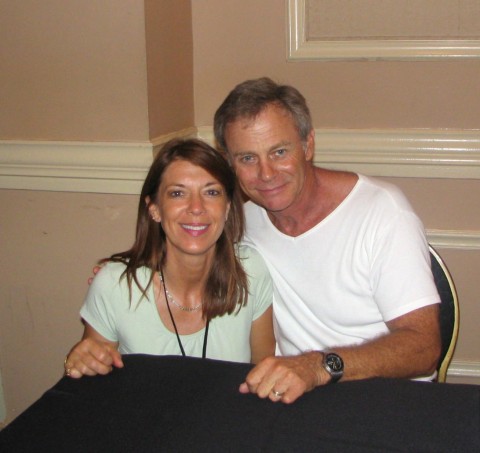 Itís good to know the line monitor.
Katrina let me slip in to get this photo.
Trying to make myself useful, I began touching base with each table offering to take the actor on break if they needed it. Itís a little embarrassing to be the potty monitor but I couldnít think of another way to be useful. Kimberly McCullough needed a break and as I guarded the restroom door I heard another roar go up in the ballroom. Finola had arrived. Yay, I had a job. She entered and sat at the table with Tristan where they proceeded to visit while the lines went wild again. Kimberly McCullough, on her way back to her table stopped to visit which caused people to lose all sense of propriety as they began snapping pictures of Finola, Tristan and Kimberly talking together. It was a 2 minute photo op that didnít occur again. Kimberly made her way back to her table and Katrina and I tried to keep the lines moving. Finally, Debbie Morris decided that Finola and Tristan had to sit in different areas so that the lines could move along. Another couple minutes of chaos ensued.
It finally worked itself out and I became the line police for Finola Hughes.
Here is what I learned about Finola Hughes.
- Sheís genuinely interested in fashion and offered fashion advice to anyone who asked.
- I donít think that she can take a bad picture.
- She remembers storylines and events from long ago on GH and can discuss them with fans.
- Men as well as women love Finola.
- Short people should not wear gauchos. When she was explaining that to a woman, I had a fashion faux paus moment until I realized that even though I was wearing gauchos, I was OK, I am tall.
- One lady had a headshot picture from the 80ís of Finola in the movie ďStaying AliveĒ. She glanced down and shrieked. ďAah, look at that hair. Where did you find this picture? We should never have allowed hair like that.Ē We all laughed and she signed the picture.
- A group of 3 older ladies told her how much they loved her and how happy they were that she was back on GH. They asked if she remembered them from previous fan events many years ago. She did though she wasnít certain of their names. They told her their names and she told them that she was having dinner with Ian that evening and she would be sure to say hello to him for them. After they left, she pulled out her purse and wrote their names on a napkin so that she wouldnít forget. I was impressed. She wasnít blowing them off, she planned to remember and pass along their message. It was a detailed, kind thing to do.
As line monitor I took a lot of pictures of people with Finola. I think I can work just about any camera handed to me now. I should get a job at Best Buy. Finola stayed until the end when security had to stop the line. We worked through the rest of the line and suddenly I was free. By then, only a couple actors were left so I made the most of my time snapping pictures.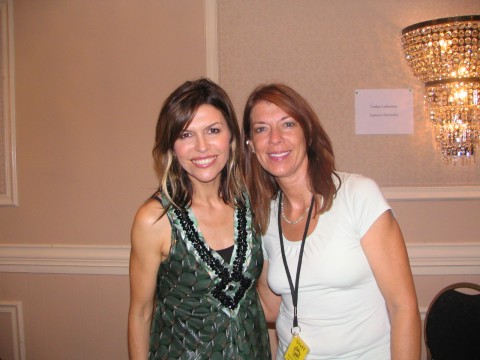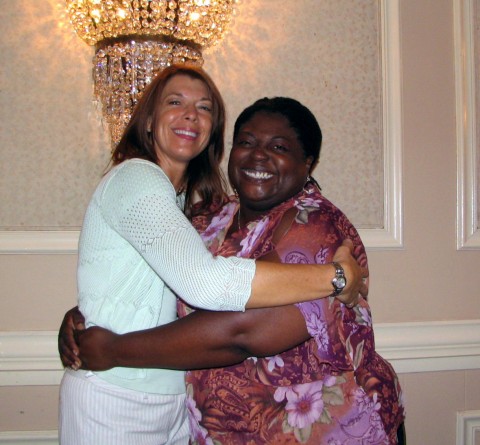 I wuv Sonya.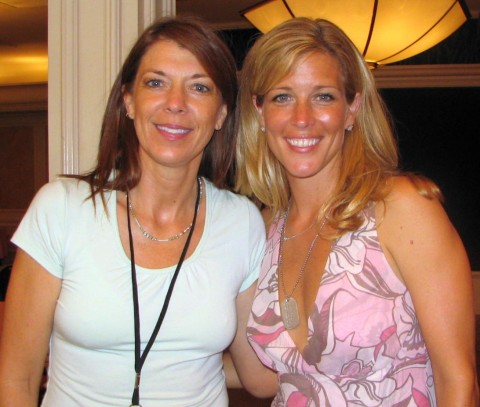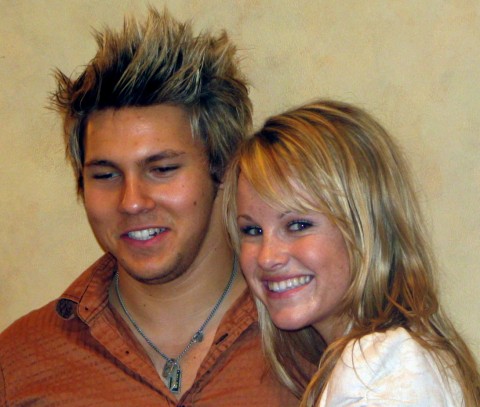 Right place at the right time. I love this picture.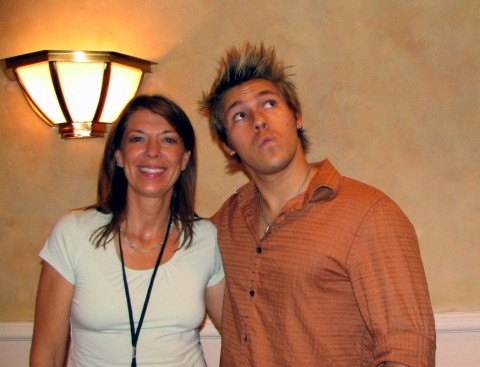 This was fun.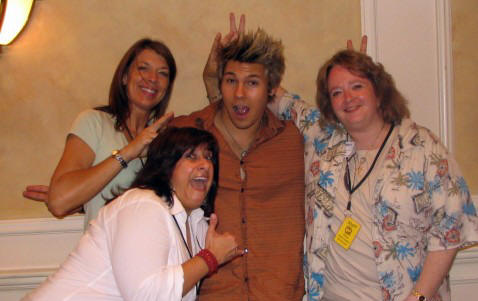 This was even more fun.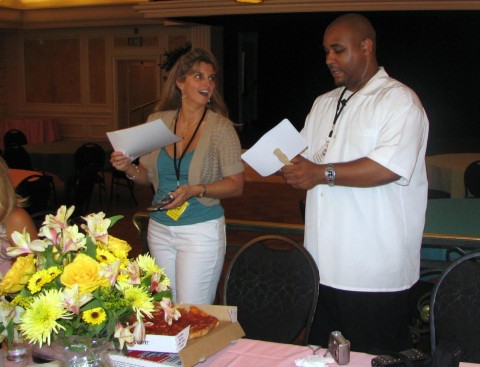 Carolyn and one of the security people look good enough
to be soap stars. I should have asked for their autographs.
I want to mention here how wonderful the security people are. The same ones work the event each year so weíve become acquainted. It was like old home week catching sight of them first on Thursday evening and again on Saturday morning. They take their jobs seriously but at the same time, keep their sense of humor. One of them has promised that heíll give me some inside stories that I can write up if I ever find the time. Maybe this year I will carve out the time and take him up on his offer.
At last the final actor left the building and the big day wound down. I hadnít taken time to buy a ticket for Steve Burtonís event but I really wanted my annual picture of Kathy grinning madly standing beside Steve Burton. Feeling daring, I walked up to the room where Steveís event would take place and asked Maxine Bennet, Jim Warrenís trusted assistant and a truly kind person, if Jim was around. I really needed to meet up with the other EOS ladies, eat something and take off my shoes for a bit so I wanted to ask Jim if he would let me into the event at the end to get my picture. Maxine thought it would be OK, but I had to clear it with Jim Warren who runs Steveís events. I donít know why I am hesitant to speak with him, maybe because he always looks so frantically busy, but I clung to my daring and asked him. Being the good person he is, he said yes and I happily left for a quick break. My pretty light green shoes that went with my outfit had rubbed some not so pretty blisters on the backs of my ankles. Yowsa, ouch!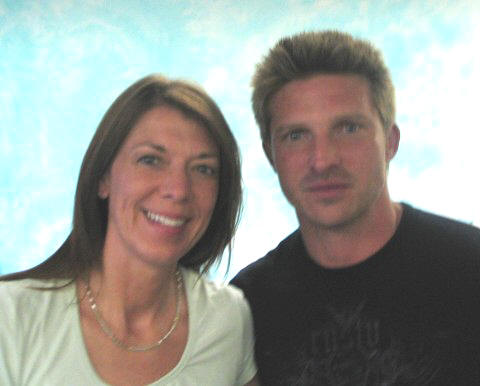 I asked him how many sweaty ladies had he hugged today? He smiled and replied, ďA lot.Ē Here I am grinning madly next to Steve Burton in 2006. My trip was complete. Many thanks to Maxine who talked to me as she walked by a couple times, working, while I waited in line for my picture. I love seeing her each year. While waiting in line I talked to the people around me and learned that Steve is working out. He implied that Jason may be drinking and angry after seeing Sam and Ric working through some revenge sex and Liz may just happen to stop by after an upset with Lucky. Jasonís shirt may come off, for a couple seconds. Liason fans start your engines.
At the end of Steveís event I sat on a bench near the pool and contemplated my energy level vs. attending the Scrubs Event. I checked in and Debbieís crew said they had it covered so I gratefully walked slowly back to the hotel to grab a shower, change shoes and relax with Katrina, Carolyn, Kelly, Karen and Dianna. What an eventful day. I could barely take it all in it had moved so fast.