July 30, 2006

Thursday, July 20, 2006
There is a time and a place for everything. Unfortunately, I wasn't at the right place at the right time and I almost missed my flight. It was close! I was tense and straining in hurry mode while sitting still for 3-1/2 hours in a crowded airplane. My shuttle driver from the airport to the hotel surely graduated from the New York City School of Psycho Taxi Drivers with honors because he swerved and maneuvered through traffic like a pro while horns honked all around us in protest. The travel was crazy so by the time I checked into the hotel, first to arrive, the quiet room and the king size bed were a soothing balm that reached deep inside better than any medicine. The GH Fan Club Weekend had begun.
You can imagine how it is with six women, good friends, who meet about once a year. Hugs, squealing, more hugs, everyone talking at once, conversations that proceed in fragments. It's grand. Picture that for about 4 hours and you will have a feeling for how the day proceeded. Of course, it was all a precursor for the evening's GH Kickoff Party. We chattered and tidied ourselves and off we went for the first of one of our many walks between the Sportsman's Lodge and the Day's Inn. My cell phone rang several times as Kelly kept us posted on her progress because she was stuck in airport hell first with a delayed flight and then lost luggage.
My task was to escort actors in as they arrived. For me, it was a good job, as it meant I could relax on a bench beside the doors and only stand up if an actor drove up looking for the GH Kickoff Party. Only a couple arrived but it was fun anyway. Ignacio Serricchio became my new best friend. Or I became his. Or maybe I was more like his mother following him around. The security people wanted him to have an escort while his band set up, ate dinner, changed clothes etc. I walked with him to his car while he pulled out his evening clothes – jeans and a t-shirt – to change from spiffy shorts and t-shirt, guarded the restroom door while he changed, walked around with him some more. While he took care of his business we chatted a bit. I found him smart, funny, kind and gentleman. Really, how many of those does one meet in a day? He opens doors for women. Yep, I fell a little in love. He also speaks several languages, plays semi professional soccer in 3 different leagues, adores his family, has a great sense of humor and remains humble despite the many women calling out to him, adoring him. His castmates and band members call him Nacho.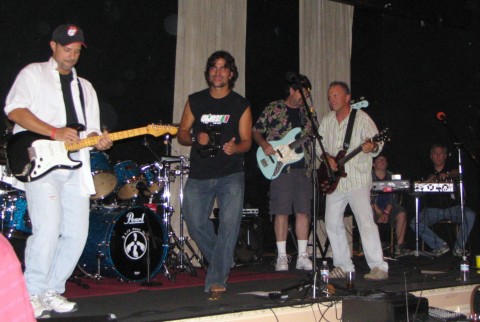 The band members were older than Ignacio, hence the band's name 3-1/2 Feet Under. The joke is they are about 3 feet under but Ignacio's only about ˝ a foot under so he keeps them alive, movin' and rockin'. The mix was good between them. As I watched the band play, I could see them enjoying themselves which added to the allure of the music. People danced. People sang. The ambiance of the room resonated with fun so when other actors showed up, they seemed to jump right in.
Derk Cheetwood's popularity went through the roof and his brother Drew, (sidekick on the show and the event) is cute. He's about 10 years younger than Derk and just learning the ropes of being on a soap.
Ignacio introduced Adrian Alvarado (Detective Rodriguez) as his brother and I am so gullible I believe him for a while.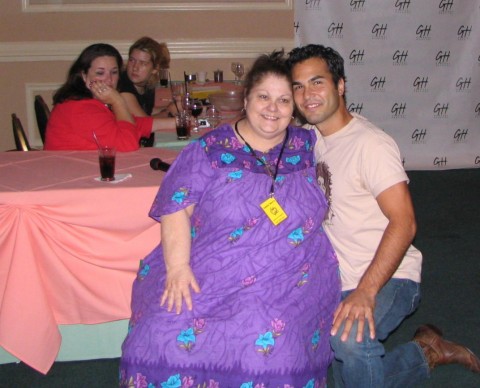 Carolyn charmed John J. York who, as always, looked happy to be in the middle of a crowded room filled with adoring women.
Dylan Cash zipped around in his Heelies (shoes with wheels built into the heels) and I couldn't help but notice how he's matured since last year. He looks less like a little boy and more like a preteen.
Adrian flirted with our EOS Dianna. Dianna flirted with Adrian and if he wasn't already married he probably would have lost his head over her. Dianna is fun!
Cynthia Preston and Lindze Letherman were their usual charming selves with clusters of people hanging on their every word.
Rick Hearst (what can I say that hasn't been said) wore his usual charming, funny, working the crowd face that we all fall for.
Greg Vaughan showed up in his stocking cap, jeans and a t-shirt looking like he was trying to dress down. It worked. Though asked to take off the hat, he replied that he couldn't because his hair was growing out and looked terrible. Ah vanity, thy name is Greg. Ah adoration, you have many names, just ask those women panting after Mr. I-Can't-Believe-It's-Not-Butter.
Towards the end of the evening Jason Thompson and Kimberly McCullough put in an appearance. After a long day of taping, they didn't stay long. Jason Thompson looked a bit dazed and it was clear that Kimberly was showing him the ropes of a fan event. I thought that perhaps he was overwhelmed by the attention but then I remembered that he participated in the Fun in the Sun events so he must have gleaned some experience with passionate GH fans. She protectively zipped them in and then out. It was nice of them to make the effort after a long day at work.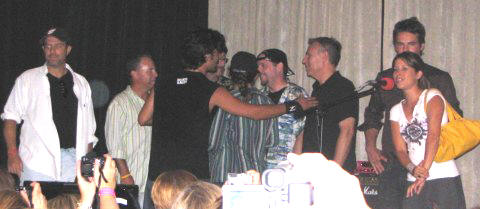 The evening was a great teaser for the luncheon on Saturday. There were enough actors to make the room interesting but it wasn't so crowded that they were overwhelmed. Fans had the opportunity to chat rather than grab an autograph, snap a picture and move on.
In a quiet mood, I enjoyed watching interactions especially with my EOS friends. It struck me that we all participated in the same event but experienced it differently. I was able to get to know Ignacio Serricchio in a way I wouldn't have otherwise and to discover how much I like him. Diego on GH now has layers I couldn't see before. Carolyn laughed and joked with John J. York. Karen received a spontaneous hug from Lindze Letherman. (I like to hug Karen too. She's just like that.) Dianna had a fun time bantering with Adrian Alvarado. Katrina watched it all and soaked it in. Kelly finally arrived, sat with me outside for a bit and then moved inside to appreciate one of her favorites, Rick Hearst. Their experiences are theirs to tell, but it was an interesting evening filled with different perspectives.