The Doc CAN Rock!
By Trish Fodor
It's a Friday afternoon and I was sitting at work trying to mentally force the clock to move just a bit faster when the phone rang. It was Lorra, my friend and one talented hair artist. (I'd say stylist but her work is truly art.)
"Hey? What are you doing tomorrow night? I've scored two tickets to Rick Springfield and right away, I thought of you!"
Love her instincts. They were dead on. As I prepared to leave for work that very morning, the radio announced that "Doc Roc" would be in town. Man, I wanted to go but who in the world did I know that would actually want to go (or admit to going) to see Rick Springfield, heart throb of the eighties, resurrected daytime star on General Hospital?
Lorra…God love her!
Strike one on "cool", the show was at The Ohio State Fair. The last time I'd been to a grandstand show was when my parents took me to see the Osmonds as a kid – okay, consider that strike two. (But Donny was IT back then!)
We waded our way through the hybrid form of humans that you typically find at a state fair to discover that this was no grandstand affair, but they actually had an indoor venue with air conditioning and assigned seating, jumbo screens and a huge stage! Things were definitely getting better. AC! After all, it was HOT in early August in Ohio and after the sweat bath that was GH Weekend in LA the month before, I was not looking forward to feeling the annoying trickles of sweat rolling down my skin all evening.
The other thing that struck me was the crowd. There were people there of all ages and motivations, young and old, straight and gay, all armed with digital cameras and bottled water waiting to see this icon from yesteryear take the stage. As the pre-show music amped up, the excitement slowly built and people found their seats buzzing about when they first laid eyes on Springfield and how cool it was to see him back on GH again after so many years.
<![if !vml]>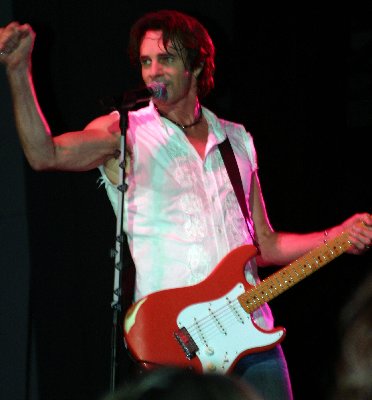 <![endif]>
"I wish he were on more," one fan complained.
"He's not because they're accommodating his tour," another countered with authority.
"He has got the hottest ass!" chimed a male fan. (I'll let ya'll figure that out!)
I was personally curious to see Rick Springfield because I'd long ago read that music was his first love and that he kind of fell into acting to pay the bills. I admittedly owned a copy of "Working Class Dog" and, like all Springfield faithful, paid him due homage by playing "Jesse's Girl" over and over again ad nausea the second I freed it from its cellophane wrapper. I still enjoy the song and so do many fans. Rick would make good use of that throughout the evening, using the familiar opening guitar strains to fake the audience out, then go on to play something else. Smart man.
Finally, the moment arrived and the lights faded to the echoing sounds of a heartbeat, from the beginning of his recent cover of 10CC's "I'm Not in Love". But he didn't open with something so subdued. Instead, Rick came out rockin'!
The crowd was on its feet immediately and I began snapping a few shots and found myself really noticing his features. It was unavoidable, because he looked so different from the man I've seen on my television screen lately.
Obviously GH has gone to some lengths to make him look older and more run down, perhaps a result of Noah's recovering alcoholism. The man I saw on stage was much younger looking. In fact he looked amazing at his age (57) something I also noticed when I saw David Bowie in 2004, who was 57 then as well. Fit, energetic and sporting a wicked cool tattoo and the signature rock-n-roll earring, Rick Springfield was sizzling hot and I was sixteen again!
<![if !vml]>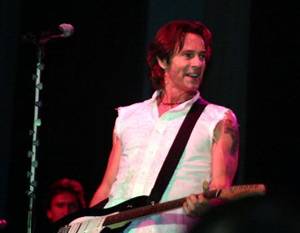 <![endif]>
<![if !vml]>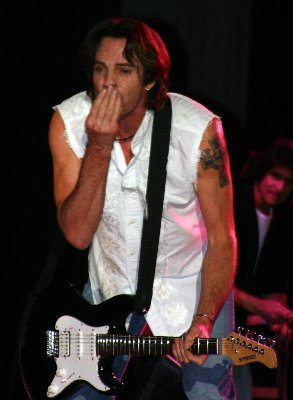 <![endif]>
But there was more there than the realization of every young girl's rock-n-roll fantasy. Springfield was one helluva showman engaging the crowd on multiple opportunities as he ripped through crowd favorites from "Affair of the Heart", "Human Touch", "Love Somebody", "Love is Alright Tonight" and the popish "Bob Till You Drop". One noticeable thing about all of these songs is that in live performance he gave them more edge. Screaming guitar solos, grittier vocals, and the songs of the 80's were transformed into anthems exuding a raw energy that surprised me. They surprised Lorra too.
<![if !vml]>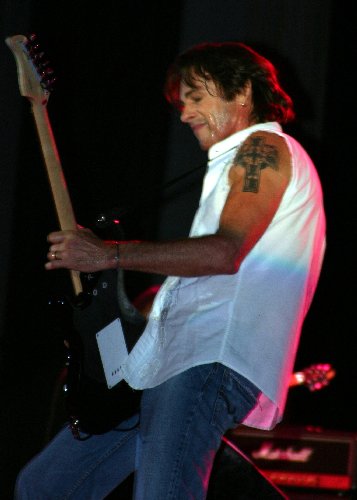 <![endif]>
Her fiancé is a musician and (she later admitted) had the chance to attend the show but passed. As we sat and watched Rick solo on numbers we couldn't help but notice that the man is a gifted guitarist whom any serious musician would admire. I recalled Sammy Hagar once saying in an interview that Springfield delivered the best cover of his song, "I've Done Everything for You", that he'd ever seen.
"Man, he really rocked out on it!" Hagar praised.
<![if !vml]>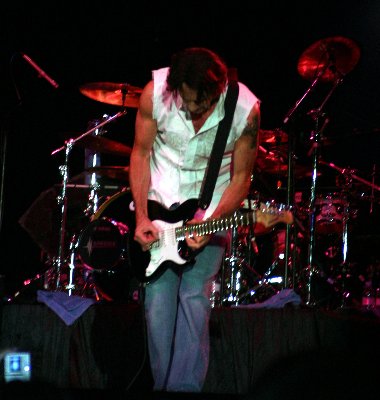 <![endif]>
When Rick launched into the opening chords of that song then let his guitar do the talking, I was mesmerized. The studio version was always good but Sammy was right, the live rendition blew me away.
At one point, Rick decided that it was time for his audience to show a little vocal muscle and, as he launched into "Don't Talk to Strangers", he arbitrarily threw the microphone in front of people's mouths to get them to chime in. A cameraman obliged, albeit woefully off key, drawing a huge roar of laughter from Springfield. Then he held it down to a woman up front who was too speechless to utter a sound. Ah! Someone had unknowingly taken his bait.
Rick plopped down, his long blue jean legs dangling over the front of the stage and challenged, "You'd better sing, this time or else."
He sang the chorus then put the mic back to her lips. Once again it only picked up muffled laughter.
Grinning, Ric took his legs and pulled her head into a vice like grip between his knees. "Ya gonna sing now? 'Cause if you don't, I'll turn your head around."
You can imagine her reaction. Flabbergasted and turning beet red she still failed to sing the money line, "Don't talk to strangers" and Springfield made good on his promise, turning her head, ahem … "inward". The crowd loved it!
"See what happens when you don't sing for me?" he smirked mischievously and let his victim go giving her a kiss and thanks for being a good sport.
His other crowed pleasing antics including calling four young ladies up to introduce themselves and sing, ("The real Jesse's Girls!") and wading into the crowd to do a few numbers in the middle of the main floor. Someone tossed him a pink feather boa, which he put on and quipped, "This is SO gay!"
<![if !vml]>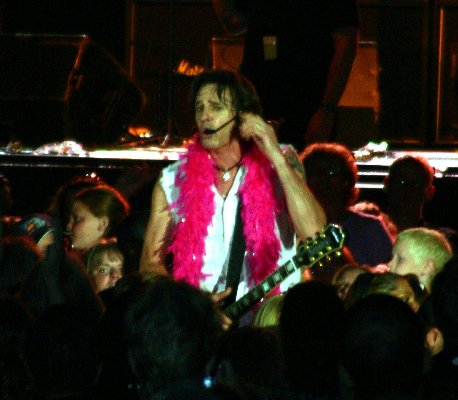 <![endif]>
He grabbed a cell phone from a fan and said, "I wanna call someone! Who can I call on speed dial?" Reaching the unsuspecting party he held the phone to the mic, "Do you know who this is?"
"No," a confused, meek voice answered.
"It's RICK SPRINGFIELD!" He held the phone up to take in the audience's roar. It's a wonder the woman didn't hang up thinking that she was being cranked.
One final musical surprise was his rendition of The Who's "My Generation". As a huge fan of theirs (saw 'em on September 30, 1982 at the Pontiac Silverdome) I was in heaven and, like every other song that night, he more than did it justice.
It was finally time for that familiar guitar line to really lead into "Jesse's Girl" and the house was on its feet. Shining but still energetic, Rick led his following through the anthem smiling all the while at our enthusiastic response. You got the impression from his face that it was good to feel the love after all these years. Feel the love he did.
Tossing his guitar high into the air, he caught it and exited the stage, dutifully returning shirtless for a demanded encore. He gave his all. He worked the crowd like a pro, but more than anything, Rick Springfield rocked!
<![if !vml]>
<![endif]>
There was no strike three; the concert was amazing. I left with a smile on my face and my ears ringing. Still, I didn't mind the temporary deafness. It's all part of the afterglow of experiencing a good, solid rock-n-roll show.
[Editor's note - From Katrina - I wanna make babies with this man. That is all]