May 31, 2006
---
On the Rags
---
I'll bet they hate being called that.
I have before me, lessee, 6 issues of Soap Opera Digest, 4 issues of ABC Soaps in Depth and 2 issues of Soap Opera Weekly. I originally started writing this column a month or so ago when my soap mag collection was not so extensive. Upon starting the column, I quickly found that I wanted to pursue the evaluation a bit further the limited number of magazines in my possession at that time provided. So I waited... and I bought magazines...

Now I feel that I have an adequate supply from which to draw a concerted opinion.
How do they stack up? As with any of our columns, this is subject solely to the opinion of the writer... in this case, me.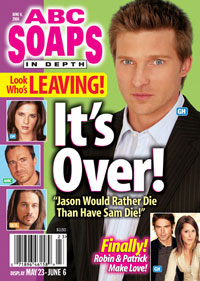 For me, ABC Soaps In Depth is both the best of times and the worst of times. I love that the magazine divides its issues into releases specific to the individual networks. I have no reason to or interest in buying CBS Soaps In Depth or NBC Soaps In Depth (Is there an NBC Soaps In Depth?) and I feel as though the magazine takes care of me in that respect. I know that when I pick up my ABC Soaps In Depth, the entire issue will be targeted to my area of interest.
SID has a glossier, more vibrant look than the other magazines, sporting large, attractive photos to accompany the articles.
Because each issue contains more than a week's worth of reporting on each network's soaps, each issue is really, really fat. It normally takes me 2-3 sittings to get through the whole thing (and I don't read the recaps).
Invariably, SID provides a wonderfully detailed preview of upcoming sweeps every three months (didn't sweeps used to come much less frequently and only last for a week?).
Originally, this column was to be on the subversive marketing and misleading tag lines employed by magazines to entice us into buying their product. To be honest, as I started exploring this subject, I found SID to be by far the worst offender in this respect. Sensationalism prevails in its "pitch" and it seems that very few of the headlines actually bear fruit once the full article is read.
In the June 6th issue, the main cover photo is of Steve Burton with the headline of "It's Over." Smaller lettering says, "Jason would rather die than have Sam die." The larger lettering, over the "It's Over," in fact, says, "Looks who's leaving" with a sidebar of photos down the inner edge. The impression that is given, left to our own conclusion, is that Burton is leaving, along with the other people listed (Kelly Monaco, Thorsten Kaye and Michael Easton). These are, of course, two separate stories that are blended together in presentation to give a false impression, but not so directly that it couldn't be denied if the subject were pressed.
In actuality, what is definitively expressed as fact on the outside ("Look Who's Leaving!") becomes an assumption based on the speculation of "setside sources" once we get inside. In fact, in the same issue's "Ins & Outs" section, we read that "sources claim" that Easton is leaving, yet at the end of that article is stated, "A rep for the soap says that they don't comment on contract status (yep, we know) but adds that Easton has been asked to clear up any reports that he is leaving since he never made a statement about the matter."
A page previous to that one contains a statement from a "colleague" of Ingo Rademacher saying, "He's gone for sure. He wants to leave and his contract is up. They are definitely recasting." In an issue of Soap Opera Digest released the exact same day is a report in the "Comings and Goings" section saying, "Insiders say that despite reports of his imminent departure, the actor has agreed to stick around P.C. for some additional time."
Who do we believe?
In the case of Kelly Monaco, again it is left to "an insider close to the GH set" to tell us that she is planning to leave. With Thorsten Kaye's departure, once again it is an "insider" who tells us that he wants out. There are no official statements and nothing more than setside speculation, really. When an actor wants to leave the show on one day, a new day might bring a different offer to stay with more money and considerations to their contract or even the loss of an opportunity outside of the show. As with the "real world," plans change day to day and what an "insider" hears an actor say likely reflects only what is going on at that particular moment.
In another issue, the main story is Jason, Sam and Sonny with the headlines, "Sonny Orders Jason's Murder! But It's Sam Who Gets Shot!" When you get inside, the actual story unfolds and although the cover story alone leads us to draw the conclusion that Sonny ordered a hit on Jason and Sam got in the way, it is explained inside that one shooting had nothing to do with the other.
In the corner, a tiny picture announces, "At Last! Dixie's Secret Revealed!" which sounds legit until you see that the date of the issue is May 9th and it was on the stands from April 25 - May 9th. Inside, we are not told what Dixie's secret actually is and AMC viewers know that the whole truth about why Dixie stayed away was not revealed until last week.
To their credit, the same issue also shows tiny photos of Eden Riegel and Finola Hughes next to a "Who's Returning" banner and they both did.
Of course, pick up any 4 consecutive issues of SID and you will have at least one cover story about Vanessa Marcil. This one (April 25th) shows her usual glam shot and says, "Back On GH? 'Hopefully!'" right next to an "Ins and Outs" banner. The photo by the Ins and Outs banner is of Tuc Watkins, who "a source" says (inside, not on the cover) will leave when his contract expires in August. Side-by-side with the Tuc Watkins photo is a photo of the same size and layout of Steve Burton with the words "Putting Family First," again giving the impression that Steve Burton is leaving.
Go inside and what do we find? Steve Burton's wife, Sheree, recently had a baby and Steve took a two week paternity leave that we did not even notice thanks to the modern miracle of pre-taping.
Vanessa Marcil was interviewed as part of a spotlight on "Actors We Want Back Now" and said, "I do feel like Brenda was the greatest character that I ever got to play. All this other stuff I see as something I got to do. I started my career [at GH], and hopefully I will get to end my career there too."
For one thing, that completely blows out of the water the "Hopefully!" headline that rested snuggled next to the "Ins and Outs" banner. Since anyone with a few brains cells banging around in their head can figure out that Marcil is nowhere near the end of her career and isn't likely to come back any time soon. She's living the "I used to be on daytime" dream. I'd love to see her purty face with a caption reading, "Back on GH? No chance in hell" or "Not until the other offers dry up!" When you read between the lines, it becomes clear that GH is a fond memory and an ace in the hole when and if her career begins to slow down. Still, every few weeks, you can expect a Vanessa Marcil teaser, followed by an article inside where she gives GH a sloppy blow and hopes she'll come back some day.
Other issues:
"Is Frisco Returning??" No, the article inside made clear, he is not.
"SOMEBODY DIES!! Will Jason Kill Sonny to Protect Emily?" No, Jason killed a guy who was trying to kill Sonny and it was the unknown predator who was the somebody who died. This was revealed in the relevant column.
"Tyler Quitting For Prime Time." No, it was actually that Tyler saying he would only quit if his pilot was picked up (it wasn't) and Tyler remained with GH.
"Returning?" next to Marcy Walker's photo. No, inside we learn that Walker is happily living as a youth minister and has no interest in returning to AMC.
"Maurice's Surprising Decision!" was actually about how he decided a year and a half prior to the issue's release that he would re-sign his GH contract.
"Is Erin the New Courtney?" [Erin Torpey, ex-Jessica, OLTL] No, she was not. Alicia Leigh Willis was the new Courtney and the old Courtney.
"Robin's Back, But Sam's In Danger... NOW JASON MUST CHOOSE!" Did he? I must have missed it.
Likewise, "John's Change of Heart! His Final Answer Will Shock You... and Natalie ...and Evangeline!!" Wha'?
"Who Dies? Dixie & Todd's Lives Hang In The Balance When Bullets Fly!" Was this when Dixie got pinged in the arm and was saved by Zach? This issue also had the obligatory, "Vanessa! 'I Want To Go Back!' Whaaaa!" story. *sigh*
ABC Soaps In Depth is absolutely riddled with fun and interesting articles, games, trivia, interviews. Its content very much makes it worth overlooking its rather devious (and most of the time, transparent) marketing tactics. Outside, it is rather skeevy in its deliberate misrepresentations (the *bat*bat*bat* "Was it something I said?" angle has never impressed me) but inside, it is clever and extremely enjoyable.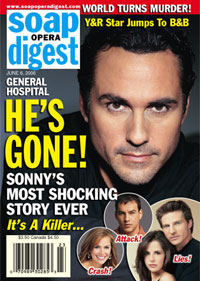 SOAP OPERA DIGEST: On the whole, SOD loses application for me personally because I only watch and have only ever watched ABC soaps. That means a good bit of its content is meaningless to me. At $3.50 per issue, it is equal in cost to SID, but 51 cents more expensive than Soap Opera Weekly, which also covers all networks.
I have found SOD to be much more invested in the actual stories than on what the actors are or are not doing, therefore, they are more direct in their marketing. "Tad Finds Dixie At Last" "The New GH" "Heartbreak! Alexis Learns the Truth!" "Finally! Nora Wakes Up!" "General Hospital: It's War!" "AMC: Bianca's Back!" There is very little that is subversive or tries to convince the reader that something is going on when it's not.
I could only find two headlines that I found to be slightly misleading. One was a photo of Carly (GH) with the words "Surprise Death" across it (for John Durant, although you do not know that until you read inside... otherwise, it appears Carly died) and the June 6th issue which has a giant photo of Maurice Benard on it with the words "He's Gone" in huge letters, giving the impression that MB is leaving the show when it is actually talking about Sonny going over the edge.
Carolyn Hinsey's opinion column, "It's Only My Opinion," is well written and an enjoyable read.
SOD is quite good about giving nods here and there to the past, honoring the veteran soap viewers in their readership.
The "Round Up" section that poses the same question to a number of soap stars is always quite interesting.
Like the internet itself, SOD does tend to be very ABCentric, which works for me, but would piss me off if I did not watch that network. In April, for instance, the three editions I have all run an ABC story as its "big photo" story with smaller photos surrounding it for the stories run by other networks (or in some cases, smaller photos surrounding it touting other ABC stories). It makes me wonder what was on the cover of the April 11th issue which I do not have.
As I go through the magazines as they come out, I highlight in yellow comments that might be appropriate for our "You Were Saying?" column or tidbits Sage might want to include in his gossip column. To its credit, SOD has a good bit of yellow in it when I am finished. It has good info and carries with it a good sense of integrity, focusing more on the shows and characters than on the actors' proposed comings and goings. Its attention, however, to each individual soap means that a good bit of its content is lost on me and totally irrelevant to my interests.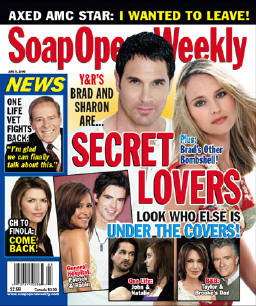 Soap Opera Weekly: SOW suffers from the same "cover all the soaps" malady as SOD as far as holding my interest. The difference is that it does so with considerably less class. Though that might sound harsh, I have to say that I have a special place in my heart for the magazines that dismiss (or can't afford) the gloss and glam image and remain true to their pulpy roots. SOW still has the tabloidy, rough look that practically still has pieces of tree left in the paper. I love it! To me, such a presentation conjures up images of underground newspapers and rebel publications that have not yet sold out to The Man. That being the case, I should love this periodical.
Sadly, there is a reason why I only have two issues. That was how long I gave the magazine before I dismissed it. The content lacks imagination and is slow with news and gossip updates. By the time info hits their pages, it has already been all over the internet and spent a week or two published in the other two magazines. It has half as many pages as the other two mags, which should be compensated by the fact that it is more than twice as big. Still, the info seems lacking and scattered. If I happened to be in a doctor's office on a long wait and had to choose between several mainstream magazines (People, Time, Car and Driver, etc) and Soap Opera Weekly, I would definitely grab the SOW, but given my preference among the soap opera magazines themselves, SOW tends to leave me feeling as though something as missing... sort of like eating oatmeal without sugar.
When push came to shove, which one got my subscription bucks? ABC Soaps In Depth... but dammit, I wonder what axed AMC star the upcoming issue of Soap Opera Weekly is talking about...
>:<

---
http://soapsindepth.hollywood.com/choose.asp
http://www.soapoperadigest.com/weeklytoc/
http://www.soapoperadigest.com/digesttoc/