---
<![if !vml]>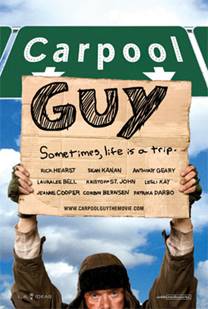 <![endif]>
OK – so. Thanksgiving was fairly uneventful. Actually I was up at the crack of dawn shoving my hand up some poor dead bird's ass and contemplating life in general. Basically I figured out that of all the things I could be doing with my life, things could be worse. I'm not quite sure how, but then again I had my health. The same couldn't be said for the bird.
One thing I was definitely looking forward to was the SoapNet presentation of Carpool Guy – scheduled for 7 pm that night. All I had to do was stay awake past the 32,000 calorie onslaught and I was home free. So I cooked and I cleaned and I stuffed, roasted, mashed and finally, masticated. Dinner was a success and by 7 pm I was primed and ready to go.
Right off the bat I'm loving seeing some of my all time faves in a setting other than one that I'm used to. But wait, there is a sense of the familiar here. Rick Hearst is charming and smooth as Joel, just as he's charming and ultra-smooth (or at least I think so) as Rick Lansing. Sean Kanan is equal parts boyish and devilish just like Deacon (B&B) is/was. Corbin Bernsen is the ultimate sexually ambiguous metrosexual momma's boy and Jeanne Cooper is Katherine Chancellor gone Hollywood. This is gonna be good.
And it was, but God-a-mighty, was it looooong.
Laced with play by play color commentary from Actor/Director Corbin B. and occasional interjected anecdotes from dear-old mom Jeanne, the movie, with commercials galore, clocked in at three, count 'em - three hours.
<![if !vml]><![endif]>
Cute Couple – huh?
<![if !vml]><![endif]>
Ping!?!
So the storyline is that Joel is this, dare I use the word? – Yup marketing dude on the fast track to having everything he wants. Or maybe it's everything he thinks he wants. Either way there are roadblocks standing between him and that corner office with the view. One is his quasi-running buddy/competition for the top spot Tom, played by Sean Kanan who was in danger of stealing the movie with his absurdly dark humor and (reportedly) ad-libbed quips... "c'mon Joel, just be the ball".
<![if !vml]>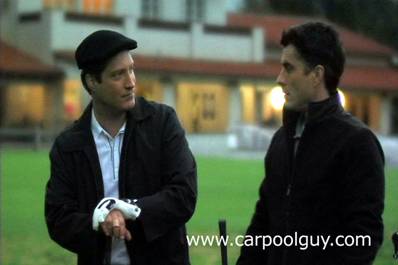 <![endif]>
The other obstacle in Joel's quest for the corner office real estate is time itself. Mrs. Lunsford and her weasely prig of a son Michael, (Bernsen) insist that Joel put in the hours necessary to show his loyalty and willingness to sacrifice for the team. With the traffic in LA being just this side of Hell, Joel is forced to go to extremes just to get to work on time. His wife Hope, played by Lauralee Bell, manages to tighten the screws just a little more by announcing her desire for a baby – NOW.
Carpool Guy is almost worth watching just for the inside soap jokes alone. Add to that Tony Geary's wearing of an "Amsterdam" t-shirt for the better part of the movie (wink wink) and Rick Hearst lisping "Ssssteven" while he tries to determine whether his wife's socially conscious walker is a threat to his manhood and you've got soap fan nirvana.
This is an impressive directorial debut from a helluva nice guy- I got to follow CB around at GH Fan Weekend and ladies and gentlemen, this guy is the real deal. His cast is great and each of them stand out in his or her own way. One thing to note for Y&R fans, don't blink or you'll miss Sharon Case in this movie. Tony Geary is both earthy and slick at the same time and God help me, but Rick Hearst is soooo handsome and soooo charismatic that he could read the ingredients on a can of soup and I'd still probably melt into a puddle of hormones on the floor in front of him.
Carpool Guy … as Martha Stewart would say, "It's a Good Thing".
Carpool Guy (2005)
Starring: Rick Hearst, Tony Geary, Sean Kanan, Lauralee Bell, Corbin Bernsen, Jeanne Cooper, Kristoff St. John, Lesli Kay, Patrika Darbo and Sharon Case.
Later Babycakes!
KellyB
Please note: Kelly has donated a DVD copy of "Carpool Guy" to Eye on Soaps for its donation raffle for December! Enter for your chance to win! Thanks, Kelly!