---
January 12, 2006
Another great week of OLTL has nearly ended and I am again reminded of what a classy and forward moving show this actually is. I feel that is best illustrated in the moment of clarity Natalie had today when talking with Tess. When Tess learned that Ginger had died, for a split second, she was "real" to Natalie, causing our fiery red head to momentarily leave her self-centric world and notice that someone else was feeling and grieving and reacting. The acting on the part of both actresses was superb and the tension of the moment was palpable.
Likewise, the erstwhile game of "who's got the button" being played by the Buchanan boys who are each trying to figure out what the other one knows about what's going on with Asa. Evidence we saw today make me convinced that one of our sharp EOS readers is absolutely correct in her assessment of the situation. When I speculated last week that Spencer Truman was a long, lost Buchanan boy, she tossed me the idea that David, not Spencer, was a true Buchanan. Did Asa have an affair with their mother, producing David, and that is who is in the photograph? Is that why Spencer has always treated David so poorly and continues to do so? Admittedly, I missed some bits and pieces of today's episode, so vital info might already have been revealed to confirm or deny this idea, but hey, it works for me.
Speaking of the Buchanan Boys, is the dating between Clint and Dorian the romance that never was? While it would be heart-warming to see Viki decide to fight for her man and to have those old home fires fanned, I think the drama would be better if Dorian remained in the picture for a while, at least until after the "David is a Buchanan" reveal takes place. Seeing Dorian order MY favorite meal, steak medium rare and a baked potato with only butter, made me feel a little closer to the Grande Dame, especially when she ate it with such gusto. I greatly look forward to a passionate David and Dorian reunion, complete with a wedding, but if I can't have that (or in the meantime), I am all for Clint and Dorian having some fun!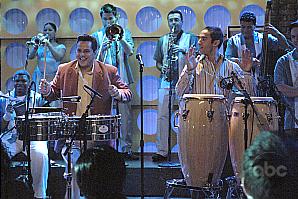 On January 30th, put on your salsa shoes as Tito Puente Jr. and his orchestra perform at Antonio's nightclub. If you are wondering how that came about, it helps to know that Puente is good friends with Walfredo de los Reyes, Sr, who happens to be the father of Kamar de los Reyes, who plays Antonio. This is not the first time that OLTL has been spiced up by music flowing from the de los Reyes family. Kamar himself previously helped to heat up the show as he jammed with his father, Walfredo (himself a famed and accomplished percussionist), his brother, Walfredo, Jr, his other brother Daniel and his cousin Rafael de los Reyes over a two episode stint.
Can't get enough of that Latin beat? Daniel de los Reyes released an album called "San Andreas" that is a collection of classic Cuban tunes from the 1940-50's. It is carried on Sabor Records and was voted in the top 10 albums of 2000 in the "World Music" category. Daniel is again joined by his father, brothers (including Kamar) and Rafael for this album.
Eye on Soaps welcomes "Rant N Raven" to one of our long-time very favorite OLTL sites, Llanview Banner, run by Soap Gal. Raven Beauty is a popular soap scoopster herself on the message boards and there just isn't enough good OLTL commentary and news around, so this is very good news. You can read her commentary at the Llanview Banner each week and her scoops on the message board.
We may actually lose our gal, Roxie as news comes that when Ilene Kristen heard she was bumped to recurring status, she started aggressively looking for work elsewhere, including meeting with the creator of the show "Desperate Housewives."
Hillary B. Smith may have re-signed her contract for another year, but Nora will not be waking up until February sweeps.
John Paul Lavoisier's contract is up in May, but don't look for him to go anywhere. Rex and Adrianna are slated to be the next "it" couple on OLTL.
Did you enjoy Margaret's gruesome visage in Todd's cell? Look for portrayer Tara Signor to return for more flashbacks as the story of Margaret's murder unfolds.
And that's all of Llanview's news for now! Have a wonderful week!
---
Photos are from http://www.abcwebpix.com