---
March 20, 2006
Darlings!!! I'm back again! I was going to hold onto the goodies until Friday when my gossip column usually comes out, but hey, I got a ton of stuff all at once and I wanted to get it out to you!
This might mean that this week's regular column might be light or even nonexistent, but hey, if we can play now, why put it off??
---
AMC
---
AMC Head Writer, Megan McTavish, gave us some insight to what AMC will be showing us this Spring. The highlights:
- Greg Madden is not just hassled by Erica's burning need to kill him off. He also has a connection to someone else on the show. Who could it be? As if we don't already know it's Dixie and of course, a "Where's Kate" story is brewing. ABC soaps are sure running their share of missing baby stories lately between Josh Madden, Kate Martin, Paige's missing son, which brother is a Buchanan, Alexis and Sam and so on and so on...
- The reason Dixie stayed away will be fully revealed. McTavish says, "It's not what it may look like at first view. She is in agony." So are we, Meg... so are we.
- She promises that we have not see the last of Janet's influence in Pine Valley. "Clearly, there is much between Amanda and Janet yet to be resolved."
Buh bye Anita. With Aidan now focused on The Virgin Erin Lavery, I mean, Erin Lavery (smirk), there is nothing left for Anita to do, so rumor has it that AMC has let her go.
SORAS strikes again, this time hitting Colby Chandler, who will supposedly be returning to Pine Valley to live with Daddy Adam. AMC is looking for a 15-16-year-old teen to play the role last portrayed by 9-year-old Kathryn Newton. Marcy Walker, who now goes by her married name of Marcy Smith, will not be returning with Colby. She spends her time working in North Carolina as a youth minister.
In "StarTalk" this week, ABC Soaps In Depth asked what movie our ABC soap stars knew all the words to: Aidan Turner says, "Back to the Future" (plus he says he does an impression of Doc Brown saying, "One point two one gigawatts!" Cameron Mathison said he knows "Scarface" by heart and Terri Ivens knows all of "Grease." Her favorite part is Danny Zuko (John Travolta). She says, "I mean, come on! Greased Lightening!" You'll get a laugh out of this one. For Alexa Havins and husband Justin Bruening, it's "Dumb and Dumber."
---
OLTL
---
Head Writer Dena Higley stepped up with Spring previews for OLTL as well. Don't (it hurts me to type this) count Blair and Todd down for the count. "It's because such an amazingly beautiful love story about forgiveness, reconciliation and healing. It all culminates with Todd preparing for his execution." Looks like it's going to be a last minute salvation.
She also says, "A catastrophic event happens in May where in the midst of the trauma, real feelings and emotions come out and [Natalie] blossoms into a real woman, finally decides which man she loves and goes for it." Hurray! There's an end in sight!
The new love interest for Antonio appears to be Claudia Reston. Guess we should watch to see if the couple passes its chemistry test.
There is supposed to be a renewal of Lindsay and RJ, fueled by Nora coming out of her coma. Although both women are trying to bury the hatchet, Nora and RJ's connection causes frustration and insecurity for Lindsay.
If you're like me, you really miss getting your Nathan Fillion fix since "Firefly" went away! If you neeeeed your favorite ex-Joey Buchanan, you can find him co-starring with Keri Russell (Felicity) in the new romantic comedy, "Waitress."
In reply to the movie question posed by ABC Soaps In Depth (see the AMC section of this column), Melissa Archer chose "Shining Through" and John-Paul Lavoisier picked "Back to the Future 2." Kassie DePavia knows all the words to "Napoleon Dynamite."
---
GH
---
Next, it was GH Head Writer, Bob Guza, giving us Spring previews:
Guza looks forward to a return of both Tristan Rogers and Emma Samms, but admits that Rogers is more of a likely return than Samms, given their location issues (Samms is well ensconced in England and Rogers lives in Southern California, where GH is taped). His hope is to follow through with plans to send Robert and Luke off on another adventure, as well as putting them in competition for Holly's affections yet again.
In response to the subject of Sonny and Emily and how their romance affects Jason, Guza says, "Will Jason actually take a swing at Sonny? Jason is going to do more than that!"
He also confirms that a full on romance will ensue between Jax and Carly, telling us that by the time Carly learns that Nikolas is really John's father, she will be well on her way to truly being in love with Jax. (Can't they just call that kid "John?" Every time I hear "Little John," I follow the words with " walkin through the forest laughin back and forth at what the other'n has to say. Reminiscin this-n-that'n havin such a good time. Oo-de-lolly, oo-de-lolly golly, what a day!" Clearly, I watch way too many Disney movies.
We can expect Nikolas to go all dark and drear with Helena coming out of the corners "along with a surprise or two." He also teases, "There's a distinct possibility that we will see another Cassadine emerge."
Every single frickin year people begin to see the image of Luke Spencer in everything from potatoes to bathroom tile and the rumors start of Anthony Geary's imminent departure. Like the sun rising and the moon moving from new to full, we can always count on sureties about GH. Rumors that Genie Francis is coming back. Rumors that Vanessa Marcil is coming back. Rumors that Tony Geary is leaving. Tony Geary just signed for 2 more years and they have major plans to use him, so sssssh. Let's let it go for a while.
Big Daddy John got a new gig. USA network has ordered 13 episodes of the drama-comedy "Psych" in which Corben Bernsen plays the father of the lead character. The show tapes in Vancouver, BC and premiers in July. At this time, Bernsen plans to try and straddle both shows.
The following is a wonderful batch of juicy gossip a friend of mine combed (God bless her!) from all over the net. There is NO confirmation to most of these things. They are just a reflection of the information that is hitting the rumor mill on the internet! I was not given sources, so if you find info here and know where it came from, just figure that it's flattery that I found it interesting enough to repeat. In the past, any time I say, "such and such reports that..." I would get a heated letter yelling at me that the info was actually on another site 38 seconds before the one I cited. So let's just say, "This is what is floating around the net," OK? I am not claiming this as fact, but just sharing the gossip luvvvv.
Alfred (yes, just like Batman's manservant) is the new butler on the scene and he will be Helena's right hand man. We are told that he will be a very interesting character with a humorous, dark side, so I guess he's Helena's answer to Big Alice. (Ah, to see Andreas again!) Look for Helena to return, but with her skulking in the shadows for a while. Her interest lies in the fact that Nikolas is hanging out with another unworthy female (Sam). She does not yet know that Mikkos has another grandbaby out there, so she finds it strange that Sam is asking all those weird questions about the familia Cassadine.
Supposedly, Sam ends up moving out of Jason's place (although we do not have a reason for the move at this time and it is not implied that she and Jason break up) and stays at Wyndemere with Nikolas. He fills her in on all things Alexis, from the murder of her mother, to the disappearance of her sister and her terrible life in the Cassadine home.
Watch as the list of suspects for a "whodunit" begin to assemble. When Manny is "killed" it will supposedly be a surprise who actually pulls the trigger, touted as the person you least expect. The truth is supposed to come out about the cell chip soon, so that gives you one name to put on the list.
When Robert returns, look for Jason to become involved in his circle of influence. This will be a much needed career change for The Jason. The show will also focus on the connection between Robin and Robert, much moreso than they did in February. Rumor says that Tristan Rogers will have the same kind of contract as Rick Springfield. Head Writer Bob Guza has said the the Luke and Robert story will involve their children as well to some degree.
The rumor of a Stavros return is gaining speed, especially with the comment from Guza above about bringing on another Cassadine. No word on whether it's RKK playing him or a recast, but Michael Sabatino's name has come up.
Lorenzo believes that Sonny is the one who put a hit out on Diego and goes to Jason to confront him about it (since it seems Sonny is not handling any of his own business around now). When it finds out it was Manny and not Sonny who decided to take out his kid, he has even more reason to want our tattooed friend to be on ice.
Supposedly, Liz is worried about Lucky and on the 29th will go behind her husband's back to ask Jason for protection. Other rumors say that it's Lorenzo, not Jason who Liz taps for assistance. Why does Lucky need protection? He figured out the Manny-Lorenzo connection.
Jesse gets shot on the 31st while trying to save Diego and dies in the hospital on the 3rd.
Robin insists that Patrick can't be the surgeon who operates on Jesse because Noah will be getting Jesse's liver. Since when does GH give a shit about conflict of interest? Evidently, Lucky ultimately calls foul and accuses Patrick of not working hard enough to save Jesse in order to get a liver for his dad.
Lorenzo confesses to Skye about changing the info on her hospital chart, taking away anything Liz had over him, but will he also tell Luke and Lucky? No way! Liz isn't going to spill the beans either.
Michael and Morgan get into some trouble of their own. You know, it's about that time. They have to have a serious problem every 4-6 weeks.
What? Sonny and Lorenzo actually call a truce??
Carly might begin to see Nikolas' side of things, but she's still not willing to let him see John.
Lorenzo ends up confessing his Manny connection to Jason.
Nik has a new business partner... Luke. It's not often that a bet can win you a business partner, but in this case, Luke got one by way of a bet that is actually lost!
Alexis might be confident about her Jax connection, but watch her surprise when he backs Carly instead and refuses to rent his favorite lawyer office space at Metro Court.
*The secret* is compromised when Carly sees Sam's private files on Alexis. Supposedly, Alexis herself will learn that Sam is her daughter sometime in April.
Robin Christopher's maternity leave will be accommodated when Skye worries that Lorenzo's quest for power in Port Charles will put her baby at risk. She heads out for parts unknown with the help of the Quartermaines. There is no word on when Robin Christopher (and Skye) will return.
Sonny and Carly and Jason will have a major falling out and it will look as though the three musketeers will be no more. Just call her "Yoko Em-o."
Jax and Carly, however, are moving forward with the heat and there is no plan to break up Emily and Sonny at this time, despite the studio being well aware of viewer resistance to the pairing.
Maurice Benard has supposedly asked for 6 weeks off this summer.
Fans are hoping that Tom Pelphrey (GL's Jonathan) will be the one to fit the bill of a Nikolas recast if Tyler Christopher's new show is a hit.
Rumblings are afoot that Ingo Rademacher is looking for time off and might be taking a year's sabbatical.
Gossip grapevines are humming with the suggestion that Alexis is not really Sam's mother after all. Still others say that Sam is the product of an affair between Alexis and a professor at her boarding school.
Did you vote yet for Greg Vaughan as the new Fabio? Final decision is made in June. Go here to cast your vote! Click Here- Check out "I Can't Believe It's Not Butter!"
Kill the rumors of Finola Hughes returning with her on-screen family. She's way too busy taping the final episodes of "Charmed."
The net is buzzing with rumors of a Jonathan Jackson return, not as an un-recast, but as an "in addition to" Greg Vaughan. Supposedly, Jackson
has been taking meetings at ABC and scheduling public appearances with other GH stars. Is it possible that his GH reconnect means something up or is it more about an unrelated connecting with his career roots? Conspiracy theorists suggest that Greg Vaughan's Lucky isn't the real Lucky at all. Sounds like a Helena plot to me. Remember when Jacob Young came back highly brainwashed? Maybe he was mo' washed than we thought!
...and who would Elizabeth choose? Especially if she's pregnant when Real Lucky shows up!
If Sam is NOT really Alexis' daughter (and she is heavily rumored to not be Alexis' child, but Stavros' with Laura - complete with "someone stole the baby" talk), there is talk of Alexis actually being responsible for her real daughter's death. Regardless, Sam and Nikolas bond very tightly as relatives, be they cousins or siblings. If Alexis and Sam end up not being mother and daughter, thinking that they were for a period of time is enough to cause them to continue to be quite close after they learn otherwise.
John Ingle is definitely coming back and Edward will be instrumental in the rebuilding of the Quartermaine dynasty.
In the end, everyone ends up pissed off at Sonny. The Quartermaines try to get Emily to see the light by staging an "intervention."
Jason dreams that he shoots Sonny.
In reality, he does cut all business ties to Sonny.
Georgie isn't happy with LuLu's affection for Dillon.
Alexis and Sonny renew their friendship.
A lot of people are going to be mentioning Laura in the future and we may get some shots of the chair and the blonde. Is Genie Francis returning? Isn't that one of the three consistent rumors? (Doesn't mean it is or isn't true, just that it will always be out there!)
That's all for now! Again, remember, these are just rumors and gossip, which is why they contradict each other and jump all over the place. You really don't have to write and disavow them for me. I'm just passing on what's out there in its various disguises.
A BIG thanks to all of the folks who sent in gossip info to me!
Rock on,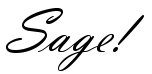 Sources: ABC Soaps in Depth, March 28, 2006 edition, as well as various internet sites in the "shit, I don't EVEN which site had this info 32 seconds before the next site did" category. If you broke the news, congratulations! *pat*pat*pat* and woot woot! I promise I did not "break the news" on anything here and I am by no means claiming that I did. I'm just compiling a gabfest of what "they" say.
---
Donate to keep
Sage & EOS
on the net!


---
Archived Columns