---
The Kick Off Event
I could feel starting months before that this year's GHFC weekend was going to be the best ever and I have to say, patting myself on the back for my astute abilities of premonition and Debbie for her careful planning, that I was right.
It was definitely the best I have ever attended.
All of our negative points, and I do mean all, were airport-centric. The flight there and the flight back were both late, late, late.
I always fly into Burbank instead of LAX because it's only about 15 minutes or so from the Sportsman's Lodge whereas LAX can be a two hour drive if you hit bad traffic. Plus, LAX is gigantic and a pain to navigate, but Burbank (now the "Bob Hope International Airport" but used to be the "Hollywood-Burbank Airport") is tiny and it's fairly difficult to get lost.
Delena/Starr (my sweet daughter) and I were the first to arrive, so we checked into the hotel, even though our room was not yet ready, and sat around in the lobby watching the other GH fans arrive.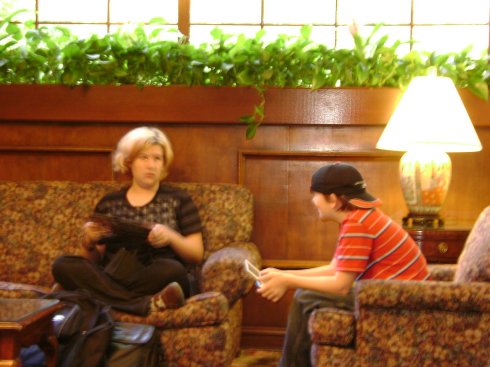 As is her way, Delena promptly made a friend. Dylan Cash (Michael) and she immediately began talking about Pokemon Diamond, Pokemon Pearl and all other things Pokemon and the weekend was off and running. They connected up all through the next four days and I honestly think he was thrilled to have someone to talk to who could converse about something other than General Hospital. She fired up the laptop and they started watching youtube.com clips and looking up game cheats.
Pretty soon, Kathy and Carolyn arrived and we got checked into our rooms, which were just wonderful and guess what? The air conditioner was like a ice box. Yum! Fortunately, Delena is not very thin skinned, so my old menopausal system was able to set that temp way down low and just relax comfortably.
After a nice meal at the Patio Cafe, it was time to get to the Kick Off party to set up. It was great to see Debbie Morris and our other friends in her entourage. Seeing them, my heart got all weepy and warm and I realized how much I really care for all of them and look forward to seeing them every year. Other than Debbie, I don't communicate with any of them throughout the year, but when the GHFCW roles around, we're all laughing and chatting animatedly and catching up as though we went to high school together and have been BFFs ever since. I love that. Talk about low maintenance and dear friends!
We love our job of checking in the guests because you can feel the vibrancy of everyone's excitement over what's happening. The shared interest in GH and love and respect for the show draws together people of such diverse natures and personalities that it's a real joy to be the ones who get to see every single one of them.
Each year, the Kick Off Party gets better and better and I am so glad that Debbie thought of doing it. It's the perfect christening of the weekend experience. As the actors finish taping for the day, most of them stop in and I have to say, the event got the right name. It's truly a party with good eats, great music, dancing, talking and laughing. The stars are just right out there with you having a good time alongside of the fans.
We got to escort the stars in with the security team, so we were the gruff people who waltzed them into the room and at first, it can be hard to recognize them as they get out of their cars, especially the newbies. Make-up and character is an amazing thing. You see Maurice Benard or Steve Burton and you absolutely are not going to mistake them for anyone else. Ditto Laura Wright, Kim McCullough, Sonya Eddy... some people just look like their charac
Since the debut was scheduled to air that night, we had no clue who the GH: Night Shift actors were, but I can tell you, they were every one jus
L-R: Ignacio, Rick Hearst, Amanda Baker, Nazanin Boniadi and Adrian Alvarado
The event was sold out and the turn out of stars was very impressive! Stopping by to share the fun with fans were: Sebastian Roche (Jerry), Rick Hearst (Ric), Adrian Alvarado (Rodreguez), Scott Clifton (Dillon), Ignacio Serrichio (ex-Diego), Bradford Anderson (Spinelli), Steve Burton (Jason), Derk and Drew Cheetwood (Max and Milo), Graham Steele (Cody), Amanda Porter (Jolene), Dominic Raines (Dr Leo), Lindze Letherman (Georgie), Jason Gearhardt (Cooper), Minae Noji (Kelly Lee), Kent King (Lainey), Sonya Eddy (Epiphany), Dylan Cash (Michael), The Dever Girls (ex-Kristina), Tyler Christopher (Nikolas), Bergen Williams (Big Alice), Annie Wersching (Amelia) and Josh Duhon (Logan).
The music was excellent, provided first by Ignacio (NACHO!!!) and his band, followed by Scott Clifton's band. Later, a projection TV was brought in and we all got to view the debut of GH: Night Shift. The EOS staff didn't get to watch much of it because stars were still arriving as others were leaving, so we were running them back and forth so they didn't get bogged down with photos and autographs. The stars are willing, but if they sign all of the autographs they want to (and you want them to), they'll NEVER get home!
We got into the room at the same time at one point and were gathered around the check in table, waiting for our next "on-call" moment. The room went quiet just as Jason said, "I accidentally shot Spinelli in the foot" and we all just fell on the floor cracking up. When Robin then said, "Since when do you accidentally shoot anyone?" It just put us further over the edge. If we were going to see one moment of that awesome episode, that was the one we needed to see to bait us into watching it the second we got home, that and the fun of seeing those ultra-fun and super-cool Night Shift actors in action!
I honestly cannot think of a better way to start the weekend and let me tell you, if you decide to come out next year for this wonderful weekend, do NOT miss buying this ticket! I fell into bed that night eager and excited for the three days still to come.
Thanks, Debbie, for an amazing night of fun!
---
The Quartermaine Brunch
I attended the Q Brunch a few years back, so I knew that it would be a class act and as it turns out, it was, particularly with the celebration of 30 years of Alan and Monica. Of course, Alan's recent death added a particularly poignant flavor to the event that was nearly tangible through the room.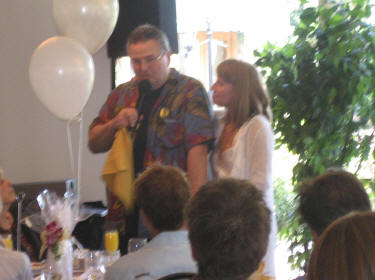 The Leslie Charleson Fan Club and Leslie Charleson herself went all out in bringing to the event surprise guests who most of us as attendees never imagined we'd see. I'll just let you see for yourself. Photo ops were complicated given the crowd, how fast these folks can walk and the lighting in the room (plus Walmart cameras), but hey, we tried.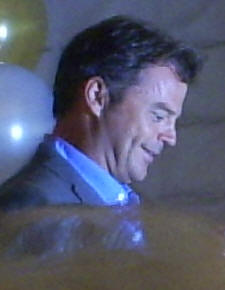 Wally Kurth (Ned)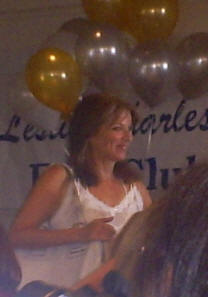 Nancy Lee Grahn (Alexis)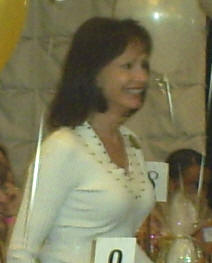 Gail Ramsey (Susan Moore)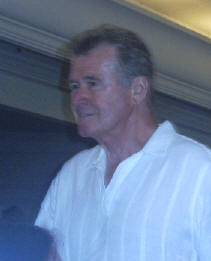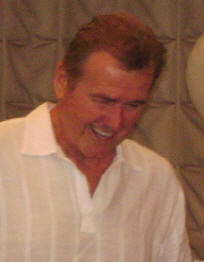 John Reilly (Sean Donely)

Rachel Ames (Audrey Hardy)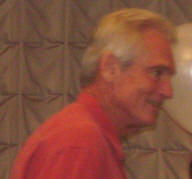 Chris Robinson (Rick Webber)
Other attendees included the current Quartermaine cast (minus Steve Burton and Jane Elliot), Steve Bond (Jimmy Lee Holt), John J York and Denise Alexander.
I would love to get a copy of the DVD the LCFC showed to honor Leslie and Stuart. It was a lovely, well crafted tribute to a couple who has truly endure and experienced all that a soap opera has to offer.
Cute moments: As the presentation showed a clip of Alan saying on his deathbed, "I've never loved any woman but you," Gail Ramsey whacked the table and said, "I OBJECT!"
As the DVD aired, Stuart Damon wept quietly into his napkin. He later credited the fans alone for "Ghost Alan" and says his hope is that Monica gets involved with someone and the first time she gets into bed with him Ghost Alan will be there and "tell her what I've been telling her for years, that she's a slut and that will be the end of that."
When Leslie Charleson said that Monica was Rick's one true love, Denise Alexander said, "EXCUSE ME!"
LC also stated that she wished GH would (quoting here), "Get back to the grass roots; to the formula that works."
Jeffrey Byron, son of the late Anna Lee (Lila), said that when his mother, already a screen legend, was approached by Gloria Monty about playing Lila, she then discussed it with him, saying, "What is a soap opera?" When he explained it to her, she said she thought she'd try it for a couple of weeks..."
You just have to love those Quartermaines...and I do.
---
Derk and Drew Cheetwood Event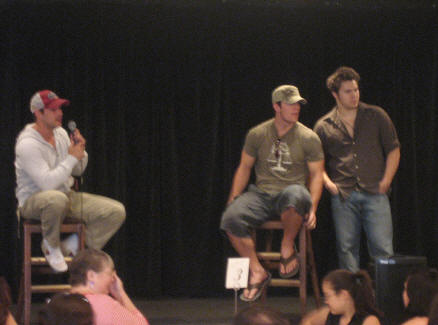 What a marvelous breakfast and some excellent eye candy while we ate as Derk and Scott Clifton entertained the stalwart souls who manage to wake up on Sunday morning after an amazing day of fun at the Main Luncheon the day before!
We had fun sitting in the back with the press and Derk and Drew's mother, who talked about the boys with such affection, it was contagious and made me miss my own kids even more.
Some fun points:
Derk loves the fantasy scenes he tapes with Laura Wright.
He confirmed what every star at the event said, which is that a major mob story is coming up, presumably around the introduction of the actual character of Trevor Lansing, although it was not directly stated.
The guys refer to their cousin, Tyler Christopher, as "T-bag."
When asked who he'd most like to work with on the GH cast, he quickly said Tony Geary.
Derk revealed that he was not instrumental in brother Drew being cast as Milo. Instead, the contact came through Drew's relationship with Head Writer, Bob Guza, as his personal trainer.
Derk commented that Dylan Cash now "talks like a man," referring to the voice change that is currently working him over.
He joked that he and his wife (who had just learned she was pregnant the day after they watched "Knocked Up" together and joked about what an experience it would be to suddenly find out they were pregnant) were going to name their baby "Jason Maurice Benard Morgan Christopher."
The "twinkle toes" dance was taped in one take.
Derk used to room with Steve Burton back when Jason and Robin were together and they would run his lines together. He says, "I was Robin all the time."
When he asked Steve for advice on child-raising, Steve said, "Stop at two."
When Milo was running late, Scott (I think it was Scott) joked that maybe his blender had broken down (protein shakes) and he didn't know what to do.
Tyler Christopher called, saying he was lost in the Sportsman's Lodge (not hard to do).
I did not come to this event with particular expectations since it was their first shot at having their own party, but fellas, well done!
---
Scott Clifton's Event
I honestly didn't know what to expect, having not spent much time in the Scott Clifton fan arena, not because I don't like him, which I do, but more because in the past, his events had conflicted with others I was attending or took place after I'd returned home. What I definitely did not expect Scott to buy beer for the entire guest list. That he did, packed in ice in a cooler in the back. I don't even drink beer and I thought it was sweet.
But before that happened, I had kind of a funny thing go on. Kathy, Starr and I filed into our seats and a lady I'd never met eased past us to sit against the way the way people ease in front of you to get through to their seat on a plane or at the movies. She was very quiet and came and went a couple of times. Just before the event started, she handed a folded piece of paper to Kathy and asked her very sweetly if she would put it on the podium so that Scotty would see it when he came in. Kathy, being the doll that she is, did it of course and I, being the hard-hearted, embittered, eye-rolling cynic thought, "I swear, these fans have such an amazing sense of entitlement."
Then Lindze Letherman came in to warm up the group and was her usual sweet, entertaining self. She picked up the note, read it and smiled broadly, saying, "This note is from SCOTT'S MOTHER, who is sitting right over there," and she gestures to the lady. So I got to start OUT the event feeling like an ass, as well I should have.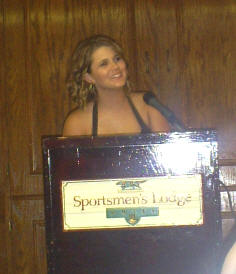 She told a number of Scott/Dillon stories until Scott showed up and proceeded to wow the audience with his complete cuteness. Lindze stayed for the full event and the two of them shared an easy banter that shows that they really are close off the set as well as having gone through a lengthy romance together onscreen.
Of course, the main topic was Scott's decision to not continue with the show. When someone commented that he "wasn't dying," meaning that he could always return to the show, he mocked devastation, saying, "I'm dying inside." His wit was quick and the repertoire was fun and friendly.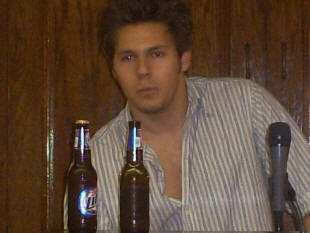 His favorite story was the "epidemic monkey flu." He laughed about his wedding to Georgie, talking about how Jax gets to get married in a cathedral, Jason gets married in paradise, but Dillon gets married in "fucking Narnia."
He enjoyed playing Dillon most when the character was working for Alcazar and was a "badass." He started work on Coltin Scott's last day as Nikolas and GH actually started the "brushfire" signature Dillon hairstyle. He hated the material he was playing at the end, especially the abortion story, and had a hard time finding within himself the validation to do it. He felt the "three stooges" story went on for far too long; that it was funny at first, but it just kept going and going. He also said that he and Lindze did not know how to dance and suggested slyly that GH bring in a choreographer just to help them brush up on their skills, then they learned how to do their wedding dance from scratch.
Scott spent plenty of time signing autographs and taking photos, making sure that each guest felt welcome and appreciated. Cutest moment?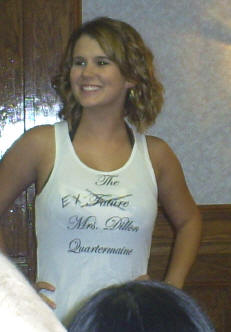 Lindze fell in love with the "Future Mrs Dillon Quartermaine" tank tops for sale at the event, but made her own adjustment with a Sharpie.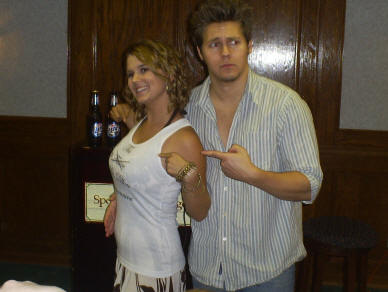 Great event! Glad I was there!

---