---
1) Do you look for spoilers or try to remain "unspoiled?" Why?
DIANNA: I love spoilers. They let me know whether or not I have something to look forward to.
CAROLYN ASPENSON: I read the spoilers…mostly ours but sometimes I read a few other sites. I read them for a few reasons. First of all, I like our commentary, it's the best part of reading the spoilers. Secondly, if I don't like what I read, then I don't have to worry about trying to watch the show. Plus, I'm anal retentive. I like having information and a plan. It's just who I am.
THE MEDIA HO: It's been so long since my life did not include spoilers that I honestly don't remember what it was like to not know, sorta, what was going to happen next. And I don't FF, even when I know a scene won't interest me...just in case I'm wrong. However, as a columnist, I feel duty-bound to seek them out.
KELLYB: I used to be fairly dedicated to searching out spoilers, but it was something of a game to me. I wanted to know what the writers were thinking, but I found out that it was more about educated guessing and spumors than anything else. Once you've watched soaps for any length of time, you know when a woman feels faint, that she's about to find out she's pregnant. You know when they put two characters together that have never shared screen time before, that they're testing the waters for a new love interest. Things like that. What I looked for was the stuff that I wasn't seeing onscreen but that may be affecting future storylines. Things like whose contract was up for renewal or who reportedly didn't like their current costar and how that might affect the story.
Now I unfortunately don't have the time to visit any additional sites to get my fix. I stick with the best – EOS. I look forward to reading the observations of people I trust. People who care about where the shows are headed. That's better than reading through eighty-four thousand one line responses about how ugly someone's outfit was that day.
By the way, I just clicked on a site I haven't visited in ages. So long in fact, that it was no longer saved as a cookie or whatever. Had to type the whole URL out – bummer. Among the bitchchats, there was a nice little item about Billy Warlock and Julie Pinson getting married over the weekend – that's the kind of stuff I like to read about.
SHERRY MERCURIO: I was a pretty big spoiler whore for a while there, but I've tamed that down quite a bit. I definitely enjoy the show more when there is a surprise here and there, I'm positive of that. Hearing upcoming story lines and events allows for preconception, and then it becomes difficult to ascertain whether I really hated it on screen as much as I was sure I would. Removing any possibility for one of those "Oh my God she's ALIVE!" moments is really cheating yourself as a viewer I think. All it takes to remind me of that is watching any prime time show that I don't have spoilers for and reacquainting myself with that "I cannot wait for next week" feeling. I think viewers have to take a little bit of the responsibility for the fact that shows (any show) become stale when we have access to the big reveals for weeks ahead of time – anything that is getting tossed around, debated, and dissected for that long before we even *see* it is gonna lose a lot of its flavor.
KATHY HARDEMAN: Spoiler, spoiler who's got the spoiler? Yeah, I like spoilers. First, because it's fun to read the commentary about them, and second because they provide food for speculation. I love trying to figure out how real life machinations – contracts, babies, vacations, outside projects – fold into storylines. Add into the mix sweeps months and spoilers are a must that fit into the soapy puzzle. It probably sounds as though I spend hours pondering soaps but it all filters through in seconds as the episodes unfold. I've said it many times before and it's still true. Soaps are like a book with characters I love that doesn't have a final chapter.
EMERALDAX: I look for spoilers for three reasons:
a) If I'm really excited or anxious about a storyline I want to know what's going to happen.
b) It prepares me in advance if I'm going to witness something I might find awful.
c) Most of my internet friends discuss spoilers, and I want to be included.
There are times when I've wished that I wasn't spoiled, but for the most part I'm content with it.
2) What was the first soap website you ever found and how did your internet soap fan experience grow from there?
DIANNA: It was actually a site called GHRocks I think. I was looking for a ABC soap opera based chat room because all the rooms I found always were filled with children and all anyone cared about was your age and sex. I think GH Rocks had its own chat room. I signed up but it never really took. After that I found Eye on Soaps and I've been there ever since.
CAROLYN ASPENSON:
The first soap website I found was www.eyeonsoaps.com. Isn't that funny? I have no idea how I did or when, but I remember really liking it. I started writing emails to Kathy because her columns were so detailed and fun to read. Then I started reading Katrina and Sage and everyone else as they started writing. I really liked knowing what was happening. When Lucky on GH 'died' I was shocked. I hadn't read he was leaving (didn't really buy the mags) and I sat and watched it on video and thought, "Holy shit!". If it weren't for the websites, I'd know nothing in advance. I hate surprises. Again, it's an anal-retentive issue.
THE MEDIA HO: Okay, I'm not trying to be a suck up, but I believe I was bored and searching the 'Net one day in 2002 or so and landed upon...Sage. (Hope I didn't hurt you, sweetie!) From Sage, I found EOS. From the links provided on EOS, I discovered a whole new and interesting world out there, and a way to both sate my desire for news, gossip and commentary on my favorite shows AND occupy a lot of time at work that otherwise would have been spent totally bored.
KELLYB: Oh boy, that seems so long ago. I think I might have just Googled GH and come up with pages and pages of possible sites. Most of them were dedicated more to a single actor and that wasn't what I was looking for. I think the first one I really took the time to page through and look at all the different areas was Soapzone. In fact, I went to it regularly for quite some time and even started doing recaps way back when readers signed up on an interactive calendar. I liked the spoilers and gossip. I didn't even really read soap magazines back then, and when I did and realized that most of the information was on the web for free – and that it seemed a lot more current – well, that kind of hooked me.
She probably doesn't know or really remember this, but Sherry Mercurio is the reason that I've been with EOS all this time. I found the site and read her column and just kept going, exploring all the other aspects of the site. She wrote a column that I particularly identified with and before I could even think about it, I was writing her a fan letter and gracing her with my opinions. She wrote back and just about killed me when she asked if she could incorporate some of my stuff into her next column. That was it for me. After an introduction and some wonderfully warm and witty communication with Katrina, she offered me the chance to be a muse and the rest is history. I think at the time it pretty much saved my sanity, but I'm not sure that's saying much!
SHERRY MERCURIO: I'm pretty sure I cannot be trusted to remember that far back, but I think it was whatever site it was that Katrina came from (and hopefully she'll fill us both in on what that was, lol) before she started EOS. I did a search for General Hospital, hit on her column, became hooked, and that was that. Very soon after, she disappeared and I was bereft. Thank goodness I found her again. That pretty much was my fan experience. I have visited plenty of other soap sites over the years, sometimes researching info for a column, sometimes for recreation, but time constraints are a big problem for me and I just never get to visit anything else regularly. Luckily, Eye on Soaps has provided me with enough entertainment over the years – one stop shopping.
KATHY HARDEMAN: Wow, I can't remember a first website. I do remember quickly settling on a couple that I checked regularly and one of them was Eye On Soaps which I found a month or two after its inception though I didn't have any contact with Katrina until a long while later. My soap fan experience grew out of my connection to Eye on Soaps. It's been an amazing ride when I think about writing columns, traveling to California to meet the other writers for Eye On Soaps and the actors on GH. Who does that? No one else I know in my circle of acquaintances. Because of one website, Eye On Soaps, I have found friends and a support system that women search for their whole lives.
EMERALDAX: The first message board I found was the general hospital one at about.com. I found it when I was trying to get more info on the couple of episodes that I had seen when I was at home from work, sick. Having been a viewer a decade previously, I was curious about the things I saw. I think the message boards were almost as much responsible for drawing me back into the soaps as the storylines. An activity becomes a lot more fun when you have people to share it with. Almost immediately I saw that there was a wide range of temperaments. A month or so into watching the show Sarah Brown was replaced by Tamara Braun. People were losing their minds over this. There were also very er…strenuous debates over anything that Sonny did.
I moved on to an MSN GH forum and then later to a private forum when the boards grew so big that anything I posted quickly got swallowed up and it was hard to keep track of all the postings. I tend to prefer smaller boards so I don't get confused easily. I've also changed boards whenever my focus has changed, like when I spent a lot of time at a Skye forum because I was really into her character a lot and right now I post to Thorsten Kaye's forum most frequently.
3) List three separate ABC soap opera character pairs (crossovers are OK) that you would really love to see just completely beat the shit out of each other.
DIANNA: Well, I want to beat up Sam but that doesn't really count.
Todd Manning Vs Sonny Corinthos
Natalie Buchanan Vs Sam McCall (personally I think Natalie could scrap!)
Dorian Lord Vs Victoria Davidson (in my opinion they are the all time soap opera rivals and they have been doing it forever!)
I can always watch David Vickers on OLTL. No matter whom he is acting against I know he will steal the scene. He is always fresh, funny and perfect in every scene. Over on GH, these days I can't stand to miss a second of Lesley Lu. This young actress has really gotten me hooked. There are more but I don't want to bore anyone.
CAROLYN ASPENSON:
Blair and Alexis. Blair because as much as I used to like her, she's just annoying now. Alexis because (sorry) I've never liked her and she just deserves a good ass kicking from a southern gal. Wait, isn't Blair Asian? I keep forgetting. Must be the blond hair thing…
Antonio and John. They're "I'm depressed" and "I'm God" attitudes make me want to puke. 'Nuff said.
Erica and Babe. A good bitch-slapping from someone is what Erica deserves. And since Babe's of the white trash world, she'd do a good job.
THE MEDIA HO: Erica and Tracy. Lucky and JR. Dixie and Maxie.
KELLYB: Jeez, where do I start? Right now at the top of my list is Liz beating the absolute hell out of Maxie. In fact, I can think of several people who should just walk up to her and give her a good whack upside the head. Maxie seems to have no fear, and I'm not sure whether that's stupidity or a total megalomaniac aspect to her personality. At any rate, those two need to get it on.
A few months ago, Robin and Carly would've made the top 5 as well, but quite frankly both characters have seem to grow a little bit in recent weeks. Of course, Carly's been off the canvas for awhile now while Laura Wright takes a vacay (see – reading the sites gives you insight!!). Since Carly really seems to have a problem with every woman on the show, except for maybe her cousin Lulu and her mom (sometimes anyway) I always expect her to throwdown. And we did get some good Robin/Carly truth-telling when Kim McC first came back that deteriorated into the two being held away from each other. That was fun.
I can't think of any guys on the show right now that I'd like to take each other apart. But I would like for Ric to at least be able to defend himself better when he's getting his ass kicked. That happened a lot recently. I hated that he got so beat down but I guess they had to show who exactly was the alpha male. I'm trying to think if there's a guy on the show who's skeezier right now than Ric. See, no one has really been the villain lately except Ric. The show's a little thin in that area when all the mobsters in town are either paying for the medical care of dying AIDS patients or running around trying to protect their pregnant wives or acting all noble by sacrificing true love in the name of safety. Maybe I miss Manny and didn't really know it.
SHERRY MERCURIO: Sam and Emily (GH), with candlesticks in the Conservatory - preferably, to the death(s).
Starr (OLTL) and Michael (GH) with the lead pipe (street name for silver spoon) in the Library – pretending, of course, that they could ever find the library.
Ric and Jason, with the wench (I mean "wrench") in the Ballroom. Yep, the Ballroom.
KATHY HARDEMAN: Let's see…a cat fight between Alexis (GH) and Kelly (OLTL) would be an even match since they have similar characteristics - smart, whiny, demented, the ability to sound logical while spouting nonsense.
I wish someone would make Tad (AMC) shut up. I don't care who does it.
Ric (GH) and Spencer (OLTL) seem to be evenly matched in the evil psycho department. They both torment their brothers and commit heinous crimes.
EMERALDAX: Ric and Sonny
Natalie and Blair
Krystal and Dixie
4) List three separate ABC soap opera character pairs (crossovers are OK) that you would really love to see have a torrid affair.
DIANNA: Wow! It's way more fun to imagine them kicking each other's ass, but here goes…
Alexis Davis and Mac Scorpio (he really needs to get some)
John McBain and Carly Corinthos (the gangsta moll and the cop)
Bo Buchanan and Tracy Quartermaine (hey why not? Bo is such a calm contrast to Tracy – it could be interesting)
CAROLYN ASPENSON: Robert and Anna….Sue me. I like them together. Katrina didn't say they couldn't have been together before.
Nash and Me. Do I count since I write about the soaps?
Edward and Brooke. How fun to see Edward with someone with class who's younger, but not too young.
THE MEDIA HO: David Hayward and Sam McCall. David Hayward and Amanda Dillon. David Hayward and Simone Torres. Anyone else see a pattern here?
KELLYB: I would love to see Jason and Liz turn to each other for a touch of torrid. I enjoyed how the two came together (no pun intended) and I personally thought that it was written very well. They seemed so comfortable with what happened in the sense that there was no regret and it happened somehow as a natural progression of their relationship that had been put on hold so many years ago. I even like how they happened to bump into each other on the dock and there didn't seem to be any awkwardness between them. Just a bit of conversation letting them both know that it wasn't just a random hookup, no matter what the circumstances were. On top of that, the look on Liz's face when Lucky woke up after his nightmare about killing her and said from the kitchen "well, you've never cheated on our marriage" – that guilty, yet wistful look had me really going. That was really soapy.
I think it would be great to see some hot older-person sex on GH too. Poor Monica hasn't shagged since we last had a Democrat in the oval office, so maybe she has a shot. I'm going with Anna to hit the sheets soon. I've got money on Lorenzo Alcazar, but wouldn't be surprised if she and Robert ended up having hot monkeylove after reminiscing with a bottle or two. How wonderful would it be for Robin to be the one to stumble across them the morning after?!
I'm not sure who else I can come up with – there's not a lot of torrid on the show right now. And quite honestly, I'm having difficulty coming up with marrieds vs. singles who I would throw together and think "hmmm- interesting". How about Epiphany and Edward? Fabulous!
SHERRY MERCURIO: Brenda and Jason (GH)
Alexis and Lorenzo (GH)
Mac and Skye (GH) with the rope in the Billiard Room.
KATHY HARDEMAN: I really thought that Many and Maxie would make an excellent pair. She could want to "save" the poor misunderstood psycho man while Many could find a woman to protect. It would be a passionately dysfunctional relationship, perfect for two characters who don't respect the normal boundaries set by society.
Ric (GH) and Claudia (OLTL) would make a great pair. Or perhaps I just like the idea of a woman working Ric for a change instead of the other way around.
EMERALDAX: If we're talking just hot bunny sex that would not lead to a romance but might have interesting implications:
Carly and Max
Kelly and Todd
Ryan and Erica
5) Caption any of these photos that inspire you.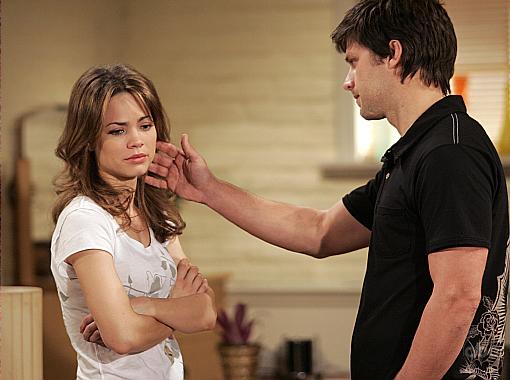 DIANNA: "Stop it Lucky, touching my face with your whore covered hands can cause pimples."
CAROLYN ASPENSON: "Hey, are these earrings real? Think I can get some decent cash for them? I need more pills."
THE MEDIA HO: "Now for my next trick, what's that behind your ear? Oh, look, a pill! Yay for me!"
KATHY HARDEMAN: "Where did that monster hickey come from?"
KELLYB: "Don't touch me, I don't know where your hand has been!"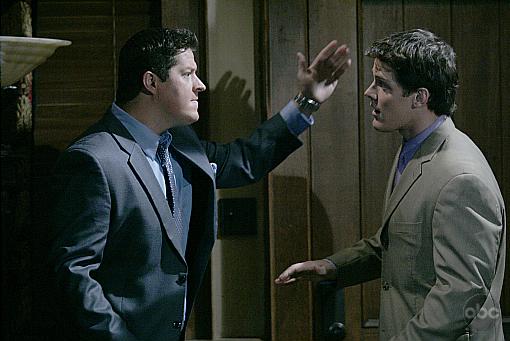 DIANNA: "I should just smack you upside the head." "Come on Man, You miss Carly…."
CAROLYN ASPENSON: "No! THIS is how you imitate the boss…you gotta look like this!"
THE MEDIA HO: "You tell the boss I have the hots for Carly one more time and I'm gonna smack you down."
KATHY HARDEMAN: "Hold still, there's a bug in your hair. I'll get him for you."
KELLYB: "I'm telling you, you can drive a man's Maserati to NYC, but you can't drive a man's ex-wife to China and live to tell about it."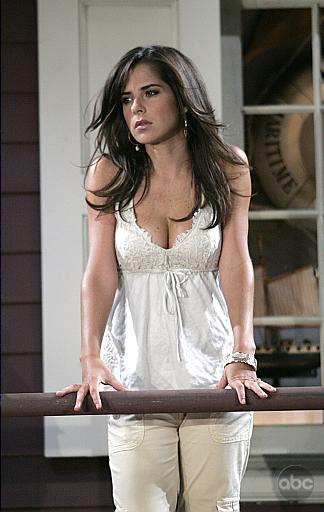 DIANNA: And so Samantha "Boobs" McCall contemplated her life. Her fiancé had dumped her, she had slept with her stepfather and her mother may soon be dead. *sigh* Her mission was accomplished.
CAROLYN ASPENSON: "If I squeeze my boobs with my biceps, my chest looks even bigger! Cool!"
THE MEDIA HO: After yet another hot and humid scene on the Port Charles docks, Kelly Monaco grimaces and wishes she'd remembered to bring some of that Gold Formula Anti-Chafe Powder for her sore and hurting cleavage.
KATHY HARDEMAN: "Sam dreams of the day when her SAT scores are higher than her bust size. (Ooh, that was a mean one and I even like Sam.)"
KELLYB: Sam models the latest from the Frederick's of Hollywood Fall 2006 "Racktastic" Collection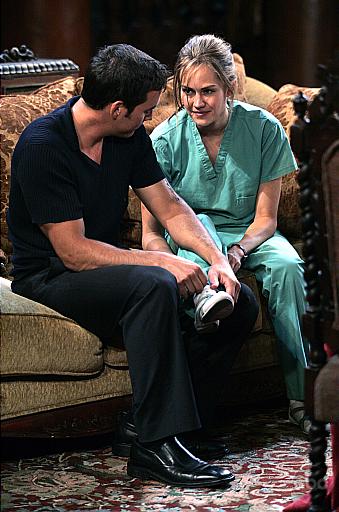 DIANNA: "Is that one of the spots Emily? I was reading up on those Tantric Sex guides."
CAROLYN ASPENSON: "Then you cross over the loop and pull the other one through…"
THE MEDIA HO: "Look close, Nikolas. I, too, can furrow my eyebrows. Who needs that nanny?""
EMERALDAX: Nik: "I know that being helpless is part of your shtick, but don't you think asking me to tie your shoes is a bit much?"
KATHY HARDEMAN: "First you cross the laces, then you tuck one under. Next you make a loop, wrap it around and push it through or you can be like me and wear slip ons with really high heels."
KELLYB: "First you make one bunny ear and then you make another, over, under and through. I knew you could do it!!"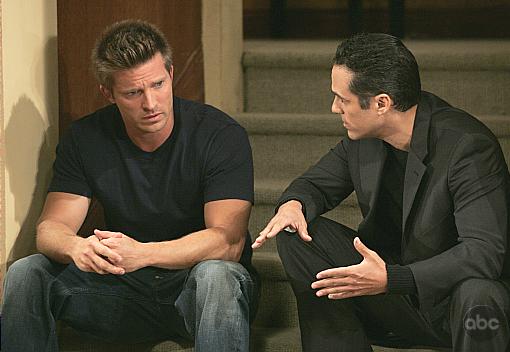 DIANNA: "It's about this big, and this long Jase." "Is it a breadbox?" (Total Buffy reference – Hee Hee)
CAROLYN ASPENSON: "You see, Jason since I'm on meds now I get to be the male version of Lila and walk around like some freakin' saint. It's great. They're going to up my salary even more for this!"
THE MEDIA HO: "So, you wanna go upstairs?"
KATHY HARDEMAN: "Forget coffee, Jason. Let's import condoms – little ones, big ones, ones with colors and textures. Think Franchise. Corinthos and Morgan Quality Condom Houses on every corner."
KELLYB: "I'm telling you man, lithium schmithium, this clarity thing is the shit!"
DIANNA: "Do you like my shoes, Milo?" "Hmmm, yeah well, red's an interesting choice."
CAROLYN ASPENSON: "Do I tell him his fly is open or not?"
THE MEDIA HO: "I'm sorry, boss. The next time Max catches me putting vodka in your water bottles, I'll tell him it was my idea."
KATHY HARDEMAN: "I wonder if I should tell the boss that his zipper is down."
KELLYB: "Um Boss, um, well – I've kind of be training the girls on the show and well, um, I've firmed up their boobies and I really think I can help you with yours."
---
We hope you have enjoyed sitting around the table with us and sharing thoughts. Check back next month when we will be hammering out other topics and ideas.