FRIDAY
Bradford Anderson's Fan Event
With the SoapNet camera crew waiting, ready to film his event, Bradford arrived munching on a breakfast burrito looking distinctly unSpinelli-ish with his humor and confident body language. In the hallway in front of the event room, before Debbie O'Connor introduced him, I watched him warm up with several exuberant jumps, talking easily with Debby O'Connor and the SoapNet people. It struck me how much he has changed from the first time I saw him.
The first time I laid eyes on Bradford Anderson in person, he was walking behind Steve Burton like a shadow with his head down, avoiding eye contact with anyone as they headed towards the stage to announce Night Shift 1 at last year's Kick Off Event. Clearly, Steve Burton was the guide and Bradford was his grasshopper when it came to fan events. Over the past year, his star has risen. Last year, he was charming and grateful to be adored. This year I saw a man growing into the popularity blooming around him and appreciating the moment. What I enjoyed most about Bradford both last year and this year is how appreciative he is of the fans' support. No airs of importance or dismissiveness towards fans, everything about him shouts "happy to be here" and it's contagious.
After speaking a few words on stage, he began the event by working the tables as the camera crew hovered around recording his every nuance and syllable. I marveled at his ability to be Bradford Anderson while surrounded not only by fans soaking in his every word but also cameras and microphones. Guess that's why he's the actor and I'm the journalist because he laughed, joked and spoke with fans like the cameras practically in his face and the microphone hovering over his head were table accessories.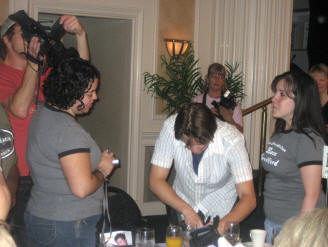 Since breakfast was being served, Katrina and I left for our own quick breakfast at the Patio Café. When we returned Kirsten Storms and Bradford were seating on stage doing a Q and A.
Others will post more detailed write ups but this is what hit my note pad.
It's common to talk about a happy dance but Bradford really does one. That's right, he's perfected a signature dance and I'll be waiting for Spinelli to break out his twinkle toes. When he does, I'll laugh knowing that Bradford has incorporated a bit of himself in to his GH character.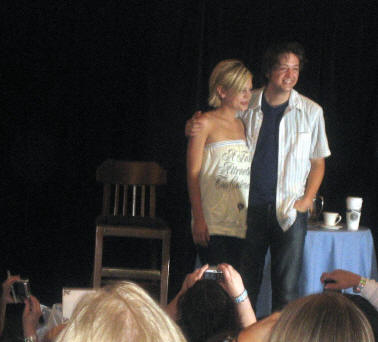 Obviously, Bradford surfs the net because he referenced a really cool guy named Matt Harding who travels around the world to amazing places and does a little dance when he gets there. If you are seeking a slice of happy, you can visit WhereTheHellIsMatt and know that Bradford found it entertaining also.
Bob Guza stopped Bradford in the hall one day and said, "Watch Ingo." Thinking there was something about Ingo's acting style that Guza wanted Bradford to see, he worried that he was doing something wrong. It wasn't until he read the script where Spinelli emulates Jax that he realized he was supposed to be learning to speak with an Aussie accent.
Bradford announced that he is now a property owner. He has a couple bedrooms that are NOT painted regrettably pink but off white. In one bedroom resides the famous futon that Steve Burton slept on when he spent the night.
Steve stopped by recently with a bag of In and Out Burgers, chips and soda after a late evening filming and again slept on the futon. Bradford laughed that when Steve Burton goes on a junk food binge he goes all out.
Brown, white and blue Martha Stewart towels from K-Mart decorate his bathrooms.
He has a tree named Rosalita.
Tom Pelphrey lives in a rental unit on the property. He has cats named Dick and Burt and he feeds stray cats in the neighborhood. They call him the cat whisperer.
Kirsten and Bradford clearly enjoy each others company. She commented that Bradford doesn't give himself enough credit about his accomplishments. In her opinion, Bradford's house is lovely and suits him.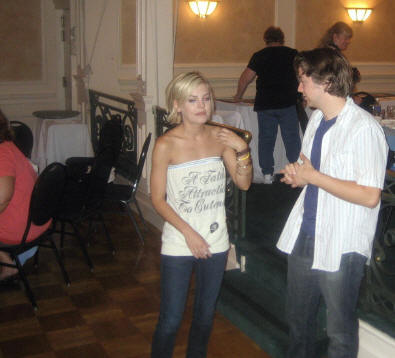 Kirsten Storms is left handed. Not that it means much of anything but being a lefty myself, I noticed.
One person asked when Spinelli and Maxie would be together and Bradford laughed about his upcoming promo without his shirt. The scenes aired on the Tuesday after the Fan Club weekend.
Asked about working with Sarah Brown both Bradford and Kirsten expressed their awe of her acting abilities saying, "She's an acting monster." Kirsten said in scenes with her they just stand back and let her (Sarah Brown) flow.
At one fan table, gifts were given to Bradford and Kirsten in honor of Maxie and Spinelli hitting the sheets.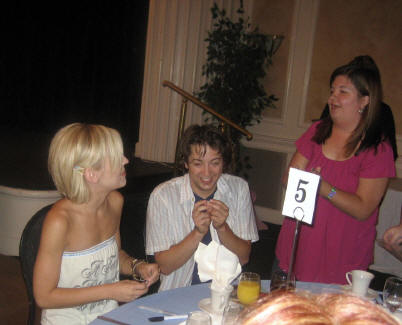 The rest of the event consisted of time at tables with individual fans and since it would have been impolite and stalkerish to follow Bradford and Kirsten around (though I admit the urge was there) we decided to head over to Nazanin Bonaidi's event which was due to begin shortly.
Nazanin Bonaidi Fan Event with Guest Peter Billingsley
Last year Nazanin arrived at the Kick Off Party, a soap fan event virgin with no clue about the loyalty displayed by GH fans. This year she hosted her own event and participated in other fan events in recent months. Petite and perfect body wise, she projects genuineness and fans were instantly comfortable.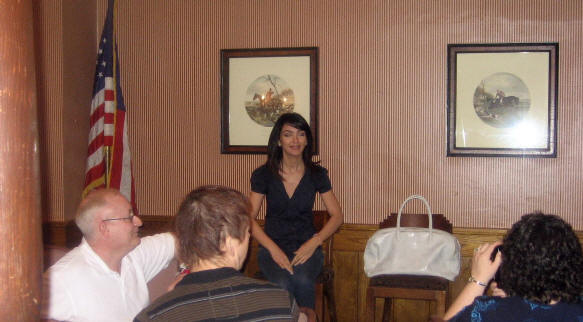 She has a part in Iron Man, one of this summer's blockbuster movies produced by Peter Billingsley.
When Leyla had to be drunk and dancing on a table at Jake's she wasn't sure how to act since she'd never been drunk in real life. Her mom asked her how she was going to do the scenes since she'd never experienced drunkenness. Never let it be said that she's not a team player. To make the scenes real, she drank right before she did them. Not so much that she forgot her lines but enough that when she stumbled, it wasn't acting. We all laughed about her drinking on the job, for her job.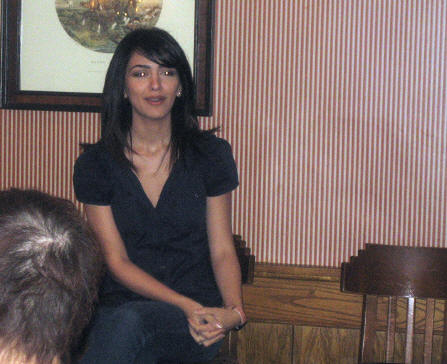 A lively discussion ensued over Leyla's prospective romantic partners. Since Patrick is taken, we considered Spinelli (Maxie has her hooks in him), the new doctor (didn't know where he was going), or Nikolas (she thought Nadine had dibs on Niko). No solid romantic leads appear to be in Leyla's future but she's hopeful that someone will show up.
Peter Billingsley arrived and after introductions the Q and A proceeded.
Dylan Cash was sitting by Katrina and me practically jumping up and down with excitement. He asked when Iron Man 2 would be coming out and was happy to learn that Iron Man 2 is set for release in 2010 although the script hasn't actually been written yet.
The Avengers, a story alluded to at the end of Iron Man, is scheduled for release in 2011. Dylan and many others applauded at the news.
Peter Billingsley credits having a solid family behind him for keeping his feet on the ground after the popularity of A Christmas Story. Living in Arizona, he didn't experience the pressure of child stardom nearly as much as he could have.
As he grew up, he worked hard to transition from actor to producer. Starting at the ground floor doing grunt work, he worked his way into the position he holds today as Executive Producer for more than one popular film.
Iron Man posters were given out while Nazanin and Peter worked their way around the room autographing pictures and posters and answering more questions.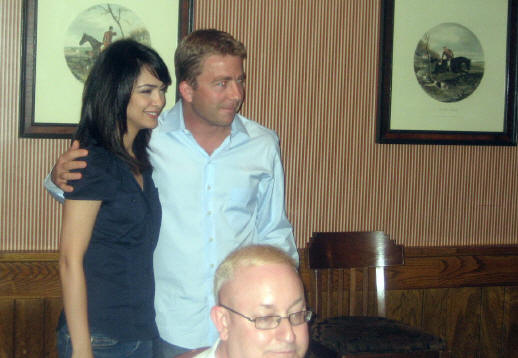 Snaring his attention for a moment, I asked him if he thought soap fans were much different than other fans wondering if he'd been to an event like this before. He mentioned that his brother worked on a soap so he'd observed his brother's experience and expected passionate fans.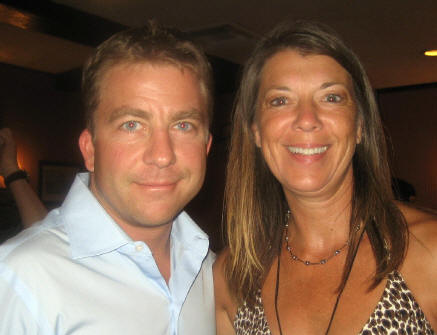 As the event wound to a close, Katrina and I slipped out to meet up with Delena (Katrina's daughter) who was hanging out at the pool with Dylan Cash, scarf down a sandwich and relax. We planned to slip into Greg Vaughan's event but as it turned out, GH was on, we watched for a bit, chatted and without planning naptime rolled over us.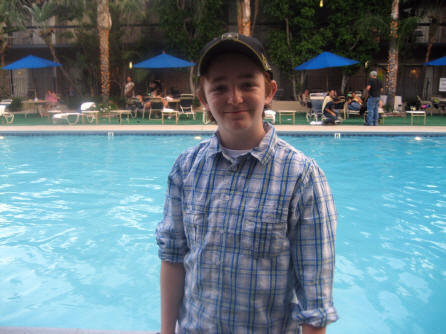 Friday afternoon/evening turned into a relaxing time for us. In all the years I've attended the GHFCW this is the first time I've actually experienced any down time. Boy did I appreciate it! A couple other events were scheduled for Friday and I was able to glean only small bits of info about the events.
Greg Vaughan's Event
Nap time over, we stopped in to catch the last couple minutes if Greg's event. He was busy talking to fans moving from table to table so I was only able to snap a couple pictures. I can attest that Greg looks as wonderful as ever.
Sorry the pictures aren't better.
Greg is known for his enthusiastic hugs.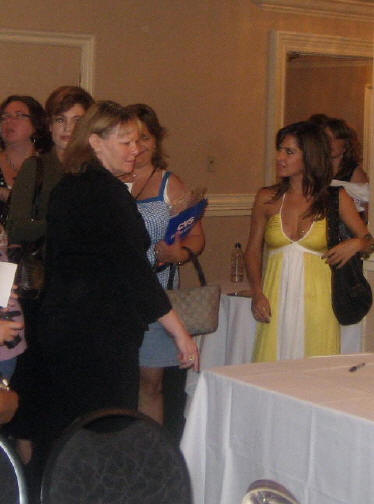 Kelly Monaco looked beautiful in her yellow dress.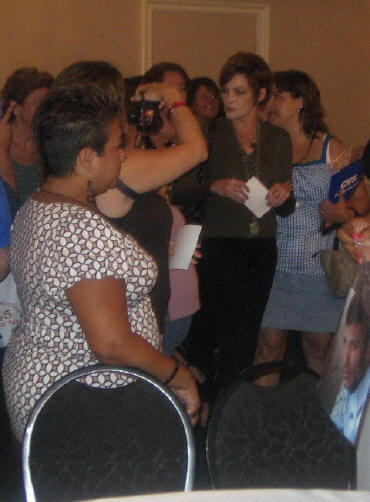 Carolyn Hennesy in the dark pants and top.
Sonya Eddy's Event
Are you wondering what's up with Sonya Eddy? So are we. Her event proceeded differently from the rest in that no press was allowed. The closed door made me curious and presented a challenge so I had to stroll in and ask if I could watch from the back and do a write up. Umm, no. I was politely ushered right back out as though I were a spy trying to ferret out volatile political secrets. From my brief moments inside the sacred, no enter room, it looked as though folks were enjoying themselves. Hopefully, the one press person they allowed access will write up the event and post it along with pictures on the net so the wonderfulness of Sonya can spread. Somewhere on the net. Good luck with that.
I do know that Reign Morton (Cassius, the orderly) was one of her guests because I escorted him personally to the sacred, no enter room after he strolled into the lobby area of the Cascade Room where Katrina and I were chatting looking for Sonya's event. Also, later in the evening as I headed towards my room I spotted Kiko Elsworth standing in the hallway talking to a friend so I'm guessing he was at her event also. I would have snapped a picture because he was looking handsome and healthy but he was intent on his conversation and I didn't want to intrude.
Nancy Lee Grahn's Event
Nancy served pizza and fun dialogue with a helping of Sebastian Roche at her event. Because of a commitment out of town, she was unable to attend the Fan Club Luncheon on Saturday.
Laura Wright's Event
All I know is about LW's event is that folks left with sore bellies from laughing so hard. Next year I hope to experience it for myself even if I have to leap tall buildings to get there!
Update on Friday's small, dark haired, angry lady who shook her finger in my face: Seeing her speaking with another woman as I crossed through the pool area, I stopped to apologize again. It wasn't happening. She immediately began ranting about my unfair treatment of her and actors needing fans more than fans needing actors. It was clear that my apology was NOT accepted. Unable to appease her, I said that I hoped she would be able to get a picture on Saturday. She assured me that she would NOT be standing in line for a picture with Steve and it was all my fault. I couldn't follow her reasoning. She turned to the lady beside her to rant some more. Not willing to participate in a pointless conversation or to unwittingly inflame her further, I walked away, hearing her speaking loudly to the other woman about the fact that I was walking away. It was clear I couldn't win.
However, a lesson was hovering in the background waiting for me to grasp it. Thinking back over my interaction with this woman, I honestly couldn't find any bad attitude on my part so I didn't feel guilty about how I'd handled the situation. I tried earnestly to apologize twice. The startling lesson hit that no matter how sorry I was she didn't have to accept my apology. That has never happened to me before. Realizing that, I felt sad. Sad that it couldn't be resolved. Sad that she apparently valued her anger over letting it go and enjoying the rest of the weekend. It's darned unpleasant to hang onto anger much less pick at it like a scab to inflame it further. I don't know if she let go enough to stand in line the next day for her picture with Steve Burton but I sincerely hope so.
We crawled into bed fairly early so we could be bright eyed and ready for Saturday's luncheon.
---
Kathy's Review of Day 1 of the GHFCW!
THURSDAY
On my way
All roads (or airways) lead west. At least that's how it is for me as I made my annual trek to the General Hospital Fan Club Weekend, my one yearly break from family and responsibilities. Four glorious days of deep discussion, laughter, fandom, and making new acquaintances. It's a total girlfriends r us, quality time extravaganza with the added spice of hunky, breath stealing guys and mind blowingly beautiful women strolling through time and space with us normal folks. The only way I can recap is in time order so here goes with my impressions, stories and observations.
Did you know that there are real nuns who wear black habits like the movie Sister Act flying around the country? I saw three waiting to board a plane at LAX. I wished I could sit down beside them and ask them about their lives because their day to day reality must be completely different than mine. That's definitely a conversation on the shelf for someday.
Arriving at LAX, my luggage was calling so I headed towards baggage claim with a stopover in the first ladies room I saw. Ordinarily I'm not one for bathroom stories but this little event made me laugh. As I was washing my hands I heard a pounding from inside one of the stalls and the voice of a woman who sounded older (older than me that is though I couldn't see for sure) and an intense demand to "let me out." Another woman who obviously knew her tried to tell her to unlatch the door but the woman inside was too busy pounding on the door with her fist demanding to be let out to hear her.
"Let me out!"
"Push the latch on the door."
"Let me out!"
"Can you see the latch on the door? Is it stuck?"
"Let me out! Open the door!"
"Do you see the latch?"
"Open the door!"
The door swung open and her only comment was a calm, "Oh."
Like she hadn't just locked herself into a stall and then apparently forgotten how she did it. I had to laugh.
Katrina and I arrived at the hotel within minutes of each other and overcame a couple minor glitches such as the room we thought was equipped with two king sized beds actually had only one. Katrina and I shared the bed. Delena, her daughter, slept on a comfy roll away cot. The next glitch hit when we learned that though we had arrived around 10:30, our room would not be available until 3. Even that wasn't an issue as we were ready for lunch (getting up at 3 a.m. means lunch time hits early) at the Patio Café and to visit with our waiter, Mo, who was waiting for us. In previous years, Katrina has charmed Mo right down to his socks so he remembers us each year, fixes her potato skins just so and provides an endless supply of iced tea. Fun conversation and great service - what could be better?
After eating, we chatted with folks as they passed through the lobby as we recognized them from years past. The lobby of the Sportsman's Lodge has undergone some decorating changes and the effect is debatable. Let me just say that if you have ever fake fished, or pretend hunted, you would feel right at home. More on that subject later.
Once in our room, we spent an absorbing couple hours catching up and talking about things we touch on in e-mails but have a hard time going into in depth. LOL, put two writers at a keyboard and LOTS of words are typed but there is never enough time to write/say all that's in our heads. Katrina and I covered a multitude of deep subjects that will be appearing in my journal for many moons. We were so deep in discussion that we forgot time and surfaced about 10 minutes before we were scheduled to help with check in for the Kick Off Event. We brushed teeth, threw on clothes and hurried to the Cascade Room.
The Kick Off Event
Check in proceeded quickly as we have a system down pat. One person checks names and verifies ID while a second person puts on the wristbands. Katrina checks, I band, smooth and easy. My favorite part of check in has to be talking to the people as they arrive all excited and ready to enjoy the evening.
Ignacio Serricchio was strolling about, helping his band set up. It's obvious that Nacho is enjoying his life and his varied career. I caught a quick glimpse of a poster for a One Man Show (I think) but I can't find any reference to it on the 'net. If you want more Nacho, I am sure Debbie Morris can help you find him. From Delena's happy face, I know that he still gives great hugs as he came up behind her and wrapped his arms around her. She glowed. I missed mine this year but I was happy for Delena.
Steve Burton arrived first. He headed right for the stage and began entertaining the crowd. Within moments, Dylan Cash, Sebastian Roche, and Rick Hearst joined him.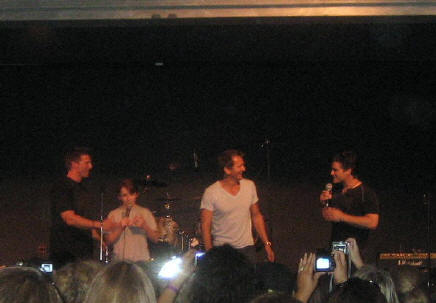 Steve Burton, Dylan Cash, Sebastian Roche, Rick Hearst joined shortly by Greg Vaughan with his baby on his hip.
Since check in was pretty much done, I headed towards the stage for a couple shots of hunkdom in action. Dylan observed that he was on stage with his three uncles. Sebastian Roche spoke about his charity that involves the children of Sudan. His trip to the Sudan affected him deeply and he planned to use the money from his event and silent auction items to promote his new passion. (I've searched the net for a reference to his charity but so far, I've been unable to find it or I'd give you a link. Maybe someone out there can e-mail me and I'll post it later.)
Actors that I know were at the event include Steve Burton, Dylan Cash, Jay Pickett, Greg Vaughan, Sebastian Roche, Carolyn Hennesy, Megan Ward, Rick Hearst, Kin Shriner, and Reign Morton. Hopefully, there will be other write ups that offer more details than mine.
Greg Vaughan joined them on stage as Steve Burton made his way towards the floor. That's when the wonderful, magical thing happened. Talk about standing in the right place at the right time! Debbie Morris glanced my way and asked me to escort him. It's probably embarrassing to admit how excited I was to be given the task of hanging out with Steve Burton for an indeterminate period of time. Flaming appendicitis could have struck me and I wouldn't have left his side. So, not to be lopsided or anything, but I don't know much about what the other actors did or said since I was wholly absorbed in my appointed task.
Of course, Steve was asked about the juice. That would be Mona Vie the drink of choice many GH cast members swear by. I am not his walking, talking, typing advertisement but I'll tell you in brief what was said because, well, because it was Steve Burton who said it which is precisely why so many fans are willing to listen and participate in the Mona Vie craze.
Mona Vie helps with high blood pressure, arthritis, inflammation, fatigue and a multitude of other ailments. 3-4 ounces a day provides more than 10 servings of fruit.
Steve can personally attest to higher energy and fewer colds along with his wife and children.
More people than I could recall came up to him to ask about the juice or about Friday's scheduled conference call and he happily answered the same questions over and over.
It would bother me that he is using his celebrity to get people to buy a product except that his every word and body movement showed that he believes in what he's selling and his enthusiasm spills over onto the people asking him about Mona Vie. He said it several times so I don't feel as though I am spilling private information when I repeat that he's made over $400,000 in the last 4 months selling The Juice.
Also a Mona Vie juice drinker, it was Guza's idea to use the juice in the scenes between Jason and Spinelli when Jason was sick. Steve didn't know it was in the script until he read it.
When Spinelli spilled the glass of fruit juice it stained his face for half a day.
Remember Jason's long hair a couple months ago? He grew it out because he was scheduled to play a part in a Western. However, the writer's strike threw off the scheduling. The movie is still planned and when you see his hair start to get longer you'll know he's preparing for his role. It takes about 6 months to grow out.
He doesn't know how to ride a horse but luckily his wife rides so she's teaching him.
Steve's contract is up in October. He was asked about his future plans many times.
One young lady asked him if Carly and Liz were drowning, which one would Jason save. After countless questions about juice, Steve had to pause and regroup. He said no one had ever asked him that before. After signing the lady's picture and thinking for a moment he replied, "Everyone wants to throw Carly off a cliff sometimes." This doesn't exactly answer the question but perhaps offers some insight into Jason's perception of Carly.
For three hours Steve signed photos and answered questions. He tried to not take photos with anyone though he kept making exceptions if someone had a reason that they couldn't go to Saturday's event. One lady asked for a photo and I explained that he wasn't taking pictures with people tonight but would be happy to take them on Saturday. Seconds after that another woman asked if her mother could have her picture taken with Steve as she wouldn't be at Saturday's event so he graciously agreed. The first lady saw him take the picture and she marched right over, shook her finger in my face and scolded me for not being fair. I tried to explain what she saw but she was too busy being angry. She stomped away in a whirlwind of tiny, dark haired righteous indignation. I was sorry for her unhappiness but a part of me could see the comical. At 48 years old, I haven't had a finger shook in my face since…gee, I can't remember when.
As the picture signing wound down, he made his way to a table set up in a corner of the ballroom with a Mona Vie representative. Clearly friends, they chatted as still more people came to ask him about Mona Vie. It amazed me that he remembered so many names and faces as fans came to speak with him.
Reign Morton stopped by the table to ask Steve what he was supposed to do and how long he should stay. Steve advised him to stay until he was tired. Reign is one of those guys that looks good from afar but up close he's even better in an oh-my-goodness-I-think-I-forgot-to-breath kind of way. Though new to the soap fan event scene, he looked as though he was thoroughly enjoying the attention.
Scheduled to attend Rebecca Herbst' event as guest at 9 p.m. Steve stepped out to use the facilities and call his wife a little before 9 as the Kick Off Party was winding down. He began talking with one of the photographers in a side hallway and he didn't need me as a buffer any more. My job was done though I would have gladly hung around as his shadow for the rest of the evening.
It's no secret that Jason continues to be one of my favorite GH characters though I try not inflict my personal preferences on others when writing about the show. I've been to several of Steve's events and one reason I continue to enjoy Jason is because I admire the actor. While standing by him, I watched him interact with others and how they responded to him. He sets respectful boundaries and maintains them. Whether acting or selling Mona Vie, he gives 100% while remaining a nice guy. I appreciated the chance to watch him in action.
If you are interested, here is the main website for Mona Vie.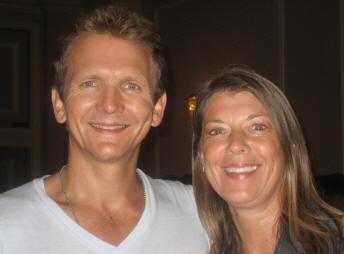 We snapped this at the end of the event. I could sit and listen to Sebastian Roche talk in his French accent for hours about his interesting life.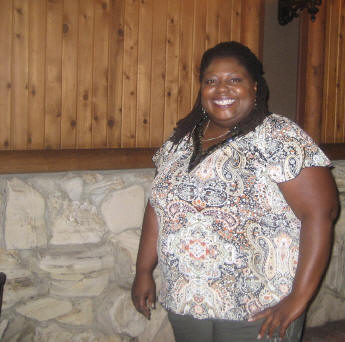 Sonya Eddy arrived at the end of the kick off party and posed for a couple pictures before heading to Rebecca Herbst event. Such a classy lady, she makes me wish we could go out for a bite to eat and talk for hours. Plus, she's funny.
Content with our first evening at the GHFCW, Katrina, Delena and I strolled to our room comparing notes and relating our individual experiences. Though we'd all be up since early morning (3 a.m., also known as the middle of the night), Katrina and I had some serious catching up to do. We talked until late even though we had to rise early to attend Bradford Anderson's event in the morning. From start to finish, it had been a great day to be alive.