---
March 17, 2006
Darlings! I have returned for another weekly foray into the world of soap gossip and rumor talk, so let's get to it!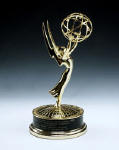 With the Daytime Emmy nominations announced, the net is now buzzing with talk about who made it and more specifically, who didn't. Remarkable for being absent from the final line up are Susan Lucci (I guess they just stopped bothering with any pretenses), Steve Burton, Bree Williamson, Michael Easton, Melissa Archer, Nancy Lee Grahn, Rebecca Budig and Michael Jordan. All had great material this year and took their turns with great performances, but did not make the grade.
ABC itself garnered 26 nominations, but are a rare sight in the main categories other than a strong stance in the Outstanding Lead Actor category with Maurice Benard, Tony Geary and Thorsten Kaye taking 3 of the four nominations. Two nominations in the Outstanding Lead Actress category (Bobbie Eakes and Kelly Monaco) rounds out the ABC dominance as they drop to only one entry in each of the remaining major categories.

Did you see? Did you see? Eye on Soaps is auditioning muse writers to be guests columnists for our magnificent site! Do you always seem to have something clever or insightful (preferably not inciteful!) to say about the soaps? Why not give it a try? Not all columns will be posted, but if you think you've got what it takes, put on your fuzzy slippers, pour a glass of your favorite drinky-poo and start writing, then send it on to Katrina! Click on RJ and the
typewriter over there to get the details! As Katrina said, "ENTERTAIN ME, DAMMIT!"
SOAPBABIE, THIS MEANS YOU!! =====================>
We have had some wonderful submissions so far (click here to see our recent updates page) and I look forward to reading more, more, more! There is NEVER enough great soap commentary in the world!
---
AMC

A possible Dixie-Greg Madden connection? Since Madden has been so aggressive about the idea of adoption and spoilers tell us that Dixie and the doc exchange heated words the week of March 27th, the net is bubbling with the possibility that Madden might have adopted out Dixie's baby, Kate, while she is led to believe the baby died. Dixie just can't seem to lay low as she ends up running into both David and Greg Madden this week. David agrees to keep her secret if she will just stay in Pine Valley a little while longer. In short, Dixie is still a big fat secret and it's getting damned old.

David can afford to be generous these days, although Dixie hardly thinks she's got the better end of the deal concerning David's ultimatum. Palmer will hold up his end of the bargain to get David reinstated at Pine Valley Hospital and JR will give his approval as well to remain in Babe's good graces, much to Joe's surprise. David is a no show at Babe's wedding, thanks to being locked in a closet by Zach.


Never fear. All things Carey go swimmingly even without the dark doctor's presence. Babe and JR have the teary-eyed, fairy tale wedding as planned and are joined by parents, Adam and Krystal as they renew their vows and mean it this time. Krystal even confides to Tad that she actually does love Adam and after the ceremony, the two can't wait to start the honeymoon. Has hell frozen over? JR actually gives Di and Tad his blessings.

She might have found her dad in a deep freezer (man, *I* want a freezer big enough to store portly Trevor and little Babe in, as well as miscellaneous frozen veggies and a leg or two of lamb!) and lost her mom to a prison cell, but Amanda is set to score big. After her mother breaks up with her again, not only will she be going to live with Brooke as the next wayward lass under her maternal wing, but she will also be taking up employment in the proving grounds of every hot twenty-something in town: Fusion.


Dr Madden is busy on a few fronts in the next two weeks. He has a heart attack after ingesting Erica's poisoned tea, but no one suspects foul play, leaving Erica to make plans to finish the job.
Madden lines up prospective parents for Kendall's baby, much to her surprise. Clearly, this OB/GYN-wan-kenobe has his fingers in a lot of pots (doh!!) because he also tells poor hoolia that she can never procreate (ah how he gets our hopes up!) and she splits into a million pieces. She later finds out he intentionally misled her, but why?
---
OLTL

Add Kathy Brier to the list of actors who aren't sure what their future holds with ABC. Brier's contract is up at the end of the year and so far, the singer/actress has kept mum about her intentions. A talented stage actress, Brier has wowed audiences on Broadway. The question is which offer will have the greatest allure, a contract with OLTL or the pull of the Great White Way. Ms Brier has been portraying Marcie Walsh since October 2002, having parlayed the two day bit part into a contract gig.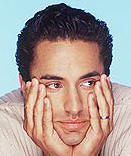 From that tenuous list mentioned above, you can scratch the name of Kamar de los Reyes. Antonio's alter ego inked a tree year contract at the last minute, so last minute that there will be a break in his appearances on the show while the new contract catches up with the old one. Rumors about that the demise of Jessica and Antonio is close at hand and that a new love interest is on the horizon, likely a character already on canvas. Speculation is running high of an ultimate Nash/Tessica United pairing with paternity tests revealing that Nash is the baby's father.


A child after my dear heart, Eddie Alderson (Matthew) told ABC Soaps In Depth that if he could hire any person to OLTL, it would be Al Pacino. Of Pacino, young Alderson said, "He seems like a really cool, very laid back. I'd cast him as my business associate -- we'd be partners." He might end up having to get mama's permission for that. Nora is due to wake up any minute.
How curious and coincidental. I've also often thought of being partnered with Al Pacino.

In a reenactment of Todd watching Patrick and Blair banging away to make baby Brandon, in an upcoming episode, Todd gets his eyes full of Spencer and Blair getting all slobbery and intimate at the much lauded cabin.
Um, ew. How many times is Blair going to tell Spencer she can't be with him and then tell him how hot it makes her that she can't be with him?



Dorian gets a lot more than she bargained for this week when Rex challenges her to "BRING IT ON, BEYOTCH!" Dorian decides to "bring it on" with the help of her new assistant, Daryl.
I've mentioned it a couple of times in the column, but a lot of people do not know that Jean-Paul Lavoisier was brought onto the show thinking he would be playing a gay Rex. OLTL execs asked him if he would have any problem playing a gay character and Lavoisier assured them he did not. It was widely speculated by fans that such was the case when Rex was seen lecherously watching his sister make out with Seth and Lavoisier confirmed the fact some time after he was put on contract. At the last minute, OLTL backed off on the story and Rex went on to become the shifty cad we know and love.

That cuh-razy instant career lucky lotto claims another winner this week when through the grace of Bo Buchanan, Natalie promotes from lowly administrative assistant to Forensic Technician. I'll bet those guys on CSI had no idea how easy it is to get bumped up to crime scene investigation in Llanview.
She will be working to solve the mystery of what happened to John's father (even though John tells her to back off - big frickin surprise). Who is responsible for the senior McBain's murder? None other than Paige and David.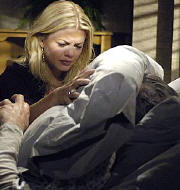 The big reveal, worthy of a photo even bigger photo than all the rest, comes on March 24th when Clint and Viki break into a cabin and find a strongbox with a video in it labeled "Tess." In one of OLTL's signature bold movies, we see Jessica's parents watch in horror as the exact events that caused their daughter's personality to fracture are enacted before them in dramatic detail. So traumatic is this truth that Viki has to wrestle to maintain control away from Niki (somehow, that seems like something Jean Randolph would handle).
Reminiscent of Tori killing abuser Victor Lord with a pillow, Tess decides to exact her own revenge onto the man who violated her. Nash stops her in time (although in my opinion, "in time" in relative in this case).
---
GH
---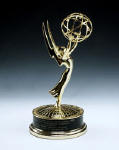 More Emmy talk... Of the 26 nominations, 12 went to General Hospital, including a stab at the coveted "Outstanding Drama" award. GH was the only ABC soap included in this category.
Kelly Monaco opened her eyes to hear ex-onscreen love interest, Michael Easton, announcing the nominees and was shocked to hear her name included. Says Monaco, "I just started screaming." She also voices her surprise at being nominated in the Outstanding Lead Actress category only two years after joining the show. Miss Kelly won't have to worry about competing with any other GH actresses for the award. Bobbie Eakes of AMC is the only other ABC actress nominated.
Tony Geary was droll about his award, saying it was "particularly gratifying" since it was "a complicated year." He says that although he does feel that this year he turned in some of the best work he's ever done, he had to "fight for material."
Competing for the award is Maurice Benard, who said he wasn't even going to submit a tape since he was not happy with what he had. Ultimately, wife Paula and a GH producer convinced him to press forward.

Like Eddie Alderson of OLTL, Steve Burton chose Al Pacino when asked by ABC Soaps In Depth who he would hire onto the GH cast. Burton says he would bring on Pacino to play Sonny's father.
Scott Clifton, on the other hand, scores big points with me by choosing Hugh Laurie from "House" saying, "He would make a great Quartermaine."


Ho Ho Ho. Jesse's gotta go! Did you feel the vibes of impending doom when Jesse started telling Maxie about how much more he wanted to be with her?
Rumor has it that Jessie is going to be killed off to give Dr Noah a bring new livah just before he croaks off. The interim benefit of his near death situation is that he and his son will finally share a genuinely caring moment or two.


Speaking of getting vibes, did anyone else feel a goose walk over Courtney's grave (or Jax's) when Alexis revealed to Carly that she had been named John's legal guardian by Jax?
I wonder if she was as blown away by the announcement as I was.
Who did Laura Wright say she wanted to hire onto General Hospital when ABC Soaps In Depth came calling? She chose Bradley Cole (Jeffrey from Guiding Light), "cause I miss him so much. It's weird coming to work and not spending my days with him."
...and I can't imagine not spending some of my days with you.
Have a wonderful week, folks.
Rock on,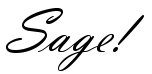 ---
Donate to keep
Sage & EOS
on the net!



---
Archived Columns