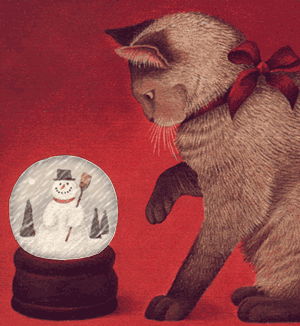 This week's spoilers are based on the spoilers of
Carol Banks Weber at Soap Zone.
---
December 5, 2005
First column of the month, so you know what I am going to say! Make Sage's Christmas perfect by kicking a few dollars toward EOS' expense fund so I can stick around and keep visiting with you into the new year! EOS depends solely on reader contributions to remain on the net. Our staff works completely without pay or compensation to provide you with the best commentary on the net and we would like to continue to do so! Gods, I would miss you guys if you went away! So help us stay! I've sent my donation and I hope you will do the same. You can make a contribution by credit card or PayPal balance (via a secure transaction) by clicking on the "Make a Donation" link below:
Or you can click here for other options.
I can't speak for the other EOS staff members, but I can surely say that *I* will keep writing as long as you folks keep us on the net!

AMC Commentary
Did the earth move for you too, baby? I'll bet it did because that's how hard I was jumping up and down for joy when it was announced that Blondy Sam is leaving Pine Valley. Wheeeee Haaw! We will see him for the last time (God help us, I hope it's the last time) on December 20th and that is an absolutely wonderful Christmas present for Sage! If I can't be completely rid of the Santos family (OK, admittedly, I kinda like Anita), then I will gratefully boil it down to just Edmund, Maria and their two bratty kids.


The Great ABC Gazoo came out of the Bloo and said, "Look, Sage, here's what I can doo! Mateo and Hayley have been sent away, as have Edmund and Maria Grey. Wicked Maddie has gone bye bye too but there really is only so much I can do! You drive a hard bargain, you ol' gossip hound, so Sam will leave, but there're still two around. Anita's not bad; you can tolerate her, but Julia is everywhere and I know how you hate her. So it won't all be perfect, but don't start to pack. To make up the difference, here's KENDALL AND ZACH!"
I'm a poet and dinna know it.
So yeah, lots of swoony Kendall and Zach this week when they have a lovey dovey divorce trip. I'll be pulled right up to the TV, I can tell you that!
News came this week that an AMC vet, Julia Barr, has bought another year on the show. Ian Buchanan, the fairly throwaway, supposed story pending God playing Dr. Madden only has a few months left on his 1 year contract, but is expected to stick around for a bit.
Bianca returns with a recast Miranda for a short while in December and January.
Supposedly, AMC is also looking to recast Petey into official teenhood.
I told you Jonathan was still bad.
Gazoo shafted me. The only thing worse than Julia on the lam is Julia trying to teach a life skills class. I might be packing after all.

OLTL Spoiler Commentary
Natalie hears the truth, ALL of the truth, about Cristian's true identity and who knew what.
>>And hell hath no fury like ... well like Natalie on any given day with problems raging from dead husbands coming back then being dead again then coming back again or having burnt toast. On any point of the spectrum, basically hell hath no fury like Natalie.
Antonio reunites with his mother and brother.
>>Santa Maria! So I hear Antonio hugs him and decks him. That sounds about par with how Antonio loves.
Natalie fills Clint in on the Cris situation.
>>I'm surprised she's not pushing Evangeline out of The Complaining Chair next to Nora and wading into that poor woman's coma with all of her problems.
Natalie has a lot of thinking to do and she's well and truly pissed off and of course, she loses no time letting them both know.
>>And I could not possibly be more surprised. I'm sure she tells more than those two.
John gives Bo the wrap up on things.
>>Prison riot over? Yup. Natalie knows about Cris? Yup. She's pissed? Yup. A'ite den. See ya.
Natalie talks to Michael about her quandary.
>>Another victim falls.
Adriana wants answers from John and her questioning causes him to doubt his own motives in keeping the truth from Natalie.
>>I am finding that Adrianna is fast becoming the Emily Quartermaine of OLTL. (For those who do not watch GH, suffice it to say, this is not a good thing)
Carlotta urges Natalie to remember her vows.
>>I am highly interested in Natalie taking vows in a convent. Time to get married to Jesus, gal! But then, she'd probably start complaing that HE died and came back again.
Natalie directs her focus to her family, specifically Jessica and Viki.
>>Probably because they are the only ones who are listening now and when she's telling Jessica and Viki, she can really tell four people for the price of two.
Evangeline steps up her efforts to free Cris from prison.
>>I hope it's fast!
Antonio is bothered at Jessica's closeness with Nash (not Tess').
>>Yeah, he knows when he's bested. That Tess has great taste in men!
Spencer puts his pursuit of Blair into full swing, much to Todd's anger.
>>But what's a guy to do from jail?
Spencer performs surgery on Kelly, but did he do what he said he was going to do?
>>It would be great soap drama if he implanted a puppy embryo in her just for fun. I'm thinking a nice, blonde cocker spaniel.

GH
Robin finds the great Dr Noah Drake liquored up in a New York City bar. She won't take no for an answer when he tries to get rid of her.
>>You know, if *I* found Dr Noah Drake all liquored up in a bar, I wouldn't take no for an answer either. But then, I'd have very different plans than Ms Robin!
When Sonny sees that Emily is developing feelings for him, he moves quickly to squelch those thoughts. He quickly clarifies for Emily what is and isn't.
>>And thus ends Soily because we're gearing up for (yet another) Carly reunion.
Diego's trial begins and Carly uses that situation to extricate herself from the sanitarium.
>>And you know, I'd love it if she'd stop using sweet Lorenzo like this. What a puppy he is.
Lorenzo is none too happy to learn that Carly's interest in Diego's trial is a ruse to get out of the revolving door sanitarium and make a move with her ELQ stocks.
>>I guess the whole kidnapping karma is a tough pill to swallow.
Speaking of the Q's, LuLu quickly sells out her dad to Tracy.
>>I hope she's paid well! Luke is worth a very pretty penny! (I love how they are giving LuLy "Laura hair.")
Luke and Carly make a fine team taking on Port Charles.
>>So far so good. I'm still not sold on the idea that Laura Wright can hold her own with Tony Geary. The jury is still out on the latest Carly for me.
Skye and Lorenzo commiserate over their love lives.
>>I'm sure they both miss me very much, but I'll be back next week! (provided you make that EOS donation!!)
>>If anyone wants to catch Ricky Martin (ex-Miguel, GH), they can on this Friday's Oprah show!
Much Love,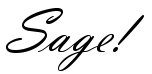 ---
Donate to keep
Sage & EOS
on the net!


---