Daytime Diva:

The View From the
Recliner's Edge

By Belinda Ache




---
August 2008
---
Part 1 ~ Quick thoughts and Internet Buzz~
Oh man where has this summer GONE? Do you know what September is? It's my one year anniversary with Eye On Soaps! I know! It doesn't seem possible, does it? I'm so proud to be a part of the EOS experience and I want to thank all the wonderful staff and readers for a beautiful year! Onward and upward as they say!
Not wasting any (more) time lets get down to it!
All My Children
Angie & Jesse Hubbard (Debbi Morgan and Darnell Williams)—is it just me or has the once tough, resilient, capable Doctor Angie becoming more obtuse the longer Jesse is back? She seems particularly clueless where spoiled brat Cassandra (Yaya DaCosta) is concerned. That little kitty needs a knot tied in her tail. What a snotty little brat! The teens and this hit and run story were actually brought together pretty well, it was more rushed than I really like my daytime drama but I have been told that the old time, slow build way of showing soap drama is very out of fashion with the "webisode", "minisode", instant gratification generation. It's too bad but I love soaps so I am trying to make the adjustment.
I feel I must admit that I like Daniel Kennedy's Petey and the Briann Moncreif's Colby in the Pigeon's Hollow rivalry between their iconic fathers. I thought the kids would get Adam's (David Canary) head to actually spin around with their antics at the Country Club. That kiss was particularly hot, too, which was a much unexpected pleasure from this starved for love in the afternoon addict. In fact, I may as well admit that this show is giving me more in the way of romance right now that I could have expected. Certainly some of the matches have me scratching my head but I am really noticing a trend here. Let's hope it's not heatstroke from the Midwest Dog Days of summer!
Look at what we have being offered: Erica and Senator Sam are a little bit of yum. Jackson (Walt Willey) and Carmen (Elizabeth Rodriguez) are an unexpected pleasure, I had thought about what such a down to earth and 'regular person" kind of home girl could bring to the canvas vis-a-vie the men of Pine Valley and so far I am not disappointed. I hope Susan Lucci's Erica can keep it in her designer panties and stick with the hot Mario Van Peeble's Sam. Jealousy has gotten them back together many times and it would be typical soap yet too sad for the poor, working class woman to be used for that end. I hope that isn't what this is!
At Daytime Confidential, Danielle offers this to say about this couple: "Adam/Erica: Welcome back Mr. Chandler, we have all missed you! Adam helps his ex-wife with making Jack jealous when…" Continue reading at www.daytimeconfidential.com
Eye On Soaps' own Kate Brown states; "I wanted to slap a dose of reality on Erica but I was too busy laughing at her ridiculous outburst. I do realize the poor deluded woman was in shock. She never imagined that pursuing a relationship with another man would stop Jack from pursuing a relationship with her. The key word is "pursuing." Why should Jack have to pursue the relationship at all? If, after almost 20 years of attraction and love, Erica still needs Jack to "win" her away from another man, she needs more help than any man can give her. Sam cannot give it to her any more than Dimitri or Nick or Jack or Travis or Mike could. It would be a hard, but deserved, lesson if Erica realized that Jack no longer considers her a prize worth winning." A Cynic Soaps Up can be found at http://www.eyeonsoaps.net/cynic.htm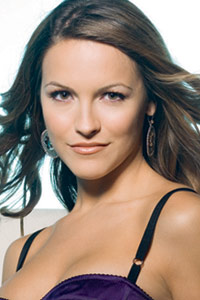 The romances continue with Oh My Goodness, hot and tasty chemistry between Chrishell Straus' Amanda and Jake, portrayed by Ricky Paull Goldin. I know they rushed Beth Ehlers into the mix and probably expected her history with Rickey Paull to explode forthwith, but I'm not so sure that would be the wisest course of action. There was some serious something-something sizzling between Taylor and Frankie (Cornelius Smith, Jr.) in their reunion scenes. Would it be SO BAD to see where their combat relationship could take them back on the home front? With Denise Vasi's Randi and her hooker history this could be a very interesting triangle with more dimensions than we have had going for a daytime threesome in a very long time. Not since Bobbie Spencer has daytime had a hooker so worth rooting for to turn her life around. She is feisty and fiery and has that "I'm not worthy" thing all playing toward making her the dark horse favorite for the hot doctor's affections, but we don't know what the two ex-combat soldiers shared in the heat of battle and things might get interesting as we find out. Think about that!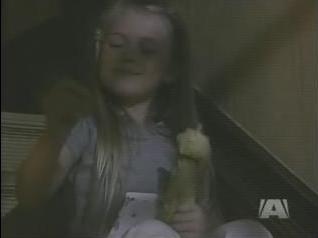 There is a cute as a button Dre played by Sterling Sulieman and spoiled "Poor Little Rich Kid Club" founding member Cassandra's budding relationship, Junior and Babe's rekindling marital passions….Krystal with a K, Bobbie Eakes, is repeating her commitment to bury her real feelings for ex-hubby Adam and focus on her marriage to Tad (Michael Knight) whose dream of having his daughter returned to his loving arms has brought us the cutest potentially psycho, bad seed kid in many years: Kathy played by Alexa Gerasimovich. I hope they have the nerve to follow this through. This kid could terrorize and gas light KWAK for months with everyone believing the poor little tyke is just lost and confused. How much fun could that be?
What else is happening on the romantic front, you ask? Well Aidan and Greenlee are on a short lived post honeymoon high, Kendall and Zach are temporarily focused on their family and romancing each other, Ryan is pretending to love his wife, Annie, whose mental health is rapidly degenerating with the help of her dead brother's "ghost" playing devil's advocate and driving the short bus on a whirlwind route to NUTBALL nirvana. All in all, I'd have to say that All My Children is at the very least TRYING and working on bringing some love back to our afternoon. I'm enjoying the effort, for now, at least!
One Life to Live
I haven't commented on One Life to Live since the 40th anniversary show and there is a reason. I was falling in love with a smart, sexy, savvy, daytime drama and I needed to pull back and just immerse myself in the pleasure of it. That's what I have done. Oh, how I love what they have done with this show! I didn't know what to expect with the campy come on describing the anniversary "death" of Viki (Erica Slezak) and the controversial "time travel" venture, so I made the choice to wait and see. I am not disappointed.
Having not been under a rock, I know that the 1968 story line is taking its online hits and has generated such outpourings as from Soaptime on TV Fan Online forums; "This going back in time thing is feeling a little too much like the kind of outer limits Days of Our Lives stories. It's a little too outside of reality for me. Is everyone a fan of where they are taking OLTL now? I just can't get into it."
On the other hand, The Cottage's Cissy says that Rex (John Paul Lavoisier) and Gigi (Farah Fath); ""complete me" !!!!!!!!!! LOL. Ok I mean they totally complete my afternoon. I just love this story and today was the best so far. The things they went thru before they finally admitted loving each other. Each day gets better and I may be sorry to see this story close. I hope it last a bit longer. the setting, music, clothes, etc is fun to see since I was just beginning high school in 68."

And now a question on Rex and Emma....is Bo (Robert S. Woods) going to be Vicker's (Tuc Watkins) daddy????? This could really be fun for Rex to explain to Bo. I can't wait."
As for me, I really like it. The clothes, the characters, the music all bring back great memories for me. Maybe because I was watching in 1968 which brings me full circle and the fact that the Buchanans were not yet on the show, so they are bringing in this back story without raping my memories. Always a plus! So many times, new writers or a new vision for the show means a rewrite of the way the fans remember an old story and that is simply painful and demeaning to the long time viewer.
As it is we have heard about these things, Olympia's insanity, Renee's being a madam at Asa's favorite whore house, Spencer Truman being a twisted freak from childhood, but never before in the history of daytime have we been given this kind of peek into what made our core family members so vitally colorful. This is the ultimate back story and I love how they have returned Bo to the future with his previously loosely tethered head finally screwed down straight and tight. He found himself and I found more reason to love my Buchanans and to be invested in where this story goes.
I fear that they may abandon all mention of the freakish time travel and gloss over this monumental paranormal event in the future, but I hope that they do not. This begs to be a catalyst to bring out the truth about Rex's real bio daddy. I don't know how the guys playing at their respective roles as Bo and Asa could have done anything but change the future. I'd look forward to figuring all of that out!
This whole Marty and Todd (Susan Haskell & Trevor St. John) thing, oh man, I just don't know. It is so very uncomfortable for me to watch. It makes me squirmy and prickly and feels vaguely unsettling… and just WRONG. I feel nasty to be so interested in what's being said and conversely, in what is not being said.
Not everyone feels that way though. At The Cottage, Eye on Soaps' own forum, Maya says: "Im enjoying the storyline between Todd and Marty. I know that he's lying to her and in a way it's a raping (of her mind, this time) all over again, but I can't help it, I like them together. Bear with me...

What if every woman in Todd's life he's substituted for Marty? He tried sleeping with Marty all those years ago only to have her laugh at him, which was what spurred on the gang rape. Might he have not harbored some feelings for her back then? Could he have been in love with the Party Girl and just didn't want to admit it? Is this how he paid her back for laughing at him? What if Todd's been in love with Marty all these years?

Seeing him with her, you're seeing another side to Todd Kind, careful, giving and sensitive: But only to her. Yes he's lying to her, but watching him I'm getting the sense that it's not all about making her hate John, it's about him rewriting history even if it's just in his head. He wants what he's telling her to be true, it's not just to mess with her memories.

I think that if he can 'make things up to her' he'll feel like his life is redeemable, that he will finally be worthy of love. Of course, being Todd he's going about it all wrong. Id be interested to see how much they allow Marty to bond to him. Will his kindness matter to her after she finds out he's been lying to her?

I think Todd's whole messed up life is tied up to that moment back in College when Marty laughed at him when he was having sex with her. I'd like to see that explored. I know it's skeevy the way he sleeps in her bed etc...but I remember another guy who raped a girl and they ended up being a super-couple. Luke and Laura, anyone?"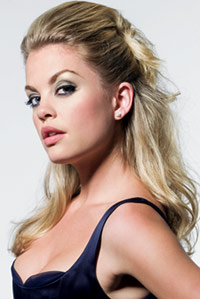 Tessica, Tessica, Tessica; (Bree Williamson) oh how I love that scheming, conscience-less bitch! She and Todd are so much alike it seems only fitting that she is in on his madness with Marty. Resurrecting Jean's cells in the basement of Llanfair is another choice nod to the rich history that is one of the reasons I love One Life to Live right now.
Another reason is that they have Brody (Mark Lawson) falling in love with being Austin Williams' Shane's father and wanting to make it be true. Unrequited love can be a bittersweet and gut wrenching dramatic twist and it seems like to me Brody is heels over tailbone in love with Gigi and the boy he so wants to father! This endears him to me. Now we have Rex finally knowing the truth and the story has taken to twisting in the wind. It is my fondest hope that they don't resort to just making Brody the bad guy, the stumbling block between Rex and Gigi; that they really explore the deep nether regions of the hearts of a family torn in so many directions and all stemming from a deep and abiding love for each other. Not typical daytime fodder though, so we shall have to see.
I don't mind John (Michael Easton) and Blair (Kassie DePaiva) although I am not reaching critical boil over them either. I am saddened that Marcie (Kathy Brier) and Michael (Chris Stack) are over but I don't blame Mike for opting out of the Todd Manning freaks on parade. Marcie seriously must like being hurt because anyone who messes with Todd is as crazy as he is. As painful as the young love of Cole (Brandon Buddy) and Starr (Kristen Alderson) going frightfully bad is, I definitely see his point. It's not like the boy couldn't have taken his child and raised it himself. He isn't exactly homeless or without a support system. I just don't understand why that was never an option. He wanted the baby but no one cared about that because he was only the sperm donor and as a male under 18 years old, that makes his yearning to be a father null and void?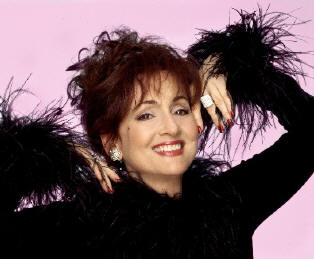 Sad but true, I have no feelings about Jared and Nat (John Brotherton & Melissa Archer). Sorry. I consider them filler and not much more. Dorian (Robin Strasser) being influenced by Mel's spirit is interesting. Clint's (Jerry ver Dorn) going after Langston's (Brittany Underwood) deadbeat and dangerous uncle to get the best of Dorian is disturbing. I guess he really did turn out to be just like his father after all, huh? I still like Tina (Andrea Evans) and love seeing her and David Vickers, the canine, on my screen. I LOVED Queen Talia and the reporters finding Carlo and Jonas (Thom Christopher and Kevin Spirtas) all snuggled up in bed together. That is so priceless!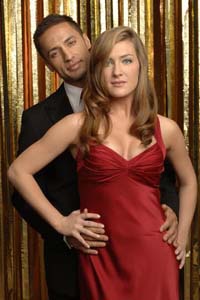 All in all, I have gotten back to the roots of my daytime viewing pleasure and One Life to Live is the show that has brought me back. I love it right now and even the things I do NOT love are making me raise an interested eyebrow and getting me to tune in for the joy of the show and not just to write about it for you all. I love writing about the shows to you, please understand that but as motivation to tune in every day it can be cold comfort!
General Hospital
What can I say that isn't simply a repeat of my long litany of regrets as pertains to my once favorite show? I grow weary of trying to find ways to dress up my disgruntled attitude, trying to spin it in some magic, loving way that will make it something positive.
The best thing on General Hospital may be what we are not seeing: Max (Derk Cheetwood) and Diane (Carolyn Hennessey) for instance, Nancy Lee Grahn's Alexis, Megan Ward's Kate, the (remaining) Quartermaines. I WANT MONICA (Leslie Charleson) to come back and be part of the show, dammit! Whew, good to get that off my chest.
The best thing about General Hospital (that you are seeing) is Maxie and Spinelli, (Kristen Storms and Bradford Anderson) and yet they seem to be striving to make that a joke, a punch-line, a brief interlude of levity in an otherwise heavily laboring program. Why can't Maxie see that Spin is in to her, the way Georgie was into Spin and he couldn't see it? Why couldn't they let Spin grow up just a little bit and really reach out and snag Miss Maxie-Thang up and show her (in the most romantic and hot scene EVAH) that he is a man she can wail on (in every way). It seems petty and spiteful for TPTB to know how much their growing fan base believes they can be a viable romantic couple and to still string them along for comic relief.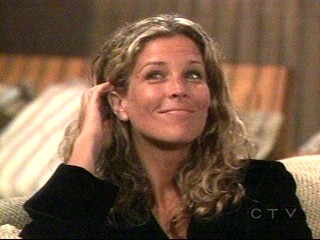 No, I'm not interested in Maxie and Spin's "friendship" mirroring the dysfunctional cluster-fuck that was and is Jason and Carly's relationship. (Steve Burton and Laura Wright) Carly befriended a lost, lonely, brain damaged young man with family issues and helped turn him into a professional hit man. She used him and abused him and then spent most of her adult life playing this sick on and off again game between Jason and Sonny (Maurice Benard). All the while she was relying on Jason as "her rock" she never, ever, EVAH putting him first or thought about giving him what he wanted, needed or would like to have to make him happy. I don't want Maxie to do that to Spinelli. In fact, I'm still pissed off that Carly did it to Jason. He was ready, willing and able to have a family with her and honor her as his woman when she jerked him around for AJ and then AGAIN when she got knocked up by angry "punish me" sex with Sonny.
This whole painfully drawn out "I'm too dangerous to love you" thing with Jason and Elizabeth (Rebecca Herbst) has gone on too long. The irony that Jason can be in Carly and Morgan's life (but Sonny can't) and Jason can't be in Jake's life either is just ridiculous. The irony might have made for good story except they are ignoring it. WTF? Sonny can't be around his kid but Carly can mock seduce a brand new, unknown quantity, a Russian mob boss and that's not putting her surviving child in any danger? *cough* bullshit*cough*
Another little tidbit raising the eye brows into the hairline in the typical "Things that make you go HUH?" posture would also be Carly and Sonny centric. This snatch-a-loup, no good, gutter snipe, low life BITCH has Jax (Ingo Rademacher) jumping through flaming hoops because of an innocent kiss with Kate when the skank, turbo ho was riding Sonny's bologna pony to heaven at that exact moment. I want to watch this harlot crash and burn so bad I can taste it. It isn't that Jax has been a personal favorite of mine although his marriage of convenience to Alexis was one of the great un-mined gems of its time.
It is the hypocrisy of it all. Jax and his love for Carly and their life together, however briefly teased to us, was a tide-turning point for me as pertains to my steadfast Carly hate. I wanted it to turn out for Jax and Carly, but she just couldn't keep her knees together when it came to her ex and now I have to watch her make Jax twist in the wind while she secretly hugs her naughty limo-sex secret to her chest and gloats as he contorts like a Chinese gymnast for her. *cough*bullshit*cough*
This spoils Skate for me too. I haven't liked Sonny in as long as I haven't liked Jason and Carly (ho) but when his old Bensonhurst girl friend showed up, it predated my hate so I was unwillingly pulled in. This is the woman before all of his serial cheating and island dress and jewelry buying jaunts. It was sweet and simple and she didn't want him for his being the mob thug boss but because of the real person he was and the real man he might have been. There was promise and I started to let my guard down. Then she climbed right up on the funeral pyre for him the same way all of his love interests have been sacrificed to his mighty, mighty mangina. He's not only lying to her by not telling her about getting the skank-bait-love in the limo but he is still dabbling in the mob because he just can't help himself. *cough* bullshit *cough*
Alexis is dating a terrorist, murdering bastard (Sebastian Roche) who as recently as 6 months ago was whoring her daughter (Sam, Kelly Monaco) out to decrepit and nasty old men like Stephen Macht's Trevor (upchuck) Lansing and that's supposed to be okay with me? It is not.
I love Scrubs (Kimberly McCullough and Jason Thompson) and every boring moment of their redundant, dysfunctional love affair because it is typical hospital based soap fodder and I miss that so very much. I love Daddy Noah (Rick Springfield) when he is on and I love Momma Anna (Finola Hughes). Seriously, if Night Shift was actually incorporated into the daytime General Hospital, the show would be so much better as far as I am concerned. Sure, it bothers me that no one has mentioned Dr. Ford's death or Patrick's being interim Chief of Staff, but Robert "freaking" Scorpio would be on and Jagger (Antonio Sabbato, Jr) and it would be in the hospital…
Side note: Honestly though, I think I'd like NS better if they hadn't changed Julians and dropped Lainey (Kent King) and Kelly Lee (Minae Noji). Having some recurring characters couldn't have hurt and it would have helped the flow from last season to this one. Oh well.
Back to General Hospital, I could care less about Johnny. (Brandon Barash) That's right. I do not care. The entire Lulu goes Coo coo for Cocoa Puffs thing is really stretching things for me and I'll tell you why. Laura's mental weakness was never a genetic disorder. Lesley (Denise Alexander) wasn't mentally ill and there has never been any indication that mental illness runs in the family. It is not very medically responsible to let everyone assume that all mental illnesses run in families! Laura's six pack always did come in a few cans short. Before she knew she was adopted, the girl was "troubled" and finding a new mother, rich, fixated and murderous step father (Cameron Faulkner) and having her life turned upside down only made fewer of her dogs bark. Laura was always a few sandwiches short of the picnic. Lulu was not.
I've never killed a man (and I'm sticking by that story) and as emotionally stressful as that must be she can not be this ate up with guilt for killing a psycho freak who chopped the door down and came at her with an axe. The girl didn't sneak up on him drinking a Mickey's Big Mouth on the pier and shiv him through the heart, for goodness sake. Her response is ludicrous.
Not to say Julie Marie Berman hasn't been bringing her A game on. Her scenes have been great, but the material she is being given really detracts from it for me. It is lame. Now Genie Francis is back as Laura and I really enjoy (love) seeing her but I have a bad feeling about this. A really bad feeling.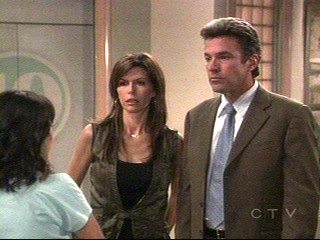 I haven't mentioned Nik (Tyler Christopher). I love him and I think he is great with knuckle-head, socially inept Nadine (Claire Coffee) and with smoking hot Momma Claudia (Sarah Joy Brown). I don't have to make up my mind because either way they go I am OK with it. Bring it on. I want more Cassadine threat and less ineffectual posturing, if you don't mind. I also like Lucky and Sam. (Greg Vaughan and Kelly Monaco) They've got it going on and I for one don't mind watching it. I couldn't care less about Jason Cook's Matt Hunter except that living in Mac's house I might actually get to see devastatingly sexy John J. York more. Hey, I can dream!!
That's it for now but I will be back soon and no I won't leave you hanging for another month, I promise. Please join me for the Daytime Confidential dot.com podcasts. Look for me on Performer of the Week, Top 5 ABS, and Girl's Night Out podcasts coming up in the next few weeks and until we meet again, please enjoy your view from the recliners edge.
Thanks for the pictures to Mallory at Seriel Drama, laurieluvsliason and ABC-TV.

The ABC Edition of Daytime Continental's podcast.