---
February 3, 2006
Lies! Deceptions! The Soapiest Stuff Ever!
Niki weaves a web of fabrication around Tess, convincing her that it was actually Viki who was responsible for Jess' split. Nash, however, refuses to give up on Tess and sets up a romantic evening with her.
Todd's death sentence rocks Llanview, not to least of which is Paige, who is blackmailed by Spencer into assisting with Margaret's imminent birth. Spencer covers his own tracks by framing Bo and Paige in the falsification of the DNA reports that identified the corpses as Margaret and her child and of her child being fathered by Todd. Todd, meanwhile, reaching out to an unexpected source for support and assistance (Dorian!).
Rex makes a good impression on Adrianna when he throws a party for her at Ultra Violet to celebrate her first modeling job (the cover of Craze).
Kevin and Kelly make up, but RJ has a tougher time smoothing over his relationship with Lindsay.
Natalie struggles with maintaining a friendship (and keeping it to nothing more) with John, as well as her feelings of jealousy over Cris and Evangeline's growing friendship.
Carol Banks Weber reports on Soap Zone that the powers that be are testing the waters for a possible hook up between David and Roxie.
Although Kimberlin Brown has left Y&R, there are no plans for her to return to the role of Paige on OLTL.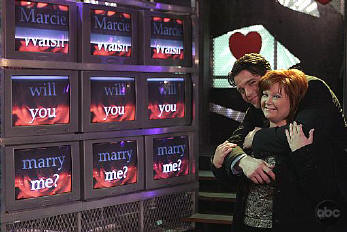 Awwww. The couple may not have the same degree
of chemistry that Kathy and Nathanial the first shared,
but the writers are coming up with a very romantic
set up for Michael to propose to Marcie, albeit oddly
rushed in terms of a reunion.
---