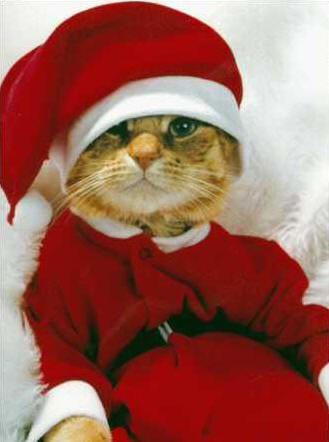 This week's spoilers used for commentary
are compliments of our friends over at
SOAPTOWN USA
---
December 12, 2005
Two weeks until Santy Claus comes and I have to tell you, I could NOT be more thrilled! What does Sage want for Christmas this year? Cannies, Cannies and more Cannies! Deck the Halls With Boughs of Cannies! Hark the Herald Cannies Sing! O Come All Ye Cannies! Cannies Are Coming to Town! Joy to the World, the Cannies Come! Grandma Got Run Over By Some Cannies! O Cannie Tree, O Cannie Tree! Jingle Bells, Jingle Bells, Cannies All the Way!
Anyway, you get the idea of what my Santa list looks like!
I am more likely to get my cannie wishes fulfilled (although there can never be enough) than my soap wishes, as is evidenced by these spoilers!

AMC Commentary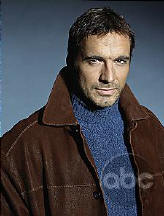 The Zach and Kendall anti-romance takes on a whole couple of facets this week as they have the most romantic divorce anyone has ever seen. While we look forward to that, we also know that Ryan is going to be pulling a Jasper Jacks and becoming Kendall's own pitbull watchdog, playing spoiler between any blooming coupledom between Kendall and Zach. In fact, in a recent interview with Soap Opera Weekly's Carolyn Hinsley, Cameron Mathison actually compared (quoting a fan) Ryan's relationship with Kendall to Sonny and Carly on GH (bonding over a baby they did not intend to have). "And the two become four." It is hard to tell whether there is enough room for Zach in the happy threesome of Ryan, Kendall and their baby, but spoilers on the net indicate that Zach may well be ready to love Kendall enough to let her go.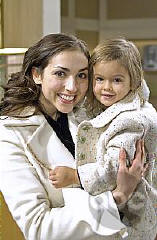 Finally we have a date on the return of St Bianca! Supposedly it is for the final moments of this Friday, December 16th, to last through the holidays. Although BAM (Bianca And Maggie) will get their long sought resolution, there will not be any on screen playing out of it as Elizabeth Hendrickson is NOT slated for a return, even temporary (which is a damned shame). Rumors say that Bianca might be the one to give Kendall a much needed kick in the pants where Zach is concerned. I prefer to think we are gearing up toward a climatic, running through the daisies (or along the beach is good too) ultimate union amid tears and kisses and professions of love (if that honor goes to Ryan and Julia instead of Zach and Kendall, I will absolutely kill myself with a Q-tip - I can do it too).
The trend of people who don't really like one another falling in love continues as a way of life on AMC: JR and Babe (each falling for the other), Aidan and Erin, Adam and Krystal (each falling for the other), Di and Tad, Zach and Kendall and now we hear rumors of an Amanda and Jamie reconnect, despite the premise of Amanda moving back into Jamie's house so he can keep an eye on her.
Sam lets hormones turn his bad side onto Lily as he goes too far with the touching and freaks her out. This is little more than the segue into the Lily and Jonathan connection and also a way to get rid of Sam by way of a ticket out to Mommyville, California.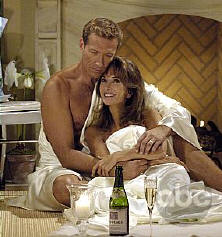 WHAT? Are Jack and Erica actually
going to get a love scene? How
can this possibly be??
I tend to be very fickle in my affections for characters or couples. Those who really piss me off one week are likely to be my favorites the next week. That is true across the board with the ABC soaps. I am quickly finding, however, that my disliked characters are remaining firm and strong on AMC.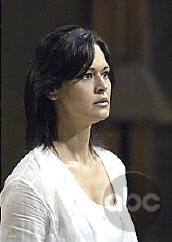 Can't stand Erica (and I waxed and waned on her for many years, but when NuKendall came to town, it really began to stick... when she went all showgirl while Bianca was going through the misery of losing her child, my hatred of her was carved in granite).

Liked Jonathan, but now I can't stand him. He's lying. I hate liars.

Never much liked Ryan, but now I really hate him.

Several characters I could not stand (and some actors in the bunch too) have left the show (with one slated for a brief return, sadly), but all of my soap hatred combined cannot equal my disdain for Julia. Dear lord, I hate that character. Loved "The Thorn Birds," hate, hate, hate, hate, HATE Julia.

A lot. From her bad clothes to her scrunched up, angry little face, to her unnecessary and over the top bravado to her constant reminding everyone of how much her life has sucked. I'm not even involved in the situation, but my life sucks because she's on my TV.

There are just way too many people I don't like on AMC these days.

I demand that they give me more Myrtle, more Zach, more Lily, more Reggie, more Dani (who is WHERE??), more Palmer & Adam, more Aidan, more NotDumbTad and more Opal to counteract all of the characters I hate that they are determined to spotlight. Balance!! LOOK INTO IT, ABC! Stop dodging my phone calls, fat cats!

Photos are from http://www.abcwebpix.com

OLTL Spoiler Commentary

Monday, December 12


Niki summons a lawyer, who demands that Clint release her;

I am completely impressed. For one thing, I never thought Niki took this whole thing seriously enough to get a lawyer involved and for another, I wasn't completely sure that Nikki knew how to use a phone book. Release her... where?

Clint produces Viki's letter, which ends Niki's stunt;

Viki had the foresight to write a letter? Go patrician lady, GO!

Antonio clashes with R.J.;

Same spoiler, different day.

Jessica tries to help Viki by letting Tess take over;

Maybe she and Niki can arm wrestle for it.

Natalie will never forgive John;

Oh yes she will.

Spencer toys with Paige.

Bringing an ugly visual into my head involving cats and doomed mice.

Tuesday, December 13
Rex agrees to help Todd when he learns that Margaret knew how to swim;

So let's figure this out. We watched Margaret flip over backwards into the drink in Todd's memory and we know she lied about her swimming abilities. It's hard to believe that Margaret killed herself to frame Todd, but it is not hard at all to believe that Spencer would kill Margaret to frame Todd. So I am guessing that Margaret jumped ship, swam to the shore (no water in her lungs), Spencer throttled her and threw her back into the water to be found later. Y'think?

Blair, Spencer and Kelly meet at the funeral;

Oh come on, I am positive that they've all known one another for a long time now. (Wait... what funeral?)

Adriana tells Rex that she is with Duke;

Is she? I lost track.

Kelly accepts Kevin's proposal;

She'd better make sure he's actually proposing and she should remember that as soon as a woman commits to Kevin, he instantly becomes disinterested in her and interested in any thing in a skirt with a pulse that isn't her.

Natalie rejects Cristian's explanations;

Good for her!

Nash leaves town.

Oooh! Bad for us!

Wednesday, December 14
Rex gives Todd proof that Margaret was a champion swimmer;

Proof is good, but does not an alibi make!

Star tells Blair the Christmas tree is cursed;

You know, I think anything around that family is likely cursed.

Blair calls Spencer for assistance;

Not a good move, Blair, but since when does Blair ever make a good move?

Nash calls Jessica;

Gone, but not forgotten!

Jessica persuades Niki to undergo hypnosis;

That's some true persuasion talent there! I'd love to see how that goes!

Kevin is subpoenaed to testify against Todd.

And he should have plenty to say!

Thursday, December 15
Todd tells Blair his theory about Margaret;

He's had plenty of time to think of one!

Spencer is keeping a secret about Margaret;

Like that he kilt her!

Jessica wants to be hypnotized;

Sigh. Don't we all?

Nash's past comes back to haunt him;

And whose kid is he?

John visits Cristian to discuss Natalie;

Those too make more excuses to be together than Natalie and John ever did.

Natalie makes a decision about her future.

Why do I not dare to hope it involves joining the Peace Corps?

Friday, December 16
Antonio gives in to Tess' demands;

Wuss

Todd finds a nasty surprise in his jail cell;

Blair's visiting?

Spencer recalls an encounter with Margaret;

In which he killed her? So transparent.

Blair shares Todd's theory with Spencer;

If Blair was any dumber we'd be using her to drive nails.

Michael plans to work on a fellowship program with Spencer;

Does he take him to a church social? Will the bring the green jello with shredded carrots?

Nora's condition is the same.

Sigh. Same spoiler, different day, but thanks for the updated (contract expires this month).

GH Spoiler Commentary

Monday, December 12


Sonny learns that Manny is in the hospital;

Something tells me he's not going to send flowers.

Manny takes Carly hostage;

Who hasn't?

Jason survives the surgery but Patrick fears there could be permanent damage;

Like there wasn't before?

Carly sees Emily confronting Sonny;

Good thing that did not say "comforting" I guess.

Tracy has Lulu arrested for stealing her money.

A very reasonable reaction for which I am sure she will be vilified.

Tuesday, December 13
Patrick warns Jason that his recovery must be taken slowly;

Obviously, he's never been to Miracle Hospital.

Carly tells Emily that Sonny would break her heart;

And Emily tells Carly her heart is NOT made of glass and is therefore, perfectly safe around Sonny.

Sam enlists Sonny, Emily and Carly to help cheer Jason;

If they stage a high school graduation, I'm gonna hurl.

Patrick has no desire to mend fences with Noah;

Good thing he's a surgeon and not a carpenter then.

Courtney becomes suspicious of Jax.

As usually, Courtney is a few months behind the game.

Wednesday, December 14
Lainey agrees to let Carly attend Diego's trial with her;

Proving herself a liar in saying, "I wouldn't take Carly to a dog fight."

Patrick does not believe Sam's claim that Jason is a hit man;

Does she give him the "FBI Agent," "Santa Claus," "Movie Star" story as well?

Emily confronts Jax;

She's just confronting the whole cast this week, isn't she?

Courtney and Nikolas have a paternity test done;

Did anyone tell them they have to go to a lab for that or are they going to wing it?

Georgie testifies that Diego threatened her life.

I'm guessing she's not testifying for the defense then?

Thursday, December 15
Jason confronts Emily with Carly's theory;

So Emily gets some confrontational payback, eh?

Nikolas realizes he has no right to question Emily's choices;

Did he manage to rub both of his brain cells together at once to spark that one on his own or did he get help?

Sonny makes a slip in front of Alcazar;

Now he's seamstress! Everyone is changing vocation this week!

Diego is skewered on the witness stand;

He didn't exactly endeavor to make friends or character witnesses lately.

Justus makes a fool of Lainey;

I'm thinking God already handled that one for Justus.

Robin clashes with Patrick.

Love is in the air...

Friday, December 16
Jason realizes Emily is lying about her feelings for Sonny;

And Emily likely does not.

Sonny makes a decision about Emily;

Break her like a pilsner glass, Sonny Bear!

Carly confesses to Jason;

"I still think you're hot and I can't get that condom ripping scene out of my head!"

The verdict is announced at Diego's trial;

Something tells me he is going to get community service working at the pizza joint.

Manny tries to escape;

Someone tell him about the rooms under the hospital!

Diego prevents a tragedy;

Like Ted King not renewing his contract?

Courtney tells Jax about the second test.

And tells him he'd better study for that blood test or he might fail it!

Much Love,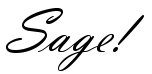 ---
Donate to keep
Sage & EOS
on the net!


---