---
March 31, 2006
I am saddened to report that Gloria Monty, former Executive Producer of General Hospital, lost her battle with cancer on March 30, 2006. During her tenure, GH received 5 nominations for Outstanding Daytime Drama Series and won the Emmy twice. She was single-handedly responsible for changing the face of daytime by introducing adventure-based storylines, as well debuting a new factor into daytime: the super couple, in the form of Luke and Laura, later to be followed by Frisco and Felicia and Robert and Holly. Her stamp remains on the historical and current state of soap operas and she will be greatly missed.
---
***Moment of silence***
---
In this week's Soaps In Depth, stars are asked, "What's the first thing you do when you come home from work?"
Ian Buchanan has a vodka martini.
Kristen Alderson gets online and chats with friends.
Catherine Hickland cuddles her animals.
Julia Barr kisses her dog.
Stuart Damon bonds with his wife and son.
John-Paul Lavoisier washes his face and watches TV.
Kimberly McCullough washes her face.
Connie Fletcher eats, but onscreen love, Aiden Turner, goes the other direction: to the gym.
Renee Goldsberry cuddles her dog.
Ryan Mathison plays with his son.
Kassie DePaiva washes her face.
---
AMC
The story of Greg Madden and Dixie's past begins to shape up as we learn that Dixie has actually been tracing Madden all over the world over the past several years, trying to find out what exactly happened to Baby Kate. When it's said that Dixie "lost the baby," it's not meant as the traditional miscarriage euphemism. She literally LOST the baby, as in she woke up and Kate was gone, under Madden's watch.
Cady McClain is reported as saying, "[Dixie and Madden] made a pact never to reveal what they did, and if either of them breaks that pact, it could be very dangerous for both of them." How that fits into the idea presented in spoilers that Madden took Dixie's baby and she has been looking for him to get her back is something I don't know.
Fans are not the only ones protesting the lack of airtime for Simone since Ethan's death. Many of us eagerly awaited seeing Terri Ivens get the opportunity to bite into some meaty material as Simone grieved her beloved fiancÚ, only to be denied seeing her at all! Rumors are rampant that if their characters are not taken out of the boxes in which they have become entrenched, both Ivens and fan favorite, Thorsten Kaye will be passing on contract renewal. Kaye misses living in LA and has an interest in returning to a west coast soap (like GH) while Ivens also has also voiced an interest in going West. She currently has homes in both California and New York.
When asked who he thinks Ryan should be paired with, alter-ego Cameron Mathison immediately discounts Kendall as a prospect. "Why would anyone be Ryan/Kendall now? It's been over two years." Um, was he there when they were tongue kissing and she was begging him to take her to bed? He suggested Julia, Simone or Di, but assures us that Amanda is too young for Ryan. Guess he hasn't talked to Maurice lately. :)
Spoilers for next week:
Dixie gives Zach the story of why she blames Greg Madden for Kate's disappearance. Coupled with info he already has, this gives Zach plenty of incentive to shake Kendall from her bizarre attachment to Dr Madden.
David gloats to Di that Dixie is staying in town to be with him. Di doesn't buy it and goes to Dixie for answers, who say she can't tell her sister why she's staying. Di informs Dixie of her engagement to Tad, which leaves Dixie shaken.
Di is worried herself and considers telling Tad the truth to prevent possible future damage to their relationship when Dixie's secret is revealed. Dixie is nearly discovered by Tad for the 47th time.
Zach and Dixie are surprised to watch Dr Madden collapse on TV following Erica's most recent poisoning efforts. Dixie panics, knowing that if Madden dies, she might never find Kate.
Ryan and Kendall continue to fight over who will raise their son. Zach shocks them both by siding with Ryan. Kendall rejects both of their opinions and decides to put the baby up for adoption, much to Dr Madden's delight. (Is this a regionally legislated issue? I thought if a DNA proven father wishes to block an adoption and raise the child himself, he was legally entitled to do so)
Kendall, feeling guilty about her lack of maternal feelings, continues to be irritated by Babe's insistence on bringing Little Adam to Fusion while she works (I'd be irritated just on principle, personally). Meanwhile, Ryan declares to Kendall, Madden and Jack that he absolutely will be raising his child on his own and if Kendall chooses to participate, she's welcome to do so. Jonathan and Lily inadvertently twist the maternal knife for Kendall with a surprise that is badly timed. Kendall finally breaks down.
Madden has his hand in other places as well (bad wording when talking about an OB/GYN doctor, I guess) and manipulates Julia into questioning her own motives for wanting to be a mother. Personally, I think he just wants to see her cry.
Josh begins to get a clue and figures out that Erica is somehow behind his father's sudden onset of health problems. Erica is stunned when Joe informs her that Jeff is coming back. She over-reacts to seeing arguments between Jamie and Josh and Jack and Josh. Zach starts to wonder what Erica is up to with Madden.
Coming up:
Erica confesses to Ryan
Zach confronts Madden.
David tries to convince Dixie that they should be together (again).
Ryan and Zach finally compare notes and join forces against Madden.
Zach and Dixie work together to find Kate and are the ones to discover the weird island where Madden sends Kendall.
Lily runs away from home and winds up in deep trouble when a nice man she meets isn't really so nice.
---
OLTL
Yes, Nora is awake! In an interview in Soap Opera Weekly, Hillary B. Smith tells us that she did not watch OLTL while she was not taping, saying, "To be perfectly honest, it was painful because no one ever spoke about Nora. Nobody went to see her. So I thought, 'You know what? I can't watch this.' It was a little sad."
Smith feels that her own lack of knowledge of current story lines will be well reflected in the time Nora has missed while being in a coma. She will catch up with everything as Nora does.
When asked what she thinks is coming up for Nora, she quipped, "I'm hoping I'll have psychological problems and they'll have to bring Scott Bryce [Dr Crosby] into my bedroom. Wouldn't that be fun?" Bryce portrayed Smith's onscreen brother for 6 1/2 years on ATWT and guest starred on Smith's sitcom, "Something Wilder."
Smith has an option to leave OLTL at the end of a year. Although at this time, Nora is unable to speak, Matthew talks to her a good bit and when he leaves, we see her shed a single tear. Awwwwww.
ATWT is adamantly denying rumors that ex-Todd Roger Howarth will be leaving the shows this summer, bringing the real Todd back to OLTL and revealing Trevor St. John to actually be Walker Laurence. OLTL has no comment.
Speaking to Soap Opera Digest in its March 28 edition, Tuc Watkins says that he is friends with both Nathan Fillion (ex-Joey) and Roger Howarth (ex-Todd). *sigh* How I would love to be the chips and beer fetcher at that poker party.
Like so many others, I am quite a Tess fan and now that she is going into re-integration therapy, I have been a bit nervous about the likelihood that she would be diluted by the resulting Jessica overspill. Supposedly, not to worry. Head Writer, Dena Higley, states that she is, "very protective of Tess" and continues, "There's an idea in the works that would allow us to never lose [the character]... I think it's pivotally important that Tess remain in some form." (Hurray!)
Natalie will be involved with a "shady character from John's past," Vincent Jones, played by Tobias Truvillion. Truvillion was given a contract right away and is well liked by highers up. He will be helping Natalie with her investigation into Thomas McBain's death.
Spoilers for next week:
Tess and Nash destroy the tape, then realize there is a copy. When they see Clint, Viki, Antonio, Dr Jamison and Dr Crosby, they know it is time to begin the integration process. The couple has an emotional possible good-bye, then Tess undergoes hypnosis. As Tess begins to remember the events that caused her creation, Jessica has something to tell her.
David and Todd team up to take Spencer down. David has to do most of the dirty work since Todd is forced to lay low. He finds something unexpected in Spencer's office and also works to try and instill doubts in Blair about Spencer. Blair's desire to keep her relationship with Spencer a secret from her kids is derailed when Starr walks in on the two of them half-dressed.
Michael finally gets on board with John's quest to find their father's killer. They locate Dr. Snyder, played by Terry Layman (April 4th), who they believe to be the drunken doctor who operated on Thomas McBain, a crime to which he admits. Still, John has a strong hunch that something is amiss and that there is more to the situation than appears to be.
Cristian's injury leaves him unable to paint. He has words of encouragement for Evangeline. Lindsay is deeply moved when Marcie asks her to be her maid of honor. Marcie and Michael set a wedding date.
---
GH
For those who were wondering, there is no immediate plan in place to recast Mickey on DOOL after John Ingle's departure to return to GH as Edward. SOD says Ingle is slated to begin taping in his previous role as the Quartermaine patriarch in mid-April, but SID says he is already taping and will actually begin airing around that time (one of them has crossed wires). DOOL folks were very gracious about his departure, saying, "[We] know that a big part of his heart and history is with General Hospital... he will truly be missed." As far as Jed Allan, he has just faded away and was not called back to tape any scenes before bringing Ingle back. This time, GH was taking no chances and signed my favorite silver-haired darlin to a four-year contract. I am so very eager to see him on screen!
Rumors persist that Ingo Rademacher is getting restless and looking for a break from GH when his contract expires the end of May. The counter to that is the tidbit that as soon as Laura Wright moved in as Carly, Rademacher made it plainly known that he wanted to be paired with her. The writers accommodated him and that could be sufficient to get him to stay if the storyline continues to flourish.
Tyler Christopher's continuance on the show is up in the air now that he has landed a role on the ABC pilot, "Secrets of a Small Town," yet another project from GH co-Head Writer, Charles Pratt. His last endeavor was a modest little project called "Desperate Housewives." Christopher is specific that the one thing that determines whether or not he leaves GH is how well ABC embraces the pilot. If it is picked up for the fall lineup, he's gone. "It's that simple," he says. He received no special gratuities for his prior history with Pratt when he auditioned for the part.
Last minute changes sometimes send spoilers askew. One such change was that early reports had Nikolas coming into Courtney's funeral drunk to rake everyone out. At the time of taping, it was decided that there would be a stronger impact if Nikolas took the mourners to task while stone sober, rather than having his actions blamed on alcohol. Says Tyler Christopher, "If he were saying the same words in [a drunken] state, people would have taken him less seriously." The change, he says, "Left everyone with a taste of truth in their mouths." Christopher cites the scene as one of the longest monologues he's ever done coming in at three pages.
Did you hear that Kelly Monaco will be pairing up with her ex-Dancing With the Stars host, Tom Bergeron to host the Daytime Emmy Awards? The awards are dished out on Friday, April 28.
What was the nature of Ted King's abrupt throat surgery? Blame it on Katrina. No, not my sweet boss lady, but the hurricane. Remember the interstitial moments of Ted King, Kelly Monaco, Robin Strasser, Jacob Young and others frolicking in New Orleans, throwing Mardi Gras beads and celebrating in fund-raiser bliss? That was when he contracted "Katrina Cough," a respiratory ailment caused by exposure to mold, fungi, dirt, etc kicked up by the city's reconstruction efforts. As a result, he had to be rushed into emergency surgery when he became unable to breathe. ABC learned that Jay Pickett was available and snagged him as the temporary replacement. Fortunately, King returned to work quickly and Pickett only ended up taping for a couple of days.
OLTL fans will remember (or not) Darlene Vogel as Melanie, Lindsay's sister who was involved with Bo. According to SOD, her stint as Ric's ex-girlfriend, Claire, impressed GH execs so much that they are considering bringing her back in an expanded role to run interference between Ric and Alexis. Since Melanie was one of my least favorite OLTL characters, my enthusiasm about the idea of Vogel coming to GH is underwhelming. Perhaps she can wow me in the guise of a different character, but after watching her as Melanie, I never wanted to eat vanilla ice cream ever again.
One thing you can count on from the Sonny and Emily pairing is no more babies. Rumor has it that Maurice Benard has it stipulated in his contract that Sonny will procreate no more (Do they have baby clauses? Ha!). In a recent interview he said, "He can't have another kid. We're done with that completely!" Have they actually subdued the magic penis?
Want to know more about Kim McCullough and Rick *sigh* Springfield? Watch Soapography on SoapNet tomorrow (Saturday, April 1).
That's Jack Donner playing the uber-creepy Alfred The Wyndemere Butler. If he looks familiar, it's because he has appeared in about 87,000 different TV shows over the years. Click on his name to see.
Tristan Rogers is reported to be showing up in Port Charles again in late April, early May. GH has also confirmed that Emma Samms will be returning in May sweeps to temporarily reprise her role of Holly Sutton.
I have to agree with Carolyn Hinsey who, in a recent edition of Soap Opera Digest gave the following conversation high praise:
(At Courtney's memorial service)
Carly: "What are you doing here?"
Coleman: "Paying my respects."
Carly: "Since when did you respect Courtney?"
Coleman: "Since the day I met her."
I love Coleman. *sigh*
Things you may not know about Julie Berman (Lulu): She has appeared in more than 100 commercials, starting at age 6. She is a Scorpio. She was obsessed with the movie The Princess Bride as a child and would perform scenes from it routinely. She juggles her heavy work load at GH with a full load of college classes at the University of Southern California, where she majors in Cinema-Television. She graduates in May. She has never, ever done a love scene and is very nervous at the prospect.
Things you may not know about Lulu Spencer: Had she not been SORAS'd, she would be 12. Six actresses have played Lulu.
Loved it while it lasted! Head Writer Bob Guza nixed the notion that Frisco might return, firmly stating that "there are NO PLANS to bring back ANY more legacy kinds of characters." He cites the already bursting at the seams cast list saying, "We can never do justice to all of them as it is." I definitely agree, especially without cutting into Sonny's air time. (Yes, there was snark there).
Guza also tells us that Lucas will be having a love interest, "probably not with someone on the canvas right now unless we use the guy we just started, which is Guy." Nicholas DeNardo (Guy) was immediately tapped as a fan favorite when he came to Georgie's rescue in 2004 and recently resurfaced as Lucas' gay storyline emerged in January. With any luck, we can keep him around for a while this time.
Spoilers for next week:
Sounds like Jason turns his back on both Emily and Sonny next week. A media blitz surrounds Jason being arrested for murder when he shoots a hit man who was taking aim at Sonny. Reporters and photographers descend on Emily and Sonny as they leave the police station, demanding to know if Emily is his mistress. Morgan and Michael, as well as the Quartermaines, see it all on TV. Both Emily and Sonny are determined to force Jason into understanding how they feel, but when they refuse to stop seeing one another, Jason cuts them out of his life.
Watch for Big Daddy John to actually get some air time during the above skirmish.
Sonny confides to Carly that he thinks it's too late to make things right with Jason.
Robin and Patrick learn that Jesse's liver is not a match for Noah. Robin, Patrick and Epiphany risk their careers to perform a life threatening live liver transplant to save Noah. Robin saves Patrick's life when things go bad during his surgery.
It's not pretty when Manny tells Luke that Lorenzo switched medical charts and nearly cost Lulu her life. When Elizabeth confirms what Manny has told him, Luke is loaded for bear. Skye steps in to stop Luke from killing Lorenzo. Later, Lorenzo makes a promise to Skye, but can he keep it?
Lucky is so distraught over Jesse's death that the turns in his badge to Mac. When he expresses second thoughts, Elizabeth encourages him to ask for his job back. Lucky has a newfound determination to put Manny behind bars and Elizabeth finds herself in grave danger.
The week of April 10th, Carly learns the secret Jax is keeping.
That's all the gossip, news and spoilers for this week. Have a wonderful weekend.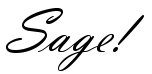 Sources include ABC Soaps In Depth, Soap Opera Digest and Soap Opera Weekly.
---
Donate to keep
Sage & EOS
on the net!



---
Archived Columns