Are you the person Soapbabie is seeking out? A recent computer problem caused her to lose her emails and addresses. She had been corresponding with a woman who lived near her and was also experienced with meditation. If you are that person, please write to her at soapbabie@aol.com. She is eager to reconnect with you!

7/24 - Katrina's Journal
By Katrina Rasbold - Off Topic
Life goes on...
7/24 - The Gourmez - GH
By my count, Jason has been arrested three times this week in relation to the death of Logan Hayes. Even I, with my PCPD defending ways, have to admit thatís a tad excessive. I bet they have a Warrant Maker 2000 down at the station with Jasonís name preprinted on the labels. Just enter the date and a reason for the arrest, press the button, and presto! A new warrant spits out in a flash.

7/24 - Each Day A New Beginning
By Maxine Bennett - Off Topic
Maxine shares memories from her recent trip to the GHFCW.
Oh, I'm loving this: Annie's little pregnancy ploy blew up right in her face! Since Ryan knows he didn't have his vasectomy reversed, he logically assumed that Annie got knocked up elsewhere! Too late to inform hubby that the procedure was never done in the first place!

7/24 - A Guest Column - GH
By Linda
Linda gives us another wonderful column, this time about the surprises on GH.

7/21 - Mysti's Musings

By Mysti - OLTL
Hey yaíll! Remember me? Sorry I havenít been around as much lately Ė darn life disrupting my soap watching time. But thanks to YouTube, Iím all caught up with GH and OLTL, and working my way through AMC. And of the three, I have to say, One Life to Live has found what works.

Kathy shares with us her experiences during the GH Fan Club Weekend...

7/21 - CC's Soap Saloon
By Cindy Devine - AMC, GH & OLTL

I get that Guza doesn't seem to give a flying fig for CHARACTER driven storylines, HOWEVER... this drivel with Lulu and Johnny and Maxie (by extension) has so many plot holes you could drive several semi-trucks through them - side by side!!!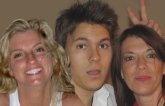 7/21 - Kathy & Carolyn Do the GH & OLTL Spoilers
By Kathy Hardeman
Kathy & Carolyn give their take on the latest GH and OLTL spoilers with her razor sharp commentary. NOTE: Just Kathy this week! Carolyn is out of town.

7/
21
- Kate's AMC Spoilers & Commentary
By Kate Roach Brown
Kate gives us
her cynical commentary on what happened on AMC last week and her spoilers covering what will happen in the next week.
Click here to read Kate's OLTL and GH spoiler commentary as she fills in for Kathy and Caroline this week.
My apologies to the fans of the Media Ho! She got her column in on time, but I was unable to get it posted yesterday. Our Media Ho is on the road this week, but she has provided us with a "Best of the Media Ho" column in her absence. Enjoy!

7/16 - Soapbabie!! - OLTL
By Soapbabie!!
Soapbabie looks back on happy memories with OLTL.

7/16 - View From the Recliner's Edge
By The Daytime Diva, Belinda Ache - AMC, GH & OLTL
Perhaps my problem last week was that I watched One Life to Live and then I watched General Hospital? This week I decided to watch each show one at a time so that the comparisons to each other would be minimized. I know that here at Eye On Soaps we try very hard to be positive and that last week, as pertains to General Hospital; I really channeled my inner Tyra Banks

7/7 - Spoiled Rotten
AMC
, GH and OLTL spoilers for the week of July 7th.

7/3 - As Easy As ABC
By Katrina Rasbold - GH, OLTL & AMC
Give me those daytime drama lies! - very minorly spoilerish about stuff already hinted about on the shows.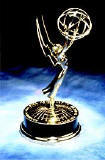 The 35th Annual Daytime Emmy Awards
By Kate Roach Brown
It has become an EOS tradition and one we anticipate even more than the actual awards ceremony: Kate's coverage of the Daytime Emmy Awards.
Kate's AMC Spoiler Commentary will return next week.

6/24 -
≤
10 (Less Than or Equal to 10)
By Katrina Rasbold - Off Topic
A different kind of weight loss journal.

6/20 - The Screen Queen
By Katrina Rasbold - Off Topic
Reviews of shows on screens large & small...

6/3 - Each Day A New Beginning
By Maxine Bennett - Off Topic
Maxine works on the concept of forgiveness.

6/2- Sherry's Jubilee
By Sherry Mercurio - Off Topic
Frustration. Frustrated. ŖMe. I swear I want to write more often! There are several problems, the first being that I sort of freeze on topics nowadays. I very often stay awake half the night thinking about something that I know Iíd feel better about if I just got up and wrote outÖbut then I start thinking that it probably wonít be that interesting.