---
This week's spoilers used for commentary are compliments of our friends over at SOAPTOWN USA
---
January 9
, 2006
Last Day!
Tonight, the expenses for Eye on Soaps will be deducted and we are depending on you to help us continue bringing you the best ABC Daytime Drama commentary, as well as our off topic columns, on the internet! This week, I will be brining you up to date on "The Head" and I want to be around to do it! I can do that with your help and can't do it without your help! My donation has been sent. Has yours?
Donate HERE, darlings.
by clicking on this button:



or click here for other options
---
AMC
I started this part of the column a few times before I realized that this week in particular, I have to acquiesce to the expert, My Beloved Kate Brown, who has turned in a brilliant column this week. She now, at last, has archived versions of her old columns available. If you want to give yourself a wonderful and very personal gift, get a delicious hot beverage, unplug the phone, turn off the TV and settle yourself down for a lovely few hours of brilliant and wry reading. You'll be glad you did. Kate is simply the best. You can find her here: AMC Spoilers With Commentary.
---
OLTL
---
Monday, January 9

Todd's case appears to be in bad shape as Hugh questions several witnesses;
If Todd's case is in bad shape after the prosecution runs through just a couple of witnesses, I'd say he's pretty well screwed.
Viki is forced to testify for the prosecution;
And a fine job she did of testifying for the defense while she was testifying for the prosecution! Viki is nothing if not a master of words.
Bo threatens to suspend John unless he cooperates with the psychologist;
I love the Gruff Bo persona. I just wish he'd used some tough love on Anger Boy Antonio when he was throwing things around and punching up the station house. John is definitely tame by those standards.
Kevin learns the virus could render him sterile.
Now if it left him impotent, THERE would be a story.
Tuesday, January 10
Blair defends Spencer;
That is because Blair is stupid, but I know that is no big surprise to you folks.
Denton tries to blackmail Todd;
I wonder if HE will end up floating in Llantano River with whatever was previously inside of him now outside of him.
Viki accepts Evangeline's heartfelt apology;
With any luck, Viki will understand the "had to be done" reasoning.
Bo and Clint believe that Asa is hiding something;
And I believe that they are right.
David assures Paige he will keep her secret;
David is fast becoming the most eligible bachelor on the planet, much less in Llanview. Now it appears he has won the position of "confidante."
Clint has a date with Dorian.
I hope he brought the brass ones with him.
Wednesday, January 11
Blair confronts Todd with her fears;
That she's on a one note, repeating merry-go-round playing the same scenes, over and over and over, gradually being written to be more and more brainless?
Todd begs Blair not to abandon him;
At least she'll know where to find him if she changes her mind.
Natalie faces off with Tess;
Oh that should be a hoot?
Nash tells Clint about an incident with Claudia;
I had to stop and remember who Claudia is. I find it fascinating that Antonio is lauding this restraining order over Nash as though it is really something when most of Llanview is scared to death that Anotonio will beat them to death if they breathe wrong.
Natalie warns Evangeline;
Speaking of a hoot. I hope Evangeline has her big girl panties on that day.
Clint puts Dorian in her place and abruptly ends their date.
Dorian's hand must have drifted to his thigh!
Thursday, January 12
Cristian's future looks bleak;
Maybe he'd rather be back in Statesville as Carlo's bitch.
Cristian turns down Rex's offer;
To be HIS bitch?
Adriana helps Rex;
To be HER bitch?
Evangeline breaks down in John's arms;
Well, if you gotta break down, aim for the best place!
Viki is distressed to learn of Nash's past;
Doesn't she see that he will fit into the in-law pool very nicely?
Tess begins the process to learn the baby's paternity;
Does anyone else thing Tess is being much more responsible than is Jessica?
Duke hires Layla.
To be HIS bitch? (What can I say, I'm on a roll)
Friday, January 13
Nash tells Tess the truth about his past;
It takes him
four days?
Natalie unleashes her anger at John but he fights back;
What? Someone actually stands up to Natalie rather than just being her bitch?
Evangeline urges Cristian to channel his anger into art;
"Draw skeery, angry, black things!"
Cristian doubts whether he can paint without Natalie in his life;
Because heaven knows that he never lifted a brush before he met her.
Rex and Adriana begin to make up.
Good! Who knew Adriana was so adept with a yo-yo?
---
GH
---
Monday, January 9


Carly and Patrick mislead Robin, who warns Patrick against Carly;

That should make Carly damned near irresitible.

Sonny tries to let Emily down gently;

And uses small words...

Nikolas runs into Emily;

Any chance he's in a tank at the time?

Sam asks Alexis to stop defending Manny;

That was 'asking?'" Sounded like whining and demanding to me.!

Courtney tells Jax that she is aware he doctored the results of the test.

Good ol' Dr Meadows comes through in a banged up, run over pinch!

Tuesday, January 10


Ric and Alexis keep Jason from killing Manny;

Well, someone get that whole family fitted up with "Incredibles" costumes!

Jason tells Sonny it is possible that Manny could have changed;

Or not...

Manny asks Carly to forgive him;

Personally, I think they would make a great couple!

Nikolas tells Courtney to choose between him and Jax;

Does he start a stopwatch and say "Go!" after his demand?

Patrick and Emily agree to go on a date.

She just loves those bad boys, doesn't she?

Wednesday, January 11


Sam determines not to live in fear of Manny;

Good luck with that one, Chickie.

Jesse tells Alexis he thought Jason was going to kill Manny;

Oh yeah, he's reliable.

Alexis has Jason arrested;

Because Jesse had a "thought?"

Jax wants to force Carly out of their partnership;

Since he has nothing else to do now, I guess.

Nikolas and Patrick brawl;

Since they have nothing else to do now, I guess. (Nikolas? Patrick? Have they MET?)

Emily receives flowers from Sonny.

Way to dissuade her, dumbass.

Thursday, January 12




Justus gets Jason released from jail;

He is just so handy, isn't he?

Alexis shakes Sam's confidence about her future with Jason;

That's quite a shake!

Sonny threatens Patrick and warns him not to hurt Emily;

Since he has been in town for longer than 10 minutes, it is definitely time for him to have a scene with Sonny.

Carly clashes with Alexis;

Same spoiler, different day.

Luke sets out to make Tracy think that he is trying to kill her.

Any spoiler with those two names involved makes me vewwy happy.

Friday, January 13




Emily accuses Sonny of sending her mixed messages;

Well what do you know? Emily got that one right!

Emily asks Jason not to interfere in her personal life;

Did she have some kind of moment of clarity or something?

Sonny tells Emily how he feels about her;

This could get ugly, I'm thinking.

Sam is uncertain whether she and Jason should have children;

Every good hitman for the mob and his moll should have a whole passel of porch monkeys! Start those ovaries cranking, my little dancing queen!

Nikolas has a question for Courtney.

"Who would win in a fight between Sonny and Spiderman?" (Since by now we will already know who will win in a fight between Patrick and Nikolas. Perhaps the better question would be, "WHO WILL WIN IN A FIGHT BETWEEN SONNY AND ROBERT FRICKIN SCORPIO!!" Booolah!!

So I am trying out this new page design. I get bored easily, what can I say? Let me know if any of you have it imposing on the text or anything.

Meanwhile, much, much love and I'll be back around with an off topic later in the week. Right now, Daddy is going back to bed to rest his owie head.

Peace Out,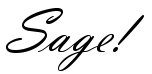 ---
Donate to keep
Sage & EOS
on the net!



Spoiler commentary from:
---
2005
Dec 26, 2005 - No column
Sage's Old Page
(no longer updated)
Main Banner Photos are from here
---