---
April 8, 2006
- MONDAY IS OUR LAST DAY! -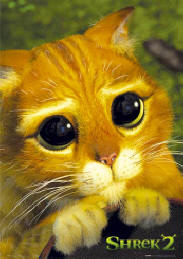 C'mon... did you donate to Eye on Soaps yet this month? A lot of our fans do not realize that we need their help EVERY month to remain on the net! We provide the talent, motivation and hours of work necessary to bring you this marvelous site full of different voices of commentary, voting polls, games, spoilers and news. We depend on our readers to carry the financial part of keeping us up and running.
Look at the archives at the bottom of this page! In the past month, I have been coming to you TWICE a week instead of once with a whole new column of ABC news and gossip in addition to the usual Spoiler Party of spoiler commentary! You've had tons of marvelous Muse Writer (guest writers) commentary, plus the opportunity to be a muse writer yourself! Officer Dayna came back! Myra came back! Sherry came back with off topic commentary! The Eye on Prime Time column has been buzzing. You got a round table Emmy column!
You asked for voting polls and games and they have been added! We're pulling out all the stops to give you the content you want and many of the staff members also contribute to the expense fund of the site.
You can let us know you like what we do and appreciate the energy that goes into this site by contributing to its monthly expenses below. Our web hosting payment is deducted Monday night and we know that with your help, we can make our monthly goal! MY contribution has been sent. Has yours?
Click here for credit card
& PayPal donations:
or click here for
other options

Thanks in advance!
---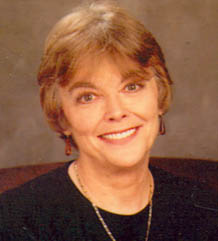 Congratulations to those who correctly identified the GH Superstar (in truth she is also a OLTL Superstar, but on ABC, is best known for her GH work) in this week's Spoiler Party photo spread.

Good guesses abounded (more than one guessed Rachel Ames - Audrey Hardy), but this is actually a photo of the greatest General Hospital Head Writer ever, Claire Labine.

Claire Labine began her professional career in 1966 as staff writer for the Captain Kangaroo show. She became a scriptwriter for the CBS soap "Where the Heart Is," then with Paul Avila Mayer (head writer for "Where the Heart Is") subsequently wrote for CBS' "Love of Life." Labine and Mayer created, produced, and wrote for CBS the multi-award winning serial "Ryan's Hope" through its first five years and Labine served the show in various capacities in the years following. During that period, she also taught the ABC Writer's Development Program, and in its final two years, returned to RH as head-writer with Eleanor Labine Mancusi and then with Matthew Labine. She wrote multiple movies of the week for ABC, NBC and CBS.

In 1993 she returned to daytime television as head writer of GH. During her three-year tenure, the show won the Emmy for Best Daytime Serial. The writing team was awarded two Emmys and two Writers Guild Awards. Subsequently, she was head writer with Matthew Labine on OLTL and CBS' GL.

Labine has ten Emmys and thirteen Writers Guild Awards for her work in daytime television. She served on the WGA East Council for nineteen years with 3 terms as Vice President and is a recipient of the Jablow Award for devoted service to the Guild.

Here tenure on GH is lauded as the best years the soap has ever seen, including Brenda and Sonny, Lucy and Kevin, "BJ's Heart," Monica's Breast Cancer, Lois and Ned, and many other quality stories. Examples of her work are listed here.

---
AMC
---
Rumors were buzzing about a possible departure for Jacob Young now that he has debuted in a 10 week run of "Beauty and the Beast" on Broadway as Lumiere, the talking candlestick. He puts those concerns to rest by assuring his fans that his AMC schedule will in no way be compromised. He does admit that his contract expires soon and he isn't sure what negotiations will bring.
Watch for Natalia Cigliuti to quietly leave the role of Anita on Wednesday, the 12th. She will be appearing in the CBS pilot "Waterfront," starring Joe Pantoliano and Mary Stuart Masterson. The character is not being written off, but will just faaaaaade awaaaaaay.
Sadly, Tanisha Lynn (Dani) and Michael B. Jordan (Reggie) have both been released from contracts and bumped to recurring.
Eden Riegel will return to Pine Valley for May sweeps as Bianca returns to help Kendall through a difficult time regarding her baby. Riegel's stay is slated as 2 weeks, but is optioned to extend if the storyline dictates.
Greg is down, but he's not out. All of Josh's concerted (and onscreen onscreen) efforts to save his father are successful. Josh orders a tox screen on Greg and confirms that he was drugged. When he confronts Greg about it and suggests that Erica is behind it, his father balks, saying that he has been self-medicating. Meanwhile, Ryan has the pieces fall into place and confronts Erica. When she does confess, he tries to get her to stop the murder train for the sake of her family. Later, Jack suspects Erica is up to something. Greg privately accuses Erica and they beat around the bush for a while before Erica tips her hand and lets him know that she is aware of Josh's parentage. When she tries to blackmail Greg, he turns the tables and tells her to go ahead... and he will expose her as the person who attempted to murder him.
Janet continues to run interference between Babe and JR by text messaging JR, telling him that Babe only married him to get custody of little Raphael. Or was it Donatello? One of the Ninja turtles. Fortunately, this time JR doesn't immediately throw the phone and put out a contract on Babe. Instead, they have a nice picnic. When he tells her what happened, she admits that she told Janet that very thing when she was being held captive, but that it was a lie to lure Janet into a false sense of security. They two end up even closer.
Krystal promises Adam... a baby!
Janet doesn't let up and texts JR again. This time, he goes to Krystal for answers. Krystal tries to ease his concerns and reminds him that Janet is crazy.
Will the Chandlers be re-enacting "Father of the Bride II?" Adam suggests to JR that he and Babe (JR, not Adam) should have another baby. JR asks Babe if they can have another child right away. She realizes that he is testing her and calls him on it, saying that there's no need to do so. His fears allayed, they hop into bed.
Jack forbids Lily from seeing Jonathan, so she runs to Aidan's loft. Erin and Aidan both try to explain things to Lily and Jonathan. Lily does go home, but freezes her father out.
Simone and Zach connect over the loss of Ethan.
More outrage at the Fusion offices when Kendall has a fit over Simone and Babe hiring Erin.
Feeling he no longer has a choice to do otherwise, Ryan takes legal action to get custody of the baby when he's born. He and Zach agree to join forces to keep Madden from inappropriately influencing Kendall. Jack promises Kendall that he will help her fight Ryan's baby coup.
Tad rushes over to David's cabin, thinking he is the one who provided the drug Erica used to poison Greg Madden. At the same time, David has prepared a romantic dinner to surprise Dixie, who rejects him. David declares his constant love for her, bearing his soul. Just as Dixie is beginning to soften to David's admission of love, Tad shows up. When Tad sees them, of course he is stunned. David tries to convince Tad that he's hallucinating, in what is supposedly a very, very funny scene. We will be treated to a series of flashbacks as Dixie and Tad see one another. Quips Michael E. Knight, "I've been delivering monologues to that freakin' Christmas star for nothing! Turns out I've been talking to the 11 o'clock flight to Phoenix for the last four years!" (SOD)
The Week of April 17th
Tad has more stunning revelations when he learns that his daughter is alive somewhere and that Di knew Dixie is alive.
Kendall goes to the Island of Dr Madden, populated with pregnant women about to give their babies up for adoption.
---
OLTL
---
Don't look for a miracle recovery for Nora. It's going to continue to dragggg out has it has been so far. Blame it on May sweeps. Basically, things didn't get moving fast enough and more pressing, front burner stories are going to be in focus. Supposedly, an act of God is going to turn the town upside down and Head Writer Dena Higley tells us, "Her pride is going to be a little bit compromised." I imagine it's Hillary B. Smith's pride that is taking a beating while Nora is flat on her back in a coma.
Keri Butler returns to OLTL as Claudia Ralston on April 18th in a contract status. Watch for a lot of chemistry tests to be passed or failed as she is pitted against (and with) several Llanview citizens. They just aren't quite sure what to do with her yet.
Speaking of contracts, there is fear and apprehension that Tuc Watkins will be leaving when his contract expires in August. Word is he is eager to return to LA (who can blame him) and get back into prime time guest shots. Noooooooo!
Although it was mentioned that Timothy D. Stickney signed a contract, that appears to be false. In fact, it is now being said that he taped his last show more than 3 week ago (sorry, Katrina! I thought it was accurate!). Stickney's contract expired in February and renewal was just never discussed.
Rumors are flying that Matthew Metzger is leaving the show in May and that Duke will be written off in a "dramatic fashion."
Tess gets some surprising news when she learns that her baby could come sooner than expected. When she finally gives in to the stress that has been prevalent for so long and breaks down, Viki is there to comfort her.
Evangeline breaks down and admits to Cris that she still loves John. Cris comforts her and advises that she take time for herself and no one else.
Cristian and Natalie are finally coming to an end, at least for now. After telling Cris until she is blue in the face that they are over, Natalie is taken aback when Cris cuts her loose this week and acknowledges the end of their marriage. There is talk of him moving on with Evangeline and Natalie will not be comfortable with that idea at all, even though the road is clear for her to move forward with John once his demons are bested.
Todd is recaptured when Bo allows him to surrender to John. Bo is extremely disappointed to learn of Rex's involvement in helping Todd and tells his young protégé that he can no longer trust him. Things get even worse for Rex when Adriana breaks up with him for keeping the secret from her that he was helping Todd.
Starr speaks out about her mother and Spencer, not only by blasting Blair, but by confirming to Todd that the two are lovers..
Margaret turns up alive and well. I guess Thailand didn't agree with her (or vice versa). Spencer threatens Paige and tells her that Bo had better stop asking questions about Margaret or else!
Blair gives Todd a piece of her mind (not one she can spare, either) when he accuses Spencer of murdering Margaret and her baby.
Paige feels the pressure of the secrets she is keeping.
Marcie and Lindsay go bridal dress shopping.
John comes face to face with the father of a junkie he killed.
Natalie and Roxie go to Atlantic City to meet up with a new contract character named Vincent Marlow (played by Tobias Truvillion). Vincent is not at all what Natalie expects and he ends up giving her very little information.
Spencer is up to something and is going to use Michael's devotion to further his agenda.
Evangeline and Todd, both frustrated over the turns their lives have taken, take out their frustration on each other.
Kelly learns that Kevin's sterility is irreversible. Duke admits to Kelly that he is in love with her and Kevin overhears and goes on a drinking binge.
---
GH
---
Did you wonder what reels were submitted for Emmy consideration? Maurice Benard, who was originally not going to submit anything at all because he was unhappy with what he had to offer, turned in Sonny confessing to AJ's murder and Sonny trying to convince Carly that she needs professional psychological help. Benard's wife, Paula, convinced him to press forward.
Anthony Geary submitted Luke singing to a comatose Lucky and Luke begging Lucky to come out of the coma before he pulls the plug.
Tyler Christopher submitted the rape of Emily (as Connor Bishop) and the scene where Emily tells Nikolas she no longer loves him.
GH itself submitted for Outstanding Drama Series scenes around the train wreck.
Steve Burton is taking time off the show (2 weeks) to be with his wife and newborn son. Thanks to the glory of pre-taping, there will be no disruption in Jason scenes.
There is a huge controversy about whether Ingo Rademacher is staying or going. News that GH is looking for "Hugo," a 30-something sexy guy with an Australian accent, set the rumor mill in motion. (Rademacher's contract expired last fall). Todd Tanguay, Rademacher's manager, dismissed the rumors as nothing more than unfounded gossip. Still other fans are speculating that an Australian accent might not mean a Jax recast, but another Scorpio brother in the mix.
GH completely denounces rumors that Robin Christopher will move the character of Skye back to All My Children after her maternity leave is over.
John Ingle, who begins airing as Edward Q again later this month, was touched when Stuart Damon phoned to tell him that his dressing room already had his name on the door... and it was Anna Lee's old dressing room. Ingle says he plans to hang photos of Edward and Lila in the room, as well as a poster of Lee from her motion picture star days.
Ingle says nothing has changed at the Quartermaine mansion. "Edward still comes in yelling at everybody... It's just like old times."
Soaps in Depth claims Tristan Rogers is back as early as next Thursday (April 13), showing up sporadically until June, when he will appear more regularly, rumored to be locked in for a year. Emma Samms will follow soon afterward.
Da Man, Anthony Geary, puts to rest any rumors (which are always out there) that he is retiring. At this point, he loves what he's doing and where he's doing it and has no plans to stop any time soon, especially since he just signed a 3 year contract. In his own words, "I'm not chomping at the bit to retire."
Speaking of terminator rumors, tvguide.com is aggressively reporting that Finola Hughes will return for May sweeps. The same information is also posted on her official website.
Lucky tries to save Elizabeth from Manny, but ends up being injured in the process. When Elizabeth manages to free herself, Jason takes aim and fires. There is a boat explosion (how many of these are we going to do already?) and Jason is sure Manny survived it.
Lucky undergoes exploratory surgery for his injuries (does he have medical insurance YET?). He ends up leaving the hospital afterwards to attend Jesse's funeral and to do so, overmedicates himself for the pain. Elizabeth prevents Lucky from being moved from GH to a county hospital (I guess he doesn't).
Emily overhears Sonny say that he no longer trusts Jason and feels she has no choice but to break up with him. Still shaken from Jason's rejection, she suggests to Sonny that they go out of town for a few days (the better to break up with him?). Jason makes plans to take over Sonny's business and decides to give his boss an ultimatum: Emily or the business. Carly tries to warn Sonny about Jason's plan. When Sonny does find out, his reaction is unexpected.
Carly learns about John on Friday, April 14. She gives Jax every opportunity to tell her the truth and he doesn't take the bait.
In a surprise move, there is actually going to be a story that involves accountability and consequences for breaking the law. When Noah wakes up from surgery and learns why he feels better, he is furious and files a law suit against the hospital and Robin, who is immediately suspended. Patrick confronts Noah and tries to convinces him to drop the law suit, but in the course of the conversation, he collapses. Robin gets in even deeper hot water when she ignores her suspension and operates on Patrick.
In front of Skye, Luke asks Tracy to renew their vows. Robert makes plans to extradite Luke. To her surprise, Lulu realizes that her dad's feelings for Tracy are genuine. Luke falls out a window when he tries to evade arrest.
The Week of April 17th
Lorenzo proposes to Skye.
Jason and Sonny finally throw down.
Alexis gets an interesting job offer.
Jax realizes that Carly knows about John's true paternity.
Love ya!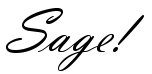 Now go make a donation!!
Sources include ABC Soaps In Depth, Soap Opera Digest and Soap Opera Weekly.
(Thanks, Debbie!)
---
Donate to keep
Sage & EOS
on the net!



---
Archived Columns
Sources: ABC Soaps In Depth, Soap Opera Digest
& various internet soap rumor hangouts.
(I have determined that I do not get
a lot out of Soap Opera Weekly)