---
April 14, 2006
---
AMC
---
Needless to say, Tad is a bit agog to see Dixie living and breathing. He manages to squirrel her away outside for a talk and meanwhile, David goes all psycho and trashes out the cabin (nice). Of course, given his recent experiences, Tad immediately thinks this is another robo-Dixie instead of the real thing. Once Tad realizes that she's the real deal and that she must have wanted to remain hidden from him, he gives her what for in a few different ways, not the least of which is abandoning JR.
David is hellbent on having everyone hurt as much as he does, so he announces in front of Jamie, JR and Di that Dixie is really alive. Once he convinces them he's telling the truth (it involves someone almost being dropped out of a window), Jamie works through his feelings by punching out a guy in a bar.
Di admits to Tad that she knew Dixie was alive and begs him to forgive her. Nope.
Now that she's been outed, Dixie goes straight to the Chandler Mansion and demands to see JR, who has left town with Babe. Adam demands that Dixie leave town before JR gets back.
Lily tells Zach and Kendall that she overheard Erica saying that Greg took her baby.
Zach tells Kendall that he actually knows of someone whose baby was stolen by Greg Madden, but does not tell her he is referring to Erica.
Greg sends Kendall away for a restful retreat to an island of pregnant women, all of whom are giving up their babies for adoption.
Ryan goes to Livia for help in furthering his custody case for the unborn son.
Zach finds the adoption papers Kendall signed and he and Ryan rush to find Kendall before she gives birth. Madden denies knowing where she is.
Aidan also joins in on the "Find the Kendall" adventure.
Erica and Greg continue to banter threats about. Blah blah blah.
Babe goes to see Janet and demands that she stop texting JR. Later, she reconsiders JR's suggestion about having another baby.
Lily asks Zach to help her disappear (fake her death, maybe? Lots of experience there on Zach's part!), but he tells her it would make her family's mouth turn down if she did that.
Amanda tries to help Jonathan and Lily find time to be together.
Julia and Joe see another side of Josh.
---
OLTL
---
Claudia blows back onto the screen with gale force this week as she first has a run-in with Antonio, who inadvertently gives her a lead to Norman Leeds, Jessica's molester. Claudia figures out that Jessica and Tess are one and the same.
Tess makes the intelligent observation to Nash that they cannot get married because she's not a real person.
Antonio tells Nash about meeting Claudia.
Viki assures Tess that her baby will always be a welcome part of their family, regardless of who the father or the mother turns out to be.
Tess goes into labor and fights to keep Jessica from taking control.
Things go from bad to worse between Kevin and Duke. Kelly takes refuge from the situation with Hugh, of all people. Clint comes out of the Jessica shell long enough to sense that something is wrong between his son and grandson and demands answers. Kevin gets belligerent when Clint calls him on his drinking problem.
Kelly later has a close moment with Dorian as she shares what's going on with Kevin and Duke.
Cristian thanks Evangeline for helping him to move on from Natalie. Layla asks Cris out on a date and Evangeline's jealousy gets all froggy. Todd accuses Evangeline of having a thing for Cris and she denies it.
John gets a new lead on his father's case. Dr. Snyder gives John some disturbing information and then urges him to drop the investigation.
Natalie learns that Vincent has the info she needs, but it comes at a price.
Natalie and Evangeline argue about John.
Cris is disturbed when he learns what Natalie has been doing.
Blair tells Todd he should make a goodbye video for Starr and Jack now that his execution has been scheduled. (morbid, much?)
Rex kisses Adriana, but the two can't reach an understanding that heals their relationship.
Spencer has yet another surprising twist in store for Paige when she tells him she is going to tell Bo the truth.
David is determined to find out what happened to Margaret. Meanwhile, Bo and John take Paige and Spencer to task.
Rex and Matthew bond as Nora's condition improves incrementally.
---
GH
---
Jason continues with his efforts to take over the business from Sonny and Sonny starts screaming the magic word, "BETRAYAL!!"
When Jason tells Sonny it's Emily or the business, but not both, it comes to fisticuffs between the boys. Sonny throws the first punch, but Jason does not defend himself. Emily plays referee, but in the scuffle, Sonny knocks her to the ground. At that point, it is ON and Jason goes for Sonny's throat.
Emily and Max intervene and later, Jason tells Carly he would have killed Sonny had they not been there.
Despite all that has happened, Emily and Sonny decide that their love cannot be denied and will prevail despite all odds.
Sam isn't altogether pleased when she learns that Jason is set to be the new mob boss of the Port Charles territory.
Carly directly asks Emily to step aside so things could be right again between Jason and Sonny.
Michael decides to have a surprise birthday party for Sonny.
Sonny decides to fight Jason for control of the territory and gives Emily a strong warning.
Ric takes advantage of Sonny and Jason being on the outs.
Carly is troubled with knowing the truth about John. Jax doesn't give an inch. Nikolas finds the partially burned DNA test, but Carly runs interference and keeps him from learning the truth. Jax pays off the lab tech who altered the tests and later realizes that Carly knows.
Georgie confesses to Dillon that she wrote to Diego while he was in prison. When he demands that she stop being friends with Diego, Georgie refuses and says she will sign annulment papers if he wants. Lulu coaches Dillon on repairing the relationship, then watches as they reconcile.
Noah drops the lawsuit and Robin is reinstated. He then goes on an all out quest to prove that he is a better surgeon than Patrick is (How old is he again? This is rather juvenile).
Robin, meanwhile, runs into Robert and rejects him when he tries to make amends. Nikolas sees how she behaves and has words for her, after which, she tries to connect with her father.
Lorenzo proposes but Skye says no.
Tracy, remembering that Robert has a soft spot for money, offers him $100,000 to bring Luke back home again.
Lucky misunderstands a moment between Elizabeth and Patrick and comes to the worst conclusion.
Lorenzo promises Skye that his mob days are done.
Durant offers Alexis a job... and she accepts.
Someone is taking photographs of the residents of Port Charles. Who and why?
TVguide.com is announcing as fact that Ingo Rademacher is leaving General Hospital and the role is being recast.
Not much gossip going around right now; just spoilers!
Love ya!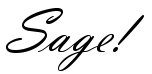 Now go make a donation!!
---
Donate to keep
Sage & EOS
on the net!



---
Archived Columns
Sources: ABC Soaps In Depth, Soap Opera Digest
& various internet soap rumor hangouts.
(I have determined that I do not get
a lot out of Soap Opera Weekly)