---
April 21, 2006
---
The Daytime Emmy Awards will be airing next Friday. Do you have your viewing party ready? Chips and candy at the ready? Drinkie-poos mixed?
Proving that his intention is to completely pattern ABC Daytime after primetime, ABC Daytime President, Brian Frons this week announced that presenters will include a bevy of prime time stars, including those from the hit show, "Grey's Anatomy." Although I get the intention, albeit unspoken, to show how cool daytime is by having hot primetime stars show up, but can't it please just be daytime? I'd be honored, truly.
Broadway darlings, Renee Goldsberry (Disney's "The Lion King," "The Color Purple"), Kathy Brier ("Hairspray") and Kerry Butler ("Hairspray," "Little Shop of Horrors"), all from OLTL, will sing at the ceremony.
There will actually be presenters from daytime as well, including from ABC: Susan Lucci, Thorsten Kaye, Alicia Minshew, Jacob Young, Alexa Havins, Justin Bruening and Cady McClain of "All My Children"; Erika Slezak, Kassie DePavia, Kamar de los Reyes, Bree Williamson and Forbes March of "One Life to Live"; Anthony Geary, Maurice Benard, Laura Wright, Emma Samms, Tristan Rogers, Kimberly McCullough, Jason Thompson, Natalia Livingston, Rebecca Herbst and Finola Hughes of "General Hospital"; not to mention co-hosts Lisa Rinna and Ty Treadway from "Soap Talk."
Personally, I am waiting with baited breath for the show's opening when the deeelicious Rick Springfield will sing a mix of his hits. He wisely commented that this was not the forum for debuting new songs. All I have to say about that is: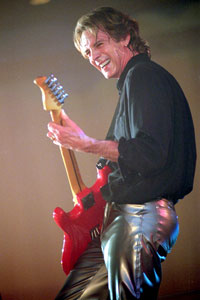 Rock on, mah brotha from
anotha motha
The Daytime Emmy Awards are hosted by Tom Bergeron ("Dancing with the Stars," "America's Funniest Home Videos" and "Hollywood Squares") and Kelly Monaco ("General Hospital," winner of the first "Dancing with the Stars").

---
AMC
---
Eden Riegel returns for the third time since her departure last year, this time on May 24. Her stay is expected to last for a few weeks.
Janet might be locked away, but Kate Collins still around. She will continue to spread her own special Janet flavor around Pine Valley for a bit longer.
Despite very heavy rumors, AMC denies plans for Jeff Martin to return. His last portrayer, Jeffrey Byron (son of the late Anna Lee) is open to the idea of returning.
A fan asked Colin Egglesfield (Josh) to sign her AMC book on the page discussing 1973, the year including Erica's abortion. Proving he has a sense of humor, he wrote "It's good to be alive."
Jeff Branson was up for the role of Anakin Skywalker. It was come down to Branson. Hayden Christopher and three other guys.
Coming up:
David arranges for JR's first sight of Dixie to be of her laughing and drinking with Josh at the casino (after he rescues her from the shipping crate).
Dixie insists that she and JR have time alone to discuss things and takes him to her hotel room. When JR suggests she must have had amnesia to have stayed away so long, she makes sure he knows it was by choice, her choice, but does not tell him the reasons why. Needless to say, JR is heartbroken and tells him the same thing Tad said, that she is dead to him.
Babe finds out that David set JR up and is furious with him.
Tad confides to Stuart about Dixie and Stuart wisely shows Tad that he does not yet have all of the information he needs where Dixie is concerned.
Brooke lashes out at Di, but does agree to try and help her reconcile with the family.
JR kisses Erin while drunk on the Fusion rooftop.
Later, JR wonders if Janet is right about Babe since she was right about Dixie.
Everyone wants answers from Dixie, but she's not giving any. Instead, she demands answers from Greg Madden.
Greg suggests to Erica that they become romantically involved, much to her disdain. She later debates how much, if anything, she should tell Jack.
Erica starts to tell Josh the truth about his parentage, but Ryan interrupts to tell them that Kendall has been found and is safe with Zach.
Julia confronts Greg about his intentional misdiagnosis and produces documentation that shows she misunderstood what he said.
Zach finds out about the resort island as Kendall is learning that all of the pregnant women there are giving their babies up for adoption through Greg. She's even more surprised when Greg himself shows up. When Zach shows up in her room, he talks her into joining him on a boat anchored off shore. After they argue, Zach apologizes for causing the blackout and tells her that he won't interfere with her life any more. He also tells her that he hopes they can find their way back to one another and asks her to return to Pine Valley with him.
Lily tells Jonathan that she wants to spend the night with him to see if she can sleep in the same bed with him. Of course, Jack and Ryan walk in on the two of them in bed together. Fortunately, they are both fully clothed and Lily is under the covers and Jonathan is on top of them.
Looks like a Zach and Kendall wedding!
David figures out what's going on between Dixie and Greg.
JR's family surprises him with an "intervention."
---
OLTL
---
Believe it or not, Todd will be executed! He has his last meal, is hooked up to machinery and given the injection. Head Writer, Dena Higley says, "There's no last minute call from the governor." His heart stops beating and he is declared dead. But is he?
Kristen Alderson recently signed a 5-year contract, so the Star will be shining for quite some time.
There are vicious rumors circulating of a return of Bruce Michael Hall as Joey Buchanan. Please God, please let it be false.
Barbara Niven (ex-Liz) can be see in the Lifetime movie, "Murder In My House" with Daniel J. Travanti starting May 1st.
Coming up:
Paige reveals to Bo and John that she was drunk when he operated on Thomas McBain, but does not implicate Spencer. John draws his own conclusions and confronts Spencer on his own.
Spencer warns Paige that she'd better shut up.
As David is leaving for Thailand, Paige contacts him and tells him that the man he shot all those years ago was none other than Thomas McBain.
Jessica and Tess fight for control during labor, but Viki convinces the girls they have to work together to safely delivery the baby.
Dorian leads Viki to believe that she and Clint have slept together.
Drunk again, Kevin ends up punching out Duke in front of clients (and Kelly). Duke demands that Bo press charges against Kevin. Later Hugh drops the charges.
John tells Natalie about Paige's involvement in his father's death and vows to find the shooter. Natalie meets with Vincent and gets in over her head.
Cris takes a personal interest in Natalie and Evangeline's obsession with John.
Evangeline and Blair view Todd's tape in which he tells Blair he forgives her. He also swears he will not die (or at least stay dead) for a crime he did not commit.
Evangeline tells Spencer she's onto him.
David has quite a surprise in Thailand (and it's not massage-involved).
David also ends up getting arrested and his luck goes downhill from there.
Jessica finally gives birth on May 1st.
Marcie and Michael get married. Evangeline sings at the wedding (and the song was written by Renee Goldsberry).
A natural disaster is coming to Llanview (and it's not Bruce Michael Hall... this time).
---
GH
---
Finola Hughes is locked in for a return on May 12th, but only for a few days. Hughes demures at the idea of an extension, ala Tristan Rogers, saying only, "We'll see" Writers say they are leaving the avenues open for future returns.
Rumors are still around that Corbin Bernsen may be leaving the fold. His stay on GH was originally intended to be short term, but positive fan response and storyline allowed for a longer duration. Busy now with "CUTS" on UPN and "PSYCH" on USA (which tapes in Canada), Bernsen has been juggling his time between his outside projects and GH. Says Head Writer, Bob Guza, about the idea of John Durant leaving the GH canvas, "We would truly hate to lose him, but there is always that possibility." The latest says that Big Daddy John will not only be written off the show, but he will be killed off, giving his life to save Carly. Supposedly, Bernsen himself confirmed that he has taped his last scenes and says he asked for some time off from GH and instead was killed off.
Tony Geary recently had a rollerblade accident requiring 5 stitches to his head. During a scene with Jane Elliot, he adlibbed "I'll sue you for battery" and pointed to his head to which Jane Elliot quickly responded, "You were supposed to duck!' The adlib stayed in.
Constance Towers is said to begin taping in early May. Other sites swear that Robert Kelker Kelly is returning as Stavros. (Sweet!)
Coming up:
Wanna buy a guy? There's going to be a benefit bachelor's auction at GH. Watch the awkward pairings commence as Nikolas, Patrick and Jax go up for bids.
Noah and Patrick go head to head when Noah plans to perform the same surgery that killed his wife. Patrick is having nothing of it and forbids him from doing it.
Quartermaine weirdness. Dillon, Lulu and Alice tie up Robert and hold him captive in the empty Q freezer to keep him from going after Luke. Later, Tracy ends up joining him in the ties that bind.
Alexis is surprised by a shocking announcement.
Jason eliminates Escobar, sending an unmistakable message that he's in charge.
Sonny takes offense at this and wants Jason dead, but Ric talks him into putting him in jail instead, so Sonny swears to Durant that he watched Jason kill Escobar. As a result, Emily packs her bags and moves out saying she loves him, but she's not coming back.
When Jason is released from custody, Sonny puts the hit out on him, but awwww, changes his mind after talking with Michael and Morgan.
Sam is shot down by a sniper and by the time this is over, we are told that two people will be dead and one relationship will be blown apart. Sam's life lies in the balance and Jason learns she may need a hysterectomy,
Sonny learns that his hit man was not the sniper who shot Sam.
Sam wakes up to find Jason and Alexis at her side. She starts to tell Alexis the truth, but is stopped by a wave of pain and is rushed into emergency surgery again.
The person who shot Sam sets a deadly trap for two other PC residents with fatal consequences.
Luke brings back Holly to kick off May sweeps and conclude Tony Geary's biannual vacation.
That's all for this week!
Love ya!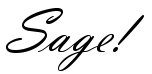 Now go make a donation!!
---
Donate to keep
Sage & EOS
on the net!



---
Archived Columns
Sources: ABC Soaps In Depth, Soap Opera Digest
& various internet soap rumor hangouts.
(I have determined that I do not get
a lot out of Soap Opera Weekly)