Daytime Diva:

The View From the
Recliner's Edge

By Belinda Ache




---
"The Daytime Diva: View from the Recliner's Edge" Presents
An Insouciant Chat With David Chisum.
---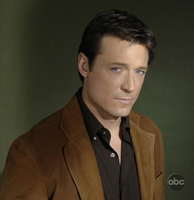 I recently had an opportunity to pose some questions to personable fan favorite David Chisum who portrays Miles Laurence on the ABC daytime drama One Life to Live.
Daytime Diva: Tell us a little bit about yourself, please, David?
David Chisum: I grew up in Southern California after moving from my birthplace of Livonia, Michigan before I was two years old, So California was all I knew growing up, specifically, the city of Fullerton. I attended Sunny Hills High School where I made good grades, played football, basketball and baseball and got in and out of lots of trouble. I received an athletic scholarship to play quarterback for New Mexico State University. I started on the football team for two years and graduated with a BA in Journalism Broadcasting. I was in drama classes and acting for camera classes from high school through college.
Daytime Diva: If you were not an actor what would you be doing?
DC: If I werenít acting I would either be a teacher/coach in hopes of becoming a college football or basketball coach or something to do with real estate. I have become increasingly interested in building, design and investing.
As a teenager all I could think about was girls and sports until a friend introduced me to acting. His name is Chris Pizula and we remain very close friends. At thirteen we began to write, cast and perform in movies we shot on his fatherís video camera. We never could edit well so the camera just kept rolling. In high school Chris and I competed against all the L.A. high schools in acting festivals and contests, won a few lip sync contest and basically hammed it up anywhere and anytime. When I returned from college I tried to start with a sales job while I submitted news and sports broadcasting tapes to stations all over the United States. I found very few interested in my tape. I remember staying with my folks getting ready for my sales job feeling unfulfilled. Wondering why I was paying my dues in a business that I really didnít want to pursue. I soon began to tell my boss I was going to business meeting when I was actually meeting talent managers and agents. I figured I was going to struggle for some years in any business I chose, so I went for my dream of acting. I do remember several times when I tried to convince myself that I had something to offer the world and an interesting point of view. Coming from a family that never stressed the arts I thought that perhaps this acting wasnít in our blood. . However, I did know I could preserver and adapt. I never have looked back.
DD: Did you watch OLTL or any other soap before being hired for OLTL?
DC: never watched soap operas probably because I wasnít home during the days and no one in my family watched the soaps. I began to study them when I started auditioning for the soaps.
DD: I notice that you also appeared on Sunset Beach, what was your role on that soap?
DC: I was on Sunset Beach years ago. I actually screen tested for a contract role and was later asked to guest star on one episode. I actually received a beat down from the character I tested for weeks earlier. It was strange. I really wanted to punch the guy out during the fight.
DD: What has surprised you (good and bad) about working on soaps?
DC: There have been a few surprises. The first surprise was during the screen test when they gave us one good take. Of course I didnít get through the first takes and nearly lost out on the opportunity. I put a lot of pressure on myself during auditions, which can really get in my way and not allow me to perform at my best. The surprise was that they were testing our ability to deal with nerves and perform well in relatively short period of time. The soaps canít afford to get off schedule with actors that are unprepared or unable to rise to the occasion. The commitment to make these shows daily is a constant battle against time. The solution is to be prepared and relax. The other surprises are the pacing in storylines. In order to present a good show daily the story is told at a different pace. In a prime time one-hour show there will be a beginning, middle and an end to each story each and every week. The next week we will tell a different story. Soaps will, at times, tell the same story over the course of three months. I was also surprised that during my heavy storyline I was performing thirty to forty pages of dialogue a day, four or five days a week. At first it was WOW and later I developed the ability to digest all that information rather quickly. That definitely surprised me.
DD: With Miles and Martyís short lived, forced marriage over if you could impact the direction of your character where would Miles go from here? Who do you see as potential love interests for Miles?
DC: Well after Martyís death any hope of impressing Marty and perhaps having some kind of understanding between them has gone. I believe Miles really loved Marty and wanted to be a good husband to her but was terribly ill equipped. I think Miles has been slowly redeemed and needs to shed the guilt while moving forward with his life. And like any life opportunities for relationships, careers and hobbies are all around us. Miles is a unique character in that he is limitless in the potential storylines. The beauty in playing the character is that he can be unpredictable and naÔve. I would like to know what Miles fans and 1 liferís want from Miles. Iím interested to know what fans are interested in seeing Miles experience.
DD: Do you have any off the cuff advice for the next newbie?
DC: The only advice I could offer a new actor is: relax and enjoy. Be aware that these storylines will ebb and flow. There will be times that you canít come up for air and then times when all you got is air. The other thing I would say is this is an opportunity to help others through charity work and using your celebrity to make an impact in peopleís lives.
DD: What is coming up for Miles, do you know?
DC: Upcoming storylines- I am unsure what's in store for Miles at this time. The writers strike has been difficult for all of us and that includes Miles. I'm sure the writers have plans for Miles that will be executed when everyone is back to work. The potential storylines are unlimited for Miles. I am curious what our fans want to see Miles experience. I would like to see him as a man that can stand on his own two feet and learn his truth.
DD: How do you feel about your co-stars?
DC: I have had a lot of fun acting with Michael Easton, Christina Chambers and Brandon during our blackmail storyline. We leaned on one another and embraced one another despite seeing each other daily, all day long. It was a blast! Ilene is a hoot and Trevor can be hilarious unintentionally. He can be an interesting character. I really enjoy playing with Melissa Archer as well.
DD: We hear so much about the hard work and pages of dialog that daytime performers are given; what are your work hours like?
DC: The work hours vary with our storylines. Itís funny there are times when we all hope for a day off and times when we really could use some work.
DD: Are you involved in any other productions at the moment? Anything we can see somewhere or look forward to coming up?
DC: I completed two films a year or two ago. One was released in October named ďFlight of The Living DeadĒ. The title speaks for itself and I doubt I need to explain the story. It has a cult following and received three of five stars from NetFlix. The second film is a thriller named ďDark MirrorĒ and will soon be submitted to the festivals. I currently am working on couples of screenplays that have been bouncing around in my head for years.
DD: What actors would you most like to work with besides on the soaps?
DC: My dream would be to work with Daniel Day Lewis, Meryl Streep, Paul Newman and Sean Penn in a dramatic film.
I enjoy both drama and comedy. I believe my strengths are in dramatic roles but I feel certain one-hour romantic comedies can fit as well. I have some difficulty with the typical half hour comedies, one, two, three, JOKE. It never resonates with me.
DD: What are your hobbies?
DC: My hobbies are playing with my kids, Daughter, Zoe, and Son ,Aiden, designing houses with my wife, Aishah, working on working on home improvement projects, weightlifting, golf, basketball, cooking and writing.
DD: Daytime stars are noted for their generous contributions of time and energy to charitable causes. Do you have a charity set up to work with?
DC: One of the best things about working on One Life is the opportunity to help others. Many of our actors are actively involved in charitable causes. It gives me great joy and satisfaction participating in various projects and events to raise money for others. The charity that Iím working with is FFB. The Foundation Fighting Blindness was an easy choice. My father was forced to retire at 41 after being diagnosed with macular degeneration of the retina. He was a successful General Motors executive for twenty some odd years and it came to an end very quickly. My older sister has the same disease and recently lost her driverís license and some of her independence. I want to help them and others like them. There is a possibility that my children could suffer from it later in life and there is a possibility that there will be a cure by then! David and his children canvassed their neighborhood recently and collected over 100 gently used coats for the Good Morning America coat drive. He got invited to bring in his coats on GMA personally and appeared on the show January 31, 2008.
Thank you, David for your candid and eloquent replies to my queries. Iíve enjoyed getting to know you better and I think that the One Life to Live fans will as well. David has reiterated how much he would LOVE TO HEAR from the fans! What would *you* like to see come up for Miles? Email me and I can send them on or you can find out more about David, his charity work, upcoming events and contacting him via visiting one of these venues: