---
May 3, 2006
---
Time to donate, Lovey!
Keep ol' Sage on the internet by donating to Eye on Soaps' expense fund for this month. I need ya! I need ya, baby! Come save me from internet extinction!!
Click here for credit card
& PayPal donations:
or click here for
other options
---
AMC
---
What the?? I turn my back for a few minutes to go have the worst weekend of my life and all of a sudden all of the rules have changed!
Zach and Kendall are getting married? On a boat? Suddenly, she wants to be a mommy? What happened to Crazy Pregnant Island with the Stepford preggos?
Ryan loves Kendall and is going to fight for her?
Zach and Kendall are doing it on my TV? She's wearing... orange? From what I saw today, Kendall is the only one in Pine Valley who has her head on straight. That's a pretty sad state of affairs!
I am devastated. Ryan drank the Amadazine truth serum and the only thing we get out of him is his friggin pin number??
Palmer and Opal should be ripping Dixie a new strategic exit any day now. Can't wait for that. Dixie abuse should be a Summer Olympics sport. I'd pay to see it.
Speaking of which, I watched the Daytime Emmy Awards that I recorded and what was up with Cady McClain? Was she having a 12-year-old moment or what?
JR is out of control? Say it isn't so? He's usually so docile, sane and tranquil.
Re: Jonathan and Lily. Why do parents never figure out that the whole Romeo and Juliet story just did not end well?
Wow! Next week is going to be particularly rocky as JR inadvertently caused Kendall to be injured, putting her in a coma that causes the inevitable choice between mom's life and baby's. As Erica and Ryan prepare to make the decision, Zach arrives and plays the trump card as Kendall's husband.
Amanda, of all people, decides she wants to carry someone else's baby too! Greg convinces her to become a surrogate mother.
The fact that JR tried to kill her does not sit well with Babe, even though he got Kendall instead. Whether or not he pays for his crimes legally will depend on whether or not AMC is able to re-sign Jacob Young whose contract expires this Fall. They want to keep him, but he is entertaining other options.
Things don't get any better for Lily on the streets of NYC.
Things look much worse for the procreative god, Dr Madden as he meets the classic soap "dramatic departure" later in the month. Whodunit?
---
OLTL
---
It's a twister! Auntie Em! You know, I had no idea there were tornados in Pennsylvania! The things we learn on soaps. I always figured them for a Midwest kind of thing.
I was cracking up at the "police" sketch that John showed Michael of the guy who shot their father. It might as well have been a stick figure. John finds out David dunnit (he must have recognized him from the sketch - smirk) and is a man with a mission, despite Natalie and Bo's warnings.
On Friday, May 13, sumbody gonna die.
The tornado does rip through Llanview, taking Marcie and Michael's wedding plans and Evangeline's eyesight with it when it leaves! Vangie's eyes get the business end of a stained glass window and Michael has to interrupt the wedding to report for hospital duty.
Cris stands by Evangeline through her ordeal while Natalie and John open roads to furthering their relationship (Natalie gets a leg owie).
When Tess goes to take her bundle of baby home, she's furious to learn that Antonio has taken legal action preventing her from taking the baby out of the hospital without a paternity test being run. Later, Antonio, Tess and Forbes March are taking the baby home from the hospital (does this girl NOT watch "Paint Your Wagon" EVER?) when the tornado dumps an electrical pole on their car, knocking it into a ravine. Nash is thrown to the bottom of a ravine and Antonio is electrocuted trying to get out of the car. (They could have combined stories and have him get caught in an electrically volatile bear trap. I'd watch that on Pay Per View even.) Nash wakes up and saves the day with Tess' help, who pretends to be Jessica to give Antonio the will to live (awww). Later, when Antonio uncharges himself, he is actually nice to her.
Kelly and Duke, after the tornado, are found...
it gets better...
you'll love it...
naked...
in St James Church...
with their sexness still drying...
(I'm cracking up here)
by Kevin!!!
To add insult to injury, with each of them in the hospital in critical condition, he has to choose which one to save.
The moral (if Kevin can actually be anywhere near something that involves the word "moral") of this story is, "Don't bang your brother's wife and then steal her out from under his nose, daring him to get testy about it! Asshole." Da karma train is rollin rollin rollin...
Spencer wiped out Margaret's memory? Clever way to keep from killing her, but what happened to the baby? Are we still going to get a story where Blair and Todd are raising Todd and Crazy Peggy's baby? David needles Spencer with his newfound knowledge that Margaret is alive and well, if oblivious to the drama surrounding her alivedness. He works on Margaret to get her to remember her Llanview life while Spencer gets Denton on the case to find David.
Just because you're paranoid doesn't mean they're not after you. Adriana should have listened to Rex. She's kidnapped by an obsessive fan who has been stalking her.
---
GH
---
Jason is the one to tell Alexis the truth about being Sam's mother. Sam gets worse instead of better, prompting Jason to take action before it's too late. Sam and Alexis have a warm and emotional moment with Alexis telling her how much she loves her. Sonny passes the news on to Ric, who is understandably shocked.
Sam needs blood and needs it now. Her blood type is rare (I don't recall this being mentioned any of the other 17,000 times Sam has been in mortal danger at the hospital) and Emily comes up with a way to get some of it.
Nikolas actually finds out about Sam and Alexis and gives Jason da business about it.
Noah tells Jason and Alexis that Sam has a brain bleed (is that like "brain cloud?"), but that the surgery necessary to correct it would be fatal... unless Patrick, the only surgeon qualified to perform the surgery. Noah tells Patrick that if he performs the surgery, Sam will die.
Just like old times!! In a generational adventure story, Dillon, Patrick, Robin and LuLu go on the search for Robert, Luke, and Holly in the Maarkam Islands, Luke and Robert are busy competing for Holly's wuv, but are interrupted by their children who have come to rescue them. This does not sit well with the dynamic duo (that they might need to be "rescued" by this bunch of whipper snappers). Subdrama erupts as Dillon comforts Lulu after a blow up with Luke and Georgie, feeling abandoned by Dillon, invites Diego to her prom, who steals Edward's car to take her.
Luke finds a bag of jewels, prompting a skirmish between Robert, Luke and Holly for the booty. (A different kind of booty than in the previous paragraph). Bounty hunters! Age and Treachery verses Youth and Energy! An unexpected (but very welcome!) guess descends from the sky! You'll love it!!
Time to meet da mama! Carly and the boys to go to Australia to hold court with Lady Jane. Will she fare better than her late BFF did with the potential mom-in-law?
Lucky continue down the slippery slope of doubting Elizabeth and self-medicating. When we said we wanted Greg Vaughan to have a story, this is NOT what I was envisioning. >:<
Love ya!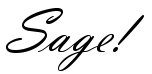 Now go make a donation!!
---
Donate to keep
Sage & EOS
on the net!



---
Archived Columns
Sources: ABC Soaps In Depth, Soap Opera Digest
& various internet soap rumor hangouts.
(I have determined that I do not get
a lot out of Soap Opera Weekly)