---
May 12, 2006
---
Life on the shows is slowing down from the spike of sweeps week and now we deal with the fall out. Some of it just makes me want to fall over.
AMC
In an unprecedented move, JR is actually going to have to atone for his actions, at least for a while. This week, he is arrested for attempted murder, despite his attempts to bring Babe down with him. Even Adam walks away from JR, telling him he has to fix his own problems. Dixie also tries to get JR to take a hard look at the reality of what he has done.
Eric and Dixie end up at odds over their individual Dr Madden issues. When Tad confronts Greg, the doctor insists that Dixie is delusional about believing Kate is alive somewhere and gives Tad a stern warning to get his ex-wife on a leash. Dixie refuses to give Tad any further information (until next Tuesday, anyway).
Lily runs into big trouble in the big apple and ends up trusting the wrong person.
The war over Kendall's uterus and its bouncing baby contents heats up to high order as Zach asserts his marital authority. Erica and Ryan are aghast and it's off to court we go. Babe joins in the fun when she visits Kendall and is certain that Kendall gave her a sign from the almost beyond to support Zach in his efforts to keep Kendall's baby alive and inside her body. The court battle ensues with Babe and Zach trying to convince the judge that Kendall's wishes would be to give her baby every chance to live. Meanwhile, Ryan and Erica, with Olivia's help, give their all to discrediting both Zach and Babe. Suffice it to say, the Pine Valley saints with this ball game, prompting Zach to deal with matters regarding Kendall in his own way.
---
OLTL
---
I am going to be honest and say that I really do not remember where I read this and I have not seen it substantiated elsewhere yet, but I heard that Phil Carey is ill with an undisclosed sickness and as a result, will be off screen for the foreseeable future. Rumors have been around for a while now that Carey has lung cancer, although they have never (to my knowledge) been confirmed. It is my hope that these rumors are untrue, but if we find that our favorite, grizzled old cowboy is not around for the next few weeks, this could be why.
As David continues to work with Margaret to get her memory to return, he finds that the not-quite-as-crazy version appeals to him and the two bond. He strikes a deal with Spencer, but that does not change the fact that John is coming to Bangkok with revenge on his mind.
Now that Baby VegaBrennaBuch has arrived, Jessica is no longer willing to be held at bay and Tess has an ongoing battle to remain in control.
Evangeline has blind justice on her side and has a breakthrough in Todd's case.
The big news is, as Katrina predicted, the death of Duke on the operating table. The next step in her master plan is that Kelly will find out that she is pregnant with Duke's child.
Things go from ugly to much, much worse as Kevin blames himself (appropriately so, in my opinion) for his son's death and since Kevin does not process self-loathing well, he, of course, turns it on Kelly, attacking her at Duke's memorial service.
---
GH
How's that for an entry?
In fact, Finola Hughes states, "It's got to be one of the best entrances I've ever had. It's fantastic. Exactly what I like." (SOW - May 16)
Of the current story being played out by the GH vets, Head Writer, Bob Guza, says, "Expect one weird reveal after another with this story."
His brain muddled by pain (emotional and physical) and over medicating, Lucky tries to get Patrick to admit that he is having an affair with Elizabeth. He also helps himself to a few pages from the good doctor's prescription pad.
Oddly, Lady Jane informs Carly and Jax that she has plans for them. Wedding plans, in fact (is the Australian sun too hot or is she suffering from dementia?).
On the same side of the fence for an excruciating 10 minutes or so, Jason and Alexis are soon embroiled in a heated battle over what's best for Sam. The surgery proceeds and Alexis has Jason, Elizabeth, Patrick and Epiphany arrested. Noah intervenes and convinces Alexis that Patrick actually saved Sam's life. She drops the charges, but quickly removes Sam from General Hospital and checks her into a private hospital without telling Jason where she is. When Alexis asks Jason to stay away from Sam for her own safety, Jason agrees, thinking he is doing the best thing he can do for Sam.
---
Love ya!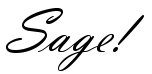 Now go make a donation!!
---
Donate to keep
Sage & EOS
on the net!



---
Archived Columns
Sources: ABC Soaps In Depth, Soap Opera Digest
& various internet soap rumor hangouts.
(I have determined that I do not get
a lot out of Soap Opera Weekly)