July 24, 2008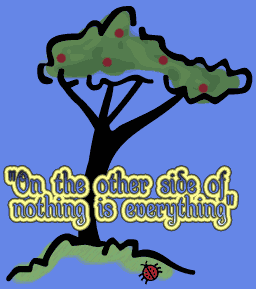 I am back from a weeks worth of fun and work. Now I am not sure when the work stopped and fun began or vice versa. All of it was truly terrific. I met many friends who I get to see once a year and it was as if we saw each other the day before. Catching up, hugging, showing new pictures of family and in my case, grandkids, were the most enjoyable.

"My driver" Bobbie and I started out on Wednesday, July 9 from Las Vegas at 6am. We had fun talking and singing in the car. We stopped in Lenwood (Barstow) in a small McDonalds and had a Mickey Dee breakfast. Topped off the gas and the next stop was the Sportsmen's lodge. Once we went into the lobby we were greeted by so many people. Katrina, Kathy, Adrianna, Stacey to name a few. Lots of hugs and kisses, which always makes the start of this weekend event perfect. We knew our room would not be ready so we hung out at the pool. By the way the renovations at the lodge are coming in and even though in my humble opinion the lodge needed "something" I think it's going to take me some time to "appreciate" its new look. Very stark. Not homey. And no free coffee after 9PM. lol Times are a changing. From the buzz, this was our last year at the Sportsmen's Lodge. There are so many rumors that it will become a SPA and the area where the main luncheon takes place will be torn down to a mall is being built inthat spot. Of course time will tell. There is a small part of me that is glad to leave but then again there is the unknown. The staff at the lodge could not have been nicer. However, change is good and I am ready for it.

The first day/night Bobbie and I were in LA was Wednesday. We like coming in early to relax and slowly pace ourselves. We first had a few errands to run after we got our room. Then our friend Kimberly came over to the hotel and we went out to Chin Chin's for dinner. I do not think I have been in that restaurant in at least 10 years. It was great. We all got a main dish and shared. Then back to lodge where we said our good nights and went off to sleep. Everywhere we went we saw people we knew. Now that Bobbie has joined me for the last 5 times, people know her too. It's very warm and cozy.

Thursday morning, we got up and we picked up our third roommate Sandy from the Burbank Airport and we went over to a restaurant owned by Steven Speilberg's mom called "The Milky Way." Sandy and Bobbie were surprised that his mom was there. I do not know her name. It's not Mrs Speilberg because she remarried but this woman has to be close to 90 years old. I cannot begin to tell you what a delight she is. Gracious and makes one feel as if you are the only one in the restaurant. This is a dairy restaurant. It is somewhat Kosher style. It had delicacies that are so delicious, it brought me back to my childhood. I had Blintzes (it's like cheese crepes). Sandy had Potato Pancakes, and Bobbie had a Tuna Melt. The last time I was there, which was say 12 years ago, there was a great dish on the menu -- Pasta and Pistachio nuts. It may not sound great but ohh boy it was wonderful. However pasta is somewhat my enemy right now so I passed on it.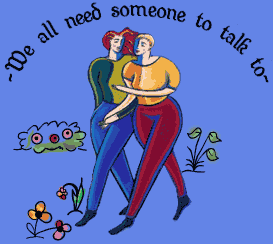 After lunch, we went over to this bakery down the block. I was filled to the rim, but someone wanted donut holes. I enjoyed watching her eat them. We then headed to the hotel and before we knew it, it was time for the "Kick Off" event. We got our stuff to sell and met up with Gail, Kimberly and Jessica. Sadly, this year, Leslye and Carol couldn't attend and they were truly missed. Hopefully next year we will see them.. We had loads of fun selling and eating I was very pleased with this event. Many GH stars came to say hi --- I hope I remember everyone but here it goes... Steve Burton, Greg Vaughn, Tyler Christopher, Rick Herst, Megan Ward, Carolyn Hennessy, Kin Shriner, Sebastian Roche and Nacho had us moving with his music. I did love this event and it seemed to me that it was a hit. I do not know also if it was me or just the mood but it seemed like every one was less stressed. It appeared that most people didn't knock down any one to get an autograph or photo. It just appeared as if every one waited his or her turn would happen. And it did.

After the Kickoff the group, Bobbie, Sandy, Gail, Jess, Kimberly and myself went to Jerry's Deli and on our way met up with our Utah friends: Laurie, Sandra and Mary. We hadn't seen these ladies in so long. Maybe 5 years and I knew they were coming to LA that weekend. So we made them turn around (sans Mary) and walk back to Jerry's. We all had fun there and we met up with Brian Patrick Clarke aka Grant Putnam from the 1980's era of GH. He was also Merle the Pearl on "Eight is Enough". Sandy, who claims she is the "kiss of death" when it comes to meeting celebrities, was sort of happy that her "curse" was over. We didn't bother him. We waited to be called for a table and when asked how many.. someone said, "8" and I yelled out, "8 is enough." Okay, Lame, but all in good fun. Friday, I enjoyed the pool, Kimberly, Sandy and the Utah bunch. Sandy, Kimberly and I did our water exercises. I promised Steve (my husband) that I wouldn't forget to do them, so we did a class together. Then later on after Bobbie went to visit some folks, she and I did some water exercises too. After we all got out of the pool, we dried up and had a date (9 of us) for our annual trek to the Cheesecake Factory. The Utah contingency who had to stay at another hotel because the Sportsmen was full ran a little late. However, Gail and Jessica were kind enough to reserve a table and once most of us got there, we were seated. All I can say is we had fun.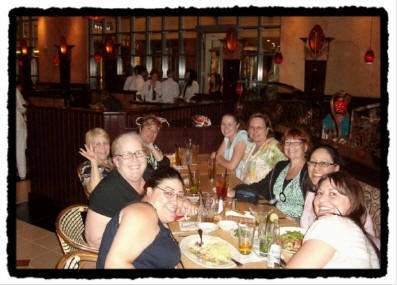 At the Cheesecake Factory
And our second celebrity of the weekend (not counting our GH stars) entered the restaurant. Unfortunately I do not know his name.. he played with Michael Richards aka Kramer on Seinfeld. The man we saw was the little person on the show. Sandy's streak was over --two for two. After dinner, Bobbie was looking at one of the signs that showed where various stores were and it caught her eye: Clit Accesories. Of course the real name of the store was Glitz Accesories.. most of us went to check out the store and we all bought something. I got a necklace that had a queen's crown on it. Other's bought candles etc.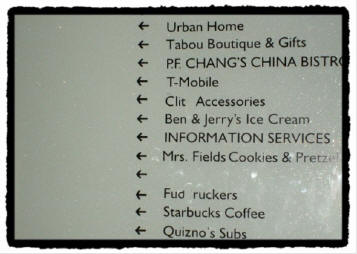 We went back to the hotel and knowing what a long and crazy day we were going to have, we all said goodnight and made an appointment for 7am Saturday morning.

Morning came quickly and we were ready to sell "our wares". Bobbie had the pleasure of manning or womaning the $5 table. Gail, Sandy and Jess worked the other photos and Kimberly and I worked the front end. I always love working the Bazaar-Bazaar. Not only do we sell stuff but the extra enjoyment is I get to say hi to everyone. I met so many people and got so many hugs; it was just heartwarming. I cannot name one person who wasn't nice to me. We cleaned up and it was time for the luncheon. We got the merchandise back up to the room and hung around a little. Gail and Jess went to the luncheon and I got to meet and take a photo with Stephen Macht (who I really really wanted to meet) who met every expectation of mine and Jason Thompson (who was a really lovely young man) I was stationed near Kin Shriner's table and as he was taking photos with his fans, a young lady appeared. I looked and looked and then realized it was Carly Schroder, aka Serena Baldwin. We chatted a bit and it was a shear delight seeing what a nice young lady she grew into. Debbie Morris and her group did an outstanding job once again with this event. It cannot be easy to not only please the fans but please the actors. And by golly it appeared that she did.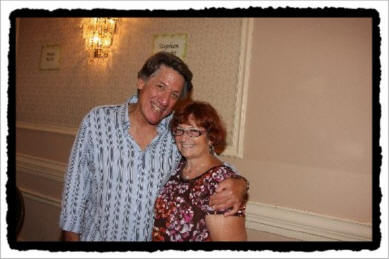 Max with Stephen Macht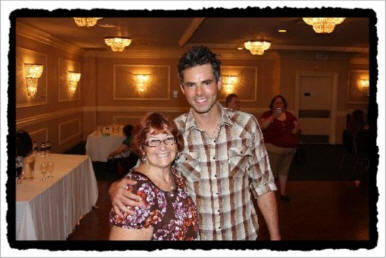 Max with Jason Thompson
It was time to set up for Maurice's event .. Before I realized it, every one was sitting in his or her seat and Maurice was on the stage. He was extremely charming. The event was great and I am sure you've read the internet so you know what how candid and enjoyable he is. After the door prizes were announced, I was given the opportunity to talk for a brief moment (for those who know me, talking and brief do not go hand in hand) about one of the charities in Las Vegas that is near and dear to me. It's called "Family Promise." Our synagogue as well as other churches in the Las Vegas area house and feed homeless families for a week at a time. Last year, an auction was held at Steve Burton's event for a photo with him in ABC Soaps in Depth. It raised $400. That money was put to tremendous use. This year at Maurice's two people won the bid.. it raised $1600. All I can say is my face, my eyes, my heart was in awe. Again, this money is going to make a difference and I so appreciate the folks who bid, who won and of course Maurice for allowing this.

Max getting ready for the auction
After the auction, photos were taken by each fan with Maurice and then a special VIP photo shoot with Maurice and fans taken by photographer Jim Warren. I had asked him if Sandy and I could have a photo taken with Maurice. He forgot and as he whisked Maurice into another room, Sandy was disappointed. I went into the room where Maurice and his family were relaxing and asked Jim and of course he accommodated Sandy and myself. NICE HUH?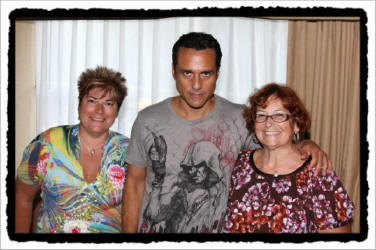 I said Hi to Megan Ward who was also relaxing in this room as well Paula Benard, Heather, Cailey, Cassidy and Joshua.

We went to Jerry's to eat and I vow every year never to return but for whatever reason I do. The service isn't the finest and the food isn't the best but I guess there is some lure that makes me go back. Everything including a take out order didn't go off well. And how ignorant of us not to check the outgoing order. Of course everyone made do and we hung out at the pool schmoozing and relaxing. I don't know if any of use remembered our head hitting the pillow but we were all snoring that night, once we went to bed.

The next day, Bobbie, Sandy and I went to Farmer's Market and The Grove and then we dropped Sandy off at the airport. Sadly for me, it was time for her to go home. Then Bobbie dropped me off at the hotel and I met Kimberly and we went on to the Past Cast Event. Gail and Jess were already there. Since we didn't purchase a ticket, we asked Debbie M if we could just hang out and see who attended and then we would leave. As always she said of course. So we hung out and talked to this one and that one and it was fun. Then Kimberly and I headed for the pool. We met up with our Utah friends and then Bobbie joined us and we laughed and had fun. We ordered a few pizza's from a nearby Pizza place who delivered.. and it was soooooo good. After dinner, which was 9:30pm we said goodnight to Mary, Laurie and Sandra who were heading to Utah the next day. Night to Kimberly who lives, 8 miles away and Jess and Gail who were on the same floor we were at the lodge. Monday we had two events to work.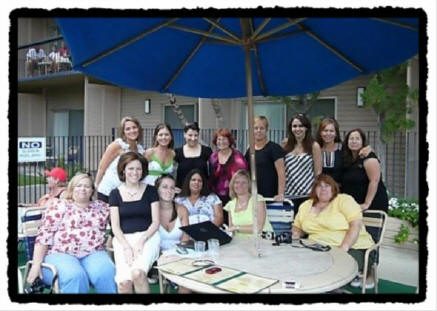 At the pool...
Both Bobbie and I got up and got dressed and ate something. Kimberly came over -- Jess and Gail were leaving that day too but stayed to help out with Steve's and Kin's event. Both events went without a hitch. I cannot begin to thank annual weekend/week event: Bobbie, Jessica, Gail, Kimberly and Sandy for their help during this weekend. I am not the easiest person to deal with and all we all wanted to do is make it right. They all kept me calm and understood if I seemed more than unusually nuts... it didn't count as an argument <G>
Steve's event was fun and we all took pictures.. our own photo shoot. Then Kin's event started. Jess and Gail bid us goodbye and slowly but surely the group was dwindling.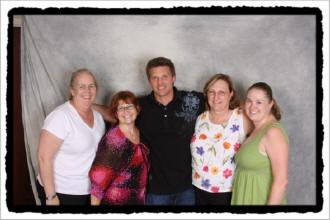 With Steve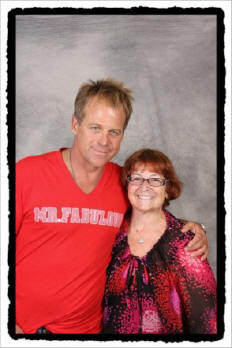 With Kin
We took more photos after Kin's event. His was a nice one too. Jackie Zeman, Jay Pickett, Josh Duhon,& Susan Brown came in to help make this event special.
Sidenote: Jess and Gail were working on something special for someone who couldn't attend this year. I don't want to give the surprise away just incase this person is reading this. However, I do want to say that there is nothing like true friendship(s). We start off going to the Gh weekend to see all the actors and then as the years go on, we look forward to the regular folks <G> to say and catch up. I have been more than blessed during these years attending the GH Fan Club weekend-week.
After Kin's event, Bobbie and Kimberly got some Baja Fresh and brought it to the room. We ate and then it was time to say goodbye.
The next morning Tuesday, Bobbie and I headed to Vegas and as usual I feel asleep in the car. We have our tradition of stopping in Barstow/Lenwood but my sweet and good friend didn't want to wake me so we went past our stop. I woke up closer to Baker and we wound up at BOB'S BIGBOY. We never let a photo opportunity go by-- and we had fun with BOB.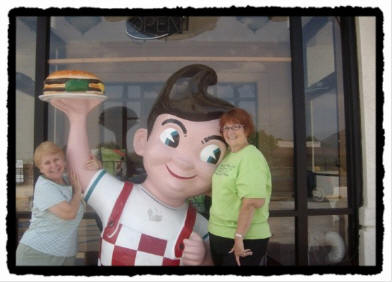 The next stop was home. Thanks for letting me relive my trip with all of you.