---
May 26, 2006
---
AMC
Sadly, Tanisha Lynn has decided to leave AMC since being told she will be reduced to recurring status. Her role will be recast with Lynn making recurring appearances through the summer until her contract expires.
Rumors are flying that Thorsten Kaye is antsy to move back home to Los Angeles and is unhappy with the direction AMC has taken his character. Kaye has another 3 months left on his contract, but is supposedly interested in slipping over to a West Coast soap.
Perhaps he could hitch a ride with Ian Buchanan, whose contract ends in May. Buchanan has agreed to stay through June to finalize his story and takes exception to recent rumors stating that he was fired. He never intended to remain on the show longer than a year. Speculations are rampant of a return to GH, following the incredibly successful returns of his veteran cast mates, Tristan Rogers, Finola Hughes and Emma Samms. Not likely, based on [GH Head Writer] Bob Guza's recent comments in which he said, "No more veterans will be coming back!" I guess the budget hit the wall.
Coming up:
Thanks to Greg's machinations, Tad and Dixie end up stranded in the wilderness.
Julia and Jamie start to heat up, but Julia puts a stop to it.
Bianca and Josh overhear a very telling conversation between Greg and Erica.
JR, once again, tries to right his wrongs.
Jonathan's headaches persist.
Ryan changes teams and sides with Zach.
Greg tells Erica that he can save Kendall... but he won't.
Kendall's baby is given a green light for a cesarean and Spike is born with a clean bill of health.
Not so, Kendall.
JR confides the truth about Kendall's accident to Bianca and Erica.
Kendall's condition worsens and Zach is hauled from her beside and placed under arrest.
Bianca begs Kendall to keep fighting for her life.
---
OLTL
---
It has been officially announced that Phil Carey is indeed suffering from lung cancer. He remains stalwart saying, "Ol' Asa's tough. I really expect to be back soon." Executive Producer, Frank Valentini, says, "I'm glad we can finally talk about this because I want people to know why they haven't seen Asa. It wasn't our choice, believe me." At this point, Carey remains on medical leave while he receives treatment.
Michael Easton's contract expires this summer and several insiders (or perhaps the same insider to many people) have stated with absolute assurance that he will be leaving the show rather than to renew his contract. Supposedly, Easton himself asked that any reports stating he is leaving be "cleared up" and says that he never made a statement to that effect.
Begrudgingly, Timothy Stickney has agreed to remain with OLTL on "recurring status." There is still no storyline planned for RJ at this time.
Don Jeffcoat (The 1997-2001 Joey before the blonde, gay Joey) was recently seen at the OLTL studios. Hmmm.
Dena Higley gives us a tiny smidgeon of hope for Nora, saying "When she starts making headway, the progress will really step up. We are building toward the summer." She might even get to speak.
Coming up:
The Jess and Tess reintegration is not on the immediate horizon. Supposedly it's going to be stretched out over the summer.
On Wednesday, Kelly tells Adriana that she thinks she might be pregnant. That must have been some serious go go Gadget sperm that Duke sent on the mission.
Nash takes Claudia to task over her father's persistent threats.
Marcie and Michael decide to be foster parents right away.
Kevin and Kelly have another row at the hospital.
Michael learns the truth about David's involvement in his father's death.
Cris kisses Evangeline. When he declares his affection for her, she figures he just feels sorry for her, so he sets out to prove her wrong.
Antonio kisses Tess (to try and lure Jessica out).
David has a very special favor to ask of Dorian.
John and Natalie make out.
Starr and Blair are shocked when Spencer announces he will witness Todd's execution.
The Governor refuses to grant Todd a stay of execution.
John arrives at the prison with Margaret as Todd is pronounced dead.
Blair breaks down.
Later she questions Spencer about the accusations against him.
Paige, badly injured, tries to warn Bo.
Spencer determines that he will force Blair to keep her promise.
Paternity tests come in on baby Brennan on Wednesday, June 7.

---
GH
---
Poor Tyler Christopher will be slumming it for a while longer. His pilot, "Secrets Of A Small Town" was not picked by ABC for the fall line up. Co-Head Writer, Charles Pratt, took leave from GH (that's why astute viewers have noted that only Bobby Guza's name appears on recent Head Writer credits) to work on Secrets and both he and Christopher are in negotiations with GH for their upcoming involvement.
Ted King will continue to air through Robin Christopher's maternity leave, with his story shifting more towards Diego for a while.
As Katrina reports in "You Were Saying?" SID and SOD give conflicting reports on Ingo Rademacher's staying versus his going. Guess we'll know when it happens, or doesn't.
For all of you who are wondering, that is Sonya Eddy as our new favorite nurse, Epiphany. If you think you've seen her before, click on her name to peruse the many, many roles this wonderful actress has brought to life.
Coming up:
Sonny goes after Escobar, but ends up taking an ass whoopin from Escobar's men. In rides Jason to save the day. Jason later takes care of Escobar himself.
Alexis buys Alcazar's lake house for her growing family.
Jason and Liz rekindle their friendship, but Liason fans should not get their hopes up yet.
Robin and Patrick find themselves soaked and stranded.
Sonny goes off on Alexis, then later has no memory of doing so.
Nikolas is attacked and beaten and pounded and pummeled.
LuLu teams up with Diego.
Jason confronts Emily about Sonny's behavior.
Maxie kisses a drunken Lucky. How ironic was it that the writers used the scene of Maxie asking Lucky to dance with her to help her grieve Jesse? Brought to mind Elizabeth asking Jason to dance with her to help her grieve Lucky.
Lucky panics when he sees he only has a few pain pills left and uses them to pass a physical test that will allow him to return to work.
After his beatin', Nikolas goes after the truth.
---
Love ya!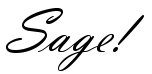 Now go make a donation!!
Donate to keep
Sage & EOS
on the net!



---
Archived Columns
Sources: ABC Soaps In Depth, Soap Opera Digest
& various internet soap rumor hangouts.