---
June 1, 2006
---
AMC

June is a big month for AMC in terms of comings and goings. On June 29th, Marcus Patrick will be joining the cast as Jamal Cudahy (Tom and Livia's adopted son). The role of Jamal has been played in the past by James Wiggins and then by Jamal Williams. It is reported that Jamal will be a law student who is involved with Erin Lavery and Aidan Devane.

As I mentioned some time back, Colby Chandler is being recast and SORAS'd into Ambyr Childers. Childers is a newcomer to daytime, previously seen in a few feature films like "Dickie Roberts: Child Star" and "Carolina." Colby is being SORAS'd to about age 15-16. It is not expected that Marcy Walker, who plays Colby's mother, Liza, will be accompanying her daughter back to Pine Valley. New Colby will begin airing July 3rd.
AMC is also supposedly recasting the role of Petey Cortlandt, as well as Travis Montgomery's son, Matthew. There is no further news on those recastings.
John James, formerly of "Dynasty" and "The Colbys," as well as As The World Turns, will begin airing on June 13 as the recast Jeff Martin.
Dr Greg Madden, having finally pissed off the wrong people, will meet with a dramatic demise in June.
Coming Up:
Kendall does wake up and finally gets to see Spike. She and Zach grow even closer as she learns all he was willing to do to keep Spike alive. She also has the opportunity to see JR.
Speaking of JR, he works to make inroads with both Babe and Dixie.
When Lily returns, Jack fears losing her again enough that he agrees that she and Jonathan may remained married and live in Greenlee's old apartment.
Greg packs Erica away with his other secrets and leaves town while Tad, Dixie, JR, Jamie and Di try to stop him. Del sabotages Greg's plane and later, Greg is knocked unconscious by an unknown person and is found to be missing.
Tad promises Dixie that they will find their daughter together.
Josh pretends not to care that his father is missing.
Erica wakes up on a park bench and Greg wakes up in considerably less comforting circumstances... he finds he is buried alive.
As he discovers that he has a food, water and air supply, a digitally altered voice tells Greg that if he wants to be freed, he must disclose the location of Kate.
Kendall is a startling presence at JR's hearing.
---
OLTL
---
In the "rumor only" category, we have Tika Sumpter being recast out of the role of Layla, possibly with Andrea Pearson (the second Gia on GH).
Supposedly, as with the Matthew paternity case before, we will hear that Antonio is Brennan's father when she is in actuality Nash's daughter.
Gossip says that Hillary B. Smith is NOT happy with Nora still being in a coma and is not expected to extend her contract beyond the one year added in January.
Coming Up:
Margaret beings to undergo therapy to regain her memory while Evangeline begins to accept her blindness and seeks help in learning to function in society as a sightless person.
Dorian appeals to John on David's behalf.
Blair seeks forgiveness and wants to know the truth about Spencer.
The corpses thought to be Margaret and her baby are found to be from a morgue in Kentucky.
Nash leaves Tess and Brennan with her blessings to settle the problem with Reston once and for all.
Jessica takes over again and enjoys a reunion with her family and her baby.
David prepares to tell the truth about Spencer.
Margaret suffers a tragedy.
Nora finally speaks.
---
GH
---
Elizabeth's son, Cameron, is being SORAS'd and recast. Now played by Ashwyn Bagga, the role will be aged to an older toddler.
It has been confirmed that Finola Hughes will be returning now and then in the role of Anna Devane.
Coming Up
The Haunted Star is robbed.
Lucky's need for painkillers causes him to become more and more reckless in finding was to get them.
Emily comes upon Sonny digging in the back yard. What's a displaced mobster to do?
Ric has plans to take Jason's place at Sonny's side and encourages him to take back the business.
Emily is not satisfied with Sonny's explanations and asks Dr Winters to diagnose him without his presence or his permission. She's Emily! Why would she need to employ any ethics?
Sonny finds out what she is doing and confronts her about it.
Robin once again destroys Carly's happiness by telling a secret.
Jason continues to insist to Sam that they are finished.
Love ya!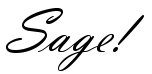 Now go make a donation!!
Donate to keep
Sage & EOS
on the net!



---
Archived Columns
Sources: ABC Soaps In Depth, Soap Opera Digest
& various internet soap rumor hangouts.
(I have determined that I do not get
a lot out of Soap Opera Weekly)