---
June 8, 2006
---
AMC
Head Writer Megan McTavish assures us that a "who killed Greg Madden" story is coming soon. He's not out just yet, but it won't be long.
Josh Madden will soon have the truth revealed to him at last. McTavish gushes about the story in Soaps In Depth, voicing her excitement over a plotline that involves the core families of Pine Valley: the Martins and the Kanes. Says the scribe, "One of the reasons I like the whole Josh story is it goes back to when I was watching [AMC] in 1972, never knowing I would be a writer of it." Had she known, perhaps she would have paid closer attention and not rewritten Erica's motives for having the abortion in the first place.
TV Guide Online reports that the role of Annie McDermott has been cast with Melissa Claire Egan. Her first air-date is Monday, July 10. Annie is reported to be the woman who is on the run from an abusive husband, rumored to be the nefarious Terry from New York City who was out to take advantage of Lily. Terry will be resurfacing in Pine Valley as well.
With Erica immersed in the return of her first husband (Jeff Martin, played by John James), Jack ends up taking solace with an old love. Suffice it to say, things won't be resting easy between Erica and Brooke.
Supposedly, a "very odd romance" is in the works for Simone.
The marriage of Lily and Jonathan may not last long when Jonathan is forced to make a supreme sacrifice out of love.
Aiden Turner (Aidan) has signed a new contract with AMC for an undisclosed amount of time.
In regard to Kendall learning that JR is responsible for her accident, Alicia Minshew says, "It's war."
The "Just Get Over It" award for AMC goes to Eva LaRue, who pouts and whines through a good bit of her interview in the new issue of Soap Opera Digest. She is pissed that she did not get a send off for Maria that she felt was befitting to the character. *sigh* Now, if I have it right, she left the show for many years of her own choice. She had a fanfare return complete with a front burner story that went on for months. She got her fairytale remarry with Edmund, then she and John Callahan decided to divorce, so he was off the show and soon afterward, she decided she missed California (who wouldn't?) and wanted to move to the West Coast so she could more easily co-parent with John. It's not at all uncommon that an actor's personal life requires changes that affect the show and I don't think any fan (the sane ones, anyway) truly have a problem when that happens. What bothers ME is when actors get all huffy about how their exits (or pregnancies or whatever) are handled when they are the ones introducing the special circumstances that are being accommodated! I can completely understand an actor, especially a veteran character, getting all bunged up over a storyline dictated pink slip that comes out of the blue, but when the actor themselves says, "I'm leaving, here's why" and then complains that they were not given an interesting enough story, it kind of pisses me off.
In context of the article, she remarks that her friend, Thorsten Kaye (Zach), "is sick of hearing about this from me." She laughs over his response which she says is, "Would you shut the f*** up? You've got two shows, you're in a warm area and I'm freezing my ass off out here [in New York]! Shut up with the 'Oh, poor you, you didn't get to go out on a good note.'"
Word. I knew I liked that guy.
La Rue is currently playing Natalie Boa Vista on "CSI: Miami," plus she hosts "Modern Girl's Guide to Life" on the Style Network.
For those worried that Thorsten Kaye might be bailing, rest assured that he has a story at least through the summer as the Zach/Kendall/Ryan triangle gets even hotter.
Coming Up:
Jonathan asks Erin to keep his secret: his cognitive skills have returned.
Del confesses to planting the bomb that blew up the Madden yacht.
The story of "Where is Kate?" is going to play out allll through summer.
Erica encourages Ryan to fight for Kendall, but he only wants her to be happy.
Jeff comes back to town and is, well, in an assertive mood, let's say.
JR tries to throw up obstacles between Zach and Kendall.
Babe lies to the judge (at Dixie's suggestion) and says that JR never meant to kill her. She gets JR to change his plea to "not guilty" and despite a moving testimony by Kendall (whose recounting of JR's confession is determined to be inadmissible due to her physical state at the time), JR is cleared of all charges.
Dixie begs Zach not to seek revenge on JR. I mean, why should a Chandler have to pay for their crimes? Especially one that is Dixie's son!
Ryan and Kendall each go about getting even in their own way. Kendall works to get Babe ousted from Fusion and Ryan makes empty threats.
Zach asks Kendall to let it go and not allow her desire for revenge poison their lives (or, I'm guessing, make Dixie saaaaad).
On Tuesday, the 13th, Erica tells Jack that Josh is her son.
That Friday, Ryan questions the paternity of Spike.
---
OLTL
---
'Bree Williamson (Jess/Tess) is very excited about the upcoming scenes of Jessica reuniting with Viki. She told SOD, "They're the best scenes I think I've done in all this. Erika [Slezak, Viki] made me cry."
Are we sure this isn't Rappaport Syndrome? First Claudia and now Bruce! Robert Leeshock, who plays Nash's skeevy buddy Bruce Bartlett, has been put on contract and will be involved in the story of Nash getting out from under the threats of Old Man Ralston. So... these people can get a contract but not Timothy Stickey (RJ), Katherine Hickland (Lindsay) or Ilene Kirsten (Roxy)? Um, yeah, sure.
Dr Crosby has left the building. Scott Bryce, who plays John's resident shrink, has accepted another project and will no longer be in the role.
Coming Up:
Marcie continues to mother little Tommy (I still think he's really Margaret's baby).
When Matthew tells RJ that Nora is having very slow progress with her speech therapy, RJ steps up to help out, which leaves Lindsay feeling left out and sad.
Bo and Rex come closer to reconciling. (I think Rex is the new Hank Gannon).
Nash and Bruce team up to take down George Reston. I have to wonder why Nash didn't "team up" and take the threatening note to the police.
Jessica is determined to be integrated and finds out that Antonio knows the secret Tess guards in her head.
Bo arranges for Margaret to meet with Spencer, but Spencer avoids incriminating himself, that slick fox.
It is discovered that Bo's name is on the autopsy reports for fake Margaret and her fake baby.
Blair pretends she still loves Spencer to get information from him after she hears the truth from David.
Todd isn't about to forgive Blair any time soon.
Blair tells Bo that Paige helped deliver Margaret's baby.
Margaret remembers a good bit more, but is in an accident on the way to the psychiatric hospital. Michael is able to revive her.
Hugh apologizes to Todd for having him put to death.
Evangeline plays with fire when she baits Spencer, telling him that Margaret remembers everything.
Jessica finally faces the truth about her split.
---
GH
---
Nikolas will not only get to bring his son home to Wyndemere (will he rename the boy, is my question!), but will have a nanny. Amanda Tepe will play "Colleen," a nanny chose by the child's psycho great-granny. Tepe formerly played Enid, the sister of a maintenance man who died in the Port Charles Hotel fire in 2004.
Lesli Kay (ex-Lois - the second one) made a drastic change for her role as Felicia on Bold and Beautiful. She literally shaved her head for a cancer story.
More on Finola Hughes' return: She will begin airing again the end of this month and continue on through the summer. Head Writer Robert Guza comments, "The characters we are bringing back, I am deliciously happy to have... We love the idea of various combinations resurfacing and reigniting in all sorts of interesting ways."
Guza was cryptic with Soaps In Depth about the rumor that characters would be killed off over the summer. "Yes. Oh yes. More than one. People you've seen a lot of. They are not minor characters, I will tell you that." Well, that means that a good 95% of the cast is safe, since we rarely see them. Rumors are strong that Mfundo Morrison is not just outta there but already gone. Meanwhile, Guza, a prominent writer, continues to end his sentences in prepositions.
Speaking of gone, Ingo actually made a comment, which was, "We're talking, but I can't talk about it," referring to contract negotiations with GH. Meanwhile, his has expired and we should expect that he might not be on canvas for a while until an agreement one way or another is reached. This is likely the reason why the paternity issue was tied up very quickly.
Tony Geary leaves for his regular summer vacation soon. He'll be back. Still the rumors already.
According to Soap Opera Digest, another player (or I should say Playah) has something to say about the many veteran returns. Anders Hove (ex-Faison) says, "Where the hell is Faison?" Hove says he would love to come back, but feels it's a long shot. He does confirm that he still has his trademark long hair. "I haven't changed a lot in that sense. No one here [in his native Denmark] recognizes me, but in London, they know Faison." (In my head, I read that as, "Zay kno' Fayzone")
Many voices are chiming in to say that Ric is definitely returning to his more devious nature (we all knew that whole "poison your wife" "kill a guy with a tire iron" "mindrape Carly" and "kidnap a pregnant woman" Ric was still in there, right? He'll get the inside scoop on manic-depression and use this knowledge to his own advantage to manipulate Sonny.
One face you've seen a good bit of lately is that of Minae Noji. Don't recognize the name? She's Dr Kelly Lee from the Lick Slam Suck brigade. Noji had a role in the recent hit, "Memoirs of a Geisha," as well sporting as a very prolific career that stretches back to the age of five (including a stab at playing Yoko Ono in "Instant Trauma." She is also an entrepreneur and artist. For a full bio, click here.
The "Just Get Over It" award for GH goes to Nancy Lee Grahn. Out of the middle of nowhere in a Soap Opera Digest interview about her desires that Ric and Alexis have their own interests (regarding her being DA and his involvement with Sonny) without it causing conflict, she busts out with, "Whether it's written that way or not, I don't get a vote. If I did, Gore would have won [the 2000 presidential election]." Then she laughs. I voted for Gore for some really good reasons and I don't regret it for a second, but jeez, it's been six years! GET OVER IT and talk about the soaps again, please, and NOT your damned political agenda.
<==============look at the frowny Sage for the appropriate facial expression.
Manny is going to kidnap Sam, which is a bit of irony for Alexis not only because of her ranting about how much danger Sam was in with Jason, but also because she was the driving force in getting Manny freed.
Coming Up
Jason secretly helps Lucky out of a jam.
Ric reads up on bi-polar disorder.
Helena = lurkity lurk lurk lurk
Sam moves to Kelly's.
Lorenzo bails Diego out of yet another mess.
Jason tells Elizabeth that he thinks Lucky is abusing pills.
Unable to contain herself any further lest she piss down her own leg, Robin announces that Nikolas is actually John's father shortly after the christening ceremony ends. Carly tries to carry on the lie, but Jax breaks form and tells the truth and apologizes. Nikolas is furious and Carly is heartbroken, especially after Nikolas informs the couple that they will not have a place in his child's life. Colleen the Nanny is not the only one who will be lending a hand to Nikolas. Emily will also be giving support to her ex, who does not break things or dig in the garden in the dark quite so much.
Patrick has a surprise reaction to Robin's announcement.
Sonny's mood swings continue to spiral out of control. Head Writer Bob says, "The bottoming out of Sonny is going to have major repercussions."
Insert spooky music here, I guess.
That's it for this week!
Love ya!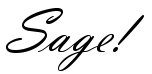 Now lovey, come on, go make a donation for Sage!!
Click here for credit card
& PayPal donations:

---
Archived Columns
Sources: ABC Soaps In Depth, Soap Opera Digest
& various internet soap rumor hangouts.