---
June 22, 2006
---
After a four season run, it has been announced this week that SOAPnet has canceled the show, "Soap Talk." The show's staff, including hosts Ty Treadway (*sigh*) and Lisa Rinna (*full body shudder*) were informed of the news on Tuesday. The cast and crew were reportedly shocked by the cancellation, however SOAPnet cites low ratings as the reason for the show not being renewed for a fifth season.
The show has during it's time on air, received 12 Daytime Emmy nominations. New episodes will continue to air through the fall.
---
AMC
---
News
Jamal Cudahy (adopted son of Livia and Tom Cudahy) will come to town on June 29th, played by Marcus Patrick. Jamal will be a potential love interest for Erin Lavery.
ABC SID speculations that Michael B. Jordan (Reggie) will likely follow Tanisha Lynn's (Danielle) lead and bounce from the show. Reportedly, neither actor was happy at being reduced to recurring status.
Taylor Gildersleeve will be joining the cast as Sydney, a young friend of Colby Chandler (Ambyr Childers - debuting Jul 3). We will see Sydney on August 1.
Def Jam recording artist, Rihanna, will appear at ConFusion on July 25th.

Coming Up
Kendall receives a very heartfelt, personal gift from Zach and they make love. (Hey, he wouldn't even have to give me an engraved wedding band to get me to put out.)
Ryan refuses Julia's offer to perform a DNA test on Spike.
Kendall takes the stand in court on Zach's behalf.
Adam blanches white when JR signs over all of his shares of Chandler Enterprise AND full custody of Little Adam to Babe in an effort to prove he has changed.
That prompts Babe and JR to also make love. Being given something cool seems to be the ultimate turn on in Pine Valley (or anywhere else, for that matter).
Jonathan convinces Amanda that his recovery must be kept hidden to protect Lily.
Jack stays with Brooke the entire night while Erica opens up to Jeff.
Erin and Aidan have problems, but the Julia/Jamie machine is full steam ahead.
David lulls Dixie into a kiss.
Tad exposes David's con, but Dixie does not react as he expects. She ditches both men and ends up commiserating with Ryan.
Tad and Dixie argue at the casino bar while Kendall and Zach argue about their arguing.
The argument results in Tad pouring his heart out to Dixie, which in turns results in a very passionate moment between them.
On July 4th, Ryan tells Kendall he loves her.

Commentary
In an amazing show of strength and an unbelievable turn of events, AMC has accomplished the impossible: they have made me hate Dixie even more than I already did.
In yet another unprecedented and monumental feat, they have also made me like Jeff Martin for the first time ever. John James has been amazing in the role and it is refreshing to see someone actually stand up to Erica for a change (and mean it).
A week without Krystal is like a week without Satan.
Why am I strangely attracted to non-impaired Jonathan when I really, really don't like his character? Isn't it saying something about talent of the actor when he can go from zero to hot just by having a seizure? I'm confused. *sob*
I was so proud of Babe for pressing charges against JR and now that she has recanted under Dixie's oppressive and scornful eye, I just hate her all the more. I would normally be completely offended by the catty, cruel behavior of the Fusion girls, but all I could think of was, "Go home to your murdering husband, bitch, you're not wanted here."
I feel like such a dar dar for not getting the joke of the baby being named "Spike." Kendall used to be played by Sarah Michelle Gellar who played Buffy the Vampire Slayer whose favorite nemesis and sexy vampire romp in the sheets was named Spike... I'm even a major Buffy fan and missed it. Someone slap me to sleep, then slap me for sleeping, please.
---
OLTL
---
News
Tobias Truvillion (Vince) given a full contract, is said to be in place as a love interest for Layla.
In an article with SOD, Hillary B. Smith (Nora) barely conceals her frustration over being left in a coma for so long and speaks about her time on OLTL in past tense. "It's been a great ride."
Although Michael Easton (John) has a new official website at www.michael-easton.com, the actor is still closed for business on comments regarding his future with OLTL, saying only, "Whatever happens in August, thank you for giving me a home for the past 3 years."
R&B star, Mary J. Blige, will appear at Capricorn on July 28th.
Initial reports are good on the recovery of Phil Carey from lung cancer. He says, "I had my CAT scan and I passed with flying colors. I'm clean. I still feel lousy, but I feel good." OLTL Head Writer, Dena Higley, says that they expect to get back to Asa's storyline in the fall and continue the story of his connection to Spencer Truman. At this time, Carey's absence is being accommodated by having Asa recover from an off camera heart attack. You will see Asa briefly on Tuesday (June 27th) in a scene with Matthew that was taped before Carey went on medical leave. Get your tissues ready.
This time, Margaret really did die. There are no plans at this time to revive the character, who succumbed to injuries from her crazy van crash on June 15th.
Look for lots and lots and lots and lots of Rex and Adriana.
Coming Up
Adriana tells Dorian about the stalker
Daryl is appointed Adriana's new body guard, but is behaving strangely.
John is upset that Natalie continues to meet with Vincent.
Claudia slips into bed with Nash and they share a kiss until Nash wakes up and freaks out.
Rex works to clear Bo's name.
Jessica has a Norman memory.
Jessica and Viki share a close moment when Viki makes a painful confession to Jessica and is forgiven. (Bree Williamson (Jessica) says that these scenes were very intense and praised Erika Slezak (Viki) for her performance.)
Niki tries to get the advantage over Viki.
Clint and Antonio talk about raising stepchildren.
Dorian crashes a party for Brennan, then stakes her claim on Clint. This does not go over well with Viki.
It is confirmed that the morgue employee from Kentucky is working for Spencer.
Paige stands up to Spencer.
David does right by John.
Nora is eager to get back to being a mother to Matthew.
Blair is surprised to return to the penthouse and find it already occupied... by Todd.
Todd boots Blair out of the penthouse and threatens to sue her for custody of the children.
When she refuses to aid him in his plot of revenge against Blair, Todd says something he regrets to Evangeline.
Todd kisses Blair, but insists that he feels nothing for her.
Todd calls for Viki, John, Evangeline, Starr, Ricky (who the hell is Ricky?) and David to come to the Country Club, where he thanks them for their help.
On July 3rd, Kelly finally gets around to taking that pregnancy test (she should be in labor already as long as it took).
Commentary
I think the integration has already begun because I don't hate Jessica nearly as much as I did before, so some Tess must be in there somewhere.
Speaking of characters I have hated, I find myself struggling to find any modicum of sympathy for Blair and appreciation for all she is sacrificing to get the goods on Spencer. I just can't. I feel like every chill she feels when he touches her is bought and paid for. She earned it.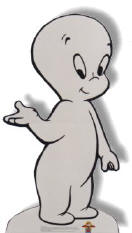 By the way, the role of Paige Miller has been recast with the cardboard cutout of Casper the Friendly Ghost. Evidently, this recast occurred several weeks ago, but none of us noticed until now.
I loved the (all too brief) scenes between Matthew, RJ and Nora and hope that Nora's recovery will be given at least a little more attention as it progresses. As it is now, it's more of a mini-side bar to the much more important stories, such as Adriana's boring stalker and Marcie's obsession with her little foundling.
I know I am in the majority when I say I think it is only a matter of time before there is a scene between Spencer and David where Spencer admits that he is actually the one who fired the bullet that killed Thomas McBain. I am quite sure that the ballistics of who fired what bullet won't hold much sway with the McBain brothers, but it might alleviate a little of David's guilt.
---
GH
---
News
Both Ingo Rademacher (Jax) and Tyler Christopher (Nikolas) have signed one year contracts to remain with the show. Both will be off screen for a bit while vacationing; Rademacher in Hawaii and Christopher in Mexico.
Speaking of Tyler Christopher, his cross-dressing debut in an independent movie is going straight to DVD, bypassing the box office completely. "Face the Music" is now available, a film in which Christopher plays an aspiring rock star who fakes his own death and goes into hiding disguised as a woman. The movie was actually made 5 years ago, but is only now being released.
Robin Christopher will exit soon for maternity leave, but when that is finished, Skye will return still very pregnant. Says Head Writer, Bob Guza, "She's unbelievable. I think last time she probably took, like, an hour [of maternity leave after giving birth to son, August, in 2004]."
The missing in action co-head writer, Charles Pratt, is likely to stay missing in action. Although he took a leave of absence to write "Secrets of a Small Town" (the pilot was not picked up by ABC), he is not expected to return to GH.
That's Amanda Tepe playing Nanny Colleen.
Anthony Geary goes on his annual summer vacation in early July and will return in the fall. Before he leaves, he kicks off the return of Finola Hughes (June 30). Those scenes have already been taped and Geary is happily summering in his beloved Amsterdam home as you read this. His exit will again take the form of a Holly Sutton story, as will his return.
Ted King made it clear in the July 4 issue of ABC SID that there is no way he would stick around if he ever were to be reduced to recurring status. His exact words, "I do this because I love it, and I have no intention of doing it part time, if you will... There's no reason for me to be anywhere unless I feel appreciated." I have a feeling the idea of "Money [and air time] talks and bullshit walks" is going to quickly become an issue for several GH vets. King does offer a bit of encouragement to his fans, saying, "I've had conversations with [the writers] and there's nothing to be concerned about."
A class act 'til the end, Mfundo Morrison tells ABC SID, (of the recent death of Justus Ward) "By no means is this a tragic event. It's just graduation, if anything." Rumor is that Mfundo's axing was just the beginning and there are plans in place to trim down the Quartermaine family considerably.
Sonny will get help from an unexpected source. Yep, Carly is going to be there for him, leading to a "shocking twist" that may put Emily in an awkward position. Maurice Benard comments, "It's a very Sonny and Carly thing to do." Hmm. What COULD it be? Sonny turns to Jason for help in keeping Emily safe.
Coming Up
Manny definitely has the upper hand with Sam and she is forced to do what he asks.
When I first read the spoiler saying, "Ric receives a beating he will not soon forget," I immediately thought that a security camera in their lake house must have shown Alexis how Ric was leering at Sam when she was wearing her white nightie in the moonlight. Regardless, Ric receives a beating he will not soon forget.
Luke pays a visit to the back of Laura's head.
Skye confronts Lorenzo about his continued mob connections.
Robin and Patrick have... issues.
Jason comes to Elizabeth this time to ask for her help.
Diego and LuLu push forward with their plans to break up Dillon and Georgie.
A close moment between LuLu and Dillon creates regrets for both of them.
On July 4th, Jason comes to Sam's rescue, but she ends up in the middle of his stand off with Manny.
Sonny's rage continues to escalate, causing a good bit of danger.
Commentary
I know I am likely in the minority here, but I have to say that I don't care HOW long Maurice Benard has been waiting to play this manic-depressive storyline, in my opinion, it pretty much sucks. Watching Emily beg Nikolas not to press charges against Sonny after being threatened at the Haunted Star with a broken bottle was like watching every other abused, enabling partner beg forgiveness of others for the dangerous, explosive behavior of their beloved pet projects.
I truly am not trying to be insensitive to those who have disorders for which they need treatment and God bless Paxil, but when you are a danger to others, there has to come some point of accountability rather than having people around you (as is soap opera protocol) begging and pleading and making excuses. It just makes me sick.

And poor Max! How much more does a guy have to take before he says, "See ya!" and heads for the Poconos with the money he has been scamming from Sonny all those years. I'd be running to Jason begging for a job before I'd stay there and take more of that abuse! No sir, I don't like it. I don't like it one bit.
You, however, I adore!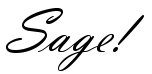 Now lovey, come on, go make a donation for Sage!!
Click here for credit card
& PayPal donations:

---
Archived Columns
Sources: ABC Soaps In Depth, Soap Opera Digest
& various internet soap rumor hangouts.