---
June 29, 2006
---
AMC
---
News
AMC viewers are up in arms over the "out with the old, in with the new" atmosphere at AMC. With yet another contract player coming onto the scene (Sean Montgomery is now being cast, which is the 6th contract role in the past 2-3 months), it was announced this week that Tonya Pinkins (Olivia) and Jill Larson (Opal) have been bumped to recurring status. This follows in the heels of fan favorites, Tanisha Lynn (Dani) and Michael Jordan (Reggie) also being dropped to recurring. AMC insists that both actresses will continue to appear on an irregular basis (sort of like before without the perks, I guess).
Tanisha Lynn posted a statement on her official website attempting to correct the impression Head Writer, Megan McTavish gave in a recent interview that Tanisha herself decided to leave the show after being reduced to recurring status:
She said she "never asked to be let out of my contract to leave the show. I believe in honoring your commitments to your fullest ability. Now, it is the case that I desired to be more involved with 'AMC.' But there were many things that I had no control over and all I've ever wanted was to be utilized to my fullest potential. So, I hope this clears up any misconceptions and hopefully you will be seeing more of DANIELLE!"
Huh?
Abigail Spencer (ex-Becca) will be appearing in a Lifetime drama called "Angela's Eyes" as an FBI agent who is able to expose liars. Pity she's not still on AMC with that talent. The show airs July 16th at 10pm.
Ambyr Childers, NuColby, will be starting on Monday. Taylor Gildersleeve will be showing up as Colby's friend, Sydney, on August 1. Sydney is said to be connected to another Pine Valley resident as well.
Marcus Patrick is expected to debut as Jamal Cudahy this week.
What's Coming Up
Kendall refuses to leave the hospital without Spike.
Ryan refuses to entertain the idea that Spike may not be his biological child.
Dixie becomes hysterical thinking that Kate called her.
Di and Dixie become closer.
Adam bails Colby out of jail.
Krystal warns Adam to keep an eye on Colby.
Dixie and David believe they will never find Kate.
Jamie steals a vial of truth serum from David.
Colby makes an icky discovery in the park.
Tad watches as Josh and the police try to dig up Greg.
Josh is devastated to find that his father is dead.
Zach comforts Dixie over her guilt regarding what happened to Greg.
Pine Valley residents all suspect one another of burying Greg alive.
Tad and Dixie share a kiss. Cady McClain says, "It's heavy man!"
Commentary
Admittedly, I did not think Greg would meet his end buried in the park. I figured it would be a face to face show down complete with a long, ego-driven confession of his sins. Sadly, it was not to be. Now it would seem that the key players will have to sift through Madden's post-mortem belongings to get their answers.
I imagine that like the extreme coincidence of Dixie landing in the same town with Madden after following him all over the world, we will be expected to believe that Kate will also show up in Pine Valley. It's like Hollywood and Vine. Stand there long enough and everyone will eventually show up.
It was so blissfully quiet without Krystal around and now she's back in force with even more scenes scheduled. Adam: How the mighty have fallen.
---
OLTL
---
News
While AMC and GH go through major cast changes, OLTL is focused on two: Tuc Watkins (David) and Michael Easton (John). "Inside sources" (not mine, those that report to the magazines) swear that both are leaving when their contracts expire the end of Summer. At the time of this writing, there is still no word on the status of either actor with the show, but August seems to be the magic month.
Reports of Phil Carey's (Asa) health status continue to be favorable and he is expected to return to the screen in the Fall.
On page 15 of the July 4th edition of ABC Soaps In Depth, a caption reads "Will it be a happy reunion for Spencer and his dad?" below a photo of Spencer examining Asa. Did I miss something? OLTL is the one show I try to watch every day and I don't remember the big reveal that Asa is Spencer's father. I remember a lot of speculation, a good bit of it mine, but I do not recall a confirmation. I must have gone to pee at the wrong time or something.
SID also included an article called "Gone But Not Forgotten," featuring characters they want back yesterday. For OLTL, the choice was Marty Saybrooke Thornhart. All I could think of was "why?"
They tried to explain it, but I was still thinking, "but why?"
Coming Up
A kiss between RJ and Nora causes mixed feelings, not the least of which in Lindsay.
Nora becomes increasingly frustrated with the length of her recovery.
Marcie's heart breaks over the idea of giving Tommy away to a foster family.
Jessica sends Nash a photo of Brennan.
Todd continues to proclaim his love for Blair to be dead while Blair hides from him her plan to get evidence against Spencer.
Starr assures Spencer that her parents will be reuniting.
Cris tells Evangeline that he felt jealous over seeing her dance with Todd.
Adriana's stalker evades capture at the Bayberry Inn.
Rex and Adrianna make love for the first time.
Blair is determined to win Todd's trust and his heart again.
Jessica and Todd share a close moment.
George Reston is not quite as oblivious as Nash thinks he is.
Paige is taken away by the Atlantic City Police, but not before sharing a kiss with Bo.
John, Natalie and Michael listen as David tells them what happened the night Thomas McBain died.
David pleads guilty to murder and shares a heartfelt good-bye with Dorian.
Jessica decides to be hypnotized.
Viki and Clint kiss.
Kelly takes a pregnancy test. (It's positive and rumor says that Kevin, not Duke is the father)
Kevin brings Kelly a box she left at the gatehouse and they find it contains baby clothes.
Kevin sees the pregnancy test box, but Kelly covers, saying it is Adriana's.
Kelly confides in Hugh.
Roxy lends Marcie a hand with Tommy.
John remains unconvinced that all is as it appears in his father's death.
Commentary
Show me the love!
OLTL continues to chug along, righteously easing its way through plotlines with the pace of a turtle, but the intensity of a laser. The show never balks, never blinks and leaves no stone unturned in the process of working its way through a story.
My question is, where's the love? We are supposed to fall right back into the family place with Antonio, Jessica, Brennan and Jamie while poor Nash suffers in Napa with Claudia as a consolation prize. Sure, it's Antonio's turn, but I just don't see the romance between them with all of this DID drama hanging over their heads.
Lindsay and RJ are together, but we never see them. Dorian and Clint are apparently platonic, kiss-on-the-cheek type folks.
Rex and Adriana? I found a picture (left) that aptly reflects my feelings on the pairing. I heard Dorian bitch endlessly about Adriana dating River (the non-biological nephew, we now know). I heard Dorian bitch endlessly about Adriana dating Duke. Now she's bitching endlessly about Rex. Any time Adriana hooks up with someone, it's little more than Dorian bitching and Adriana stomping her foot and whining about her independence.
That's not love.
Gimme some love already.
---
GH
---
News
Of course, the only news that matters is that Genie Francis is returning as Laura Spencer. As of yet, there is no word on the direction her story will take, although Kate from A Cynic Soaps Up favors a "Flowers for Algernon" take where Laura is given an experimental drug that returns her to herself, only to find that the effect is temporary (or fatal). The net is alive with speculation as to how her return will be handled, primarily with doomsayers certain that GH will screw it up. I cite the recent returns of Tristan Rogers, Emma Samms and Finola Hughes and encourage viewers to wait and see. If it sucks, let'em have it, but let us at least give it a chance!
Coming Up
Carly makes a promise to Sonny.
LuLu and Dillon regret their actions.
Robin makes inroads with Anna and Robert.
Maxie comes under suspicion for drug theft (Nooooo! Really?)
Robert wonders what Anna is up to.
Lorenzo is intrigued with Anna.
Manny threatens to kill Sam.
Jason escapes from the police with Elizabeth's help.
Jason finds Sam just as Manny is set to give her the tattooing of a lifetime.
Elizabeth asks Lucky to call for backup for Jason.
Manny escapes, but not before popping Jason in the shoulder with a bullet.
Elizabeth and Patrick take care of Sam.
Jason goes after Manny and Lucky arrives in the middle of their confrontation.
A shot is fired and Manny falls from the rooftop to his death.
Lucky is seen as a hero for killing Manny, even though he didn't.
Ric and Alexis are at odds over what Alexis finds.
Where's Sam?
Jason feels like he is responsible for Sonny's breakdown.
Ric loses his hold on Sonny.
Have a great weekend!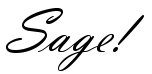 Now lovey, come on, go make a donation for Sage!!
Click here for credit card
& PayPal donations:

---
Archived Columns
Sources: ABC Soaps In Depth, Soap Opera Digest
& various internet soap rumor hangouts.