---
July 9 2006 - Sage has suffered a broken arm and will be unable to continue his column for the foreseeable future. When he is able to resume (this is expected to last for several weeks at least), he will send notice through his mailing list and an update will be posted on the EOS main page (www.eyeonsoaps.com). We send our best healing energy and love to Sage and I know that he is as disappointed as we are that he is unable to visit with us.
---
July 7, 2006
---
LAST DAY! Our site expenses
are deducted TONIGHT, Darlings!
I sent in my donation! Did you
send yours? Keep Sage Around!
Click here for credit card
& PayPal donations:
or click here for
other options
---
Darlings!!! I HATE when plans get canceled, especially when I am looking forward to them so much! Sadly, I was unable to follow through with my birthday plans and they have been delayed out for a couple of week. The good news is that it corresponds with Katrina's trip to LA when she won't be posting anything except GH Fan Club Weekend Updates anyway! So while that worked out better overall, I wanted to have fun NOW! *pout* So I sat home on my birthday and had a Hostess cupcake and watched reruns on TNT. Dammit all to hell.
Anyway, since I am still around, I decided to have some fun with these spoilers for next week!

Since I pretty well beat my rumor and gossip horse to death in the column earlier this week, I'll just stick to spoilers.
---
AMC
Tad is absolutely destroyed over losing his avenue to Kate and ends up consoling himself with Krystal.
Dixie lays eyeballs on Krystal and Tad making out and is all kinds of owie, enough so that she turns to Zach.
Surprise! Tad then gets to see Zach and Dixie in a liplock.
Colby is instrumental in causing Babe to doubt JR even more as to his role in Dr Madden's death.
Ryan agrees to let Eric house Annie and her daughter in his penthouse, but he is uncertain about his decision after catching Annie in a lie.
It dawns on Kendall that since all of the surrogate babies were created by Greg Madden's sperm, so might Spike be.
Zach comforts his wife, but what can he say, really?
Kendall goes to Josh to ask for DNA to run a comparison test on Spike. Both she and Josh are blown away by the result.
The week of the 17th, Zach insists that Erica tell Kendall that Josh is her brother (is it getting incesty in here or what?)
Ryan still insists on being a part of Spike's life... and Kendall's.
Kendall gives Erica good advice about Josh.
---
GH
---
Watch for more of MY favorite new couple, Robert and Tracy, who get together and knit eyebrows over what Dillon and LuLu are up to (please tell me I don't sense an unexpected teen pregnancy coming up

)
I don't think I want to see this. Now we get a "guy's night out" complete with fantasies about the town (spoilers say), "Bad Girl." I had to really get a brain bleed figuring out who they were talking about, but according to one of the soap mags, it's actually Carly. Ew. If Lucky is included in the night out, it's going to be icky on so many levels. I am not sure I'm up for any more slamming and sucking on this show. It makes me a little seasick.
Sam manipulates Ric and Alexis to do her evil bidding.
Lucky is decorated for his valor (bravest pill popper on the planet).
Robert is pleased when he sees Anna get a little green around the jealous gills.
Skye makes plans to leave the country.
Sonny refuses to go to Rose Lawn, so Jason sends Carly away and takes over himself, starting with an apology to Sonny for putting him in a bad situation.
Jason and Carly have a conflict with Ric, which leads Carly to think that Ric's intentions toward Sonny may not be 100% honorable. Of course, we know there is some dumb story in place to make it as though Ric is pushing Sonny over the edge "for his own good" so he will at last get help for his long standing bipolar disorder.
Jason backs down on the issue of Sonny and Emily. If he's wrong about Sonny and Emily, could he also be wrong about himself and Sam?
Emily convinces Sonny to have a session with Lainey.
Jason and Carly are on a mission to expose Ric's plan.
Carly is determined not to fall in love with Sonny again.
News
Yes, that is Tristan Rogers on the Outback Steak House commercials.
---
OLTL
---
Dorian's feeling for Clint begin to grow and she tells Adriana that Clint makes her happy.
She also gives Adrianna her blessing as to her relationship with Rex.
Jess continue to have memory flashes of making love to Nash (what's a poor girl to do?), but she does manage to keep Tess from taking control.
Nash tells the police that he is responsible for George Reston's death.
Bo and Rex mend fences.
Antonio and Jessica are sure their love is strong enough to prevail over any obstacles.
Kelly almost tells Clint she is carrying his grandchild, but can't bring herself to do it. (And rumors say it is actually Kevin's)
Hugh tells Kelly a secret.
Evangeline does not approve of Vincent asking out her sister but he presents a counter offer.
Rex and Adriana go on location to the Jersey shore.
Bo and Paige continue to make positive strides in their relationship.
Marcie is distraught after losing Tommy, so Michael suggest they have a child of their own.
David pleads guilty and Dorian vows her friendship and support to him.
John can't lose the idea that something else is going on in the shooting of his father.
John and Natalie search the storm grate where he thinks the gun landed, but do not find it.
Starr invites Todd to dinner, but he and Blair end up in a screamfest.
Blair tells Todd that he might be wrong about her and it gives him pause for thought.
Spencer remembers the night Thomas McBain was shot.
Blair drugs Spencer with truth serum and starts to question him when the drug takes effect, but things don't go as she planned.
Todd ask David about his time in Bangkok

, hoping to get a lead on finding his son, TJ.
Todd has an interesting proposition for Dorian.
Blair is determined to expose Spencer's lies and crimes, so she asks John for help.
Todd begins the process of getting even with Spencer.
John and Natalie make a shocking discovery at the site of his father's murder, resulting in good news for David.
Love & hugs and have a great weekend!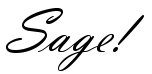 Now lovey, come on, go make a donation for Sage!!
Click here for credit card
& PayPal donations:

---
Archived Columns
Sources: ABC Soaps In Depth, Soap Opera Digest
& various internet soap rumor hangouts.