---
For the week of June 4th
---
One day this week I spent way too much time at the dentist's office. I left there swollen and in a bit of a mood. I needed a laugh and thankfully AMC delivered:
"We will teach him (Lil'A) real solid values."
Who knew Babe was such a comedienne? Not me. Her deadpan delivery was perfect, wasn't it?
Maybe Babe can do standup, instead of kneel down, at the CumBack.
Yep, the Careys are on the comeback trail at the CumBack. Good for them. Starting a bar takes a lot of spunk, but if there is one thing the Careys have experience with, it's spunk.
"Good music. Good food. Good drinks. Good people." That's what Krystal wants at her bar and I, for one, hope she gets all that and more. No, really, I do. The Cumback being a success will be the best thing that could happen to Jenny. With Krystal spending all her time at the bar, Jenny will be spending most of her time with Winifred or Ruth. Hey, I may have some Martin issues, but Ruth never taught her kids to trade sex for grades.
I wonder what will be on the Cumback's menu? Probably standard bar fare along with a few of Krystal's specialties. Burgers, nachos, fries, chili, etc. Maybe Krystal will even bring her flat iron to your table and cook your grilled cheese right there! Oh, it's going to be fun, isn't it? Bar fare can be unhealthy, but you don't have to worry about that at Krystal's place. Why not? Because at the Cumback, a nice tossed salad is always available.
All Carey comments aside, it's good to see characters in Pine Valley going back to work. The Careys are opening a bar. Jamie is going back to school. Adam and Zach are plotting to gain control of CE. Erica is filming a reality show. Fusion is jumping with activity. Now if only we could see Opal running the Glamorama once again.
I thought I was over Fusion, but Greenlee's return and Babe's departure have piqued my interest. The Boyd mention made me smile. Remember when he and Binks had the "who will get Lena in bed first?" bet going? Bring back Boyd. And Kenny. Throw in some industrial espionage and I am there.
Greenlee's return is finally showing some promise. Just as she wasted almost two years waiting around for Ryan, Greenlee imagined everyone in PV just waiting around for her. Never a secure person, Greenlee just bitched out at everyone who moved on. Finally on Friday, the other sides of Greenlee started showing. I was surprised how moving the Kendall, Ryan, and Greenlee scenes were. The moment won't last, because Greenlee will act out, but it was a good way to show how close those three used to be.
What else. What else.
Isn't JR wealthy? Then why can't he afford his own place to live and a decent hair cut?
Man, how did Zach make eating a pickle seem so sexy? Never before has a crunching sound made me, well, hot.
"Do I have my "use me" dress on?" What a great smackdown Amanda gave Jonathan. Clearly Amanda was wearing her No Way in Hell panties.
"I don't know what to do without Ryan." Have a happy life? Be treated with respect? Greenlee, these things and more are definite possibilities in a Ryan-free life.
Palmer and Adam. Adam and Palmer. Wonderful. I keep telling myself that the only reason Palmer ever wanted Krystal was because Adam had her. Palmer taking his drink with him? Perfection.
Josh was almost adorable with the keyboard. The farther he gets from Babe, the closer I get to liking him.
Points to the writers for tying Greenlee's claustrophobia to being held captive by Jonathan. Nice touch of history.
Del's Lightening sure looked like Ever Clear and moonshine to me. Derek may have needed to be drunk to kiss Krystal, but I did not need to be tipsy to appreciate how sexy he looked doing it.
"I'm here to help out." Those are five words I never thought I would hear coming out of Del's mouth in a non-sex situation.
"Divorced, yet able to throw a very pushy producer out on her camera." Erica is certainly setting boundaries for her reality show. And still setting boundaries around the word "grandmother", too, I see.
Myrtle! Myrtle! Myrtle!
I liked how Opal's top matched Palmer's tie.
"She screwed me over, Jamie." The real reason Babe was upset? It's the first time she was screwed and lost money.
"It's very decent of you. Very human." One scene with Babe and Jamie is back to being an ass.
The clown noses were out in full force this week, weren't they?
"Clowns are vile." Another nice history nod. Of course Erica would feel that way since Eric was once hid out as a clown.
"They're all clowns. I hate clowns." Oh, Di, yet another reason to like you. (Although, like Annie, I don't find clowns scary, I just don't think they are funny. Never have.) The wardrobe department must like you, too, these days. You looked great in the black currant sorbet and aqua dresses.
"Zach and Kendall know not to have red in their color palate if I'm their guest." That's sweet, Lily, but, umm, what about the damn red clown noses?
"I don't think they (clowns) are that funny." Ohh, trouble in paradise already. Will Annie and Ryan be the first couple to divorce because of irreconcilable clown differences?
When Ryan put the clown nose on Emma, was I the only one who wanted to call PV's child services?
Will this week's spoilers have us feeling like clowns for watching AMC or not? Let's see:
Greenle's upset about the conception deception continues.
Greenlee decides to sue Zach for causing the blackout and messing with the back-up generator.
I don't blame Greens on this one. I like Zach but his actions were out of line. He wanted to protect Kendall, which is sweet, but what about everyone else whose parental hopes were stored in the clinic's freezers?
Ryan is furious that Zach told Greens about causing the blackout, so he punches him.
Glad to see Ryan has his anger management issues under control. And besides, if Ryan had not been so determined to keep Kendall and Zach apart, no one would know about Zach's part in the blackout.
Livia thinks Greenlee has a case. Derek disagrees so Livia punches him.
Just teasing about the punch, although Livia may really punch her brother once she finds out about his interest in Krystal.
Without real evidence, Greenlee has no case. Ryan tells Greenlee he is prepared to lie under oath about the blackout.
After all, just because he punched Zach, doesn't mean he wants Zach sent to prison. (But let's face it, if Ryan still wanted Kendall, he would swear to anything to get her.)
Zach tells Greenlee that he will not confess to causing the blackout but he does realize that he owes her something. Zach asks Greenlee what he can do for her to make amends.
Ok. Let's take a short break while we each think about what we would like Zach to do to us, I mean, for us.
Greenlee's determination to punish Zach causes Kendall so much stress that she has abdominal pains. The pains turn out to be nothing important. Turns out Kendall ate lunch at the Cumback. (Just kidding.)
Thank goodness we have the first miscarriage scare out of the way.
Greenlee goes to her stepmother for help. Greenlee wants Erica to tell her audience that Zach caused the blackout. Erica refuses. Greenlee retaliates by referring to Spike as Erica's grandson every chance she gets.
Now that would be a classic Greenlee move.
Not letting a little thing like commonsense get in her way, Greens sues Ryan and Kendall for custody of Spike.
This is a ridiculous suit, but the courts are filled with ridiculous suits.
Ryan discovers Annie is not much happier with him than Greenlee is.
Annie is shocked and appalled that Zach caused the blackout and believes he should be prosecuted.
Annie needs to come to terms with life in Pine Valley, where front burner characters are seldom prosecuted and sent to prison. Except for Trey, who appears to be serving a life sentence for arson.
Ryan tells Kendall they should accept Greenlee as part of Spike's family.
Well, how mighty big of Ryan, considering Greens is already Spike's aunt in that convoluted Pine Valley family tree kind of way.
Annie and Ryan disagree about how to treat Greenlee.
First the clown disagreement and now this. Unless Annie wants to bury Greenlee alive, Ryan should pay attention to what his wife wants. This all too reminiscent of Ryan insisting that Kendall deal with Greenlee on his terms, not hers.
The Chandler family is having another troublesome week.
JR tells Adam he is serious about changing his last name to Martin.
Why would JR chose to be part of a family that treats him like crap?
JR fakes his own kidnapping. Adam receives a ransom note.
"If you want to see me, I mean your son, again, don't call Derek, I mean the police. Await further instructions."
Adam believes the kidnapping is real and has nightmares about JR being murdered. The stress isn't good for his heart.
At moments like this, I think JR is just a little punk. A little punk with a bad haircut.
Other stuff happens, too.
Jamie finds Julia's pregnancy test and assumes it belongs to Di.
Jamie should look on the bright side; if Julia is pregnant, I am sure Babe will be a happy to comfort him.
Fusion teeters on the edge of bankruptcy.
Babe just been gone two days and already the company is going under!
Zach meets a stranger in a dark alley. Zach asks the stranger to take care of a "problem."
I am guessing we are supposed to think the "problem" is Greenlee but I bet it has something to do with taking control of CE.
Erica gives Sean some advice about wooing Colby.
Does this mean we will soon see Sean wearing a French Maid's costume ?
Here's to another week in the Valley!


---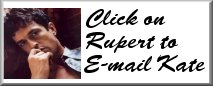 ---
Kate's AMC Spoiler Archives For 2007