---
For the Week of March 5, 2007
---
"Your mission, Mr. Slater, should you choose to accept it."
Let's all hum the Mission Impossible theme, shall we? I could not help it, when fauxAmelia began pulling off her mask, the MI theme started to run through my head. I half expected Barbara Bain to be playing fauxAmelia.
It was totally ridiculous, wasn't it? Yet, I could not turn away. Yep, could not turn away because Cambias-the-Elder had returned. I enjoyed his last visit and was sad to see him die. He was interesting in the way powerful men on AMC used to be interesting. Complicated. Diabolical. Driven by ambition. Possessing a twisted sense of family loyalty. A character one loves to hate as opposed to simply hating.
Ronald Guttman is perfect as Alex. The silver hair. The snakelike charm. The arrogance. Last but not least, the accent. (Yes, I have a thing for wicked men with accents, how else to explain my depression when Abruzzi was killed on Prison Break ?)
Mr. Guttman is a good example of an actor making bad writing almost tolerable. I tried explaining to my husband, who missed a few AMC days this week, why Cambias-the-Elder had been on a killing spree. After a couple sentences, I gave up trying to find the logic and advised him to just enjoy the moment. Which he did.
Still as interesting as he is, Cambias-the-Elder is clearly psychotic. Not because he's a serial killer but because he is obsessed with Ryan. When he was describing his first Ryan sighting I could hardly believe my ears "A mirage shimmering out of the desert sun, the wind tousling his hair, that huge hot machine throbbing between his muscular thighs, the sun reflecting off his perfect white teeth and I will never forget the way the bugs bounced off his rock hard six-pack as he rode up to the limo.." I really thought Alex was going to have to excuse himself for a few minutes just to, umm, just to regroup.
It seemed as if the more his admiration for Kendall grew the more Alex believed she should be with Ryan instead of Zach. The only other person whose Kendall/Ryan desire matches Alex's is Erica, which should certainly give Erica pause. (It won't but it should.)
When Zach was on his knees pleadingly pleasing his father and Kendall was expressing her devotion to him, it felt as if the Slaters were getting married all over again, only better.
The Alex, Kendall, Zach scenes were perfectly played. They have me half hoping that Alex will stick around for awhile. Maybe Alex simply has some bad that needs to be cut out. I would love to see a scene between "cured" Jonathan and a "cured" Alex. There would be no fast forwarding in my house that day.
I confess I don't really fast forward anything; no matter how much I ache to hit the button. Yes, I suffer through every Josh scene, but this week I did not mind. Why? Because I finally saw that Josh and Babe are meant for each other. The scales fell from my eyes when Josh said, "You breathe so much as a word that Babe is still alive, I swear to God you're not my mother." Those words brought back so many wonderful memories of Babe threatening David with almost the same words. Kindred spirits, that's what those two kids are. I am just sorry it took me so long to see it.
What else? What else?
"You may kill me but you'll never control me." That Kane DNA always comes through, doesn't it?
"Babe was always about saving our marriage." Yes, yes she was, JR. In fact I remember that's all Babe could talk about when she was in the kiddie pool with Josh. All she could talk about was saving her marriage, except when her mouth was full.
"A nod to the past gives it a deeper resonance." Truer words were never spoken, Alex. I hope the new head writer takes them to heart.
Barbara called Reggie! Let's hope he is extremely curious about the new chick in Jack's house and comes home to scope out the situation.
Erica slaps again! I am beginning to think her slapping frenzy is caused by extreme sexual frustration. (Yes, I am looking at you, Jeff Martin.)
I should chide the LVPD for botching things up but any police department that smacks Ryan down for being an arrogant ass is not all bad.
Oh and hugs to Tad for telling Ryan to shut up.
And deep passionate kisses to Zach for punching Ryan. Lots of good stuff happened this week.
"What's my essence?" Zoe, why don't you go ask Erica? I'm sure she will tell you it's "Youthful."
Sometimes you love someone but a distance grows between you. You forget what you loved in the first place. Then in a few short scenes, it all comes flooding back. Jack Montgomery, I love you! From loving Kendall, to being hurt at the thought of your wife in bed with icky Jeff, to dealing handily with the Las Vegas police, you've won me back, Jack.
I don't love everything JR does but I did love him blasting that kneecap away. And Spotted Dick's reaction was pricelessly adorable.
"I would put all my faith in Babe." That's nice, JR. While you are being so clear headed, let me talk to you about investing in some ocean front property here in New Mexico, OK?
"You let my Momma and my child think I am dead?" Babe. I. Have. No. Words. Except that Josh is just acting out of love, pure love. Kind of like you did when you let Bianca and JR believe their children were dead. Certainly what's good for the bitch is good for the son of a bitch, isn't it?
"High Tech Gear and Gadget Expo." It just made me, smile, that's all.
Oh my, I did love the "Plane of Revenge Voice Overs", didn't you?"
"What's with JR? Is there nothing too low for him?" Apparently there is, Jeff, because JR has never aggressively pursued a married woman. He leaves that kind of slug behavior to you and your son.
"And practicing medicine in the basement of a casino on woman who is supposed to be dead." Damn, I love soaps.
My favorite moment of the week? When Colby finally acknowledged why Babe was superior to her: "because she was cool. And when she peed it smelled like perfume." OK, maybe that last part was implied in Colby's worshipful tone.
Will this week's spoilers have us wishing we were in the casino basement pretending to be dead or not? Let's see.
Zach tackled his father on Friday, but don't count Cambias-the-Elder out quite yet.
Alex tells his son that Spike will soon be the Cambias heir. Alex pulls a gun on Zach.
Not a real Cambias heir, of course, that would be the delightful Miranda.
Not to be outdone by his father, Zach pulls a knife on Alex.
Well, as I always say, "Don't meet with the 'rents without packing a shiv."
Aidan, Jamie, JR, Ryan and Tad arrive in time to save Kendall.
Somehow I imagine Alex, and Ryan, will make this all about Ryan saving Kendall.
Tad talks Zach out of killing his father. Tad suggests they bury him alive instead.
Just kidding. Tad suggests to Zach that he would never get over killing his father.
Alex tells Zach, Tad, JR, Jamie, Aidan and Ryan that they have not seen the last of him.
Well, I certainly hope not. After all, Alex is just a serial killer. You trip over one of those every time you leave your house in the Valley.
Ryan is forced to admit to himself that Kendall and Zach are really in love.
With each other, not with him.
Meanwhile back in the Valley:
JR asks Krystal to help him become a better parent.
I think it's time to call Pine Valley Family Services.
Josh takes Krystal and Lil'A to see Babe.
I am sure Krystal told Adam where she was going, right? After all, they did promise to never ever keep secrets from each other, right?
Krystal tells Babe that widowerhood has made a new man out of JR. Babe insists that JR would be the same old definition of evil if she returned to him.
Yes, and what can we learn from that, Babe? Perhaps that instead of being each other's true love, you are each other's true torturer? (I admit it is sometimes hard to tell the difference, especially in the Valley.)
It becomes Krystal clear to Josh exactly what information JR used to blackmail Babe.
Will it even dawn on Josh that Charlotte is a Martin? And that maybe they have a right to know about her? Nope, didn't think so.
Josh comes up with a plan to save both Krystal and Babe from the nefarious JR. First, Babe will stay "dead." Then Josh and Babe will leave town forever, taking Lil'A with them. Then they will keep telling each other it's all JR's fault.
I have three questions. One, how will Lil'A's absence be explained? Will Krystal tell JR that his son joined Reggie's basketball-tour-that-never-ends? Two, will Krystal tell Adam where Lil'A is? Three, how long before Babe changes Lil'A's name to Lil' J?
Meanwhile the nefarious JR and Erica attend the same AA meeting. JR talks about Babe. Instead of retching, Erica is actually touched by JR's words.
It's probably because JR means it when he expresses sorrow. JR is capable of feeling remorse and regret. Unfortunately, he never quite translates remorse and regret into changed behavior.
Erica figures out that Josh is planning on leaving town with Babe. Erica wastes no time telling JR and Tad that Babe is alive.
I know you are doing this to spare your son, but Erica, what about my need to never see Babe and Josh again? Huh?
Zach and Myrtle have a chat about his father.
A talk with Myrtle is the equivalent of 5 years of therapy.
Kendall realizes she is pregnant.
And oh happy day, it's not Ryan's! (For the record, I don't think Spike is Ryan's, either.)
Babe tells Kendall she is leaving town forever. Kendall tells Babe she will miss her.
The only possible explanation for this is pregnancy hormone overload.
Ryan asks Annie to marry him.
Look up! It's a bird! No, it's a plane! No, it's a falling anvil with "Greenlee is coming back" written on the bottom.
On Friday, Zoe attends a transgender support group. These are unscripted scenes with the group members talking about their transgender experiences.
This could add the touch of realism the story desperately needs.
Zoe is surprised and dismayed to learn that a psychiatric evaluation is required before she can take the next step in her transformation.
This is completely unrealistic to me. Not the psychiatric evaluation part, which is a true, but the "surprised" part. Are we to believe that Zoe has done absolutely no reading on the subject whatsoever? What did she think was going to happen when she went to a doctor saying she wanted to physically transform from a man to a woman? Did she think the doctor would simply hand over some hormones and a vagina?
Oh those AMC actors:
Ethan's biomom, Hannah Nichols, is coming to town. She will be portrayed by Stacy Haiduk.
I'm not worried. It's going to take more than a former lover to break up the Slaters. (Of course, if Megan McTavish were still the head writer I would be nervous. She always believed that a couple should be not happy for longer than 12 seconds.)
Finally, thank you to Cindy for pointing out that the Suarez's hotel room was also seen on Divorce Island, as well as at the Spa of the Surrogates and in Florida. Remember when they used to at least try to disguise reused sets? Sigh.
Here's to another week in the Valley.

---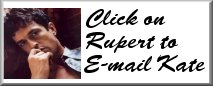 ---
Kate's AMC Spoiler Archives For 2007
Kate's AMC Spoiler Archives For 2006
August 21, 2006
Kate's Back!
August 14, 2006
By The Media Ho
August 7, 2006
By The Media Ho
Kate's AMC Spoiler Commentary
Archives Through 2005
Plus...
A Cynic Soaps Up - AMC and OLTL
OLTL Archives For A Cynic Soaps Up