---
For the week of December 4, 2006
---
For once, I chose myself. What I wanted, what I deserve.
Hearing Babe say those words brought tears to my eyes. Finally, finally, Babe has seen the error of her ways. For years Babe has been sacrificing, I dare say even martyring, herself for the good of others. Babe's list of noble deeds is so lengthy that it's impossible for me to pick a favorite; it's a tie between taking the burden of being a single lesbian mother from Bianca and relieving JR of the pressure of meeting all his wife's sexual needs by having affairs with both Jamie and Josh. It's about time Babe tossed aside the horsehair cami with built in shelf bra and did what is best for Babe, the rest of Pine Valley be damned!
(Babe is clearly the least self-aware character to ever grace (harrumph) Pine Valley.)
Now that David is gone Pine Valley is pretty much damned anyway. David was so delightfully complex. David could be acerbic and avuncular, loving and larcenous, sexy and, well, sexier. My lust for David was no secret. My desire wasn't just because Mr. Irizarry is my "type", a dark haired hairy beast of a man, it was because David knew who he was. He had few illusions about himself or others. OK, he had more than a few illusions about the wonderfulness of Babe, but she was, unfortunately, his daughter. (The existence of Babe makes a strong case for always showering in raincoat during one night stands, doesn't it?)
"He might actually do something worthwhile for a change." Did anyone else laugh when Tad said that about David? Especially since Tad was talking to Dixie, whose life David saved at least twice? Perhaps Tad doesn't think saving Dixie was worthwhile? Tad is probably just hurt that David left town without giving him a private goodbye. In Jello.
I can buy that David is now working in a clinic in Southeast Asia, but oh how I wish this had been his final scene:
David, dressed in jeans and unbuttoned white shirt, is walking down a dirt path in a steamy jungle. A hint of sweat glistens on his hairy chest. David approaches a small clearing. In the clearing is the clinic, surrounded by children and nuns. Nuns because, well, David and nuns just seems like a perfectly delightful combination to me. One of the children directs David to "the boss", a tall thin man. "The boss" turns around to greet David and it's Leo! Yes, Leo is alive and using Vanessa's ill gotten gains to bring medical care to Southeast Asia.
The scene fades as we leave the brothers Hayward/DuPres to their good deeds and the nuns to their nightly naughty dreams. (Never before have I been so jealous of a group of nuns.)
Sigh.
It's not as if David's leaving left Pine Valley empty of sexy men. There's, umm, there's ummm. Oh yeah, Zach. Zach who was looking very Heathcliffe-esque on the fogged balcony. Zach who proved once again that there are few things sexier than a man holding a little baby. Zach who treats Myrtle not like a little old lady but like the still vital fascinating woman she is. Zach is not David, but I guess I will just have to make do. Oh, the sacrifices I make.
Speaking of men, there is a new one in town and it's Zarf. Zarf, who is far less fun and far more annoying than he was in Philadelphia. Is it something in the water in Pine Valley? Or is it just that Zarf is not comfortable with who he is? Very uncomfortable with who he is.
Even the mainstream media has reported that AMC is doing a transgender story, with Zarf at the center. Bianca is very involved with this story because I guess AMC will do anything to keep her celibate. Or TPTB think that if Bianca cares for a character, the viewers will, too. I mean after all don't we all love Babe because Bianca does?
A transgender story could be compelling and Jeffrey Carlson is an experienced actor. My concern is not with the idea of the story but with the story's execution. I am determined to take this one week at a time and not prejudge. OK, not prejudge until the New Year. I am only human.
Speaking of judging:
"You are a jackass. I have news for you, she'll leave you, too." It was good to see Sean supporting his Uncle Jack by calling Jeff out. It would have been even better had those been Reggie's lines, with Sean standing by as back-up.
Does Erica really believe that Jack had "unfair expectations of me and our marriage" ? She probably does because Erica tends to believe that any expectations she does not want to meet are unfair.
"Baseball." Just when Emma could not possibly be more adorable, she ups her adorability quotient by wanting to talk about baseball. Of course Miranda wanted to talk baseball, too, but did not warrant a close-up. I guess even as tykes a Lavery trumps a Montgomery for screentime.
" So you are the one responsible for this beatnik gathering." Suddenly I had this vision of Myrtle wearing black tights, a black sweater and a beret while she danced around a smoky café. Accompanying her dance was Zach on the bongos. Damn he looked good in a black turtleneck.
Does anyone really believe that Josh is not a stalker? Even the romantic background music doesn't make his sneaking into Babe's bedroom any less creepy.
"It just wouldn't be a celebration without you here." Clearly Erica and I have polar opposite views of Ryan. When I saw him all I could think was, "Damn, why is he here? Shouldn't he be having a clown nose Thanksgiving with Erin and Jonathan? Off-screen, of course."
"So, when are we getting married?" Damn, I am going to miss Brooke.
No wonder Erica loves Josh. Not only does he like Jeff better than he likes Jack, but he is extremely multi-talented. Doctor, stockbroker, producer, cosmetics executive and carpenter was not enough for Josh, this week he took up scrap booking, too!
"Your babydoll is not a victim, Krystal, and she has to stop acting like one." One thing that keeps me watching is anticipating Adam's reaction when he realizes that both Babe and Krystal have been playing him. I am being naïve in thinking that Adam won't forgive Krystal for duping him about being Charlotte's father, aren't I? I loved it when JR tossed water in Babe's face. If only JR had been holding a bedpan instead of a water glass.
Will this week's spoilers have us wanting the writers to follow David to Southeast Asia or not? Let's see:
Death is not taking a holiday this Christmas season in PV.
The Fusion babes discover there is something worse than finding coal in your stocking and it's finding Simone dead on the office floor.
They could have found Simone dead at home, but Simone never seemed to have one, did she? Simone's death is sad because the both the character and actress were just wasted potential.
Derek tells everyone that Simone died from an overdose.
Does "everyone" include Simone's father? And why did Simone and her father have different last names? And is her brother still in a coma?
Tad and Zach disagree with Derek's conclusion that Simone committed suicide.
After all, who knew Simone better than Tad and Zach? (All I want is one thing to make sense, just one thing. Is that too much to ask?)
Suspecting foul play in Simone's death, Tad and Zach decide to investigate Zarf.
True, a naked Zarf was somewhat foul but that hardly qualifies him as a murder suspect does it?
Josh comforts Dani.
Of course he does because she has no family in town. Or friends. (All I want is just one thing to make sense, just one thing. Is that too much to ask?)
Everyone gathers at Fusion for an impromptu wake for Simone.
OK, has any member of "everyone" thought to call Simone's father? Is Simone getting a funeral? Will Zarf wear clothes to the wake?
At the morgue, Tad bids a very sad farewell to Simone.
I will never understand how Tad could have chosen Krystal over Simone. Any more than I can understand why in death Simone is in more spoilers than she was in the past year of her life?
Babe goes to visit JR. She tells him that Simone's death made her realize how important her husband is to her.
Anyone else getting a little tired of everything coming back to Babe? OK, a lot tired of everything coming back to Babe?
JR knows that Babe loves him but feels nothing for her.
JR may well be on the road to recovery.
At Casa Chandler, the air is not exactly filled with holiday spirit, just Krystal's cheap perfume. (Where did she find that cache of Taboo?)
Dixie tells Tad that David told her that Krystal's baby is really Tad's child, not Adam's. Tad refuses to believe David.
Maybe Tad would have believed it if David had told him. While they were both naked. In Jello.
Dixie is not convinced that David was lying. She does not want to see Tad denied another child that is his.
Dixie is not my favorite character but if she brings Krystal down, I will give her another chance. Only one, but still…
Tad believes Krystal when she tells him that Adam really is Charlotte's father. Tad just knows Krystal would not lie to him about something as serious as that.
Of course she wouldn't. Krystal would never lie about a baby's parentage for personal gain now would she? Jeff is not the only jackass in the Martin clan.
Adam refuses to believe David's claim that Krystal had an affair with Tad.
Obviously, all these years of inhaling Taboo fumes have had a toxic effect on Adam's brain.
JR is less than thrilled to discover Babe still living in the mansion.
I wonder if Adam will tell his son the truth that's it is Krystal's threats that are keeping Babe firmly ensconced at Casa Chandler? Probably not because that would make too much sense. (Again I ask for just one thing to make sense, just one.)
It's party time!
Jamie and Julia decide to live together.
Where is Isabella? Shouldn't she be lecturing Julia about this? Or did Isabella move to California with the rest of the family? If so, I must have missed that teary goodbye scene between Julia and her mother.
Julia decides to rent out rooms at Wildwind. Amanda and Aidan are her first tenants.
This just going to be whacky and wild isn't it? Kind of like Animal House but with semi-adults. Actually, if this leads to scenes of friendship among the tenants, it will be a good thing. Friendships will make Pine Valley seem more like, well, more like Pine Valley.
Erica tells a guilt ridden Sean that he is not responsible for the disintegration of her marriage to Jack.
"No, Sean, you are not to blame and neither am I. This is all on Jack's head, all of it!" Erica throws in some extra special hair tossing and thigh rubbing just to convince Sean she is right.
Erica tells Jeff she is getting divorced.
But will she bother to tell Jack?
Oh, those AMC actors.
Elizabeth Hendrickson is on her way back as Maggie for a few episodes. She is just in town to wrap up her story with Bianca so we should not expect any éclair tasting while Maggie is in town.
Here's to another week in the Valley!

---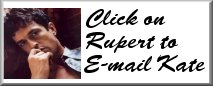 ---
Kate's AMC Spoiler Archives For 2006
August 21, 2006
Kate's Back!
August 14, 2006
By The Media Ho
August 7, 2006
By The Media Ho
Kate's AMC Spoiler Commentary
Archives Through 2005
Plus...
A Cynic Soaps Up - AMC and OLTL
OLTL Archives For A Cynic Soaps Up