---
For the week of December 25, 2006
---
This week's column started out as a list of my Christmas Star wishes for AMC. It was predictable and worst of all pretentious, not to mention wordy. This morning I realized all my wishes could be pared down to just this:
I wish upon Pine Valley's Christmas Star that ABC Daytime would hire at least one person with authority who has respect for both the soap genre and its viewers.
Meanwhile, AMC continues on its seemingly anointed mission to insult its viewers, its actors and its history.
"Why man, he doth bestride the narrow world like a Colossus"
William Shakespeare was describing Julius Caesar but he could have easily been describing the real Adam Chandler. The real Adam Chandler had the strength, the intelligence and the cojones to transform a young man from Pigeon Hollow into one of the most powerful men in the Western world. Adam Chandler created himself and his empire. Granted, Adam had all the character flaws that go along with being a self-made captain of industry but those only made him more interesting. The real Adam Chandler was a complicated man; sometimes generous, sometimes evil, often funny, always compelling, loyal to his family albeit in a sometimes twisted way and a person no one wanted to cross. Yes, the real Adam Chandler was a Colossus indeed.
Unfortunately now these words now best describe Adam, "Man, is Adam whipped or what?" Adam scenes are now almost painful to watch. That's if I can tell an Adam scene from a Stuart one. Many Christmases ago my husband created a Soap Opera Digest parody as one of my gifts. It contained a faux interview with David Canary discussing the techniques he used to prepare to play Adam or Stuart. One was eating different foods when he was playing Stuart, so that even when he passed gas there was a difference between the two brothers. The current writers seem to think the only difference between the two is the sweaters they wear. As I pointed out last week, Stuart wears striped ones.
My husband's parody may have been crass but not as crass as Krystal's Mrs. Santa outfit was. It looked as if Krystal had gone right from working the street corner to working the Miranda Center. I could question why Krystal is even allowed near the Miranda Center but that would be remembering AMC history which clearly no longer means anything.
Given my current level of dissatisfaction, perhaps I should be wearing the Scrooge outfit.
Well, what the hell, while I am Scrooging out, how about Babe telling Miranda that she missed her? Of course it could have been worse; Miranda could have replied, "I missed you, too."
I miss Simone. Seeing her in her Simone-perfect party dress during the year end montage had me missing her all over again. More specifically it made me miss the hope that she would someday have a story line to call her own.
Seeing the David flashbacks made me wonder once again why Megan McTavish told Vincent Irizarry that she could not think of any storylines for David. I can think of at least a dozen; some of them don't even involve having a naked David making me blueberry pancakes.
Brooke is gone now, too, although unofficially Brooke has been gone for years. Why then am I sad? Because just like with Simone and David, the hope of Brooke having a storyline left with her.
What else, what else? My mind is rambling. It's Christmas morning and I am on a stollen sugar high.
Not even the highest sugar high in the world would prevent Liza from contacting her daughter on Christmas.
Josh stealing a DNA sample from Emma by offering her the juicebox of evil was creepy, but then I find most things about Josh to be creepy. OMG, Colby and I agree on something.
Why didn't anyone remember to invite Simone's father to the funeral? Did anyone even mention him? I was looking forward to hearing Zeke moan about his daughter's wasted Ivy League education.
I just tried to say "Zeke, Zarf, Zach" really fast. I am cutting off my stollen intake for the day right now.
Finally there is something almost interesting about Julia, she clearly has a men in tights fetish. After all, Noah wore tights, and quite a handsome codpiece, at their wedding.
I want Edmund's ghost to start haunting Wildwind long enough to make Jonathan think his tumor has returned.
I also want Mary Smythe to be the White Gardenia murderer because I miss her. Why is Mary seeking revenge on Zach? Zach caused the blackout that led to Greenlee's broken heart. Greenlee's broken heart caused her disappearance which means Mary has been unable hound her daughter for cash.
Later on, Mary and I can keep each other company in Hell. I would be there for killing a priest. While Father Clarence was advising Dixie to keep the Charlotte secret, I was fantasizing tying Father Clarence up in his cape and tossing him in the Hooskenny.
Since it's Christmas, I will try to end on a positive note. It was great seeing the Palmer/Myrtle scene during the end credits. Those two always make me smile.
That's it, that's all I've got.
Now, will this week's spoilers have us feeling more like Scrooge or more like Baby New Year, all fresh with hopeful anticipation? Let's see:
Father Clarence continues his reign of terror. Oh, wait its on OLTL that the actor was a terrorist, on AMC he is just a know-it-all buttinski.
Tad tells Father Clarence that his karmic payback for killing Greg will be never finding Kate.
It's kind of sweet that Tad believes karmic payback ever happens to anyone in Pine Valley.
Father Clarence tells Tad, "Forgiveness is possible son and soon you will be united with your daughter Charlotte, I mean, with your other daughter Kate."
While I do believe keeping the Charlotte truth from Tad is wrong, I am enjoying, just a little, this karmic payback for Tad's keeping the Mirabess secret.
Tad tells Dixie about his Christmas miracle and his renewed faith about finding Kate.
I hope Tad at least drops Liva a note about his newfound faith.
Dixie decides that it would be cruel to tell Tad that Charlotte is his daughter.
This has to be the stupidest, most illogical AMC occurrence since Josh was un-aborted.
Adam asks Tad and Dixie to be Charlotte's godparents.
Scratch what I said earlier. This has to be the stupidest, most illogical AMC occurrence since Josh was un-aborted.
Tad isn't PV's only clueless father.
The DNA tests prove that Ryan is Emma's father.
Poor Emma. I see her future and it's filled with clown noses.
Kendall decides not to tell Ryan about his daughter.
Clown noses aside, Kendall is just wrong about this. Has she forgotten her own pain at not knowing who her bio parents were? In addition, Kendall has lived in PV long enough to know the DNA truth always comes out and usually at the worst possible time.
Meanwhile, what's happening with the Chandlers?
Zarf drops in to visit JR.
This could be amusing only if Zarf runs into Adam in the foyer and tries to do an aura reading.
Zarf tells Babe that Josh is her soulmate. Babe disagrees.
Setting aside the obvious discussion about whether or not Babe actually has a soul, she gets credit for disagreeing with a relative stranger's advice about her life. Unlike Dixie who decided not to tell Tad about Charlotte based on a brief conversation with a stranger who probably smelled like mothballs and horehound cough drops.
Josh chases away Babe's stalker.
Josh chases himself?
Marion tells Colby that Liza does love her.
Marion? Marion? The name sounds vaguely familiar, dahhhling.
Other stuff happens, too.
Julia's friends are in a fatal car accident. Julia's Christmas wish for a child is answered when her friends name her as their daughter's guardian. Their daughter, Kathy, is really Kate.
This will teach Julia to be more specific in her Christmas wishes, "Please God, give me a child. A child who is not related by DNA to anyone I know now or ever will know."
Colby and Sean's final Christmas gift from "J" reunites Erica and Jack.
My money's on a French Maid outfit designed by Valentino.
Bianca gets quite a surprise when she goes to pick up Zarf for their New Year's Eve date.
They're wearing the same dress?
I hope your New Year's Eve is everything you want it to be and that those "little bastard elves" made your Christmas a delight.
Here's to another week in the Valley!

---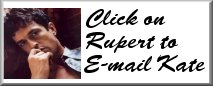 ---
Kate's AMC Spoiler Archives For 2006
August 21, 2006
Kate's Back!
August 14, 2006
By The Media Ho
August 7, 2006
By The Media Ho
Kate's AMC Spoiler Commentary
Archives Through 2005
Plus...
A Cynic Soaps Up - AMC and OLTL
OLTL Archives For A Cynic Soaps Up